Found August 13, 2013 on The Roosevelts:
PLAYERS:
Gus Frerotte
,
Rex Grossman
,
John Beck
,
Jason Campbell
,
Sammy Sosa
,
Ichiro Suzuki
,
Aubrey Huff
,
Matt Cain
,
Don Larsen
,
AJ Burnett
,
Joel Zumaya
,
Ted Ginn Jr
,
Devin Hester
,
Milton Bradley
,
Carl Everett
,
Robert Griffin III
TEAMS:
Washington Redskins
,
Cleveland Browns
,
New York Yankees
,
San Francisco Giants
,
Baltimore Orioles
,
Pittsburgh Pirates
,
Detroit Tigers
,
Carolina Panthers
,
Chicago Bears
,
Seattle Mariners
,
Ohio State Buckeyes
Face it: sports are tough on the ole corpus. Whether an athlete is getting run into by mammoth linebackers, throwing ninety mile per hour pitches in great succession, or some other muscular-straining function, it is clear that—with every play—they are constantly putting their bodies in perilous situations. But, there is a dark side to injuries—embarrassing blunders that ended with an athlete severely strained. The eleven happenings chronicled on this list are all sportsmen who blundered, over-celebrated, or just plain bad-lucked their way onto the disabled list. Gus Frerotte—self-injuring headbutt of doom Fans of the Washington Redskins would like to forget about the quarterbacks that they had in recent times. Specifically, the ones that played for the NFL team that represents that nation capital prior to Robert Griffin III's heroic arrival. A few notable stinkers were: Donavan McNabb, Rex Grossman, John Beck, Jason Campbell, and—the most self-injuring of them all—Gus Frerotte. A quarterback who became a journeyman, Frerotte's most memorable moment during his NFL career was his self-inflicted neck injury that he inflicted upon himself after headbutting a padded wall—not exactly a Tom Brady-like career. Sammy Sosa—super-powered steroid sneezing One of the most infamous steroid users in MLB history, Sammy Sosa and Mark McGuire were re-writing the home-run record books in the late nineties and early oughts. But, Sosa's entire career wasn't worthy of asterisk-laden memorial. In particular, Sosa injured his back while sneezing during the 2004 MLB season—an incident that prompted the Cubs management to dust their home dugout more thoroughly before games. Rob Johnson—the injured ankle hop When batting, hitters like to dig in and make sure they have a firm foundation in the batter's box—a fortifying exercise that they practice when facing repeated ninety mile per hour fastballs. Someone should have told the aforementioned to Rob Johnson, who injured his ankle in 2009 after Ichiro Suzuki hit a walk-off homer. He landed in a hole in the dirt, and subsequently injured himself. It is safe to say that Johnson shouldn't purse a career in gymnastics. Aubrey Huff—over-vigorous celebration Everyone loves a perfect game. And, with the golden era of slugging coming to a close, it seems as though they're happening at a somewhat higher frequency. In 2012, Huff's teammate—Matt Cain—threw a perfect game. And, while celebrating the momentous occasion, Huff injured his knee. It'd be disturbing to see what he'd do if he was a teammate of Don Larsen. Kevin Brown—broken hand, shattered contract Kevin Brown was once the toast of the MLB. But, in true New York Yankee fashion, he was signed to the aforementioned team during a period of time that was past his prime. Struggling, Brown injured his hand in the midst of a losing effort against the Baltimore Orioles. Brown wouldn't be the last New York athlete to take out his anger on inanimate objects. Amar'e Stoudemire—too much fire behind that punch One of the worst free agent signings in recent memory, Amar'e Stoudemire was angered about the Knicks loss. And, in anger, he punched the glass around a fire extinguisher. This caused him to injure his hand and miss playing time. But, it's not as if his presence would have lent the Knicks a great deal of assistance. A.J Burnett—cut hands while flailing furiously in between innings A.J Burnett didn't pan out in pinstripes. This is evidenced by his constant struggles while on the mound for the Yankees. But, the pinnacle of his mediocrity on the mound was his self-injury in a game against the Rays—an incident where he furiously slammed his hands onto a wall of his dugout, and cut his palms. This made him unable to play the remainder of the game. Joel Zumaya—injured wrist playing Guitar Hero Athletes aren't rock stars. But, this fact didn't stop one baseball player from pursuing a virtual guitar god fantasy. Joel Zumaya missed playing time due to a wrist injury that came about from playing too much Guitar Hero. And they say that sitting on your couch playing video games is a safe activity… Ted Ginn Jr.— you're not Devin Hester, bro It has been a rough stretch for the Ohio State University Buckeyes. Most recently, they underwent a tattoo scandal. But, their most recent misfortune was predated by Ted Ginn's embarrassing self-inflicted injury during the BCS Title Game against Florida. After returning the opening kick of the game for a touchdown, Ginn's celebration was detrimental to his foot. And, he was forced to miss to rest of the game — an affair that ultimately resulted in an Ohio State defeat. Milton Bradley—bad call, worse knee In 2009, Bradley was the victim of a call that he deemed objectionable. Arguing with the umpire about the call, he was restrained by his manager in order to prevent him pulling a "Carl Everett". In the aforementioned restraint, Bradley was forced to the ground and his knee was caught in an awkward position—one that would cause the tearing of his ACL. Bill Gramatica—you know what's coming Special teams players—specifically punters and kickers—are among the NFL's safest players. This is because that it is a severe penalty to come in contact with the two aforementioned positions during their time on the field. But, that didn't stop from Bill Grammatica from injuring himself after kicking a fairly long field goal. Suffering a torn ACL after hopping up and down, Grammatica's injury has lived on as one of the NFL's most comedic.
Original Story:
http://www.rsvlts.com/2013/08/13/10-e...
THE BACKYARD
BEST OF MAXIM
All Sports News

Delivered to your inbox

You'll also receive Yardbarker's daily Top 10, featuring the best sports stories from around the web. Customize your newsletter to get articles on your favorite sports and teams. And the best part? It's free!
THE HOT 10: Who's Trending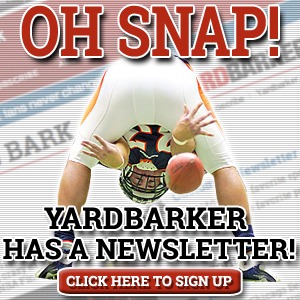 Latest Rumors
The Backyard

Today's Best Stuff

For Bloggers

Join the Yardbarker Network for more promotion, traffic, and money.

Company Info

Help

What is Yardbarker?

Yardbarker is the largest network of sports blogs and pro athlete blogs on the web. This site is the hub of the Yardbarker Network, where our editors and algorithms curate the best sports content from our network and beyond.