Found June 30, 2012 on Start 'N' Park Blog:
Matt Kenseth, driver of the No. 17 Fifth Third Ford Fusion, spoke with members of the media Friday, his first time at a race track since announcing his decision to leave Roush Fenway Racing at the end of the 2012 season.  
YOU WERE IN THE NEWS A LITTLE THIS WEEK, SO I GUESS I WILL LET YOU TAKE IT FROM THERE. "That was the one question right? I am looking forward to racing here at Kentucky this weekend. Last year I think I was one of the only drivers that had never raced here before in Nationwide or a truck or even tested here much before the testing rules changed. I feel like we learned a lot last year. We ran okay so hopefully we can improve on that. I am dying to get in the race car in a little while and get to work." 
IS THIS SOMETHING YOU AGONIZED OVER? IT SEEMS IT WAS A HARD DECISION BUT YOU QUICKLY MADE IT. "Yeah, it has been kind of a stressful season to be honest with you, really all off season from leading into last off season and the sponsorship search and all that. That was releaved a little bit by signing Best Buy and Fifth Third and some of these people and starting to fill a car up. Getting to this point in the season it was definitely somewhat stressful not knowing 100-percent sure what I was going to do. It all ended up I guess coming together pretty quickly. I really felt and feel like it is absolutely the right thing to do and the right place for me next year and for my future as well. It is kind of hard to explain but a lot of things pointed and pulled me in that direction. A lot of things happened or didn't happen that led to that. I think everything is good and for the rest of the season it is only a distraction if we let it. I think it is totally up to me and the race team with how we handle this going forward. I think this is the toughest weekend and after that I think things will settle down a little bit and we will be just fine for the rest of the year." 
NEXT WEEK IS DAYTONA. CAN YOU TALK ABOUT GOING BACK HAVING WON THE DAYTONA 500 AND THE SAME RULES EXCEPT THE POP OFF VALVE IS A LITTLE DIFFERENT. WHAT TYPE OF RACING DO YOU EXPECT? "Well first of all thanks for that question Bob (Pockrass), I owe you 20-bucks for asking about Daytona. I appreciate that. I am looking forward to going back there. I looked forward to going to Talladega more so than any plate race I have ever looked forward to in my career with as good as we ran at Daytona and how fast our cars were. I feel the same way about Daytona and I am looking forward to getting down there. At Talladega I felt we had by far the fastest car in the race and dominated the race as much as you can but I felt like I messed that up at the end when Greg and I got together and somehow got separated. I have been king of agonizing over that since Talladega with that green-white-checkered and how I lost that race for my guys. I am looking forward to getting some redemption and also coming off that win at Daytona. The rules worked really good for us. Our cars have been fast and we have been able to pass. They get hot when you get back in the pack but if we can keep them toward the front and we have enough speed we seem to be okay. I am going back hoping it will be the same." 
WHAT IS THE TIME TABLE FOR YOUR ANNOUNCEMENT AND HOW MUCH DO YOU LOOK FORWARD TO THAT TO END THE QUESTIONS ABOUT IT? "Hopefully it will be sooner than later. That ball is not in my court unfortunately. We are trying to get that done as soon as possible just so it is out there and we can go on. Everybody kind of has their ideas and half the story is out there but hopefully we can get it out there and go on." 
HOW MUCH CONSIDERATION IN YOUR NEW DEAL WAS GIVEN TO YOUR SON ROSS AND HIS FUTURE AND DEVELOPMENT OF A FARM SYSTEM FOR HIM?  "None at all. That didn't have anything to do with it and I didn't spend any time thinking about that to be honest with you. I had enough going on trying to figure out my deal. Ross' progression, I would say 95-percent or more of that is up to him. I got him in some late model cars and doing that stuff and he has been working really hard at it just like any other driver and I think he has to figure out how to be successful at what he is doing and how to get in somewhere to get that next step."
HOW DID YOU THINK THE TRACK WAS HERE LAST YEAR AND DO THE BUMPS ON THE SURFACE PRESENT A DIFFERENT CHALLENGE? "Yeah I know a lot of people like to group all the 1.5 mile tracks together but they are not really similar. This place is unique from all the rest of them besides the shape. It is interesting and there are a lot of bumps and getting your car to work through them and pass on the bottom was difficult to do last year and something you had to work on. The middle groove is a little smoother and has pretty good grip. It is unique. Turn four is really different and it took me ¾ of the race to figure that out. There are a couple little things down there where there is some speed and it is a different and unique race track. It is really challenging with as rough as it is with our cars and bump stops and all the things that we do, which I think is a good thing. I think the more character it has the better." 
YOU ARE IN A UNIQUE POSITION HERE WITH ALL THE GREAT THINGS YOU HAVE DONE THIS YEAR. WHAT IS THE GREATEST CHALLENGE FOR YOU PERSONALLY AS A COMPETITOR TO MAINTAIN THAT KNOWING YOU ARE LEAVING? "I think the biggest challenge is all the outside distractions. My morale and the morale of the team and guys around me and even at the shop to get all this behind us and realize it is up to us. It doesn't matter what is going on around us and what people are saying and all that. That is difficult, especially if you haven't been in that spot. I think that is the main thing. Getting through this weekend and hopefully things will die down just a little bit and just making sure we all keep our eye on the ball. I really think I have a really strong group of guys and I think if anybody can handle that and put it in the back of their mind it will be those guys. For sure I think it is a distraction and everybody starts thinking about letting their mind wander and all kinds of different things but it is something for next year, not this year, and we have a ton of racing to do this year and we will all give it 100-percent and try to finish the season on a strong note." 
THIS IS THE FIRST 1.5 MILE TRACK WITH THE SWAY BAR RULE CHANGE. DO YOU GUYS HAVE TO CHANGE YOUR CARS BECAUSE OF THIS RULE AND DO YOU SHARE BRAD'S (KESELOWSKI) SENTIMENT THAT IT WILL MIX UP WHO IS FAST AND WHO IS NOT? "I probably don't know enough about it to give you accurate comments on that. I know there were some minor changes. I don't think on our car we had to change very much but that would probably be a better question for Jimmy (Fennig) and how they do some of the stuff with rear bars and different stuff. It isn't a standard rear sway bar anymore. I am not in it deep enough to know if those little differences will make a lot of difference or not or what other teams were doing to precipitate that rule change." 
I KNOW YOU GUYS RACE IN HOT CONDITIONS AS IT IS, BUT CAN YOU TALK ABOUT THE HEAT THIS WEEKEND?  "Yeah, it is definitely toasty and I am glad it is a night race and not a day race. Hopefully when the sun gets down and cools off a little it will be nicer not just for us but the fans and crews working down there. Getting rid of the sun will help a little bit but it is going to be the hottest race all year for sure." 
CAN YOU TALK ABOUT WHY YOU HAVE BEEN ABLE TO PERSEVERE AND HAVE SUCCESS THIS YEAR AND ALSO LOOK AHEAD TO INDIANAPOLIS, DOES THAT RACE STILL HAVE THE CACHE THAT IT USED TO HOLD AS THE SECOND BIGGEST RACE OF THE YEAR AFTER DAYTONA?  "To answer the first question it had really just been business as usual at the race track. It hasn't really changed anything with what we do or go about it or think about it. Every time you go to the track you want to do the best you can and race as hard as you can and try to win races. There is no incentive for any of us to not do that. Everybody wants to do the best they can and as far as the Brickyard, yeah I think that among most of the drivers they think of that as the second biggest race of the year. I think the Daytona 500 is our biggest event and the one everyone probably thinks about the most and then probably the Brickyard. It is a special place to go to, especially for the guys with an open wheel background and grew up watching Indy Cars more than me. It is a special place and special event and one everyone wants to win for sure."
BACK TO THE HEAT ISSUE, FOR PEOPLE WHO DON'T KNOW RACING THAT WELL, HOW DOES THE HEAT AFFECT YOU AND OR THE CARS?  "The car part of it is not that big a deal. You just run less tape with more grill open and keep the engine cooler than you normally would. The rest of the parts I don't think is a big deal. The cars will run slower because of less grip. For us, it is just hot. You try to make sure you are extra hydrated drinking a lot of Gatorade and get extra rest and eat right the night before. All the stuff you usually do you just take extra car. You make sure you have little coolers so you don't burn your feet and stuff like that. It is definitely more of a challenge. It is always hot in those cars lately anyway and certainly when you get in an environment like this with the heat radiating off the pavement and everything it will certainly be a challenge."
Original Story:
http://startnparkblog.com/?p=8031&utm...
THE BACKYARD
BEST OF MAXIM
RELATED ARTICLES
Ty Dillon and Richard Childress Racing's No. 3 Bass Pro Shops Chevrolet team battled their way through Thursday evening's NASCAR Camping World Truck Series field to finish third in the UNOH 225 at Kentucky Speedway. Although the Sunoco Rookie of the Year contender qualified fourth, the RCR team was forced to change engines during final practice on Thursday afternoon, sending...
Richard Childress Racing has 18 previous starts at Kentucky Speedway, acquiring one win with Kevin Harvick in 2001, among six top-five and 10 top-10 finishes. The Welcome, N.C.-based organization maintains an average starting position of 14.8 coupled with a 12th-place average finishing position in all Nationwide Series races contested at Kentucky Speedway, with 187 laps led and a...
In four starts at Kentucky Speedway, Richard Childress Racing holds an average starting position of 17.8 and an average finishing position of 23.5, completing 1,059 of the contested 1,068 laps (99.2 percent). Though the NASCAR Sprint Cup Series ran their inaugural event last season, the 1.5-mile tri-oval has held NASCAR Nationwide Series and NASCAR Camping World Truck Series events...
At 10:30 Tuesday morning, Jack Roush assembled his troops to announce Matt Kenseth would no longer be driving the No. 17 Ford after the 2012 NASCAR Sprint Cup season. The news shocked and saddened many at the Roush Fenway Racing campus. After all, Kenseth was a fixture at Roush for the last 14 years - long before there was a Fenway. He was the first driver to bring home the Sprint...
Dale Earnhardt, Jr., driver of the #88 Diet Mountain Dew/National Guard Chevrolet, met with members of the media at Kentucky Speedway and discussed how Kentucky is different than the other 1.5-mile tracks, Matt Kenseth's decision not return to Roush-Fenway Racing in 2013, his approach to the next 10 races, the Chase and much more.  TALK ABOUT THIS RACE TRACK AND HOW IT IS DIFFERENT...
Joey Coulter and Richard Childress Racing's No. 22 Steak-umm Chevrolet team finished fourth in Thursday evening's NASCAR Camping World Truck Series UNOH 225 at Kentucky Speedway, marking the team's fourth top-10 finish of the 2012 season. The Miami Springs, Fla. native started the race from the 16th position and raced his way into the top 10 within the first four laps of the...
Jack Roush never got the opportunity to counter. By the time Matt Kenseth informed Roush last week he was leaving Roush Fenway Racing after 14 seasons together, his new deal was already in place. "Matt asked for an audience with me and told me he wouldn't be joining the team in 2013 and that he wanted to, obviously, race for a championship this year," Roush said....
Ricky Stenhouse Jr. just couldn't wait. Despite being sworn to secrecy, he just had to tell someone the night before the announcement that Roush Fenway Racing would be moving him into Matt Kenseth's spot when Kenseth leaves after the season. He told his parents. But he said they didn't really grasp the immensity of what had just happened for their son. A day later...
The Sprint Cup tour heads to the place where the green turf is the blue grass, and, not so poetically, where the traffic jams better than the music. Or at least, the traffic was atrocious last year. That aside, the cars inside, and outside, of Kentucky speedway look to be tuned and ready for Saturday night's shootout. Row 1 Pole position: Matt Kenseth A sign of the times:...
All Sports News

Delivered to your inbox

You'll also receive Yardbarker's daily Top 10, featuring the best sports stories from around the web. Customize your newsletter to get articles on your favorite sports and teams. And the best part? It's free!
THE HOT 10: Who's Trending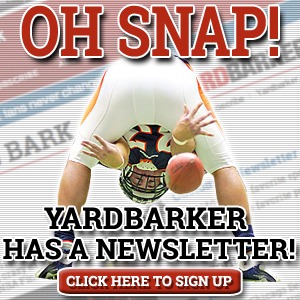 Latest Rumors
The Backyard

Today's Best Stuff

For Bloggers

Join the Yardbarker Network for more promotion, traffic, and money.

Company Info

Help

What is Yardbarker?

Yardbarker is the largest network of sports blogs and pro athlete blogs on the web. This site is the hub of the Yardbarker Network, where our editors and algorithms curate the best sports content from our network and beyond.