Some things never change. Week after week it's more apparent that Chan Gailey has no idea what he's doing. Unfortunately, Buddy Nix gave him a vote of confidence for next year. Buffalo's only chance of Gailey being let go is if Ralph Wilson Jr. steps in and makes the call. With that scenario being unlikely, it looks more and more like 2013 will be another season with Gailey at the helm. Here's to hoping Wilson makes the move and brings in a top assistant in the league. With that said, here are some things I "Bill-ieve" following the Bills 20-13 loss to the Indianapolis Colts. 1. Dave Wannstedt deserves some props. I've bashed Wannstedt on here numerous times, so after back-to-back strong performances on defense, I have to give him praise. Wannstedt's defense has given up 20 points in the last two weeks. And while the Dolphins and Colts aren't going to be confused with the Patriots offensively, they aren't incompetent teams offensively. Over the last two weeks, the Bills defense has seven sacks, three interceptions, two forced fumbles and one fumble recovery. All in all, Wannstedt and his defense are coming together recently. If the defense continues its strong play, Wannstedt may earn another year as defensive coordinator. 2. Stephon Gilmore is going to be great. Just my opinion. I've watched him play each week and his play has drastically improved since the start of the season. I have no doubt in my mind that the Bills drafted a winner in Gilmore. Over the last two weeks Gilmore is responsible for both of Buffalo's forced fumbles. Also, Gilmore took responsibility for his pass interference call at the end of the game, even though it was a questionable call. In the grand scheme of things this doesn't matter, but kudos to him for admitting he had a hand on Wayne. 3. Referees being swayed by players frustrates me to no end. The referee at the end of the game did not reach for his flag until Reggie Wayne complained about not getting the pass interference call. This bothers me greatly. If you didn't call the flag on your own then a player or fan reactions should not sway your opinion either. 4. C.J. Spiller is the most misused player in the NFL. 107 yards rushing. That sounds pretty good when you hear it. It's more impressive when you hear that Spiller did this on 14 carries. Can you imagine if Buffalo gave him the ball 20-25 times? The game may have had a different outcome. Instead, Spiller had his last carry with 13:33 to go in the 4th quarter. 5. Mario Williams is earning his paycheck. Three sacks of Andrew Luck and one of Ryan Tannehill in the last two weeks is excellent. It's not just sacks though. Since returning from the bye week, Mario Williams has been all over the field and very noticeable as a play-maker. Sounds like he wasn't lying when he said his wrist was bothering him and was the cause of his early struggles. Williams should now be praised for playing through the pain, even if he wasn't very productive early in the season. 6. Bruce DeHavens has some explaining to do. This is a reverse Wannstedt. I've praised Leodis McKelvin and the Bills special teams this year. Now I need to bash them. Bruce DeHavens and his special teams unit has given up touchdowns the last two weeks. Last week's kick return didn't hurt the Bills, but T.Y. Hilton's punt return was the difference against the Colts. 7. It's time to start looking at college quarterbacks. I want Ryan Fitzpatrick to succeed. I really do. The guy is extremely nice and he obviously gives his best effort weekly. That said, he cannot perform consistently enough to be an NFL starter in my opinion. Who should Bills fans be watching? Aaron Murray against Georgia has been coming on strong this season and will be playing Alabama for the SEC Title. Right now, he's looking like a first round pick. Geno Smith may not be as hot of a commodity as he was two months ago, but he'll still go early and be gone before Buffalo picks. I'm not a Matt Barkley fan, but due to his injury and disappointing season, his stock is taking a bit of a hit. Landry Jones is another quarterback who will probably go in the first two rounds. Other prospects? Tyler Wilson, Tyler Bray, Mike Glennon and Ryan Nassib. What do you #Billieve as a Bills fan? Tell us here at Queen City Sports or write to me on Twitter: @bonasbillsfan
Original Story:
http://www.queencitysports.net/bills/...
MORE FROM YARDBARKER
All Sports News

Delivered to your inbox

You'll also receive Yardbarker's daily Top 10, featuring the best sports stories from around the web. Customize your newsletter to get articles on your favorite sports and teams. And the best part? It's free!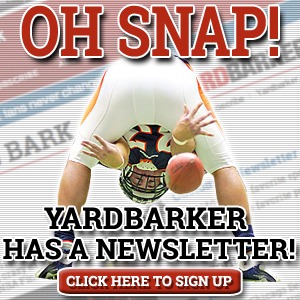 Latest Rumors
Best of Yardbarker

Today's Best Stuff

For Bloggers

Join the Yardbarker Network for more promotion, traffic, and money.

Company Info

Help

What is Yardbarker?

Yardbarker is the largest network of sports blogs and pro athlete blogs on the web. This site is the hub of the Yardbarker Network, where our editors and algorithms curate the best sports content from our network and beyond.