Found February 06, 2013 on World Series Dreaming:
There is a growing problem today in sports, and there is no end to this issue in sight. No, I am not talking about the growing Performance Enhancing Drug problem that resides in baseball, and likely in football as well as any other sport where a player is looking to gain an edge. Today, Todd Helton joined the ever growing list of athletes who have been arrested for driving drunk. Apparently, Helton did not learn anything from the sad case of Mark Grace, who after being pulled over multiple times for drunken driving is now going to spend four months in jail. Helton also apparently did not learn anything from Dallas Cowboys nose tackle Jay Ratliff who was also arrested for driving while under the influence. Ratliff did not learn anything from Cowboys teammate Josh Brent who also got arrested a few months previously for getting into an accident while driving drunk, which killed another one of his teammates Jerry Brown. If you are keeping count, that is thee professional athletes, and one former, who have been arrested for drunken driving in the past two months. All of whom have more than enough money to call a cab, or to arrange for another ride. Now, if you want to go back further, I am sure that you will find much many more. For example, in an article from May 10, 2011, Derek Lowe and Shin-Soo Choo were arrested for driving under the influence which brought the total to six incidents in a five month span. I could go deeper, and find more incidents, but why bother when just these past two months are enough to show that there is a problem with drunken driving in sports. Why do I care so much about this issue? Part of the reason is personal in nature. I have seen firsthand what drinking and driving can do to a family. An old girlfriend of mine had a brother who decided to go driving while he was drunk. Don't worry, he is okay; but his friend that was in the car with him and the man in the other car are not. The driver in the other car was killed, and his friend who was sitting beside him is now paralyzed. That incident tore apart my girlfriend's family, as well as shattering the other two families of the other victims. All because he was too stupid to call a damn cab or another friend to come pick him up. Yes, I know when you are drunk you do not think straight and you make stupid decisions. Many people have driven drunk or slept with someone all because they were drunk (at least they claim to have slept with that person only because they were drunk). But being drunk is no excuse to do stupid ****. Know your limitations, and take every proper precaution you can to avoid making stupid mistakes which are easily preventable. What makes Helton's case all the more upsetting is that his case was completely avoidable. From the sound of his press release where he apologized for this crime, he was already at home when he was drunk, but he decided to go to a gas station anyway. That is something that could easily have waited until the next day. What makes this even more maddening for me is the reaction around the baseball world to this story. Fans say that mistakes happen, and to forgive him. Why is this so maddening? Fans are so quick to forgive players for breaking the law by drinking and driving, but yet they have such hatred for any player who uses steroids. Tell me this, which is worse, taking performance enhancing drugs or driving drunk? On one hand, you have players who are taking steroids. Who are they hurting other than themselves? Sure, they are "damaging the integrity of the game" by putting up monster numbers. But does that really harm anyone but themselves? In the end, they are the only ones affected because their bodies will break down, and they might meet an early death because of what they are doing to their bodies. But fans want to turn these athletes into villains and deem them as all that is wrong with baseball. On the other hand, you have people getting drunk and going driving. Who are they hurting other than possibly themselves? They are risking the lives of themselves, anyone in the car with them, anyone on the road who they might come across, perhaps someone's property. So which do you think is worse? Taking steroids or driving drunk? Before you start complaining about my singling out people who drive drunk, I know there are other dangerous acts to do while driving. People text, eat or talk on the phone while driving. All forms of distracted driving are dangerous, but when was the last time you heard about an athlete being arrested for one of the other incidents? Feel free to share the stories if you have them. Perhaps Major League Baseball Commissioner Bud Selig should take a page out of National Football League Commissioner Roger Goodell's playbook and start suspending players for their off the field behavior. Start punishing these players for breaking the law off the field of play just like you do for their on the field actions. Maybe then we would stop seeing athletes doing stupid **** off the field.
Original Story:
http://worldseriesdreaming.com/2013/0...
THE BACKYARD
BEST OF MAXIM
RELATED ARTICLES
POLICE BLOTTER
Longtime Colorado Rockies first baseman Todd Helton was arrested for suspicion of DUI in Colorado early Wednesday morning, and his mugshot isn't pretty.
Longtime Colorado Rockies first baseman Todd Helton, who has been with the organization since 1997, was arrested on a charge of driving under the influence on Wednesday in Thornton, Colo. A Thornton police report indicates that Helton was arrested mere blocks from his home at approximately 2:39 a.m. There was no indication in the police report of Helton's blood alcohol content...
Colorado Rockies first baseman Todd Helton is in the headlines this week, but it's not for anything baseball-related. Helton, 39 and at the end of his career, was arrested Wednesday morning nearby his home on suspicion of driving under the influence. His DUI is not what is captivating the minds of America; it's the amazing mug shot that has everyone fascinated. Just look at...
Colorado Rockies veteran first baseman Todd Helton reportedly was on a lottery ticket run, which ultimately led to his arrest for DUI early Wednesday morning according to a police report obtained by TMZ. Helton allegedly "made spontaneous statements about drinking two igloo cups of red wine" during his arrest after police tracked him down in a gas station parking lot after receiving...
The Colorado Rockies say first baseman Todd Helton has been arrested on a charge of driving under the influence. The team says Helton was arrested Wednesday morning in the Denver suburb of Thornton. No other details have been released. Team spokesman Nick Piburn says Helton had no immediate comment. Piburn says Helton ''clearly understands the seriousness of his poor decision...
Colorado Rockies first baseman Todd Helton was arrested early Wednesday morning for driving under the influence of alcohol in Thornton, CO. Helton, 39, refused to give comment but did apologize when the Denver Post reached out to him. Helton did release a statement through his lawyer: "Last evening I exercised poor judgment and was charged with drinking and driving after driving...
Colorado Rockies first baseman Todd Helton was arrested Wednesday morning in Thornton (CO) for DUI. Arrested post 2AM. Perhaps that explains this mugshot. **Follow us on Twitter. Subscribe, or... Full story at Bob's Blitz ~ http://www.bobsblitz.com
DENVER — The Colorado Rockies and star first baseman Todd Helton are facing the harsh reality on the eve of his farewell season that the longtime face of the franchise now has a police mug shot. The five-time All-Star was arrested about 2:30 a.m. Wednesday in the Denver suburb of Thornton and charged with drunken driving and careless driving. In a statement released by the Rockies...
At this time on Monday, we'll be celebrating the reporting of pitchers and catchers, and the beginning of Spring Training...and all will be right with the world. We're also going to kick off our team previews on Monday, and over the six weeks following, we're going to give you a information overload on every team in the league, along with our usual batch of excellent...
All Sports News

Delivered to your inbox

You'll also receive Yardbarker's daily Top 10, featuring the best sports stories from around the web. Customize your newsletter to get articles on your favorite sports and teams. And the best part? It's free!
THE HOT 10: Who's Trending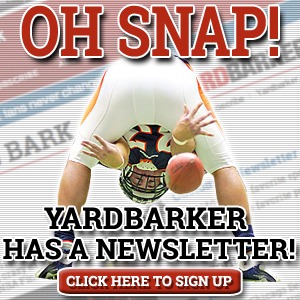 Latest Rumors
Best of Yardbarker

Today's Best Stuff

For Bloggers

Join the Yardbarker Network for more promotion, traffic, and money.

Company Info

Help

What is Yardbarker?

Yardbarker is the largest network of sports blogs and pro athlete blogs on the web. This site is the hub of the Yardbarker Network, where our editors and algorithms curate the best sports content from our network and beyond.