Found July 22, 2013 on Project Spurs:
The San Antonio Spurs' selection of Missouri guard Marcus Denmon at the end of the second round of last year's NBA Draft was a bit of a head scratcher, especially considering the abundance of guards the Spurs already had on the roster. However, with a a late second round pick, the chances of landing on an NBA team, even the one that drafted you, are slim. Denmon joined last year's Summer League squad as a bit of an unknown. He was definitely a capable scorer at Missouri, but at his size, he was a shooting guard in a point guard's body. Denmon did say he had no problems playing at the point and would look to transition. After a full season playing overseas in France and seeing him through several Summer League games, Denmon seems to have fulfilled on that. While he displayed the type of offense he had become known for with Missouri, he also showed off some passing ability. He picked up five assists in the Spurs' last game against the Bucks, while also tallying a multidimensional 10 points and eight rebounds. He had a highlight behind-the-back dish to Dexter Pittman in traffic for a dunk during the Bucks game, and in a 19 point, four assist performance against the Cavs, Denmon found DeShaun Thomas in his spots and intercepted a pass and quickly dumped it off to Aron Baynes for a quick transition layup. Denmon also showed perhaps one of the most important qualities in a point guard. He never seemed to rush the offense or force the issue. Many young point guards end up over penetrating, not knowing when to give up on a drive and look for better options. While Denmon still sports a swift first step on drives to get to the paint, he also knew when to pull it back when his dribble penetration was stopped. His improved awareness over what I saw last year allowed him to make decisions quickly on where to go with the ball when he was stopped. Aside from the improved point guard play, Denmon has not lost a step when it came to drilling long-range jumpers. Through the Cavaliers game, he seemed to be adapting the old Nick Van Exel free throw position to his three-pointers, often pulling up from one-to-three feet behind the line. He was able to catch and shoot and can shoot off the dribble rather well, reminiscent of former Spur Roger Mason Jr. Denmon will take a few dribbles, set his feet, square up and launch a three. While the level of competition during Summer League pales in comparison to the NBA, Denmon seems to have the athleticism to drive and finish, even with contact, or shoot outside. While he didn't get a lot of playing time until the last few games,in his few minutes early on, he was able to help on both ends of the floor, grabbing defensive rebounds and picking off pass attempts. How all of this translates to the NBA is still in question. Unfortunately for Denmon, guard is the one position where the Spurs are already deep. His Summer League teammates, Cory Joseph and Nando De Colo will already be fighting for minutes in the rotation. Denmon is definitely heading in the right direction, but his future with the Spurs is a bit cloudy. He would benefit from some time in the D-League. While he can certainly continue to develop overseas, working within the Spurs' system where he would likely play big minutes with the Toros while becoming more accustomed to the Spurs offense and defense would be a huge plus.
Original Story:
http://www.projectspurs.com/2013-arti...
THE BACKYARD
BEST OF MAXIM
RELATED ARTICLES
According to David Aldridge of NBA.com, the San Antonio Spurs are expected to withdraw their qualifying offer to 28-year-old point guard, Gary Neal, making him an unrestricted free agent. Neal averaged 9.5 points, 2.1 rebounds and 1.9 assists in 22 minutes off of the bench for San Antonio this season – also contributing 6.8 points and 2.1 rebounds in 21 postseason games before...
In his 12 years in the NBA, San Antonio Spurs has rarely dunked in a game. His most memorable dunk was versus Houston early in his NBA career but since then, Parker finishing at the rim has been a rare sight on the court. Until now. Parker is usually the one setting up players for alley oop dunks but this time, he was on the receiving end.  TP hosted a celebrity all-star...
The Gary Neal roller coaster continues.   According to ESPN.com's Marc Stein, the San Antonio Spurs will withdraw Neal's $1.11 million qualifying offer, emboldening the 28-year-old gunner to entertain the unrestricted free agent market.   Stein also tweeted that Neal will likely be "snapped" up quick by another team, given his shooting outburst...
Ryan Richards is the pure definition of potential. If any other NBA team had their hands on him they would be salivating at the thought of what he could bring this season. Most teams would have him on their roster just because well, that's what other teams do. They make their decisions based on potential. We all know the San Antonio Spurs take their time when it comes to prospects...
Deshaun Thomas' chances at making the San Antonio Spurs' final roster is admittedly slim. Don't feel sorry for him, though. He knew what he was getting into.   In five Summer League games, a tiny sample size, Thomas flashed a potent perimeter shot, especially in the pick-and-pop, and advanced basketball acuity, albeit against inferior competition.   ...
Cory Joseph has been added to Canada's roster for the FIBA Americas tournament in Venezuela next month. Joseph competed in the Vegas Summer League this month with the San Antonio Spurs.
The start of the Summer League wasn't ideal for San Antonio Spurs big man Aron Baynes. He had a disappointing first game and needed to bounce back in the following games in order to show the improvement he has made this offseason.   Baynes did just that by averaging 12 points and 10.5 rebounds per game over his 4 games in Las Vegas. His individual post defense on Toronto...
Add guard Cory Joseph to the list of San Antonio Spurs players hitting the hardwood for their home country this summer. Cory will be playing for Team Canada this summer at the FIBA Americas tournament in Caracas, Venezuela this August. "I'm very motivated to help my country get a great performance in Caracas." - @Cory_Joe on the @fibaamericas Championship #RedWhiteandProud...
San Antonio Spurs guard Cory Joseph has had quite the journey since being drafted out of the University of Texas with the 29th pick of the 2011 NBA Draft.   He left Austin for San Antonio, just to go back to Austin a few more times to get some much needed time developing with the Austin Toros.   Then, towards the end of last season and entering the postseason, Joseph...
The San Antonio Spurs will withdraw their qualifying offer to Gary Neal. Neal had been a restricted free agent, but will now become an unrestricted free agent.
After their final Las Vegas Summer League game versus the San Antonio Spurs, the Summer League's MVP the Raptors Jonas Valanciunas took a moment to speak about his former teammate Aron Baynes. Valanciunas stated he played the same physicality as when they were teammates.  He took a moment to praise his low post game. Baynes pulled down 15 rebounds versus the...
The San Antonio Spurs and Oklahoma City Thunder will likely always be rivals as long as both clubs remain atop the Western Conference. The Spurs and Thunder have always jockeyed for position at the top of the conference. Aside from that, losing to the Thunder in the Western Conference Finals two years ago kept the Spurs motivated throughout the season, and it provides enough...
Spurs News

Delivered to your inbox

You'll also receive Yardbarker's daily Top 10, featuring the best sports stories from around the web. Customize your newsletter to get articles on your favorite sports and teams. And the best part? It's free!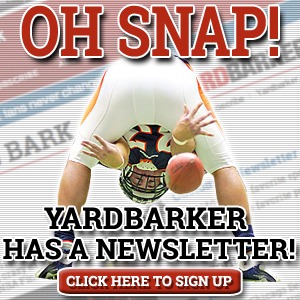 Latest Rumors
Best of Yardbarker

Today's Best Stuff

For Bloggers

Join the Yardbarker Network for more promotion, traffic, and money.

Company Info

Help

What is Yardbarker?

Yardbarker is the largest network of sports blogs and pro athlete blogs on the web. This site is the hub of the Yardbarker Network, where our editors and algorithms curate the best sports content from our network and beyond.