Found February 21, 2013 on Shutdown Line:
If you were to poll most Hurricanes fans right now, most would agree that Alexander Semin has been a great addition to the team. He has made their first line a real force to be reckoned with and is usually one of their best players every night. However, I'm sure that most people were hoping that he would have more than three goals 14 games into the season and only one at even strength. His current pace would give him roughly 10-11 goals on the year and that would be only 17-18 in a full-82 game season. It's not that Semin is playing poorly, but the goals just haven't been coming to him for whatever reason. Going strictly by a goal-per-game rate, one might suggest that Semin is on a decline. He has scored at a rate that was between .4 and .6 goals-per-game for msot of his career but the last two seasons, he's dropped down to below .3. So if you were only looking at goals, then you could say that Semin is on the decline as an offensive player but it's not just all about goals and points. Something people often forget is that a lot of things need to go right for a player to score a goal. The most a player can do when trying to score is find a soft spot in the defense and do his best to pick an open corner in the net when firing a shot on net. I think most would say that Semin has been doing that so far. So why doesn't he have more goals? To put it bluntly, he hasn't been receiving much shooting luck at all, especially when you compare his numbers with the rest of his career. Year G/60 SOG/60 MS/60 SA/60 Sh% 2006-07 1.60892 10.28862 5.758239 16.04686 15.6% 2007-08 1.464239 10.41862 5.012202 15.43082 14.1% 2008-09 1.609456 11.21589 5.230731 16.44662 15.2% 2009-10 1.719198 11.94842 4.641834 16.59026 14.4% 2010-11 1.430067 10.01047 5.720269 15.73074 14.3% 2011-12 0.974606 8.492996 4.548162 13.04116 11.5% 2012-13 0.610045 9.964075 5.083712 15.04779 6.1% G/60 = Goals per 60 minutes, SOG/60 = Shots on goal per 60 minutes, MS/60 = Missed shots per 60 minutes, SA/60 = Shot attempts per 60 minutes, Sh% = shooting percentage Semin had a down year in all areas last season but he has picked it up this year in terms of being able to create shots. His goal rate, however, has decreased but I think that's mostly a factor of terrible shooting luck. His shooting percentage is currently way below his career average despite getting more pucks on net than he did last season. Semin's shot rate is actually close to where it was a couple years ago when he was scoring at high rate for the Washington Capitals. It's fair to say that Semin could at least have two more goals at this point if he was shooting at his career average and even Hurricanes GM Jim Rutherford himself said that Semin has hit "at least four goalposts" this season. Semin is also missing the net quite a bit (and I'm sure a lot of those went off the pipe) but not as much compared to his career average. It's fair to say that Semin probably won't reach the goal-scoring heights he had during the 2009-10 season, but is easily a better offensive player and goal-scorer than his boxcar numbers indicate. An explanation I've heard regarding Semin's shooting percentage is that he doesn't go to the "dirty areas" to score and he shoots from basically everywhere. It's true that Semin isn't a crease crasher, but that hasn't exactly stopped him from finding the back of the net in the past.   SOG/G SA/G Sh% 5v5 Avg. Dist 2008-09 12.633 17.627 14.0% 34.1 2009-10 11.652 16.174 14.9% 34.6 2010-11 9.8873 15.834 14.0% 37 2011-12 8.6234 12.823 11.0% 35.6 2012-13 9.5603 14.34 3.1% 37.7 Semin's average shooting distance during five-on-five play isn't much different from what it has been over his career, which indicates that his three goals in 14 games is due to bad shooting luck more than anything else. I'm sure many would like to see Semin crash the net more often but he doesn't really need to do that with Eric Staal on his line. Plus, Semin is often the main puck carrier on zone entries and either tries to find a shooting lane in the slot or sets up plays that lead to the front of the net. He is a sniper and will rarely be the guy who parks himself in front of the net because that isn't in his job description. Why would it be? Semin is most effective when he is shooting the puck and getting into scoring areas. He has done that so far and if he keeps it up, he begin to score more often. Good and bad streaks happen with goal-scorers. We saw this happen with Phil Kessel this year and Semin is no different. You can try to explain the causes for them all you want, but most of the time it's due to the bounces not going in their favor if they are consistently getting shots on goal. As long as he is driving possession and continuing to get shots on net, the goals will come to him. Of course, with the Hurricanes recent string of injuries they may need the goals to come to him sooner rather than later. Stats taken from Behind The Net  
Original Story:
http://www.shutdownline.com/hurricane...
THE BACKYARD
BEST OF MAXIM
RELATED ARTICLES
These jerseys are reportedly going to be worn March 9th before the Carolina Hurricanes game against the New Jersey Devils.  Quite frankly, who ever designed these jerseys should be fired.  Not only is it not the Carolina Hurricanes colors, but it's not even creative. This looks like something you can get off the sales rack at Wal Mart.  These are brutal and it's a shame they're...
RALEIGH, NC -- Aside from rookie Ryan Murphy, who earlier in the evening made his NHL debut, the Carolina Hurricanes' locker room was empty and silent following their 4-3 loss to the Winnipeg Jets on Thursday night. None of the captains were available to speak to the media, nor was goaltender Cam Ward. The same goes for just about everybody else that suited up for the frustrating...
via Chip Alexander of Canes Now, Canes forward Jeff Skinner has sustained a concussion and will be sidelined indefinitely, the team has announced. Skinner, the team's second-leading scorer, missed 16 games last season because of a concussion. He was injured Thursday during the Canes' game with the Toronto Maple Leafs, taking a couple of hard hits and once going helmet...
Carolina went into last week with a depth chart that looked something like this: Color key: Orange = Injured player, Blue = Not waiver exempt, Green = Non contract player Since then, Carolina has seen five different players suffer injuries and now their depth looks more like this: To sum things up, in the short span of one week the Hurricanes have a top-six...
Carolina has been a poor defensive team for the majority of this season, which makes it very surprising that two of their best defensive performances came in games where they were missing two of their top blue-liners. Those games being last week's win over Toronto and last night's 4-3 loss to Winnipeg. Carolina yielded only seven even strength scoring chances to the Jets...
All Sports News

Delivered to your inbox

You'll also receive Yardbarker's daily Top 10, featuring the best sports stories from around the web. Customize your newsletter to get articles on your favorite sports and teams. And the best part? It's free!
THE HOT 10: Who's Trending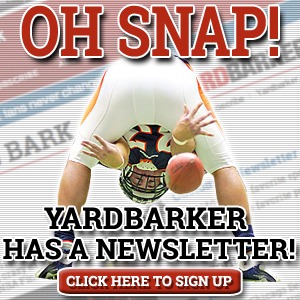 Latest Rumors
Best of Yardbarker

Today's Best Stuff

For Bloggers

Join the Yardbarker Network for more promotion, traffic, and money.

Company Info

Help

What is Yardbarker?

Yardbarker is the largest network of sports blogs and pro athlete blogs on the web. This site is the hub of the Yardbarker Network, where our editors and algorithms curate the best sports content from our network and beyond.