Found February 20, 2013 on Busted Coverage:
How ridiculous are the Houston Astros after coming off a 55-107 season? Someone on this team requested Alicia Keys' hit "No One" should be played during batting practice, according to this photo tweeted by Houston Chronicle reporter Brian Smith (@ChronAstros). Shall we take a look at the lyrics to this song that'll make you want to cry and think of road beef in Arizona? I just want you close Where you can stay forever You can be sure That it will only get better You and me together Through the days and nights I don't worry 'cause Everything's gonna be alright People keep talking They can say what they like But all I know is Everything's gonna be alright And no one, no one, no one Can get in the way of what I'm feeling No one, no one, no one Can get in the way of what I feel for you, you, you Can get in the way of what I feel for you When the rain is pouring down And my heart is hurting You will always be around This I know for certain Of course Houston finished 30th out of 30 MLB teams in hitting during the 2012 season. Maybe miserable music really is appropriate for this squad. Filed under: Baseball
Original Story:
http://bustedcoverage.com/2013/02/20/...
THE BACKYARD
BEST OF MAXIM
RELATED ARTICLES
The Houston Astros knew that 2012 would be a rebuilding season, but, even knowing that, it was a disappointing season for Astros fans.  The team changed managers mid-season firing Brad Mills and bringing in Tony DeFrancesco on their way to a last place 55-107 finish, 42 games behind the division winning Cincinnati Reds.  With a loss on the final day of the season, the Astros finished...
The relationship between Roger Clemens and the Houston Astros continues to be a close one. Clemens did spend three seasons pitching for the Astros (2004-2006), but he remains tied to his hometown MLB team with his role as special assistant to general manager Jeff Luhnow. Clemens showed up at Astros camp in Kissimmee, Fla. on Tuesday, and while he did say that he intends to throw...
While the sports world is speculating about whether or not a 50-year-old Michael Jordan could compete in today's NBA, 7-time Cy Young Award winner competed today with major leaguers [insert joke here about Astros being a AAA team] in a 20 minute session in Kissimmee, Florida as the Astros prepare for their Grapefruit League opener. Credit: Karen Warren, Houston Chronicle According...
The Houston Astro embark on a new journey in the AL.  Many years ago (not that many, but more than some) the Milwaukee Brewers left the AL Central and ventured into the NL Central giving the NL 16 teams to the AL's 14.  In order to rectify this great inequity, the Astros are being moved to the AL.  It's not too tragic.  They were an expansion team, have never won the World...
Jose Altuve is his name and speed is his game. At 5-5, 170 pounds he is one of the few professional athletes I can say I "look down" on (in a height sense, of course…I'm 5-7), but his game has big potential.For one, his batted ball profile suggests he should perennially have a BABIP in the .330-.350 range because he almost always puts the ball in play  (90.7% contact rate...
Imagine a team with Brad Peacock, Bud Norris and Carlos Corporan - yes, the C-Corp himself. Add former Yankee legends Jose Veras and Justin Maxwell.  Now, move this team's esteemed pitching staff from the NL - where Pavanos hit - to the AL, where the Travis Hafners and Big Papis win restraining orders against their mitts. Hey, congratulations! you've just visualized the...
It's official: according to Ryan Lawrence, Cole Hamels will start the Grapefruit League opener against the Houston Astros this Saturday, with speculation running rampant that Hamels will also be pegged the Opening Day starter. Pitching coach Rich Dubee believes he will use Hamels, Roy Halladay, and Cliff Lee in the opening series against Atlanta, with a preference to splitting...
Our good friend Brett Barton (@BrettBarton_FBV) at Fantasy Baseball Vision will help you prep for your upcoming drafts. Last time he gave us the Target & Avoid players from the American League East.  Follow him on twitter so you don't miss the Fix My Team segments and of course position rankings.Houston AstrosTarget: Jose Veras The Astros could go down as one of the worst...
Astros News

Delivered to your inbox

You'll also receive Yardbarker's daily Top 10, featuring the best sports stories from around the web. Customize your newsletter to get articles on your favorite sports and teams. And the best part? It's free!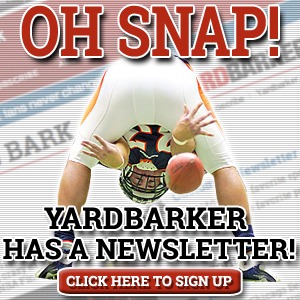 Latest Rumors
Best of Yardbarker

Today's Best Stuff

For Bloggers

Join the Yardbarker Network for more promotion, traffic, and money.

Company Info

Help

What is Yardbarker?

Yardbarker is the largest network of sports blogs and pro athlete blogs on the web. This site is the hub of the Yardbarker Network, where our editors and algorithms curate the best sports content from our network and beyond.