Found August 12, 2012 on Fox Sports:
Watkins Glen International turned into a 2.45-mile slip-and-slide Sunday as NASCAR Sprint Cup drivers attempted to avoid oil and rain. But Marcos Ambrose used his stellar road-course skills -- and a little luck -- in an effort to find a dry line with maximum grip on a track that was less than satisfactory after the No. 47 Toyota coated the surface with oil. And when the track wasn't sufficient, Ambrose moved to the grass -- and everywhere in between -- to hold off Brad Keselowski at the finish. "It was absolute chaos at the end," Ambrose said. While Ambrose said he was "the first one to slip in the oil," Kyle Busch slid sideways entering the first turn on the last lap. After contact with Busch, Keselowski took the lead with Ambrose directly behind him. The contest became not which driver had the dominant car but which could avoid the oil. "You couldn't see where the oil was at," Ambrose said. "If it was a black streak, it would be OK. It was almost like a fine spray. . . . Didn't know what was really going on. Not until I saw Brad and Kyle sliding as well. I thought, 'OK, there's something on the track and we're going to have to deal with it.' " Keselowski and Ambrose slid through oil and traded the lead several times coming to the finish with Ambrose's No. 9 Stanley Ford besting Keselowski's No. 2 Miller Dodge by 0.571 of a second at the end. "You just take your chances," Ambrose said. "You've got to commit at that point in the race." Ambrose stayed the course. The victory in the Finger Lakes 355 at The Glen offered the driver of the No. 9 Richard Petty Motorsports Ford his second consecutive win at the track and elevated his team to fifth in the wild-card standings. For Busch, who finished seventh after leading a race-high 43 laps, nothing short of a win at the Glen would have improved his chances of earning a wild-card spot in the Chase for the Sprint Cup. While Busch moved up to 14th place in the points standings and third in the wild-card rankings, that's hardly a consolation for a driver who entered the weekend expecting to win -- and certainly had a serious shot to do so. He declined comment after the race. With four races remaining before the Chase field is decided, Ambrose will need another win to be a serious contender among the wild cards. Since the new ownership group took over at Richard Petty Motorsports before the 2011 season, an RPM team has yet to qualify for the Chase. Ambrose believes RPM's best opportunity for a second win is next week at Michigan, where the team won the pole in June. "We were running in the top five all day there," Ambrose said, recalling his ninth-place performance at the 2-mile-long track. "No reason we can't go there and surprise them again." The win at Watkins Glen comes at an opportune time for Ambrose and RPM. In the first 21 races of the season, neither Ambrose nor teammate Aric Almirola had scored a top-five finish before Sunday. And RPM was being courted by Dodge before the manufacturer elected last week to pull out of NASCAR at the end of the year. Now RPM must renegotiate its deal with Ford Motor Co. "I have raced in those conditions before, but not when there's so much at stake," Ambrose said. "We're racing NASCAR Sprint Cup Series here. Wins are hard to come by. Just a lot of pressure and you're up against the best drivers in the world." A new sensation Yes, Brad Keselowski was a bridesmaid once again at the Glen. However, it wasn't until last season that he was even considered a contender on road courses. That's when he scored his first top-10, at Sonoma. Two month later, he followed that performance with a second place at Watkins Glen. "We were very, very close," Keselowski said. "Trying to keep in perspective how far we've come as a team. To run this competitively on road courses is something I'm very proud of." Not only was 2011 Keselowski's breakthrough season on road courses, it was the year he established himself as an elite Sprint Cup driver and a perennial winner. Keselowski has matched his career-best record with three victories this season, and his second-place finish Sunday elevated him to fifth in the points standings -- the same position he finished in last year. "Brad has proven that he can run a great race on road courses," crew chief Paul Wolfe said. "Today was no different. I think that we've shown over the last few weeks that we've put ourselves in position to win, and that's what we are here to do, win races. It was tough not to get a win, but it was a heck of a finish." And with his versatility on all tracks -- including road courses -- Keselowski is putting himself in position to also be considered a true champion contender. Numbers game 2: Consecutive wins for Marcos Ambrose at Watkins Glen and his average finish at the track. 2: Consecutive top-10 finishes for Regan Smith -- both earned since crew chief Todd Berrier took over the team at Indy. 3: Career top-five finishes for Sam Hornish Jr. after finishing fifth on Sunday -- his first top-five since Michigan in 2009. Say what? Jeff Gordon, who dropped from 12th to 21st after he spun on the last lap: "I guess someone was laying oil and NASCAR doesn't want (races) to end under caution. They talked about it the whole lap but never want to throw a caution. So you're racing as hard as you can for every position. . . . We started good, got off and fell back and we were coming big time at the end. I was passing a lot of cars, racing (Matt Kenseth). . . . "I had no idea there was oil there, on the outside of the last turn. So (Kenseth) gave me the outside, I think he might have seen the oil. I went to the outside and hit it and spun right out. I'm just really disappointed because we fought hard today to come back to get what was going to be a pretty nice finish. . . . "It's just unfortunate that that gets taken away from you because NASCAR doesn't want to end the race under yellow. I understand you want to keep it entertaining and give the winner a shot at it. But there's a lot of other things going on out there, too. I think they completely disregarded that, and, hey, it's over now. We'll move on."
Original Story:
http://msn.foxsports.com/nascar/story...
THE BACKYARD
BEST OF MAXIM
RELATED ARTICLES
We saw an incredible road-course race Sunday at Watkins Glen. You would have to look long and hard to find a finish like that on a road course. For that matter, other than maybe Daytona and Talladega -- where we know that just because you are leading the white-flag lap you probably wouldn't be the winner of the event -- you won't see a finish like we did Sunday very often...
Marcos Ambrose, driver of the No. 9 Stanley/DeWalt Ford Fusion, is the defending winner of the Finger Lakes 355 at The Glen.  He spoke to reporters earlier this afternoon. MARCOS AMBROSE ON WATKINS GLEN: "I remember the rain from last year and we had to wait until Monday to get it in, but it is good to come back.  It's been a good track for me and I'm ready to get started...
In the final laps at Sunday's NASCAR Sprint Cup Series race at Watkins Glen, Marcos Ambrose's chances for the checkered flag looked slim.  After passing Brad Keselowski to move into second and staying neck-and-neck with the leader Kyle Busch, Keselowski got by Ambrose. At this time, Bobby LaBonte's engine sprung an oil leak, spewing the slippery black gold all over...
  On a track too greasy to provide traction, Marcos Ambrose surged from third to first on the final lap of Sunday's Finger Lakes 355 at Watkins Glen International and won the race in a slugfest with runner-up Brad Keselowski. Keselowski had grabbed the lead in Turn 2 of the final circuit at the 2.45-mile road course, after he knocked Kyle Busch's No. 18 Toyota for a loop...
Defending Watkins Glen race-winner Marcos Ambrose entered the Sprint Cup Series' Finger Lakes 355 as the odds-on favorite to win. And Ambrose, who...
THE MODERATOR:  We'll get started with our winner's press conference.  We welcome Marcos Ambrose who won today's race.  Second victory here at Watkins Glen and second career NASCAR Sprint Cup Series victory.  With this win today, Marcos is now eligible for his second straight NASCAR Sprint Cup Series All-Star Race.  This is his first victory of 2012. Talk a little bit...
  Add another driver to the mix for the second Wild Card berth, the final Chase position available. With his second career win at Watkins Glen, Marcos Ambrose inserted himself into the Wild Card mix. Though he's yet to win at the Sprint Cup level on an oval track, which is a necessity if Ambrose hopes to make the Chase, anything is possible. There are now six drivers who...
Marcos Ambrose led the way for the Ford Racing drivers by qualifying 5th for the Finger Lakes 355 At The Glen from Watkins Glen International. The next highest Ford driver was Michael McDowell in 11th place, a great run for a team that normally parks races. Greg Biffle (15th) and Carl Edwards (18th) were the only other Ford drivers in the top 20. Below is reactions from those Ford...
The celebration in victory lane after the crazy win my Marcos Ambrose at Watkins Glen Here is a pdf I put together of all the post-race quotes I could come up with from Watkins Glen including Marcos Ambrose, Brad Keselowski, Jeff Gordon and Dale Earnhardt Jr. 2012-nascar-watkins-glen-post-race-quotes
Photo – Getty Images By Jason Schultz One of the best races fans have ever witnessed sent Marcos Ambrose to victory lane for the second year in a row at Watkins Glen. Going into the final lap Ambrose was third and he crossed the finish line first. Many factors affected the end of the race, but oil was the biggest one. After Bobby Labonte blew his engine with two to go, he laid...
One of the best races we have ever witnessed sent Marcos Ambrose to victory lane for the second year in a row at Watkins Glen. Going into the final lap Ambrose was third and he crossed the finish line first. Many factors affected the end of the race but oil was the biggest one. After Bobby Labonte blew his engine with two to go, he laid oil all over the track and the leaders would...
NASCAR had one of the most exciting final laps in its history yesterday at Watkins Glen.  The last lap brought back memories of Petty v Pearson at the 1976 Daytona 500 and Kurt Busch's classic Darlington duel with Ricky Craven in 2003.  Kyle Busch took the white flag first, but careened off the track in the first turn.  Busch was then spun by Brad Keselowski in Turn...
All Sports News

Delivered to your inbox

You'll also receive Yardbarker's daily Top 10, featuring the best sports stories from around the web. Customize your newsletter to get articles on your favorite sports and teams. And the best part? It's free!
THE HOT 10: Who's Trending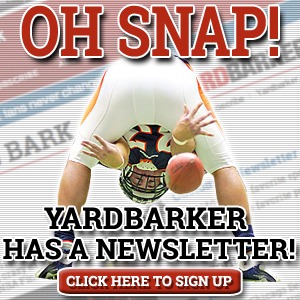 Latest Rumors
The Backyard

Today's Best Stuff

For Bloggers

Join the Yardbarker Network for more promotion, traffic, and money.

Company Info

Help

What is Yardbarker?

Yardbarker is the largest network of sports blogs and pro athlete blogs on the web. This site is the hub of the Yardbarker Network, where our editors and algorithms curate the best sports content from our network and beyond.