Posted January 18, 2013 on AP on Fox
Oprah Winfrey's interview with Lance Armstrong is more than an illustration of a hero athlete tumbling from the heights. It's also a pivotal moment for a famous media figure trying to climb the ladder back up. Winfrey's OWN network is showing signs of life after a rocky start, and the Armstrong interview offered a chance for many more viewers to check it out. The former Tour de France cyclist admitted to cheating with performance enhancing drugs throughout his career during the first half of the interview Thursday night. A second part is to air Friday. The interview ''showcases the No. 1 asset this network has over everybody else - and that's Oprah Winfrey,'' said Erik Logan, co-president of the network with Sheri Solata. It also showcased about everything else; OWN relentlessly advertised its programming on just about every commercial break. Winfrey, who hosts ''Oprah's Master Class,'' ''Oprah's Life Class'' and a weekly interview show on OWN, attended a real-life television management class over the past three years. The network launch at the dawn of 2011 came during the last season of Winfrey's popular syndicated show, and that proved to be a major strategic error. The daily talk show gave Winfrey's fans their Oprah jolt, and they had little reason to watch the Oprah Winfrey Network. Winfrey wasn't much of a presence there, anyway. She was concentrating on making sure her syndicated show went out with a flourish. OWN flailed for direction with little-noticed celebrity reality shows featuring the Judds and Ryan and Tatum O'Neal. A Rosie O'Donnell talk show was an expensive flop. Discovery Communications, which sunk a reported $250 million into OWN, told Winfrey she needed to be more involved with OWN, on and off screen. In July 2011, she became CEO as well as chairwoman of OWN, replacing Christina Norman. ''The initial expectations for this network turned out to be unrealistic,'' said Brad Adgate, an analyst for Horizon Media. ''Oprah wasn't on camera. The shows weren't all that good. The network got raked over the coals. People thought the network would be doing a million viewers (on average) and it's doing a third of that.'' The Discovery networks save money by sharing services, yet OWN had set up its own fiefdom. That ended. Discovery brought in its executives to take over legal and business affairs, and OWN laid off one-fifth of its staff last March. To the outside world it looked like a sinking ship, while to Discovery the ship was being righted. ''We were always a lot more confident internally than it looked externally,'' said David Leavy, chief communications officer for Discovery. Like all cable networks, OWN has a dual revenue stream with advertising income as well as payments from cable and satellite operators to carry it on their systems. In its early days, OWN was operating on fees negotiated for its predecessor network, Discovery Health. Now much larger fees negotiated specifically for OWN are kicking in, many of them at the first of this year. Discovery says OWN will turn profitable this year. A network still needs viewers to sustain itself, and there are some signs of life there, too. OWN's prime-time audience averaged 310,000 in 2012, up 30 percent from 2011, the Nielsen company said. Isolate the last three months of each year and the increase is 61 percent, even more among the target of middle-aged women. OWN is carving out a small niche where it hadn't expected. The Saturday night lineup of ''Welcome to Sweety Pie's,'' about former Ike and Tina Turner backup singer Robbie Montgomery's soul food restaurant that she operates with her family, and ''Iyanla: Fix My Life,'' an advice show with inspirational speaker Iyanla Vanzant, represent the most successful non-Oprah shows. Another new program, ''Six Little McGhees, which follows the life of an Ohio couple with sextuplets, is also on the Saturday lineup. The shows have drawn an audience of African-American women put off by more youth-focused programming on networks like BET. OWN's audience is roughly one-third black. OWN recently reached a deal to develop scripted programming with Tyler Perry, the creative force behind movies like ''Madea's Family Reunion'' and the TBS series ''Tyler Perry's House of Payne.'' Winfrey was known for attracting stars and confessions on her syndicated show - remember Tom Cruise's couch jump? And even before landing the Armstrong interview, Winfrey has delivered the goods as an interviewer on her Sunday night show, ''Oprah's Next Chapter.'' Her talk with David Letterman that aired earlier this month was one of the most remarkable interviews the reticent CBS host has ever given. Last year's interview with Whitney Houston's family shortly after the singer's death reached just under 3.5 million viewers, OWN's biggest audience yet. Other high-rated episodes of ''Oprah's Next Chapter'' featured Rihanna, Usher, Pastor Joel Osteen, the Kardashians and Steven Tyler. The Armstrong interview aired before the usual Sunday night time slot partly because it was considered newsworthy enough to rush, but also because Winfrey had scheduled and promoted a talk with Drew Barrymore for Sunday. Considering many viewers still have to search to find the network on their cable system, that's a particularly strong lineup for OWN. She's more competitive with the much bigger broadcast networks than could have rightly been considered. The impact of the Armstrong interview won't be known for a while, Logan said. Winfrey has called it the biggest interview of her career and it has already drawn more attention to OWN's content than anything else so far. Removing the stench of failure in itself would be a big step. The interview could also help OWN reach the 20 million or so cable and satellite subscribers across the country that currently don't have it on their systems, Adgate said. ''They'll be calling their cable operators and saying, `How come I'm not getting this?''' he said. --- Television Writer Frazier Moore in New York contributed to this report. --- EDITOR'S NOTE - David Bauder can be reached at dbauder''at''ap.org or on Twitter (at)dbauder.
Original Story:
http://msn.foxsports.com/cycling/stor...
THE BACKYARD
BEST OF MAXIM
RELATED ARTICLES
Oprah Winfrey's interview with Lance Armstrong is more than an illustration of a hero athlete tumbling from the heights. It's also a pivotal moment for a famous media figure trying to climb the ladder back up. Winfrey's OWN network is showing signs of life after a rocky start, and the Armstrong interview offered a chance for many more viewers to check it out. The former...
Like any true sportsman (nod Lance Armstrong) you're out there trying to get an edge on your competition. First it was training with those Vibram five-fingered toe shoes but as comfortable and useful as they are it is impossible to walk around in them and not look a bit odd.  Thankfully, Vibram's former CEO has come up with a solution for us: Camel-toe shoes.  At...
The former chief of the U.S. Anti-Doping Agency says a representative of Lance Armstrong's offered the agency a donation in the range of $200,000 to $250,000 in 2004 and the agency immediately rejected it. Terry Madden, who led USADA from 2000-07, corroborated a story current CEO Travis Tygart told in an interview earlier this month. In his interview with Oprah Winfrey on Friday...
First shunned, then vilified by Lance Armstrong, Mike Anderson had to move to the other side of the world to get his life back. Now running a bike shop outside of Wellington, New Zealand, Armstrong's former assistant watched news reports about his former boss confessing to performance-enhancing drug use with only mild interest. If Anderson never hears Armstrong's voice again...
Lance Armstrong, former winner of seven Tour de France titles as well as the former owner of an Olympic bronze medal, finally admitted to using performance enhancing drugs in a televised interview with Oprah Winfrey on Thursday night. When asked if he doped he said, quite simply: "I am sitting here today to acknowledge that and to to say I'm sorry for that." Armstrong admitted...
Admitting he cheated was a start. Now, it's all about whether Lance Armstrong is ready to give details - lots of them - to clean up his sport. Armstrong's much-awaited confession to Oprah Winfrey made for riveting television, but if the disgraced cyclist wants to take things further, it will involve several long days in meetings with anti-doping officials who have very specific...
- Here are WWE's dates for their next UK tour in November: RAW: November 6: Belfast, Ireland November 7: Dublin, Ireland November 8: Brussels, Belgium November 9: Birmingham, England November 10: Cardiff, Wales November 11: Manchester, England TV November 12: Newcastle, England November 13: Zurich, Switzerland November 14: Roeun, France November 15: Marseille, France SmackDown...
Before his abrupt U-turn in an interview this week with Oprah Winfrey, Lance Armstrong had, many times and in many forums, consistently denied that he used performance-enhancing drugs. Here is a sample of some of the cyclist's choicest comments on the subject before he finally admitted to doping: --- ''Luke's name is Armstrong and people know that name, and when...
Time was better spent eating a homemade dinner* and watching the season premiere of Archer and college basketball than watching Lance Armstrong pathologically mouth the right words but show no remorse and engage in an absurd attempt at a semantics lesson. Apparently this interview needed a level-headed lawyer type like Nancy Grace. It looks like we're not going to hear from Manti...
He did it. He finally admitted it. Lance Armstrong doped. He was light on the details and didn't name names. He mused that he might not have been caught if not for his comeback in 2009. And he was certain his ''fate was sealed'' when longtime friend, training partner and trusted lieutenant George Hincapie, who was along for the ride on all seven of Armstrong...
Sporting Kansas City CEO Rob Heineman says the loss of trust led the Major League Soccer team to sever ties with the cancer charity founded by Lance Armstrong. Heineman also said Wednesday the ''tumultuous environment'' that developed before the cyclist admitted to using performance-enhancing drugs also played into the team's decision to change Livestrong Sporting...
Andre Greipel easily outsprinted his rivals Sunday to win the Tour Down Under's 30-mile criterium. The German sprint star, riding for the Lotto Belisol team, claimed his third win in the criterium, which is raced over 10 laps of a course through parkland near downtown Adelaide. He went on to win the six-stage tour twice previously, in 2008 and 2010, beating a field including...
All Sports News

Delivered to your inbox

You'll also receive Yardbarker's daily Top 10, featuring the best sports stories from around the web. Customize your newsletter to get articles on your favorite sports and teams. And the best part? It's free!
THE HOT 10: Who's Trending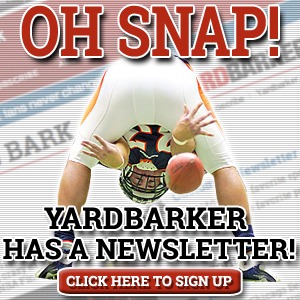 Latest Rumors
The Backyard

Today's Best Stuff

For Bloggers

Join the Yardbarker Network for more promotion, traffic, and money.

Company Info

Help

What is Yardbarker?

Yardbarker is the largest network of sports blogs and pro athlete blogs on the web. This site is the hub of the Yardbarker Network, where our editors and algorithms curate the best sports content from our network and beyond.