Found January 29, 2013 on Indians Baseball Insider:
Around the Farm will say good bye for the offseason in the next few days, but will return in a few weeks once minor league spring games kick up in mid-March. Tony takes a look at the performance of Ezequiel Carrera whose team played in a very important Game 5 on Monday night in a best-of-seven series that was tied 2-2.
Original Story:
http://www.indiansbaseballinsider.com...
THE BACKYARD
BEST OF MAXIM
RELATED ARTICLES
The IBI's 2013 Indians Top 60 Prospect countdown continues on with right-handed starting pitcher Clayton Cook. Cook suffered an injury last season that resulted in an abrupt end to his season and had several setbacks in his return and finally ended up having surgery. Tony gives the details on how serious the injury was, how long he could be out, how his prospect value has changed...
The IBI's 2013 Indians Top 60 Prospect countdown continues on with right-handed reliever Bryce Stowell. He followed up a strange 2011 season with a lost season last year as he struggled with injuries once again. There is no doubt the stuff is still in there to be a high level prospect, but injuries every year and time is starting to creep up on him. Tony takes a look at this...
The Cleveland Indians have re-built their entire offense into a versatile group of players that can hit from both sides of the plate. Over the years, these players have either put up a tremendous amount of offensive firepower, or have to ability to do just that. Do the Indians have an offense that could explode in 2013, or is the upside potential of this team a lot lower than the...
The IBI's 2013 Indians Top 60 Prospect countdown continues on with catcher Alex Lavisky. Lavisky continues to show good catching and leadership skills, but his questionable bat actually showed some improvement last season. Tony goes into detail on the improvement he showed with his swing, how his performance spiked in the second half of last season, all the value he provides...
The Indians made a lot of folks sit up when they hired Terry Francona to be their new manager. Among those who noticed: The players. I was excited, second baseman Jason Kipnis said last week before the teams Fan Fest. You know what he brings to the table, you know what kind of reputation he has. Hes a players coach and hes a winner. You can ask people around the league, all the guys...
Welcome to this week's edition of the IBI Power Poll. The Poll will take a look at a relevant topic of the time, an all-time list, or just something that we're talking about here at the IBI home offices. There's nothing like a list to spur a debate, so join us in our lively banter with our weekly polls! Today's poll focuses on the best Indians' shortstop of all...
From what I can tell, there seem to be two fairly entrenched camps that have sprung up regarding the Indians' approach to the designated hitter spot this season. The first group seems to be arguing that the team might be better off without a full-time DH.  The thinking here goes that a designated designated hitter makes the team less adaptable; it would hamstring Terry Francona's...
Changing the topic this week back to my original favorite sport, baseball. Thanks again to all for your really positive feedback on last week's edition on franchise-building in the NBA. "The best way to improve your team is to score more runs and allow fewer runs. I'm not as concerned at how we do it, but our focus is to score more and allow fewer." Those were the inspiring...
It's 64⁰ and raining with the potential for thunderstorms here at the Corner of Carnegie and Ontario on January 30th. I suppose it's a bit too late to call it an Indians' summer, and perhaps a bit optimistic to call it a pre-cursor to the end of winter, especially considering the icy wonderland of the past couple of months, but you sure do have to wonder if it's a sign...
The Cleveland Indians and Clear Channel have reached an agreement on a five-year contract that will allow the long-time flagship station of the team to carry games through 2017. WTAM/1100 AM will continue to carry every Indians game while 100.7 FM/WMMS — the flagship station of the Cleveland Browns — will reportedly simulcast 144 games over the course of each season, leaving...
The Indians still are without a definite designated hitter for the 2013 and have apparently been linked to two former Indians players, Travis Hafner and Jim Thome. In what is a sad state of events for Hafner, both players are essentially at the same point in their career, despite Pronk starting his career over a decade after Thome. Both players have seen decreases in playing time...
From May to June last year, the Mets had Vinny Rottino on the team and had to use him as a starter on B-Roster Days. I remember one of these days clearly. it was the start where Johan Santana pitched a complete game shut out before pitching his no hitter. The Mets won 9-0 thanks to home runs by Scott Hairston, Vinny Rottino and a grand slam by Mike Nickeas. The starting lineup that...
Indians News

Delivered to your inbox

You'll also receive Yardbarker's daily Top 10, featuring the best sports stories from around the web. Customize your newsletter to get articles on your favorite sports and teams. And the best part? It's free!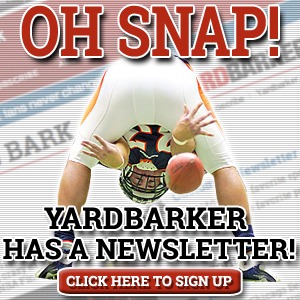 Latest Rumors
Best of Yardbarker

Today's Best Stuff

For Bloggers

Join the Yardbarker Network for more promotion, traffic, and money.

Company Info

Help

What is Yardbarker?

Yardbarker is the largest network of sports blogs and pro athlete blogs on the web. This site is the hub of the Yardbarker Network, where our editors and algorithms curate the best sports content from our network and beyond.