Found November 13, 2012 on SeaTown Sports:
PLAYERS:
Russell Wilson
,
Marshawn Lynch
,
Tom Cable
,
Sidney Rice
,
Golden Tate
,
Doug Baldwin
,
Zach Miller
,
Russell Okung
,
Max Unger
,
Breno Giacomini
,
John Moffitt
,
Bruce Irvin
,
Chris Clemons
,
Red Bryant
,
Brandon Mebane
,
Bobby Wagner
,
K.J. Wright
,
LeRoy Hill
,
Richard Sherman
,
Brandon Browner
,
Kam Chancellor
,
Earl Thomas
,
Jon Ryan
,
Steven Hauschka
,
Leon Washington
,
Pete Carroll
TEAMS:
Seattle Seahawks
                                                                Photo Credit: Elaine Thompson/Associated PressSomehow, the Seahawks only have six games remaining in the regular season. Is it just me, or does the NFL season go by faster and faster with each passing year? Nonetheless, Seattle is 6-4, and holds the 6th and final playoff spot in the NFC. So how did they get to this point? Let's take a position-by-position look at the team.Quarterback: Russell Wilson has steadily improved his play and barring injury, he will be the Seahawks starter the rest of the way. In the first few games, the playcalling was way too conservative, leading some to believe if Wilson was the right choice at QB. The coaching staff eventually loosened the reins, and since then Wilson has been efficient. Wilson has 10 touchdowns and only two interceptions in the past five games. His mobility has always been there, but recently his ability to step up in the pocket and find throwing lanes down the middle has been great to watch. This added element makes him a threat in and out of the pocket. Moving forward, this seems to be another genius draft pick from the front office. Grade: B Running Backs: Marshawn Lynch has continued to be a force in the backfield, rushing for 100+ yards in four straight games. With his performance against the Jets, Lynch surpassed 1,000 yards for the second consecutive season. Just a couple seasons ago, the Seahawks running game was in shambles. But, Lynch has changed that entirely. Credit also has to be given to Tom Cable and the offensive line, but Lynch's physical, never say die running style is a sight to behold. Grade: AWide Receivers/Tight Ends: Seattle has yet to have a 100+ yard receiving day from this unit, but that does not mean they haven't been effective. At long last, Sidney Rice has emerged as the number one receiver. He has developed some nice chemistry with Wilson, and the past two games against the Vikings and Jets have been arguably his two best as a member of the Seahawks. He is starting to show that his couple good seasons with the Vikings were no fluke. Golden Tate continues to be inconsistent, but his sheer athleticism makes him a viable number two option at wide receiver. Wilson's ability to throw an accurate deep ball plays well into Tate's skillset. His TD catch against the Jets on Sunday is evidence, and moving forward, expect to see more of this from Tate. Doug Baldwin continues to be plagued by injuries, but if he can return in the final six games, could provide a boost in the slot, a position that is much more valuable when there are two impact wide receivers on the outside. Zach Miller has quietly become the third leading receiver in terms of yardage on the team. But the Seahawks signed him to that sizable contract expecting more from him in the redzone. Grade: BOffensive Line: Russell Okung has had trouble with penalties this season, but fans and the team alike should still be pleased with his performance. Opposing defenses have yet to register a sack when rushing from that end. This is exactly why Seattle used their 6th pick on him a few seasons back. Left tackle is such an important position in any level of football, and this season, Okung has protected Wilson's blindside perfectly. Max Unger continues to be an underrated player on this offensive line. His ability to read coverage, deliver accurate snaps, and block up the middle make him a Pro Bowl caliber center. It goes without saying that Breno Giacomini has had a problem with penalties. But if he can keep his personal fouls in check, has he really been that bad otherwise? The rotating unit at right guard is a bit of a concern, but expect John Moffitt to eventually take over that role full time. In the run game, they've been great as a whole, allowing Lynch to surpass 1,000 yards with six games left to play. Penalties are the only thing that prevent this unit from being great. Grade: BDefensive Line: Bruce Irvin, yes Bruce Irvin, is tied for the team lead in sacks. After a slow start, he has found his groove and is starting to prove his worth as a first round selection. His coming out party against Carolina and Cam Newton really kickstarted his season. Contractual issues left Chris Clemons out of much of the offseason workouts, and he's never really put together a strong game from start to finish this season. Yet, he's tied with Irvin as the sacks leader. He's going to be fine. In the middle, Red Bryant and Brandon Mebane are as advertised and show no signs of letting up. Yes, they've let up some rushing yards recently. Don't expect that to continue. Grade: A-Linebackers: Bobby Wagner, yes Bobby Wagner, leads the team in tackles, and it's not close. He's proven to be a steal as a second round pick, and has embraced the leadership and signal calling role on this young, athletic defense. It's nice to know the middle linebacker position will be locked up for years to come. Prior to his concussion, K.J. Wright was effective at strong side linebacker. After the bye week, Carroll expects to have him back in the starting lineup. Leroy Hill, one of the final members of the Seahawks Super Bowl roster, has provided a veteran presence at weak side linebacker. With all of these playmakers on defense, Hill hasn't been asked to do too much, and they don't need him to. Grade: B+Secondary: Richard Sherman? Check. Brandon Browner? Check. Kam Chancellor? Check. Earl Thomas? Check. Grade: ASpecial Teams: Jon Ryan and Steven Hauschka were both released by the Packers and Broncos respectively. They've both proven to be effective at positions built around consistency. Ryan averages 49 yards per punt and Hauschka is perfect in field goal attempts from 49 yards or less. Leon Washington has been frustrating at times in the return game, but the team has to keep him in there for his big play ability. Grade: A-Coaches: Pete Carroll and Darrell Bevell were criticized early in the season for their conservative play calling on offense. Now that they've let Wilson open things up in the passing game, this unit has proven to be much more effective. Tom Cable has orchestrated a great run game, and on defense, Gus Bradley is showing why many consider him to be a future NFL head coach. Grade: B+As it stands, 10-6 appears to be the magic record for a playoff berth in the NFC. At 6-4, the Seahawks would have to go 4-2 in their final six games, which are as follows: at Miami, at Chicago, vs. Arizona, at Buffalo (in Toronto), vs. San Francisco, vs. St. Louis. Are there four wins in there? Certainly. But playoffs or not, the Seattle Seahawks appear to be a team poised for continuous success for the rest of the decade. 
Original Story:
http://www.seatownsports.net/seahawks...
THE BACKYARD
BEST OF MAXIM
RELATED ARTICLES
There is no doubt, Russell Wilson is the future of the Seattle Seahawks' franchise. They will win Super Bowls with him and out of all the rookie quarterbacks he is the one who, in the end, will win the most titles and awards. RG3 and Andrew Luck will win a Super Bowl, but Wilson will out do them both. He is unstoppable at home, has unquestionable leadership abilities, and...
STAND BY YOUR QB
Antonio Cromartie did not mince words when coming to the defense of the team's quarterback, saying the following about Mark Sanchez detractors: "They can kiss my a**."
Pete Carroll is known to be a player's coach and after a 6-4 start; he feels the troops need a good break. The surprise Seahawks have a late bye this year coming in week 11, and after a 28-7 thrashing of the New York Jets, he feels good about his team. They are second in the NFC west and a serious contender to the San Francisco 49ers. Carroll spoke about giving his team a week...
Seattle Times Seahawks reporter, Danny O'Neil tweeted out an interesting quote attributed to WR Sidney Rice in response to Golden Tate's TD pass to Rice: "His throwing motion was the worst. I thought we traded for Tebow for a second." Interesting given the fact the Seahawks played against Tebow and the struggling Jets today and quite funny in my opinion if true.   
Russell Wilson threw touchdowns of 38 yards to Golden Tate and 31 yards to Sidney Rice, and the Seattle Seahawks sent the New York Jets to their worst start since 2007 with a 28-7 win on Sunday. Wilson was harried for much of the day by the multiple looks from the Jets' defense. But the Seattle rookie responded with key throws, hitting Tate on the opening drive, then connecting...
Phil [Bad]Luckett The Seattle Seahawks were at home on a chilly night in December with Vinny Testaverde and the Jets coming to town. How Testaverde was still able to play the game is beyond all of us, but one this is for certain – he was part of one of the most controversial plays in Seahawks team history. It was Ricky Watters vs. Curtis Martin and Keyshawn Johnson vs. Joey Galloway...
Golden Tate opened the scoring by leaping over a cornerback to pull in a perfectly placed touchdown pass, then capped the day for Seattle with a TD toss of his own. In between those bookend moments, the Seahawks did their part in adding another chapter to the tough season of the New York Jets. ''My mindset is any time a get the ball I can make something special happen,...
SEATTLE -- It was so much more than a win over the Seattle Seahawks and a loss for the New York Jets. Seattle's 28-7 thumping of the Jets on Sunday at CenturyLink Field was a showcase of teams headed in different directions. The Seahawks won their second straight game and improved to 5-0 at home. With the continuing maturation of rookie quarterback Russell Wilson and the running...
Green and White Report's Nick St. Denis previews the Jets pivotal matchup with the Seattle Seahawks
Jets couldn't take off Boxscore | Play-by-Play | Q's Post Game Recap They couldn't even leave the hanger… The only flight that was allowed near CenturyLink Field on Sunday was a pre-game fly over to honor this countries Veterans.  I would like to thank all of those who have served, and continue to serve, this country to protect the freedoms we enjoy daily. As I am sitting...
The offense looked ugly in the early going, giving up turnovers and making the Jets look like they've got a legitimate pass rush, but an improved second half performance combined with Mark Sanchez and Tim Tebow hosting an all-game clinic on how not to play the QB position ultimately led to a nice, satisfying victory. Also, I love how well the Seahawks are executing on Wilson...
Lead writer Nick St. Denis and AFC East Daily contributors Dan Begnoche and Sean Donovan pick the New York Jets' inter-conference road battle with the Seattle Seahawks.Nick's take:In Seattle, the 12th man isn't a cliché. It's a fact. The Jets travel to the top-left corner of the country to take on a Seahawks team that is 4-0 at home. Seattle rookie quarterback Russell...
Seahawks News

Delivered to your inbox

You'll also receive Yardbarker's daily Top 10, featuring the best sports stories from around the web. Customize your newsletter to get articles on your favorite sports and teams. And the best part? It's free!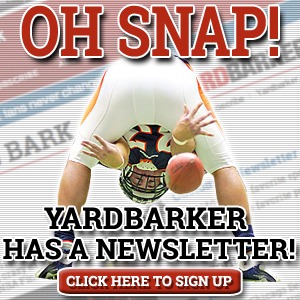 Latest Rumors
Best of Yardbarker

Today's Best Stuff

For Bloggers

Join the Yardbarker Network for more promotion, traffic, and money.

Company Info

Help

What is Yardbarker?

Yardbarker is the largest network of sports blogs and pro athlete blogs on the web. This site is the hub of the Yardbarker Network, where our editors and algorithms curate the best sports content from our network and beyond.