Found June 27, 2012 on Project Spurs:
NEW YORK CITY - The 2012 NBA Draft is tomorrow and all eyes will be focused on the new wave of NBA
talent to hit the hardwood next season. Top college players such as Anthony Davis, Bradley Beal, Andre Drummond, Thomas Robinson, Harrison Barnes, Meyers Leonard will have their name called tomorrow night in New Jersey, as their NBA journey will take its first steps.
One player who is projected to be selected early in the first round of the draft will be Duke's Austin Rivers. Rivers, the son of Celtic's head coach Doc Rivers, is a flashy, high-scoring guard who can provide an offensive punch for whichever team selects him tomorrow night much like San Antonio Spurs' Tony Parker.
And it is Parker's style of play which River's models his game after.
Recently, Rivers mentioned Parker as a player he envisions himself as in the NBA. But what exactly about Parker does Rivers like?
When asked at today's 2012 NBA Draft media session in Times Square, Rivers pointed to Parker's progression from a pure scoring point guard to now an all-around guard.
"Tony Parker is just a beast. I think he's made that transition of being a shooting guard, or just a scoring guard into being a point guard and that's something I am. I'm a scoring guard but I can attack and make plays for others and I think that's what he did at the beginning," Rivers said. 
Heading into the draft, many view Rivers as just a one-dimensional player as just a scorer, which he does well, but obviously he will need to diversify his game to succeed at the next level. So he looks to Parker's ability to get teammates involved and knowing when to take advantage of scoring opportunities.
"He just scored most of the time and now he's doing a little bit of both. Knowing when to score and when to get other guys involved first and get them going, then you can get yourself going because you know you can get yourself going at anytime. Just little things like that, he knows how to do now," said Rivers.
"The way he changes speed and the way he can finish at the rim at his height is pretty amazing so that's why I like watching him."
And much like Parker, Rivers is heading into the NBA at a very young age when many felt he needed to stay at Duke for at least one more season. But Rivers is confident he is ready for the NBA and like he said at today's media session, he wouldn't have entered the draft if he felt he wasn't ready.
As a guard heading into the NBA, looking to emulate Parker's game is a smart thing to do for Rivers or any guard in tomorrow's draft. Parker is considered one of the best guards in the league with an outstanding NBA resume to match. 
As Rivers continued about Parker's style of play, he also tossed in his thoughts on Parker's MVP performance this past season.
"He deserved to be at the top for the MVP race. Obviously, LeBron (James) was by far the MVP but other than him, Tony Parker should have been in that conversation, which he was," Rivers said. "It's crazy, he's gotten older and I think this was his best year yet other than that (2007) NBA Finals MVP year he had. So it's amazing"
With the Spurs having only having pick No. 59 in the second round of the draft, there will be no chance Rivers' name will be on the draft board, however, it will be a sight to see just how much of Parker's game Rivers adopts when the Spurs face him next season. Who knows if Rivers will launch the "tear drop" shot while driving in the lane to the rim on Parker.
Original Story:
http://www.projectspurs.com/2012-arti...
THE BACKYARD
BEST OF MAXIM
RELATED ARTICLES
Doc on whether KG will be back: "Absolutely ... Let's just say yes. Positive thinking."about 1 hour ago via Twitter for AndroidReplyRetweetFavorite@SteveBHoopSteve Bulpett #CelticsTalk: #Celtics Doc Rivers on KG returning next year. "I think he will. I have no basis for that; I just think that he will."22 minutes ago via Twitter for BlackBerry®ReplyRetweetFavorite...
San Antonio Spurs' Tony Parker has been in the headlines for all the wrong reasons lately and putting fans and Spurs' coaching staff in a state of worry. By now you know Parker injured his eye when he found himself near a New York City nightclub brawl between two music stars. The injury was later found to be worse than expected which now puts TP's playing status with...
We've all witnessed the movie scene where the scorned lover runs off and his/her partner, normally after a moment of introspection, chases in pursuit. Rain normally pounds from the sky, for production value, and maybe the two lovers argue once they meet each other on the side of the road, or maybe at an airport, with an airplane awaiting to whisk the scorned lover away. They...
Boston Celtics coach Doc Rivers has two jobs at this year's NBA draft. Rivers' son, Austin, is projected to be a lottery pick in Thursday night's draft. Celtics general manager Danny Ainge says Doc Rivers is in New York with his son. But the coach will be available if needed to voice an opinion on the team's draft picks. Boston has the No. 21 and 22 picks in the...
It's important to preface this entire column by saying I have no idea how bad Tony Parker's eye injury is. None of us will know until at least July 5 when Parker flies to New York and meets with an eye specialist.I'm also one of the Spurs fans who isn't that worried about Parker's eye.  I feel like he got lucky that he went to the emergency when he did (though...
Austin Rivers may not be suiting up in Celtic green next season, but his father, Celtics head coach Doc Rivers, isn't going to dwell on the negatives of Thursday's NBA Draft Though the Celtics weren't able to trade up for Austin Rivers, Doc Rivers' joy for his son far outweighed any disappointment he may have had about not being able to coach him next season. &quot...
Tony Parker has another teammate, but it's not the new guy the San Antonio Spurs are thinking about. Spurs general manager R.C. Buford said Thursday night he didn't how well Parker was healing since the All-Star nearly lost his left eye two weeks ago. Parker was in a New York night club when a fight broke out involving Chris Brown and members of hip-hop star Drake's...
NBA coaches Doc Rivers and Doug Collins will serve as basketball analysts for NBC during this summer's Olympics. The network announced an announcer lineup for the London Games full of familiar faces Thursday. Bob Costas will serve as prime-time host for the ninth time. Al Michaels and Dan Patrick will handle that role for NBC's live weekday and weekend daytime coverage....
I know all of the talk is focused on tonight's NBA Draft, but I found this pretty interesting. According to a piece on ESPN Boston, Doc Rivers & Doug Collins will serve as basketball analysts for this years summer Olympics. Both Rivers and Collins have been NBA commentators for ESPN and TNT respectively, and will join each other for the Olympics. More on this story here.
SAN ANTONIO (AP) -- The San Antonio Spurs selected Missouri guard Marcus Denmon with the 59th pick in the NBA draft on Thursday night. The Spurs didn't have any other picks but don't need much immediate help. They had the deepest team in coach Gregg Popovich's 16 seasons while falling two wins short of returning to the NBA Finals. Denmon played four seasons at Missouri...
The Detroit Pistons selected Conncecticut freshman center Andre Drummond with the No. 9 overall pick of Thursday's NBA draft, followed by the Hornets taking Duke guard Austin Rivers with their second pick of the first round. Portland took Illinois center Meyers Leonard with the No. 11 pick and theb Rockets chose UConn guard Jeremy Lamb at No. 12.
All Sports News

Delivered to your inbox

You'll also receive Yardbarker's daily Top 10, featuring the best sports stories from around the web. Customize your newsletter to get articles on your favorite sports and teams. And the best part? It's free!
THE HOT 10: Who's Trending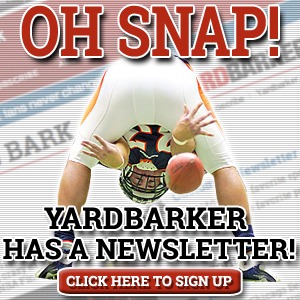 Latest Rumors
Best of Yardbarker

Today's Best Stuff

For Bloggers

Join the Yardbarker Network for more promotion, traffic, and money.

Company Info

Help

What is Yardbarker?

Yardbarker is the largest network of sports blogs and pro athlete blogs on the web. This site is the hub of the Yardbarker Network, where our editors and algorithms curate the best sports content from our network and beyond.