Found July 12, 2013 on BlackSportsOnline:
Deadspin brings us the audio of Baron Davis, who definitely has been smoking something, telling a story about how he was abducted by Aliens on the way back from Vegas.
Original Story:
http://blacksportsonline.com/home/201...
THE BACKYARD
BEST OF MAXIM
RELATED ARTICLES
Baron Davis appeared on a recent podcast where he shared a story about him being abducted by aliens as he drove from Las Vegas to L.A. BD said the aliens were ugly and popped him in the face. Then he blacked out and when he came to, he couldn't remember all the details but opted to hit up In-N-Out Burgers to ponder the adventure and new found-clarity the interaction seemed to have...
By Chayim Tauber The summer doldrums: the post-draft-basketball-withdrawal is in full swing. At no other time could the specter of Jerome Jordan earning a roster spot or the possibility of signing Aaron Brooks be noteworthy. There's obviously plenty of roster left to fill out, negotiations with Elton Brand and Kenyon Martin are still ongoing. In the interim though, let's analyze...
The Los Angeles Lakers waived forward Metta World Peace via the amnesty rule Thursday, making him available to sign with the New York Knicks. Teams with room under the salary cap have 48 hours to put a claim in for World Peace before he becomes an unrestricted free agent. 
By Max Marcilla The Knicks showed some promise at times in the first game of their 2013 Summer League campaign, but fell short, 77-72 to the New Orleans Pelicans. However, they played very well at times, and there were a few early standouts. Tim Hardaway Jr. had the most pressure on him to succeed, and he had his good moments. Hardaway Jr. finished with 13 points, but had a disappointing...
Not much to report here, Matthews, who is a slender center, played at a very small school, but completely dominated. Is he NBA material? I am not sure. From what I can see, A.J. needs to bulk up and learn how to take on physical contact in the paint. You cannot teach height, so if he can evolve as a player he will get the chance to stick in the NBA. I would imagine he would not...
Mike Woodson's two point guard sets turned out to be not only a positive for the team, but also extremely popular amongst fans. Now without Jason Kidd though, things will get tricky. The Knicks still haven't signed a backup point guard, but even when they do, it'll be a downgrade from the first ballot Hall-of-Famer. Despite the fact that he struggled mightily down the stretch...
Lakers Officially Amnesty Metta World Peace — http://t.co/4re0KcsXIO — RealGM (@RealGM) July 11, 2013   The New York Knicks, if they are interested, will have to wait 48 hours before they can have a chance to add Ron "Metta" Artest to their roster. This will not happen of course if another team, below the cap, claims him off waivers. Are the Knicks interested in the powerful...
Recently Baron Davis was on "The Champs Podcast" talking about a wide range of topics. One of those topics was his alien abduction. At first the hosts of the podcast thought he was joking, but Davis told the guys that he was not telling a tall tale. According to Davis the event happened about two weeks ago. He told the hosts, "I was, um, on my way from Vegas here to L.A. I'm...
The Knicks recently made some type of a splash by landing stretch-forward, Andrea Bargnani, from the Toronto Raptors in exchange for Marcus Camby, Steve Novak, Quentin Richardson (via a sign-and-trade), a first-round pick in 2016 and second-round selections in 2014 and 2017. A trade that has caught much heat from all corners of the NBA's fan sector. But, unlike most of them, some...
The Knicks have transitioned almost flawlessly from a disappointing postseason to an underwhelming offseason with the addition of Andrea Bargnani, the man who just had his "Softest Player in the NBA" title wrenched away from him by Cody Zeller. From a basketball standpoint, Bargnani leaves a lot to be desired, as he shot just under 40 percent from the field last season...
Since we're regularly reminded that the Knicks have little flexibility in spending, it's imperative that the team gets thrifty while shopping for talent.  Today, the Knicks Summer League squad takes the court for the first time in Vegas.  Perhaps the roster will reveal a diamond in the rough, slept on type of player that's productive and efficient, for the low low. Some players...
Hear what the man who has worked with both Carmelo Anthony and Kevin Durant sees in both of them, what he took from Syracuse, and more inside
Knicks News

Delivered to your inbox

You'll also receive Yardbarker's daily Top 10, featuring the best sports stories from around the web. Customize your newsletter to get articles on your favorite sports and teams. And the best part? It's free!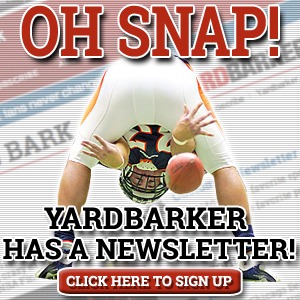 Latest Rumors
Best of Yardbarker

Today's Best Stuff

For Bloggers

Join the Yardbarker Network for more promotion, traffic, and money.

Company Info

Help

What is Yardbarker?

Yardbarker is the largest network of sports blogs and pro athlete blogs on the web. This site is the hub of the Yardbarker Network, where our editors and algorithms curate the best sports content from our network and beyond.