Found February 01, 2013 on NorthWest Sports Beat:
Here we go… time to renew hostilities The Vancouver Canucks are back in action tonight. They close out this two game home stand against their bitter rivals from the Central division, the Chicago Blackhawks. Tonight has a little something else going for it than most Canucks and Blackhawks games do. It will be the first time the two teams have played since Duncan Keith ended Daniel Sedin's regular season with a vicious elbow to the face that left the Canucks winger with a concussion, causing him to miss the remainder of the regular season and the first three playoff games against the Los Angeles Kings. Revenge: A dish better served with swift, physical retribution or a win and two points in the standings? To suggest that Duncan Keith doesn't have some kind of target on him tonight would be ignorant. Every Canuck knows what he did last year and I don't think they're going to sit ideally by and let it go. That being said, I think we're well past the barbaric stage of revenge here where we can expect that a player is going to go out of their way to club Keith or try to take him out. However, it's not out of the realm of possibility, in fact, it's a likely scenario that Keith is targeted for hard, clean checks throughout the course of the night. I don't think there will be any sucker punches from behind, no cheap shots to "even" things up. If the Canucks, any of them, have a chance at finishing a clean check on Keith, I expect them to do that. I don't think the dirty stuff makes it into this game unless it's dirty from the start. Roberto Luongo needs to continue to be sharp The Canucks line up will likely look the same as it did against the Avalanche on Wednesday night. Dale Weise missed practice yesterday with some soreness in his neck, but was back practicing with the team this morning and is likely ready to go. What the Canucks need to do to win: Goaltending and the Defense Making his third straight start tonight, Roberto Luongo needs to continue to be sharp against a Hawks team that has only lost once in their first seven games this season. They're tied for fourth in goals for and stand alone in seventh in the least amount of goals allowed. In order for Vancouver to have a good chance tonight, the goaltending needs to be in top form. The defense in front of Roberto Luongo will have to be sharp tonight as well. They can't rely on Luongo to bail them out all night. Discipline When I say discipline, I don't mean the kind that is required to resist the urge to reach for a giant piece of cake and 10-12 cold beers while dieting for a vacation (unless you're comparing driving Keith's head through the glass to cake or beer) but the kind of discipline where that keeps the Canucks out of the box as often as possible. Chicago has the ninth best power play in the league going into tonight's game. You don't want to give them the man advantage, especially with Vancouver's 24th ranked penalty kill. The Canucks need to play smart hockey and avoid the box against a Blackhawks team loaded with offensive threats. Focus The Canucks can't afford to let things get out of hand. They need to play smart hockey and not worry about vengeance. Zack Kassian is leading the team in goals right now and shouldn't be out to settle scores right off the hop. I'm sure playing with the twins tonight, he'll have a watchful eye on both, but if the team is really going to practice what they're preaching then they'll be set on the two points from the start, not the possibility of settling a score. I'm not saying rough stuff won't happen, in fact it likely will. This is one of hockey's best rivalries right now and I expect nothing short of a hard hitting, fast and exciting game from these two teams. In order to win, the Canucks need to remember that there's a time and place for everything and that this may not be the time to seek so called "vigilantly" justice. Enjoy the game tonight! Please comment below on what you think the Nucks need to do tonight to grab a W vs. the Hawks. https://twitter.com/NWSportsBeat/status/296717030877433856 CLICK HERE TO CHECK OUT THE CANUCKS BLOG IN THE CLUBHOUSE TODAY!
Original Story:
http://www.nwsportsbeat.com/canucks/g...
THE BACKYARD
BEST OF MAXIM
RELATED ARTICLES
INTIMIDATING BUNCH
The Canucks beat the Blackhawks in a shootout, but the win didn't come without some worry from Vancouver goalie Roberto Luongo.
Roberto Luongo made 24 saves for his first win of the season and the Vancouver Canucks beat the Colorado Avalanche 3-0 on Wednesday night. Luongo, who has been on the trading block since Cory Schneider replaced him as Vancouver's No. 1 goaltender, was rarely tested but still made some big saves in his 61st career shutout. With the Canucks leading 2-0 in the third, Luongo stopped...
Here we go again… Really? Do you want to talk about something else around the water cooler today? The Canucks won, so you have most, if not all of your hair; and it was only a Wednesday, so you're probably not droopy eyed and clinging to that fifth cup of coffee. I just wanted to take a second to touch on the goalie issues the Canucks are currently having, or not currently having...
Roberto Luongo turned in a 24-save shutout over the Colorado Avalanche last night as the Canucks improved to 3-2-2 this season. Zack Kassian had his fifth goal of the year in the win. Let's take a look at the rest of a short night on ice. Chicago lost its first game of the season in a shootout 3-2 to the Minnesota Wild. The notable happening in that game was that goaltender Nicklas...
It seemed a near certainty Roberto Luongo had played his final game in a Vancouver Canucks sweater after Cory Schneider supplanted him as the team's No. 1 goaltender during last season's playoffs. Now, he's proving to be an asset. Luongo will make his third straight start Friday night as Vancouver hosts the rival Chicago Blackhawks, who have earned 13 of a possible...
Love 'Em & Hate 'Em Boxscore | Recap  For all the hype, this was probably the tamest edition of the Canucks/Blackhawks rivalry. There was absolutely no rough stuff aside from Sheldon Brookbank chasing after Alex Burrows after he cheekily slipped the puck in the net on an offside call. Both teams came into the game saying all the right things about just wanting to get the...
Revenge is sweet And here it is Canucks fans. Get ready to hate the Hawks again… Matchup: Vancouver Canucks (3 – 2 – 2) v Chicago Blackhawks (6 – 0 – 1) Venue: Rogers Arena Time: 7:00 pm TV/Radio: Sportsnet, Team 1040 Here's what I said a while back on NWSB. February 1 v Chicago Blackhawks / February 19 @ Chicago Blackhawks The Los Angeles Kings might owe Duncan Keith...
from Ed Willes of the Vancouver Province, Ten months after the fact, the hit still looks every bit as calculated, every bit as cynical and every bit as dangerous as the night it was delivered. Henrik Sedin sends an aerial pass in the vicinity of his brother near centre ice. Daniel pirouettes, and, when his back is turned, Blackhawks defenceman Duncan Keith takes one stride...
For The NHL Gamblers! Headline: Heated and Hated Rivalry Continues – Canucks Host Blackhawks Friday Night One of the best rivalry's in the NHL writes another chapter Friday night when the Chicago Blackhawks, fresh of their first loss of the season (albeit a shootout loss) pays visit to the Vancouver Canucks who climbed over .500 with a 3-0 win over Colorado on Wednesday night...
The Edmonton Oilers served notice in their season opener that they probably won't be pushovers against the Vancouver Canucks this season. Already with a rare victory over Roberto Luongo, the Oilers look for more success against the Canucks in Monday night's rematch at Rexall Place. Edmonton (4-3-1) took only one of six 2011-12 meetings against Vancouver, but got off to...
Guess what everyone?   Thomas goes crazy and builds a bunker? It's all Tuukka's fault. J.F.K wasn't wearing a helmet? Tuukka's fault. Roberto Luongo's tires deflated? Tuukka's fault. Tom Brady blows against the Ravens? Tuukka' fault. U.S. recession? Tuukka's fault. Tsunami's? Totally...
All Sports News

Delivered to your inbox

You'll also receive Yardbarker's daily Top 10, featuring the best sports stories from around the web. Customize your newsletter to get articles on your favorite sports and teams. And the best part? It's free!
THE HOT 10: Who's Trending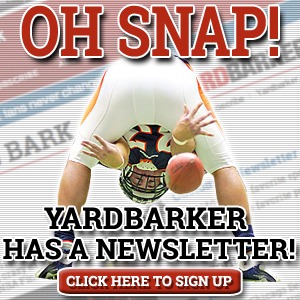 Latest Rumors
Best of Yardbarker

Today's Best Stuff

For Bloggers

Join the Yardbarker Network for more promotion, traffic, and money.

Company Info

Help

What is Yardbarker?

Yardbarker is the largest network of sports blogs and pro athlete blogs on the web. This site is the hub of the Yardbarker Network, where our editors and algorithms curate the best sports content from our network and beyond.