Found September 07, 2012 on Start 'N' Park Blog:
Carl Edwards, driver of the No. 99 Fastenal Ford Fusion, has a chance to qualify for next week's Chase for the NASCAR Sprint Cup if he can win and have luck fall his way in terms of the point standings.  Edwards participated in a media session to discuss his chances Friday.
YOU'VE GOT A TALL ORDER ON SATURDAY.  YOU NEED TO WIN AND HAVE SOME HELP ALONG THE WAY.  "Somehow I've got to hope for Kyle Busch and Jeff Gordon to have bad nights and we've got to win the race, so those are two things that have to happen – I guess three if you count each of them as separate instances – but the only thing I can control is going out to win the race, so I'm gonna go try to win the race.  I think that we have a car that can do it.  We showed in the spring that we have a fast enough car to lead laps here and to challenge for the win, and I'm telling you guys, there is so much that's gonna happen out here that it's gonna be hard to keep track of all the scenarios as the night progresses.  If Tony Stewart were to have a bad night, it changes a lot.  If Jeff and Kyle have bad nights it puts a lot more pressure on us.  I've seen a lot of crazy things  happen in this sport, so that's why I'm doing my best to not think about 'what if we don't make it.'   I'm trying to just focus on what I can do to win this race.  I've got both fingers and all of my toes crossed hoping that it works out."
YOUR FOCUS IS SINGULAR AND THAT'S TO WIN, RIGHT?  "The first thing that we have to do, the only thing that we have to do is we have to win the race.  If we don't win the race, we have no shot.  I know it must sound funny to you guys.  I'm sitting here and haven't won a race in 70 races or something like that, I don't know how long it's been – fifty-something races – but I'm gonna sit here and tell you that I can win this race and it's gonna happen, that's what we're gonna go do, and that's how race car drivers think.  If we can do that, it is not far-fetched to see a couple guys having bad nights.  With everything that's gonna happen here in this race, I think that it truly could happen and I'm hoping that it does.  That would be unreal to be doing that backflip on the front straightaway and to be in the Chase.  That would be cool."
HOW SURPRISING IS IT TO SEE GUYS LIKE JEFF AND KYLE ALSO IN THE SAME POSITION?  "It makes me feel real good that Jeff Gordon is in as bad a position as I'm in.  Guys like that are very good race car drivers – as good as they get – and it shows you how tough this sport is.  A year ago we were cruising right now, dominating the points, not a care in the world, pretty sure we were gonna be contenders for the championship.  Everything was great, and then you fast forward one year and it's a whole different story.  I think the true tragedy for us, we've talked about this a little bit, would be to not make the Chase and then have all of these things we've been working on come to fruition and go out and win six races or something and not even be in contention, so we want to be in it if we can.  But I want to make something really clear, I've thought about this.  I try to stay really positive.  I try to look at the bright side and to keep my confidence, and at the end of the day, what we're gonna do, I can guarantee one thing – we're gonna come to every race this year, whether we're in the Chase or not, we're gonna do the very best we can to try to win.  We're gonna prepare for next year if we're not in the Chase.  We're gonna use all of that energy we can to prepare for next year and go try to win the championship next year.  As frustrating as it would be if we didn't make it, it's not gonna really change much of what we do.  We've got to go be the best we can be all the time."
DO YOU FEEL THE SPEED IS BACK IN YOUR CAR?  "I talked to Robbie Reiser quite a bit today and Matt and Greg are first and third in the standings, so, obviously, our cars have the speed to lead the points, to be in front of the field, but we still aren't dominant.  We're really close, though.  We have different individual things we work on.  The short track program, which is our weakest point; the intermediates, which we're right on the verge of being competitive with the Hendrick guys.  Greg was able to win at Michigan, but it took Jimmie Johnson having trouble, so I think we're close there, and our speedway program, I think we're as good or better than anyone, so I think we've got two out of three pretty good.  If we can work on our short track program, we'll be really good.  Even with that being said, they're leading the points right now – Greg and Matt – so we're close."
DO YOU FEEL YOU'RE OVER THE HUMP AS FAR AS YOUR CAR BEING FASTER FOR SATURDAY NIGHT?  "Yes, we are getting over the hump, but we're not over it yet.  I know what it's like to have the fastest cars in the garage.  We don't have the fastest cars in the garage right now, but we're better.  On average, over the last two years, we've been the best we've been over a couple years,  and last year we were very, very good at the beginning, it lulled, and we're coming back up.  We're not as far off as we've been."
WILL YOU AND CHAD BE TOGETHER NEXT SEASON?  "I don't know what we're gonna do next year.  Robbie and I talked a little bit about that today.  Chad has been doing a great job.  I don't think we've really given him time.  He's just figuring out how I am and we're just working through it, so my goal would be to work with Chad for the rest of the year and be able to make a very good decision with Chad being part of the decision-making because we're still at the point where he's telling me things that I'm doing wrong that he doesn't like and I'm telling things that I don't like.  We haven't really figured each other out."
SOME OF THESE RACES GET SO HYPED UP AND THEY END UP BEING CALM.  YOU'RE PROBABLY HOPING FOR A WILD RACE, RIGHT?   "Yeah, I'm hoping for an insane race.  I want things to just be off the chart.  I want rain delays and oil on the track.  I want things to happen.  I need this race to be insane.  I need people running out of fuel and crazy cautions and four-wide down in turn one, that's what I need and I'll take whatever I can get."
IF DALE JR. IS LEADING AND YOU'RE IN SECOND – KYLE AND JEFF HAVE FALLEN WAY BACK – WHAT DO YOU DO ON THE FINAL LAP?  "If Kyle and Jeff are in the positions they need to be, I would not want to be in front of our 99 car at the end of this race if it meant the win.  We have to win and that's all there is to it."
WHATCAN YOU BRING FROM THE SPRING RACE?  "There are a couple of things from the spring race.  Number one, we were very, very good for the first three-quarters of the race.  Two, I think Tony was the best car and I got to race with him long enough to see where he was beating us and we've tried to address that.  I think those are two things I learned.  Number one, we can do.  And two, I know where we got beat, so unless somebody comes up with some really great stuff, I really think we should be competitive."
WILL YOU BE CAREFUL ON YOUR RESTARTS?  "Yeah, I'll be really cautious on my restarts and I'll make sure to know whether I'm leading the race or not.  That was crazy."
DO YOU EVER THINK OF THAT RACE AND THE SITUATION YOU'RE IN NOW AS BEING THE ONE THAT GOT AWAY?  "Yeah, I do.  I think about that race a little bit, but you just never know.  If it hadn't gone that way for us, Kyle wouldn't have his win.  There are so many things that happen in this sport.  I've had races that I never should have won that I've won, and races that we were dominant and we didn't get.  I never feel like the sport owes me anything."
HOW DO YOU OVERCOME THE FRUSTRATION OF THIS SPORT?  "This sport will toughen you up in a number of different ways.  There is pressure every week.  The first couple weeks I ran Cup, I thought there is no way these guys can do this every week.  There's so much hype and pressure and the microscope is right on you the whole time, so I've learned over the years and through some of these battles to deal with the stresses and not let them affect the way I perform.  So that's what I've worked on the last couple of years.  I feel like if I bring my A-game every week, no matter what's going on outside the race car, no matter what happened the week before or what's on the line, if I bring that A-game every week, that's my job.  I got tested pretty hard last year at Homestead and I think that was probably something I'll always go back to and that helped me to have this confidence."
DOES THE SEASON SEEM LIKE IT'S FLOWN BY?  "This season has been a blur to me.  I go back and pick it apart and I can't believe all the points we gave up and the problems we had.  It doesn't feel like it's been a long season.  To me, I know it sounds silly, but it feels like the season hasn't started.  I haven't gotten my feet under me.  I feel like we haven't gotten going, but it is what it is.  We're 25 races in and this is where we're at, so there's nothing I can do about it.  I'd give anything to go back and run a couple of those races over and get some of those points."
IN YEAR'S PAST THERE HAS BEEN A HANGOVER EFFECT FOR THE GUY WHO CAME IN SECOND.  DOES ANYTHING CHANGE WHEN THAT HAPPENS?  "I think it's just chance, but it's true.  In 2008 it was me.  We finished second and we were terrible in 2009.  So lately it's been the second-place guy who has struggled, but I don't know if there's anything to that, but it's rang true.  That's the way it's been lately."
IS THERE GREATER POTENTIAL FOR SOMETHING CRAZY TO HAPPEN IN THE RACE SINCE A HALF-DOZEN GUYS NEED A WIN TO GET IN?  "What's gonna make this race crazy is if there's a caution like last week.  If the race gets strung out – everybody knows who has fast cars halfway in the race – and if it just goes green it will probably be a fairly calm race.  But if we get a caution with five to go or six to go, it's gonna be insane.  There are gonna be guys staying out on 100-lap tires and blocking.  It's gonna be crazy.  If I'm not leading it, I hope we get that caution and I hope we get a chance to make something happen, but I believe – to me – I feel like the hype is real.  There are a lot of guys with a lot on the line willing to risk a bunch, and if the circumstances are right, you're gonna see an insane race."
HOW WILL THIS RACE BE ANY DIFFERENT FROM PAST RACES?  "It's a little different when you know your whole season is riding on a finish and lots of times you don't get that chance.  If you're running 10th on a restart and the leaders go away, it really doesn't matter what you want.  There's nothing you can do to get yourself to the lead.   When the craziness happens is when a guy has a shot and he knows that's his only shot.  You saw Jeff Gordon last week, I heard what he said after the race about how he questioned himself and he thought, 'Man, I'm getting soft, and I should have taken that chance.'  Everybody has done that all year and its built up to where I think people will be taking the chance no matter how nice they are as people, I think if they can get it, they'll have to.  It's your job."
ARE ALL BETS OFF AS FAR AS MOVING GUYS OUT OF THE WAY IN THIS RACE?  "I truly think in a situation like this that nobody is gonna blame a guy for going for it and being a little aggressive.  There's a difference between wrecking somebody and trying to ruin their night or just moving them out of the way to win.  I think there will be more acceptance of that stuff this weekend just because there's so much on the line.  It doesn't mean the emotions won't be there, but I think people will understand it better after they calm down."
SO IF YOU'RE IN THIRD PLACE AND JEFF AND KYLE ARE IN FRONT OF YOU WILL YOU JUST TAKE THEM OUT SO THEY FINISH WAY BACK?  "(Laughing)  I never make a plan.  I never say what I would do because you never know what the circumstances are gonna be, but I wouldn't change the channel if that scenario is presented.  That's just the way it is.'
IF YOU DON'T MAKE THE CHASE WILL THAT CHANGE THE INTENSITY OF THE FINAL 10 RACES FOR YOU AND YOUR TEAM EVEN THOUGH THERE WILL BE A NEW CAR NEXT YEAR?  "I've thought about this a little bit if we don't make it, I didn't think about it a lot, but I've thought about it a little bit.  There are a couple of things we can do.  Number one, we can build our team to be the best it can be for 2013.  Even though it's a different car, there is still a lot of stuff we can do.  But I think more importantly I can help Matt Kenseth and Greg Biffle to be the best that they can be, so they'll virtually have a test driver over here in Carl Edwards and the 99 team, and we can help them to try things in practice, we can give them more information than we normally would, I can help them with any advice during qualifying, during the race – anything I can do to help them to win is what I'll do, and I think that could be a beneficial thing for our team."
WHAT WOULD IT MEAN TO GET AT LEAST ONE WIN THIS YEAR?  "We really want to get wins, so that would mean a lot.  We want to win.  I texted with Darrell Waltrip this week and he was right.  He said, 'Just win.  That fixes everything.  No matter what, just win some races,' and he's right."
EVERYONE SEEMS SURPRISED YOU'RE IN THIS POSITION.  "It's no good that people don't think of you right off the bat, but it's fine with me.  I've had all the expectation in the world and I've had no expectation.  I've let people down and I've shocked people, so it doesn't matter to me.  I've been through enough now that we'll just go do whatever we've got to do and if it works, it works and if it doesn't, that's just the way it is."
THOUGHTS ON MISSOURI'S FIRST SEC GAME VERSUS GEORGIA.  "I've been over to the stadium a couple times and I've seen all the upgrades at Mizzou.  They've got new turf and new bleachers and all sorts of stuff.  I know Gary Pinkel is doing a really good job of keeping everybody's expectations down and keeping everybody realistic about the fact that we have to go prove ourselves as a team.  I consider Gary Pinkel a friend.  We've talked enough that I can tell you he is one of the most driven, dedicated individuals on Earth and if there's a coach that can make something happen and shock the world it's Gary Pinkel."
Original Story:
http://startnparkblog.com/?p=11069&ut...
THE BACKYARD
BEST OF MAXIM
RELATED ARTICLES
Carl Edwards has been a victim of circumstance this season...
Roush Fenway has won nine times in the Nationwide Series at Richmond. In fact, Roush Fenway won its first two NNS races at Richmond in 1993 and never looked back. All in all, three different drivers have won a total of nine times in NNS action at Richmond, including Carl Edwards who has three wins there. In addition, Roush has 40 top fives and 55 top 10s in NNS racing at RIR. Pastrana...
It was a poor showing for the Ford Racing camp in qualifying at the Richmond International Raceway for Saturday's Federated Auto Parts 400. Carl Edwards led the way qualifying in the 16th spot, followed by Roush Fenway Racing teammate Matt Kenseth in 17th, Aric Almirola was 18th, and Michael McDowell was the only other Ford driver in the top 20, clocking in with the 19th best lap...
Moving into Richmond both Greg Biffle and Matt Kenseth have clinched their respective spots in the 2012 Chase field. Carl Edwards will need a victory and for Kyle Busch to finish 24th or worse (with no laps led) this weekend and for Jeff Gordon to finish 12th or worse to secure a spot. If Busch or Gordon supplant Tony Stewart in the top 10, Edwards will be eliminated. RFR Chase History...
Carl Edwards led the way with a lap of 22.073 seconds in the final practice for the Federated Auto Parts 400 from Richmond. Rounding out the top five was Jimmie Johnson, Jeff Burton, Jeff Gordon, and Martin Truex, Jr. Pos Car Driver Team Time Behind 1 99 Carl Edwards Kellogg's Ford 22.073 Leader 2 48 Jimmie Johnson Lowe's Chevrolet 22.084 -0.011 3 31 Jeff Burton...
Tigers News

Delivered to your inbox

You'll also receive Yardbarker's daily Top 10, featuring the best sports stories from around the web. Customize your newsletter to get articles on your favorite sports and teams. And the best part? It's free!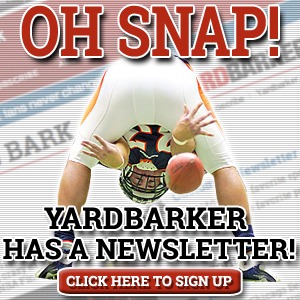 Latest Rumors
The Backyard

Today's Best Stuff

For Bloggers

Join the Yardbarker Network for more promotion, traffic, and money.

Company Info

Help

What is Yardbarker?

Yardbarker is the largest network of sports blogs and pro athlete blogs on the web. This site is the hub of the Yardbarker Network, where our editors and algorithms curate the best sports content from our network and beyond.