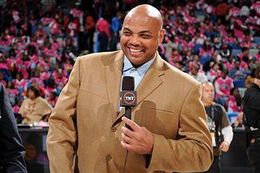 Charles Barkley appeared as a guest on The Dan Patrick Radio Show on Tuesday and provided some insight on how prevalent gay athletes are in professional sports. Well, at least the NBA.Barkley played 17 seasons in the league from 1984-2000, so the 11-time All-Star knows a thing or two about what goes on inside of it.Patrick asked Barkley whether or not he played with a gay teammate during his pro career in which Barkley responded by saying:"Everybody did. Everybody played with a gay teammate, Dan. And it' s no big deal. First of all, I think it's an insult to gay people to think that they're trying to pick up on their teammates. But everybody has played with a gay teammate….It's obviously discussed, privately, because the problem is, Dan, unless somebody tell you they're gay, you can't say a thing about them being gay. Ya know, until somebody has the courage, and I think it takes great courage to come out, it's kind of an unspoken word to be honest with you."Patrick then asked the 50-year-old if any of his teammates ever discussed coming out with him."I had several teammates, I probably had three or guys I played with in my 16 years. But like I say, think about Jason Collins, he played on six teams, so six teams played with a gay guy. And so, everybody has played with a gay guy, you just didn't know he was a gay guy. Cause until a gay guy comes out, it's none of your business."The discussion about gay athletes in sports has become a trendy one since NBA veteran Jason Collins came out last month. The topic has certainly sparked no shortage of opinions regarding the matter.You can hear a segment of Patrick's show, including his exchange with Barkley, by following this link to the video.Via Sports Illustrated
Read the rest of this story...
MORE FROM YARDBARKER
Wizards News

Delivered to your inbox

You'll also receive Yardbarker's daily Top 10, featuring the best sports stories from around the web. Customize your newsletter to get articles on your favorite sports and teams. And the best part? It's free!