Found May 07, 2013 on Bush League Chronicle:
Charles Barkley appeared as a guest on The Dan Patrick Radio Show on Tuesday and provided some insight on how prevalent gay athletes are in professional sports. Well, at least the NBA.Barkley played 17 seasons in the league from 1984-2000, so the 11-time All-Star knows a thing or two about what goes on inside of it.Patrick asked Barkley whether or not he played with a gay teammate during his pro career in which Barkley responded by saying:"Everybody did. Everybody played with a gay teammate, Dan. And it' s no big deal. First of all, I think it's an insult to gay people to think that they're trying to pick up on their teammates. But everybody has played with a gay teammate….It's obviously discussed, privately, because the problem is, Dan, unless somebody tell you they're gay, you can't say a thing about them being gay. Ya know, until somebody has the courage, and I think it takes great courage to come out, it's kind of an unspoken word to be honest with you."Patrick then asked the 50-year-old if any of his teammates ever discussed coming out with him."I had several teammates, I probably had three or guys I played with in my 16 years. But like I say, think about Jason Collins, he played on six teams, so six teams played with a gay guy. And so, everybody has played with a gay guy, you just didn't know he was a gay guy. Cause until a gay guy comes out, it's none of your business."The discussion about gay athletes in sports has become a trendy one since NBA veteran Jason Collins came out last month. The topic has certainly sparked no shortage of opinions regarding the matter.You can hear a segment of Patrick's show, including his exchange with Barkley, by following this link to the video.Via Sports Illustrated
Original Story:
http://www.theblcblog.com/2013/05/cha...
THE BACKYARD
BEST OF MAXIM
RELATED ARTICLES
WHO REIGNED SUPREME?
Nearing the end of Monday night's edition of "Inside the NBA", analysts Shaquille O'Neal and Charles Barkley decided to face each other in a three-point contest. Here were the rules: 1) First person makes a three-pointer wins 2) That's about it….. *** Shaq beats Barkley in 3-pt contest [Sports Grid]
Prior to becoming analysts on Inside the NBA, Shaquille O'Neal and Charles Barkley had a friendly feud while playing against each other in the association. Back on Saturday, Charles decided to plan a sneak attack against Shaq while they were viewing the Brooklyn Nets/Chicago Bulls game. Sadly for Charles, the sneak attack didn't exactly work and Mr. O'Neal tossed "the round...
It is no secret that TNT's Charles Barkley and ESPN's Skip Bayless don't exactly like each other and back on Tuesday, it appears that the Chuckster might be daydreaming a little bit too much. Watch as Chuck tells Matt Winer that if he could ever get Skip Bayless in a room that he might cause some bodily harm to the former Dallas Morning-News reporter: *** Barkley might harm...
During last night's episode of Inside the NBA, Charles Barkley shared his true feelings on First Take carnival barker Skip Bayless with America.  Barkley has not exactly Bayless' biggest supporter over the years and he repeated those sentiments on TNT in quite the creative manner as you'll see above.  I wonder if this will make his Emmy tape for next year.
Shaquille O'Neal beat someone in a shooting contest. There is something I never thought I would say.Shaq upset Charles Barkley in a hilarious showing of 3-point shooting prowess Monday night. The spectacle occurred on TNT's Inside the NBA.As you can see, Shaq was rather animated after securing the win.Surely a free throw contest would have yielded different results.Via SportsGrid
A TNT on-set dialogue about Shaq's Twitter battle beef "with Oklahoma City Thunder big man Kendrick Perkins" quickly turned into a discussion about Skip Bayless. And when Charles Barkley is involved, as he was Tuesday night, any mention of the noted ESPN contrarian has the potential to escalate quickly into fireworks. Barkley, you may recall, has never exactly been...
  Let's face it Barkley is known just as much for his lack of eloquent speech more than anything else these days. So, let's add this to one of the 'greatest hits' in Barkley's losing battle vs grammar. Noel…
Fashion guru Charles Barkley doled out a healthy dose of "C'mon, Man" in regards to Dwyane Wade's questionable wardrobe choice following Miami's 115-78 beatdown of the Chicago Bulls Wednesday night — a floral-print Versace jacket that invoked the glory days of "OH MUH GAWD…PLEASE GO BACK TO DAMON JONES' COAT!!!" [YouTube] Article found on: Next Impulse Sports
We all know that Charles Barkley can struggle with words sometimes so this shouldn't be that big of a surprise. Listen below as Barkley completely butchers Chicago Bulls forward Luol Deng's name.
In the little more than a week since Jason Collins came out, some of the greatest wisdom on the situation has come from some unlikely sources. Metta World Peace offered one of the most memorable insights, claiming that Collins' announcement had inspired him to wear a Cookie Monster outfit to a news conference. Charles Barkley, who is also known to say some outrageous things, was...
It is pretty much universally agreed upon that the Inside the NBA crew on TNT trumps all other NBA analyst teams. ESPN has improved with Jalen Rose and Bill Simmons coming along this year, but the team of Ernie Johnson, Kenny Smith, Shaq, and Charles Barkley are the Miami Heat of analysts. Last night, they proved why once again, with Barkley and Shaq competing in a three-point contest...
These dope posters created by Caroline Blanchet (@ptitecao) from France truly capture NBA legends Charles Barkley , Shawn Kemp, Patrick Ewing, Magic Johnson, Hakeem Olajuwon and Bill Russell. Each one shares a great moment in basketball history and will take [...]
Wizards News

Delivered to your inbox

You'll also receive Yardbarker's daily Top 10, featuring the best sports stories from around the web. Customize your newsletter to get articles on your favorite sports and teams. And the best part? It's free!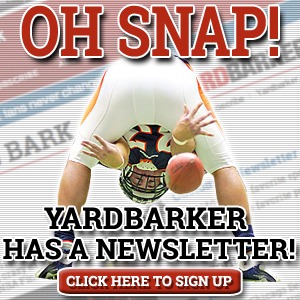 Latest Rumors
Best of Yardbarker

Today's Best Stuff

For Bloggers

Join the Yardbarker Network for more promotion, traffic, and money.

Company Info

Help

What is Yardbarker?

Yardbarker is the largest network of sports blogs and pro athlete blogs on the web. This site is the hub of the Yardbarker Network, where our editors and algorithms curate the best sports content from our network and beyond.