- Controversial actor Charlie Sheen has been announced as WWE's Celebrity Social Media Ambassador for the 1,000th episode of Raw, on July 23. The wording of the announcement suggests he won't actually appear in front of the live crowd, but rather will be Tweeting about Raw during the show on his massive Twitter account. This is to cross-promote his new show Anger Management on FX and to give WWE an even bigger social media presence.
_________________________________________________ - From Mike Buda of SportstownChicago: We recently had an interview with TNA agent and former WWE star D'Lo Brown. He talked about TNA's Gutcheck Program, how the Houston Gutcheck went, what made him want to transition to behind the scenes and what goes into being a wrestling agent. These are the main points he hit on during the interview: On what he saw in Joey Ryan and Alex Silva: "For Joey Ryan, it was a guy who had presence. He had an attitude, which ultimately proved to be his demise. He was a seasoned vet and I had seen him before so I thought he was one of those guys that could do something at the next level. Alex Silva was a guy who just had raw talent and just wanted to have an opportunity and was given one." On getting back in the ring: "Every now and then I get the itch to jump into the ring and that lasts for about three seconds. I'm definitely happier with what I'm doing. I've always fashioned myself as a teacher and as someone who wanted to give the information back to the next generation. I've always used wrestling and my in-ring career as a way to facilitate my way to the office. My ultimate end goal was to always be in a position similar to this." On being billed from Chicago: "I didn't have the pleasure of being born in Chicago, but when I had the choice of living in a place, Chicago was the only place I wanted to be. I identify with the city; it is a hard working, blue collar city. And it's probably because at nine years old, my favorite football team became the Chicago Bears. When I got the opportunity to be from somewhere, my character, in his mind, was born and raised and will be a Chicagoan forever." Check out the rest of the interview and all of our past interviews at www.SportstownChicago.com/TopRope Check out our weekly wrestling show, The Top Rope, every Wednesday from 5-7pm ct or go to our FB page, facebook.com/theTopRope, and our Twitter page, @ the_TopRope
_________________________________________________ - Last Friday's episode of WWE Smackdown on Syfy drew a 2.0 rating, with 2.97 million viewers. This was a big rebound from the previous week's 1.75 number.
_________________________________________________ - WWE will be using the Great American Bash theme for next week's Super Smackdown Live from Corpus Christi, Texas. WWE previously used it as a PPV from 2004 to 2008, and of course it was previously a staple of the NWA and later WCW.
Original Story:
http://wrestlingtruth.com/news/charli...
MORE FROM YARDBARKER
Bears News

Delivered to your inbox

You'll also receive Yardbarker's daily Top 10, featuring the best sports stories from around the web. Customize your newsletter to get articles on your favorite sports and teams. And the best part? It's free!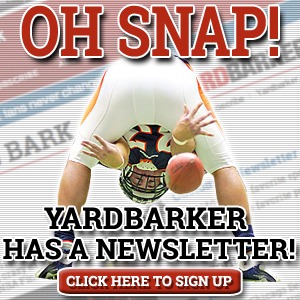 Latest Rumors
Best of Yardbarker

Today's Best Stuff

For Bloggers

Join the Yardbarker Network for more promotion, traffic, and money.

Company Info

Help

What is Yardbarker?

Yardbarker is the largest network of sports blogs and pro athlete blogs on the web. This site is the hub of the Yardbarker Network, where our editors and algorithms curate the best sports content from our network and beyond.