Found December 04, 2011 on Fox Sports Kansas City:
PLAYERS:
Caleb Hanie
,
Matt Forte
,
Derrick Johnson
,
Kyle Orton
,
Tyler Palko
,
Major Wright
,
Robbie Gould
,
Marion Barber
,
Ryan Succop
,
Brian Urlacher
,
Chris Conte
,
Dexter McCluster
,
Justin Houston
,
Roy Williams
,
Jon McGraw
TEAMS:
Chicago Bears
,
Kansas City Chiefs
This particular Chiefs-Bears tussle will not be saved andreplayed as an NFL classic. The winning touchdown was a gift, on a "Hail Mary" pass that shouldhave had no chance and a potential equalizer was waved off because awide-open receiver didn't bother to line up properly. The result, however, remained critical for the Chiefs, who won 10-3 at SoldierField to snap a four-game losing streak. Ditto for the toothless Bears, who gave up seven sacks, accomplished almostnothing offensively and fell dangerously to 7-5 overall in the NFC wild-cardrace. "Offensively, we didn't get anything done. It's hard to maintain drives,of course, when you can't convert on third downs," Bears coach Lovie Smithsaid. "They got too much pressure on us. We did a little bit with the runninggame, but just never got anything going. I know (quarterback) Caleb Hanie willbe blamed for a lot of it, but it's us as an offense." The Bears also lost all-purpose running back Matt Forte, who injured his kneeon a hit by Chiefs linebacker Derrick Johnson in the first quarter, and did notreturn. Oh, and remember former Bears QB Kyle Orton, who was supposed to make his debutfor Kansas City after being claimed from Denver on waivers? Orton replaced the much-maligned Tyler Palko, who had committed seven turnoversin his only two starts, at the start of the second quarter. Typical of a crazy game, though, Orton injured the index finger on his throwinghand when he was whacked by Major Wright after releasing the ball on a failedflea-flicker play. Orton was in obvious pain and did not continue, which handed the game back toPalko. Depending on the severity of the injury, the Chiefs may wind up paying 2.6million to use the pending free agent Orton for exactly one play. This wrestling match featuring Palko against Bears backup Hanie essentially wasdecided on two plays of which resulted in awful gaffes by the Bears. Chicago had to settle for a 32-yard field goal by Robbie Gould in thesecond-quarter squandering four points after a touchdown was called back. With the ball on the Chiefs 4-yard line, running back Marion Barber lined upwide and no one seemed to notice. Hanie quickly flipped what seemed like an easy TD pass but the play wascalled back because Barber did not set up on the line of scrimmage, leaving theBears with only six on the line. Chicago's 3-0 lead disappeared in shocking fashion, on the last play of thefirst half. Palko, who finished 17 of 30 for 156 yards and no turnovers, had engineered atidy drive, mixing some runs with safe short passes. The Chiefs, though, seemed to stall at the Chicago 38-yard line, just outsidekicker Ryan Succop's field goal range so Palko skittered around to buy timeas the clock ran out. Finally the lefty launched the ball into the end zone, where a posse of Bearsseemed to have things under control. Linebacker Brian Urlacher was poised to bat the pass to the ground whenteammate Chris Conte, standing behind Urlacher, also leaping to slap at theball. The result was that Conte "stripped" Urlacher and the ball zipped straightto an unsuspecting Dexter McCluster, who cradled it to his chest. "I'm the guy that's looking for any tipped balls. I have to catchit," McCluster said. "It worked out perfectly. He tipped it right tome and I caught it and wanted to hold on to it. "To be honest, once I saw how he was going to hit the ball down, I knew itwas coming right to me. So, I just prepared myself for it. It fell right in mylap." More irony: McCluster basically was used only as a runner most of the day, rushingfor 61 yards on nine carries. But he was in the perfect place amid the chaos inthe end zone, and suddenly the Chiefs had a 7-3 lead and an inspired defensemade that lead stand the rest of the way. The Chiefs held the Bears to 181 yards of total offense, and chased Hanie allover Soldier Field intercepting him three times the last on the final play in addition to all the physical pressure. Rookie linebacker Justin Houston registered three of Kansas City's seven sacks,and Hanie rarely had time to throw in comfort. After Succop hit a 21-yard field goal early in the third to make it 10-3,however, Hanie had a legitimate chance to tie the game. Starting a drive from the Chicago 41 with 6:31 left in the fourth quarter,Hanie caught fire and completed four consecutive passes, zipping the Bears tothe Chiefs 13-yard line. Hanie's next throw seemed to find Roy Williams just outside the end zone, butWilliams was sandwiched by a couple of Chiefs and lost the ball, which wastipped twice and then caught cleanly in the end zone by safety Jon McGraw. "I saw him throw it and my eyes went to the receiver and then I saw awhole bunch of guys," McGraw said. "Then it squirted through and Igot it just in time before it hit the ground. It was going to the ground fast,but fortunately I was able to make the play" That turned out to be the Bears' last shot, as the Chiefs took no chances,banging the ball on the ground to wind out the clock. "The second half was a gritty, slug-it-out half," Chiefs coach ToddHaley said. "We knew what it was going to be about. We moved the ball enough to get to10 points, and that was critical for us, to get at least a touchdown ahead. Wedid what we had to for a win." The victory bumped the Chiefs record to 5-7, and kept them barely breathing inthe AFC West race two games behind Oakland and Denver.
Original Story:
http://www.foxsportskansascity.com/12...
THE BACKYARD
BEST OF MAXIM
RELATED ARTICLES
I know, 26-year old Caleb Hanie has only started two games and it's a small sample size, but the Bears are in the playoff hunt and they can't afford to carry him at QB…especially due to Matt Forte's injury yesterday.  Hanie has played in 4 games (2 starts) for the Bears so far this year and he has completed 29 of 60 passes (48.3%) for 387 yards with 2 TD passes and 6 interceptions...
The Chicago Bears will move forward with Caleb Hanie as their quarterback despite an ugly showing in Sunday's 10-3 loss to Kansas City.Bears head coach Lovie Smith said Hanie would remain the No. 1 guy despite his zero-touchdown, three-interception performance over the weekend.Reports out of Chicago suggest the team may consider speaking with Donovan McNabb, who is available...
The Bears plan to stick with Caleb Hanie at quarterback, the Lions are getting lectured about being selfish, and Tuesday is the day for that big Packers "investment" for fans. Get news, notes and quotes from the Vikings NFC North rivals.
Quarterback (F) Caleb Hanie didn't have Tyler Palko's luck, but he didn't play well enough to deserve it, either. He was 11-for-24 for 133 yards with 3 INTs and a 23.8 rating. Running backs (C-) Matt Forte (5 carries, 12 yards) left in the first quarter with a knee injury. Marion Barber (14-44...
This particular Chiefs-Bears tussle will not be saved and replayed as an NFL classic. The winning touchdown was a gift, on a "Hail Mary" pass that should have had no chance and a potential equalizer was waved off because a wide-open receiver didn't bother to line up properly. The result, however, remained critical for the Chiefs, who won 10-3 at Soldier Field to...
Sports Illustrated feature writer Peter King broke down the drop off between Jay Cutler and Caleb Hanie in his Stat of the Week. Take a look. Jay Cutler's last 27 drives before leaving the lineup with an injured thumb: six touchdowns, six field goals, 10 punts, one interception. Caleb Hanie's first 27 drives as starting Chicago quarterback: two touchdowns, three field goals,...
Looks like Josh McCown still has some catching up to do: The man who was brought in to be No. 2 quarterback behind Chicago Bears starter Caleb Hanie is inactive for the second straight game Sunday, with rookie Nathan Enderle serving as Hanie's backup.
All Sports News

Delivered to your inbox

You'll also receive Yardbarker's daily Top 10, featuring the best sports stories from around the web. Customize your newsletter to get articles on your favorite sports and teams. And the best part? It's free!
THE HOT 10: Who's Trending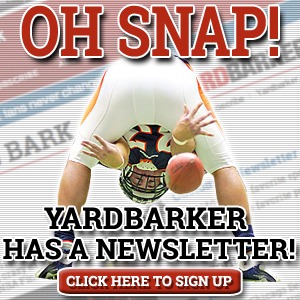 Latest Rumors
The Backyard

Today's Best Stuff

For Bloggers

Join the Yardbarker Network for more promotion, traffic, and money.

Company Info

Help

What is Yardbarker?

Yardbarker is the largest network of sports blogs and pro athlete blogs on the web. This site is the hub of the Yardbarker Network, where our editors and algorithms curate the best sports content from our network and beyond.