Found June 30, 2012 on Start 'N' Park Blog:
Dale Earnhardt, Jr., driver of the #88 Diet Mountain Dew/National Guard Chevrolet, met with members of the media at Kentucky Speedway and discussed how Kentucky is different than the other 1.5-mile tracks, Matt Kenseth's decision not return to Roush-Fenway Racing in 2013, his approach to the next 10 races, the Chase and much more. 
TALK ABOUT THIS RACE TRACK AND HOW IT IS DIFFERENT THAN SOME OF THE OTHER 1.5-MILE TRACKS THAT YOU RACE ON. "It's a little rough and the groove is not real distinct. So, it lends itself to good side-by-side racing. The exit to turn four is really, really wide so you just kind of play around and find a groove that works for you. Every time you change tires you kind of have to be ready to move around a little bit and find out where your car is fast and where that set of tires wants to run on the race track. But, we've tested here a lot when the rules were a little bit different and we could test here. We came here quite a bit and got a lot of laps here. We didn't have a real strong car last year. I think we were running around 13th when we had a flat tire. I feel like we are a better team this year, so we are anticipating having a good weekend and just ready to get after it." 
YOU'RE PROBABLY MATT'S (KENSETH) BEST FRIEND IN THE GARAGE, CAN YOU ASSES THE SITUATION OF HIM LEAVING ROUSH? "Well, the only thing I could say is that as tough as it is and as many unknowns there are about a move like that, more often than not things work themselves out. Really kind of everybody ends up in a better place. So, I would just be excited about the possibilities and excited about a new chapter, completely new surroundings, and new people to work with, new ideas and innovations. It will be a little tough of a transition, just emotionally because he's been in the same place for so long. Eventually it will lead to better days. He will find out that things are going to work out just fine." 
YOU'VE TALKED BEFORE ABOUT BEING FRUSTRATED WITH THE WAY THE RULES ARE WITH PLATE RACES, IS THERE ANY REASON TO THINK THAT THINGS MIGHT BE DIFFERENT WHEN YOU GO BACK TO DAYTONA? "I think things have gotten a lot better with the rules they made for this particular season. We're racing more, we're not tandem drafting all the time so your race really is in your own hands, and what you do with it and what you make of an afternoon is really up to you and you alone for most of the event. So I kind of like that. That's the way I've always thought racing should be. Racing has always been that way. We never had racing where you were so dependent on another car until we had the re-paves at Daytona and Talladega and tandem racing came around. It was okay to watch, and I think some of the drivers probably enjoyed it, but for me it was just the opposite of a driver's instincts. Everything you ever learned about racing, it was kind of the complete opposite of that as far as how you approached an event. I didn't' like it much. But, the rules have kind of moved away from that a little bit and hopefully that is the way it stays. Hopefully we will keep going in the right direction to get it to where it's you against 42 other guys. That's the way it's been this year so far." 
WHEN YOU MAKE THE DECISION TO LEAVE THE TEAM THAT YOU ARE WITH TO GO SOMEWHERE ELSE THIS EARLY IN THE YEAR, WHAT IS THE CHALLENGE LIKE FOR YOU AS A DRIVER AND FOR YOUR TEAM TO MOVE FORWARD? "I think it just comes down to integrity. If somebody is low on integrity in that deal, they will show themselves and that will be unfortunate for whoever that is. I wouldn't anticipate that happening. They are a good team, and they will probably use it in some way to motivate themselves. Matt (Kenseth) is a really tough competitor and I don't see this deterring his ambition and his will at all. I feel like he has one of the most seasoned, veteran crew chiefs in the garage that can manage his program, manage his guys to do the job and keep doing the job. They will probably work out just fine. But, yeah it does kind of test the personalities on board the ship a little bit. But, I think that group will weather it just fine." 
THIS AND ATLANTA ARE THE ONLY TWO 1.5-MILE TRACK LEFT BEFORE THE CHASE, THEN YOU HAVE FIVE 1.5-MILE TRACKS IN THE CHASE, IS THERE ANYTHING YOU WOULD LIKE TO SEE THIS WEEKEND AS YOU LOOK FORWARD TO THE CHASE? IN GENERAL, WHAT WOULD YOU LIKE TO SEE OVER THE NEXT 10 WEEKS AS YOU GET READY FOR THE CHASE? "For our team, we would like to win another race. I enjoyed that one in Michigan so we would like to do that again. It doesn't really matter where. The 1.5-mile tracks are important, but I don't really dissect the season like that. I always start out really well, then I struggle in the summer and then do pretty well at the end of the season. The tracks at the end of the season are really the same or similar tracks that we start the year with. I just assume I like those tracks, or do well at those tracks, so I feel pretty comfortable about the Chase and the tracks in the Chase. I didn't run as well as I thought I would here last year, and I don't really know exactly why we didn't compete well. I think we are better this year. I will be surprised if we don't run competitive and have a top-10 car at the least this weekend. If we don't have that kind of competitive car, I'll be a little bit disappointed and concerned about where we're headed and what we're doing. But, we do that every week really. Every race no matter what the result, we sort of evaluate what we're doing with our cars; how we're setting them up, if what we are doing is working, whether the path the head we're headed is the right path. We kind of do that anyways. We're pretty critical of ourselves when it comes to the components and things we put under the car each week. I feel like we just need to maintain our course. I've struggled in the summer and we've gotten off to a pretty good start aside from the road course race there in Sonoma. We've had a pretty good summer so far, so if we can keep that going I'm going to be real excited about the rest of the season." 
THIS IS THE FIRST RACE AT A 1.5-MILE TRACK WITH THE NEW RULES PACKAGE, HOW DO YOU THINK THAT IS GOING TO AFFECT YOUR CARS AND ARE YOU CONCERNED AT ALL THAT HENDRICK MOTORSPORTS AS A GROUP IS GOING TO LOOSE ANY COMPETITIVE ADVANTAGE? "No, I don't. I feel like all the changes affect every team the same. I think the changes to the side skirts are actually going kind of in my direction to help me. I like the cars to be sliding around, slick, and up on top of the track and difficult to drive. That's kind of going in that direction. It's taking a little bit of the comfort out. I think it helps Jimmie (Johnson) too. So, as far as our garage I know a lot about what Jimmie likes and what we both are kind of leaning towards with set-ups, and I think those changes won't bother us too badly, hopefully not. We've already ran for a while with a little bit of that adjustment and seemed to do fine. The rules changes just sort of drive the teams to do more homework, and homework costs a little bit of money. So, when we are cutting the side skirts off the cars, the first thing a guy thinks about doing is how do I get the side skirts back down on the ground. So, we have to go home and cut all the cars apart to get them to travel further and do all kinds of things. It's a little bit of a catch-22 but I think it's definitely the right direction to go in NASCAR's case. The cars need to become more mechanically dependent on grip than they are aero-wise. I think that will provide a better racing product." 
RECENTLY TONY (EURY) JR. HAS SAID HE FELT SOME OF THE COMPETITORS ON THE NATIONWIDE SERIES WERE PUTTING DANICA PATRICK IN BAD SITUATIONS BECAUSE THEY DIDN'T WANT TO LOSE TO A WOMAN, WHAT HAVE YOU SEEN FROM THOSE RACES? IS SHE GETTING CLOSER TO MAYBE BEING CONSIDERED ONE OF THE GUYS? "Well I think she is considered one of the guys to certain people. I think some people she either has a history with or some guys don't respect anybody no matter what their gender. Everybody sort of goes through that. You could say Joey Logano went through that a little bit, where he had to sort of put his foot down with guys shoving him around the race track. I probably went through that a little bit in my career at times. Every guy has to stand up for themselves at some point and not just take notice of that individual they are in confrontation with, but really set the tone throughout the entire garage that they won't put up with it from anybody. Me personally when I first started hanging out with her and got to know her even before I raced with her, I knew she wasn't the kind of person you run around pushing buttons with. Some guys don't see it that way I guess and push her around on the race track. She will just have to settle that however she wants. There's way to do it. You've got to be careful not to put yourself on their level, or make yourself look like an idiot. You just can't go around pushing people back and spinning people in the wall all the time. You can talk to them people one-on-one or whatever you want to do, however you want to handle it. I think she does a great job. I feel like just being around her in the garage and talking to her as a racer, she doesn't come across to me as a push over and I don't see her that way on the race track. She's already sort of put her foot out a few times with (Sam) Hornish and couple of guys, so she's not afraid to do it. I think that last week was unfortunate because (Jacque) Villeneuve doesn't have to race her this week or for a while anyways. I told her that she was fast, and she can't be bothered with Villeneuve too much because that was just kind of ignorant what he did and you've got to let that go. Every once in a while somebody is going to get a cheap shot that you'll never be able to pay back. She was really fast. I was impressed with her speed in that race. She was running right in the middle of a bunch of ringers that I can't even keep up with on the road courses. So, I'm excited to see her when she comes into the Cup circuit and goes to Watkins Glen and places like that. I think she can compete on any level at the road courses because of her back ground, so that was cool to see." 
YOU TALKED A COUPLE OF WEEKS AGO HOW OVER THE YEARS YOU'VE BECOME A MORE MATURE PERSON, IN WHAT WAY DO YOU THINK THAT'S MADE YOU A BETTER RACE CAR DRIVER? "I hope I get better. You don't really have a scale or any kind of way to measure. I feel like you always try to become smarter and use your head. When you first come into the sport you just kind of go on guts, then after a while you start using your brain a little more. That kind of pays off. I don't know, I think for sure Steve Letarte has made me calmer and more productive in the car. He gets more out of me as a driver and brings the best out of me. I'm better at completing races, putting together full races, not getting upset with the car, not getting frustrated and sort of botching the whole deal or sabotaging the race. He's brought a lot of good things out in me and brought a lot more confidence. I've got a lot more confidence. Confidence is half the battle when you're out there competing. If you don't have any confidence, you just can't get anything done. So, I don't know. I feel
like you just get smarter. You just get a little more calm and controlled. If you can do that, you've got half the battle won I guess." 
WHEN MATT KENSETH WAS IN HERE EARLIER HE SAID CONTRARY O POPULAR BELIEF NO 1.5-MILE TRACKS ARE REALLY ALIKE, WHAT SETS KENTUCKY APART AND HOW DO YOU APPROACH RACING THE BUMPS? "With our cars, you've got to get them close to the ground to get the best aero platform and down force you can get. But, you can't be on the ground to hard and the bumps really make that a challenge for the engineers. With a bumpy track the splitter is always banging on the ground so you have to listen to the driver really when it comes to the bumpy tracks. He'll tell you the splitter is bothering the car and making it tight. It's kind of tough. That's really a challenge.  
"I agree with Matt to an extent. All the 1.5-mile tracks are different in their own way. They have bumps in different place and the radius and banking and corners are not all identical. Some tracks are very wide. Some are very wide in the corner like, until they repaved it, Kansas. We would run from the bottom all the way to the wall. We don't really see that here, at least yet. So, they're all kind of different in their own way."
Original Story:
http://startnparkblog.com/?p=8041&utm...
THE BACKYARD
BEST OF MAXIM
RELATED ARTICLES
  After spending the weekend in Kentucky for Saturday night's Sprint Cup Series race at Kentucky Speedway, Roush Fenway Racing's Matt Kenseth traveled to Wisconsin to compete in Sunday night's Slinger Nationals. Upon arriving in his native state, Kenseth outdrove the field in the feature event at Slinger Super Speedway and earned his sixth victory at the event, which sets...
Matt Kenseth arrived to Kentucky this weekend as the Sprint Cup point leader, but that's not the buzz around NASCAR Nation.  Instead, the announcement of Matt Kenseth leaving Roush Fenway Racing after this season has monopolized all the talk. The announcement came Tuesday, which has proven to make this weekends race at Kentucky important and interesting.  As [...]
Matt Kenseth looks forward to the day when he can talk about his car instead of his contract. Far from a spotlight-seeker, Kenseth nonetheless has been the buzz of this weekend's NASCAR races at Kentucky Speedway after he announced on Tuesday he was leaving Roush Fenway Racing at the end of the season. Team owner Jack Roush, for his part, said on Friday he was as surprised...
Matt Kenseth, driver of the No. 17 Fifth Third Ford Fusion, spoke with members of the media Friday, his first time at a race track since announcing his decision to leave Roush Fenway Racing at the end of the 2012 season.   YOU WERE IN THE NEWS A LITTLE THIS WEEK, SO I GUESS I WILL LET YOU TAKE IT FROM THERE. "That was the one question right? I am looking forward to racing here...
Denny Hamlin, driver of the #18 Dollar General Toyota, sits in his car during practice for the NASCAR Nationwide Series Feed The Children 300 at Kentucky Speedway on June 28, 2012 in Sparta, Kentucky. (June 27, 2012 - Source: Chris Trotman/Getty Images North America) It may not be the name everyone is waiting to be called but Joe Gibbs Racing has agreed to a contract with a driver...
Jack Roush never got the opportunity to counter. By the time Matt Kenseth informed Roush last week he was leaving Roush Fenway Racing after 14 seasons together, his new deal was already in place. "Matt asked for an audience with me and told me he wouldn't be joining the team in 2013 and that he wanted to, obviously, race for a championship this year," Roush said....
The divorce of one of NASCAR's longtime partnerships has raised plenty of eyebrows this week. Matt Kenseth, the current point leader in the Sprint...
Traffic be damned, Saturday night was Kentucky Speedway's annual turn to host a Sprint Cup Series race, the Quaker State 400. And while fans struggled to figure out a way to get out of the speedway after the event, they were treated to a show that ended with Brad Keselowski taking his sixth win in the past season and a half, putting an exclamation point on another exciting week...
Ricky Stenhouse Jr. just couldn't wait. Despite being sworn to secrecy, he just had to tell someone the night before the announcement that Roush Fenway Racing would be moving him into Matt Kenseth's spot when Kenseth leaves after the season. He told his parents. But he said they didn't really grasp the immensity of what had just happened for their son. A day later...
The Sprint Cup tour heads to the place where the green turf is the blue grass, and, not so poetically, where the traffic jams better than the music. Or at least, the traffic was atrocious last year. That aside, the cars inside, and outside, of Kentucky speedway look to be tuned and ready for Saturday night's shootout. Row 1 Pole position: Matt Kenseth A sign of the times:...
All Sports News

Delivered to your inbox

You'll also receive Yardbarker's daily Top 10, featuring the best sports stories from around the web. Customize your newsletter to get articles on your favorite sports and teams. And the best part? It's free!
THE HOT 10: Who's Trending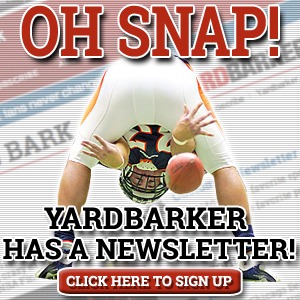 Latest Rumors
The Backyard

Today's Best Stuff

For Bloggers

Join the Yardbarker Network for more promotion, traffic, and money.

Company Info

Help

What is Yardbarker?

Yardbarker is the largest network of sports blogs and pro athlete blogs on the web. This site is the hub of the Yardbarker Network, where our editors and algorithms curate the best sports content from our network and beyond.