AVONDALE, AZ - NOVEMBER 13: Dale Earnhardt Jr., driver of the #88 National Guard/AMP Energy Chevrolet, stands on pit road during qualifying for the NASCAR Sprint Cup Series Checker O'Reilly Auto Parts 500 at Phoenix International Raceway on November 13, 2009 in Avondale, AZ. (Photo by Darrell Ingham/Getty Images)
Dale Earnhardt, Jr. started 10th in the Capital City 400 from the Richmond International Raceway and came home in the 2nd place. He finished 1.095 seconds behind race winner Kyle Busch. While he didn't lead a lap, but virtue of his strong run and Greg Biffle coming home in 18th place, Earnhardt was able to cut into Biffle's point lead. As it stands now Earnhardt is only 5 points behind Biffle after 9 of 36 races have been completed. Below is the post-race transcript from when Earnhardt talked to the media.
KERRY THARP: Talk about how you thought things unfolded for the (No.) 88 team.
DALE EARNHARDT JR.: Our car was pretty good yesterday and started the race nice. We made some good adjustments to help it roll to center points in the race. I got them talked into going to a different master cylinder for a little softer pedal at Martinsville and then we brought it here and you are on the brake pedal so far down in the corner that it just cooked the fronts and I'd get a real soft pedal pretty quick.
I couldn't get enough front brake in it at the end to run as hard as I wanted to, and we just had hurt the balance a little bit on entry. But really happy to come home with second. We were running about fifth all night, and just got lucky on that restart to be on the inside and get a couple spots. We just kind of got lucky there at the end on a couple things to gain a couple extra spots. But we ran good. We were terrible last year at this track and I really like running here, and I just was curious as to why we weren't performing as well. So it feels good to run all right here.
Q. Going into Talladega next week, you now have a second finish, you've got momentum. Is this going to help you possibly get towards that win and getting that 200th win for Hendrick next week?
DALE EARNHARDT JR.: No, I don't think momentum is a real thing. The team is confident, we're feeling good. We feel like we're competing well. Really close to winning a race. We ain't really raced for a win yet and lost one, so I wouldn't count tonight. But we're getting better at running the top 5 and top 10s. We'll just try to keep doing that. There's too many variables going into races at Talladega whether you feel confident winning or not. There's just too much going on there.
Q. Dale, I heard you talk earlier in the race about having potential brake issues. When it gets to the end, you've gotten yourself to second, are you thinking I'm screwed, I can't do this, or does the fact that you possibly can do it overcome the troubles you've had?
DALE EARNHARDT JR.: Yeah, if the car was good I could have dealt with the brake problems, if the car was faster than the 18 we would have got there to him and maybe we'd raced for it, but the brake problems weren't that bad. I just chose a different master cylinder at Martinsville and I shouldn't have brought it here. I just shouldn't have done that because I know better, and these cars are going too fast in the corner running that kind of master cylinder. I learned a lesson, and we'll have an idea what to use when we come back.
Original Story:
http://startnparkblog.com/?p=5832&utm...
MORE FROM YARDBARKER
All Sports News

Delivered to your inbox

You'll also receive Yardbarker's daily Top 10, featuring the best sports stories from around the web. Customize your newsletter to get articles on your favorite sports and teams. And the best part? It's free!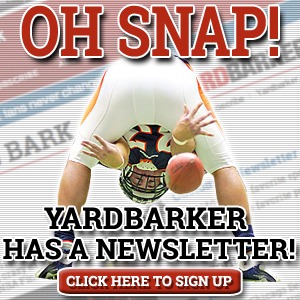 Latest Rumors
Best of Yardbarker

Today's Best Stuff

For Bloggers

Join the Yardbarker Network for more promotion, traffic, and money.

Company Info

Help

What is Yardbarker?

Yardbarker is the largest network of sports blogs and pro athlete blogs on the web. This site is the hub of the Yardbarker Network, where our editors and algorithms curate the best sports content from our network and beyond.