Found September 01, 2012 on Start 'N' Park Blog:
Danica Patrick, driver of the #10 GoDaddy.com Chevrolet, met with media and discussed, how nighttime and daytime racing compare, last weekend's race at Bristol, racing in the Cup Series at Atlanta, and more.
THE MODERATOR: Talk a little bit about practice this morning at Atlanta.
DANICA PATRICK:  I was having all kinds of fun out there this afternoon.  You know, I felt really loose the whole time so it wasn't until the very last run that we did that I feel like we tightened it up enough to be able to be a little bit more aggressive on the throttle.
For me that's always the issue coming to a new track and a new car, which is every time I drive the Cup car right now.  It's always better for me to start off a little on the tight side because my confidence stays up where I feel like I was just pretty loose and it's pretty hard for me to trust getting into the corner harder when I, you know, have spent most of my laps feeling like I was sideways.
But it's still good practice.  We went through lots of changes.  The good news is that it did get better at the end.  We were a little closer to being in the parking lot of the ballpark.
THE MODERATOR:  We'll take questions.
Q.        After looking back on last week, do you wish you threw a helmet or wish that you had not done any of your hand gesturing?  Do you feel gesturing is fine when you're angry?
DANICA PATRICK:  I think what matters is the fans love it.  I think the fans love it.  They were cheering like heck for me to go up the track and do something awesome, or at least it was awesome in their eyes.
I was just glad I didn't give him the finger, because that's what I was going to do.  And I heard that was a fine.  I'm glad I had an epiphany at the last second to point my finger instead of raise the middle one.
Those are the emotions that are flying around at 430 or 40 laps into a 500-lap race at Bristol.  We were running tight quarters all day long.  It would have been nice to finish the race off because I really felt like we were headed for a lead-lap top 20 if things would have continued to go okay.
At the end of the day I always feel like the right people know, and I've had lots of really, really nice people tell me, Good job, from last weekend.  Think that's what matters for me at this point is that I'm continuing to learn.  I completed most all the laps.  I got faster and faster as the race went on, got more and more competitive lap time-wise.  Those are the things I need to focus on.
Of course, you want to finish the race.  I'm not the only one that has issues each weekend.  Everybody has issues from time to time.
Q.        Is there a big difference between a race during daytime and nighttime?  Do you prepare different mentality-wise and set up the car different?
DANICA PATRICK:  During the day it's hot and slippery.  I feel like today I'm reminded of Charlotte in practice.  You know, the car felt really uncomfortable in Charlotte for the Coke 600.  When night came and the race came, there was so much more to lean on.  The car had so much more grip.  It just felt like something that I felt much more confident and comfortable to work with and be more aggressive with.
So I have a feeling it will do some of the same stuff here at Atlanta when we go into the night race.  So I guess in these times the most important thing is that you find a balance with the car front to rear when it's slippery, then hopefully that balance will translate into the evening.
I've heard that the balance doesn't shift too much here from day to night, so we'll just keep working to achieve a balance.
Q.        The diminishment of expectations for you, I know that is probably a double-edged sword when you have Tony Stewart and Greg Zipadelli saying, All we care about is she finishes.  In a way is that working out better for you to go into Bristol with no expectations, suddenly when you're running in the top 20 with 80 to go, maybe it's better than you expected because no one has put anything on you?  I don't know if you've ever had to do that before, not having any sort of goals to do well? 
DANICA PATRICK:  Yeah, I think in Nationwide when I wouldn't have goals, I think it's because secretly my goals were higher than what happened.  I don't really know what to expect in Cup.  When you take that final step up, everybody has proven to do well along the way in their careers and everybody knows what they're doing.
So it makes it harder to know what to expect.  It's true when I say I just want to finish the laps.  With the way it's gone in practice every time I've practiced the Cup car, which is basically like pretty much last, it's nice and refreshing in the race when things come around and I get faster and you pass cars and you move up.  You know, you feel like you're getting the hang of it.
So I'm happy to keep continuing to finish all the laps.  Again, this was another challenging practice for me out there.  All I can do is hope that it goes better in the race.
But at the end of the day, as I've said many times, the most important thing for me is to get a feel for how these races go and how they evolve, move, how the track changes.
That's part of the reason why Tony picked some of these races.  If you haven't noticed, he picks like longer races.  He said he wanted to pick races where it transitioned from day to night, things like that, so I could get a feel for how the track changes, what I need to do.
I definitely came out of Bristol last weekend saying, When I come back next time, I don't want to start so free because it gets looser as the night goes on.
Those are the important things for me to learn at this point in time.  I think it's going to take more time for me to set an expectation level for myself.  I just need more time and more races.
Q.        I know your expectations are for you.  Since Tony and Ryan are so close to Chase contention, is there anything different that your No. 10 team is doing to help their cause or are you on your own agenda?
DANICA PATRICK:  I don't know if there's much I can do to help them.  I hope to just not distract them in any way, take anything away from their programs to help them achieve everything that they want and can achieve.
Yeah, I don't know if I'm really helpful at this point in time.  But, you know, I think I'm very honored that they're willing to run me in the limited schedule that I'm running, to get practice at these tough tracks.  All I can do is I hope I don't affect anything that they're trying to achieve out there and try and be a good teammate.
For sure, there's always a high likelihood in these long races to go a lap down.  I was damn stunned I was on the lead lap at Bristol with 440 laps in.  But if they come around, which I'm sure at some point they will here at Atlanta, I'll be helpful like a teammate will be, should be.
Original Story:
http://startnparkblog.com/?p=10800&ut...
THE BACKYARD
BEST OF MAXIM
RELATED ARTICLES
Danica Patrick will drive a different color car at Charlotte Motor Speedway on October 12. Danica's No. 7 Nationwide Series car will be sponsored by Go Daddy but will be pink as it supports the National Breast Cancer Foundation. Patrick is currently 10th in the driver standings as she completes her first full season in NASCAR. Next year she will run the full Sprint Cup Series...
Danica Patrick's NASCAR Sprint Cup Series education continued Sunday night at Atlanta Motor Speedway, where she finished 29th in the AdvoCare 500. Patrick, who drives the No. 10 GoDaddy.com Chevrolet for Tommy Baldwin Racing via a collaborative agreement with Stewart-Haas Racing, never had raced at Atlanta until the Nationwide Series event Saturday night, in which she finished...
Danica Patrick must feel like a target on the track these days. First a shoe famously lands in front of her car and she runs over it while leading the Nationwide Series race in Montreal. Then she has contact from Regan Smith and crashes in the Sprint Cup race at Bristol. Saturday night, it was a tire. With the year Patrick is having, hitting the remnants of the tire that flew...
Fans love emotional outbursts, a fact brought home with the antics during last Saturday night's race at Bristol Motor Speedway. Danica Patrick, who crashed hard following contact from Regan Smith marched toward the track and pointed at him Saturday night, certainly recognizes that. After all, she heard the cheers from fans as it became clear at Bristol that she planned some...
Danica Patrick's NASCAR Sprint Cup Series education continued Sunday night at Atlanta Motor Speedway, where she finished 29th in the AdvoCare 500. Patrick, who drives the No. 10 GoDaddy.com Chevrolet for Tommy Baldwin Racing via a collaborative agreement with Stewart-Haas Racing, never had raced at Atlanta until the Nationwide Series event Saturday night, in which she finished...
Cole Whitt will serve as the ESPN In-Race reporter for this weekend's NRA American Warrior 300 at Atlanta Motor Speedway. Crew chief Bruce Cook will also give his thoughts from atop the No. 88 team's pit box. NASCAR BASHERS ON THE 88 CAR - The NASCAR Bashers brand is featured as primary sponsor of the No. 88 Chevrolet this weekend in Atlanta. NASCAR Bashers is a line of toys...
All Sports News

Delivered to your inbox

You'll also receive Yardbarker's daily Top 10, featuring the best sports stories from around the web. Customize your newsletter to get articles on your favorite sports and teams. And the best part? It's free!
THE HOT 10: Who's Trending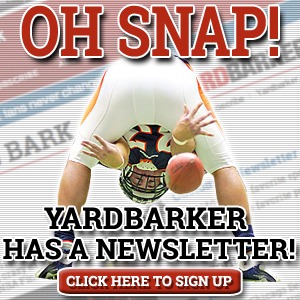 Latest Rumors
The Backyard

Today's Best Stuff

For Bloggers

Join the Yardbarker Network for more promotion, traffic, and money.

Company Info

Help

What is Yardbarker?

Yardbarker is the largest network of sports blogs and pro athlete blogs on the web. This site is the hub of the Yardbarker Network, where our editors and algorithms curate the best sports content from our network and beyond.