Found September 20, 2012 on As the World Turns (Left):
We can now blame Danica Patrick for the Kennedy assassination, the upcoming fiscal cliff and that pothole on Main Street that forced many a premature tire realignment.
Because if you can blame Patrick for the circumstances that forced Dale Earnhardt Jr. to fire cousin Tony Eury Jr. and uncle Tony Eury Sr. at JR Motorsports, then she must be the origin of all the world's ills.
But the Danica Blame Game apparently knows no limits. Here's a sample of some of the comments listed on the Sporting News/AOL NASCAR page under the story about Eury Jr's departure.
"It's all Danica's fault…she's a crybaby…"
– JoeSport
"If Danica didn't wreck every week they could work on getting faster instead of trying to catch up."
– Rich DeLong III
"Found GoDaddy's address…Ft. Knox…Racing gone to hell when you cut your families' throats in favor of a low-talent wanna be driver's sponsor money."
– Dan Foster
"Who said blood was thicker than $$$$$$$$$?"
– Donald Tyson
You can check out the rest here. Or don't. I certainly wouldn't blame you if you've already seen enough.
Can anybody in their right mind see the underachievement that took place prior to Patrick joining JR Motorsports and subsequently conclude that that she is the reason for any of their problems?
Well, only if you are a hateful person with an agenda. You know, the kind of person who slid into Jackie Robinson spikes-first.
Thank God I'm not Danica Patrick. The problem with her is that she gets hit from both sides — the truly biased folks, and the merely machismo crowd.
Travis Pastrana, who is doing nothing more than trying to learn how to turn a wheel in NASCAR following his X-Games exploits, gauges his progression via Danica because he doesn't want to lose to a girl.
It is that kind of philosophy that makes it where Patrick gets no space on the track, producing the kind of wrecks everybody uses to question her talent. Talk about a self-fulfilling prophecy for the naysayers.
I can only imagine if a NFL rookie, just trying to learn the position, was targeted like Tom Brady of the New England Patriots. You try to survive under those circumstances.
The bottom line is that whatever is going on between Earnhardt Jr. and his relatives has absolutely nothing to do with her.
But folks will try to make it that way.
And frankly, those folks are losers.
Follow Josh Stewart on Twitter @JoshNASCARWWE.
Original Story:
http://www.astheworldturnsleft.com/da...
THE BACKYARD
BEST OF MAXIM
RELATED ARTICLES
Dale Earnhardt Jr. says he's been able to concentrate on racing even after a shakeup in the Nationwide team he founded. The co-owner of JR Motorsports says it has been difficult to deal with the changes since his uncle, Tony Eury Sr., was fired as competition director. Earnhardt's cousin, Tony Eury Jr., let go this week as part of the shakeup. He had been the crew chief...
Elliott Sadler and Danica Patrick both enter Saturday's Kentucky 300 optimistic - just for different reasons. Sadler finished ninth in his previous trip to Kentucky Speedway, his second top-10 in as many starts here. He believes those performances can help him begin erasing a nine-point deficit to Ricky Stenhouse Jr. and reclaim the NASCAR Nationwide Series lead he held the...
Dale Earnhardt Jr., driver of the No. 88 Diet Mountain Dew/National Guard Chevrolet, currently holds the seventh position in the Chase for the NASCAR Sprint Cup after finishing eighth at Chicagoland Speedway last weekend. With nine races remaining in the 2012 NASCAR Sprint Cup season, Earnhardt trails leader Brad Keselowski by 17 points.   AT NEW HAMPSHIRE: In 26 Cup starts at New...
Dale Earnhardt Jr. left Chicagoland Speedway last Sunday wanting more. Earnhardt says he was "a little bit disappointed" by his eighth-place finish -- even though there have been years he would have yearned for 18 top-10 finishes in a season let alone 27 races. Yes, it's been eight years since Junior enjoyed the consistency he's experiencing now with the No. 88...
JR Motorsports director of competition, Ryan Pemberton, will serve as interim crew chief for Danica Patrick's No. 7 GoDaddy.com team this weekend at Kentucky, as announced via team press release on Tuesday. A decision has not been made on the remaining races. The news comes on the cusp of Monday's announcement that Tony Eury Jr. is no longer with the company. Eury Jr., who was...
Dale Earnhardt Jr. has his priorities in order. Although his name is on the door of JR Motorsports, the driver of the No. 88 Mountain Dew Chevrolet understands that his job driving in the NASCAR Sprint Cup Series for Hendrick Motorsports comes first. Certainly, Monday's decision for JRM to part ways with Earnhardt's cousin and former crew chief Tony Eury Jr. following the...
MOORESVILLE, N.C. – JR Motorsports director of competition, Ryan Pemberton, will serve as interim crew chief for the No. 7 GoDaddy.com team and driver Danica Patrick this weekend in the NASCAR Nationwide Series race at Kentucky Speedway, general manager Kelley Earnhardt-Miller confirmed today.  Earnhardt-Miller said a crew chief for the team beyond this weekend has not been determined...
Leading into the weekend, I knew there was some discontent in the JR Motorsports NASCAR Nationwide Series organization. With the recent release of competition director Tony Eury Sr., followed by the release of crew chief Tony Eury Jr. this week, it really seems to me they have determined that the leadership wasn't working for them, unfortunately. As far as Danica Patrick is...
Patriots News

Delivered to your inbox

You'll also receive Yardbarker's daily Top 10, featuring the best sports stories from around the web. Customize your newsletter to get articles on your favorite sports and teams. And the best part? It's free!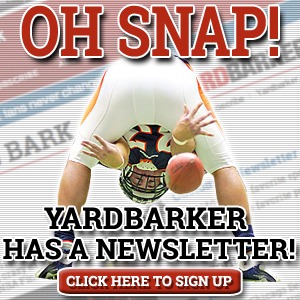 Latest Rumors
The Backyard

Today's Best Stuff

For Bloggers

Join the Yardbarker Network for more promotion, traffic, and money.

Company Info

Help

What is Yardbarker?

Yardbarker is the largest network of sports blogs and pro athlete blogs on the web. This site is the hub of the Yardbarker Network, where our editors and algorithms curate the best sports content from our network and beyond.