Found January 15, 2013 on NorthWest Sports Beat:
Not the G-R-O-I-N! Well, if you were worried about the Canucks second line before David Booth tweeked his groin, you're going to be $hitting bricks today. Canucks coach Alain Vigneault confirmed today that Canucks winger will miss the next 4-6 weeks with a groin strain. According to the Canucks coach, the strain occurred Sunday morning during fitness testing. Vigneault also stated the injury wasn't due to lack of training, but rather over training on Booth's part. The injury couldn't come at a worse time, the Canucks are already missing second line center Ryan Kesler for a still undetermined period of time, now that two-thirds of the second line is lost to injury for the foreseeable future. You can bet now with this news that Canucks GM Mike Gillis feels pressure to make a deal. Earlier in the week I wrote how I thought Andrew Ebbett would slot in as the number two center in Kesler's absense, unless the Canucks acquired a center in a trade for goalie Roberto Luongo. The next step? The worst case scenario is that Booth is out six weeks, in a regular NHL season six weeks can come and go pretty quickly, but in a shortened season it could make the 15-17 games Booth will miss between feel like a century. For what it's worth, at a six week recovery time, Booth's first game of the season would be February 19th against the Blackhawks in Chicago. So what happens next? Either Mike Gillis rushes and makes a trade,  or the more likely option is that there is some internal competition and we see some players step up and try to grab on to that job as second line winger. If I'm a betting man, I'm choosing the latter. David Booth tweeked his groin…oh great. The Canucks will look internally to fill the spot on the second line, both at center and on the wing now. Who's going to step up? Zack Kassian If there was ever a time to show that you belong in the top six, this is it. Zack Kassian has had a good start to his AHL season, but battled with inconsistency at times in the 28 games he played. It's time for him to come in and make that spot his. He needs to make it so the coaching staff has a very difficult decision to make when Booth returns from injury. Chris Higgins Mr. Underrated Canuck. Chris Higgins probably has the better chance at landing the job on the second line, he played on it a lot last season and his versatile style of play makes the transition from third line to second pretty easy. In a perfect world perhaps both Kassian and Higgins make it on to the second line while Mason Raymond drops to the third line in a checking role. Jannik Hansen Hansen scored 16 goals last season, perhaps that and a strong camp are enough to warrant a spot on the second line? Hansen has the speed and skill set, so maybe this is the year he steps up and breaks free from that bottom six role? I could think if a few players who I wouldn't want to see there and Hansen isn't one of them. It's not a now or never situation with these guys, but I think its time at least two of the three grab the bull by the horns and claim that second line spot. Experience wise, I would think Higgins lands it, however I would like to see Kassian take it and make whoever wants it from him rip it from his hands. Season is still four days a way and we're already missing 2/3 of the second line. Time for some guys to step up. CLICK HERE NOW TO CHECK OUT THE VANCOUVER CANUCKS CLUBHOUSE AT NWSPORTSBEAT!
Original Story:
http://www.nwsportsbeat.com/canucks/v...
THE BACKYARD
BEST OF MAXIM
RELATED ARTICLES
The Vancouver Canucks have another hole to fill on their second line. David Booth, who has yet to take part in training camp, will be out four to six weeks with a groin strain. Canucks coach Alain Vigneault revealed the extent of the injury Tuesday, a day after Booth underwent an MRI. His absence leaves two holes on Vancouver's second line because center Ryan Kesler is recuperating...
Silver Spoons Now that Canucks camp is underway, we can finally talk about hockey matters again. Namely, that Ryan Kesler is still injured and can't move his arm above his surgically reconstructed shoulder. His absence leaves a giant void in the middle of the second line that the Canucks will scramble to find an answer for during this shortened training camp. Maxim Lapierre is...
The Vancouver Canucks are once again find themselves on the short list of Stanley Cup contenders, and a shortened season may favor a highly skilled, battle-tested team like the reigning Presidents' Trophy winners. The Canucks also continue to have one of the most outspoken fan bases, which is fun because it often leads to some entertaining hijinks thanks to the wonder of the Internet...
How's the shap today? We're days away from the start of the NHL & our Vancouver Canucks regular season and I can already smell the throw up on the sky train, that strange looking guy who has one eye on you and one on the door, the many other commuters warm breath on my neck; and most importantly the anticipation to get this damn thing going. While it's been fun to talk...
The Vancouver Canucks have another hole to fill on their second line. David Booth, who has yet to take part in training camp, will be out four to six weeks with a groin strain. Canucks coach Alain Vigneault revealed the extent of the injury Tuesday, a day after Booth underwent an MRI. His absence leaves two holes on Vancouver's second line because center Ryan Kesler is recuperating...
Canucks Projections Chances are that like the Regular Season of the NHL season, you are scrambling to get your Hockey Pools together before puck drop on January 19. If this is the case, there is not much time to strategize, to predict and to realize which players will help you gain bragging rights in your pool. I recommend looking at which teams will score a ton, which teams have...
Start Your Engines VanCity Vancouver is known as a rather laid-back typically West Coast city, where often the biggest concern is whether the coffee shop clerk remembered to properly decorate the top of your mocha latte. Things move at a ponderous pace here much of the time, and life is not to be rushed. This dedication to the lethargic lifestyle is unfortunately often mirrored as...
Sweet Glorious Hockey It hasn't fully sunken in yet that Canucks hockey is coming back, and is soon to consume this country in what promises to be a very entertaining 48 game dash to the playoffs. It's going to be a silly season. After going so long without the game, it's returning at double time with a very short training camp and no exhibition games. We've seen the playoff...
(Eds: Updates. With AP Photos.) Cory Schneider has waited much longer than a 113-day lockout for this chance. For the first time in his pro career, the goaltender entered a Vancouver Canucks training camp as the go-to guy in goal, a role he has coveted since he entered the organization. ''It's the culmination of my development,'' the 26-year-old Schneider said...
In Vancouver's Way on March to Cup Finally the ridiculous lockout is over and now we can start talking about battles on the ice and not battles that took place in board rooms! The Vancouver Canucks will enter the 2013 season as one of the legitimate favorites to win it all… again. They are stacked in all aspects of the game – anything less than a Cup would be a disappointment...
Vancouver, B.C. - Vancouver Canucks President & General Manager Mike Gillis announced today that the Canucks have signed defenceman Jim Vandermeer. Vandermeer, 32, has played in 461 NHL games, recording 105 points (25-80-105) and 664 penalty minutes. The 6'1", 208 lbs. defenceman split the 2011.12 season with the Edmonton Oilers (2-12-14 in 62 games played) and San Jose...
"I have the same 'mindset' that at the Vancouver Olympics. I was number two behind Martin Brodeur at the start of the tournament and I wanted to have fun. This is the same approach now. There are 5 or 6 years, I would not have approached things the same way. But it's no use sulking. " It's no use sulking is true, but is willing to reconsider its...
Canucks News

Delivered to your inbox

You'll also receive Yardbarker's daily Top 10, featuring the best sports stories from around the web. Customize your newsletter to get articles on your favorite sports and teams. And the best part? It's free!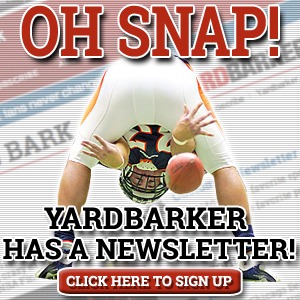 Latest Rumors
Best of Yardbarker

Today's Best Stuff

For Bloggers

Join the Yardbarker Network for more promotion, traffic, and money.

Company Info

Help

What is Yardbarker?

Yardbarker is the largest network of sports blogs and pro athlete blogs on the web. This site is the hub of the Yardbarker Network, where our editors and algorithms curate the best sports content from our network and beyond.