Found April 23, 2012 on Fox Sports:
PLAYERS:
Andrew Luck
,
Jim Plunkett
,
Archie Manning
,
Drew Bledsoe
,
Peyton Manning
,
Ryan Leaf
,
Tim Couch
,
Donovan McNabb
,
Matthew Stafford
,
Cam Newton
,
Eli Manning
,
Tom Brady
,
Ben Roethlisberger
,
Drew Brees
,
Aaron Rodgers
,
Blaine Gabbert
,
Andy Dalton
TEAMS:
Minnesota Vikings
,
Detroit Lions
,
New York Giants
,
New England Patriots
,
Pittsburgh Steelers
,
New Orleans Saints
,
Green Bay Packers
,
Jacksonville Jaguars
,
Cincinnati Bengals
,
Stanford Cardinal
When Andrew Luck and Robert Griffin III are selected first and second overall in the first round of this week's NFL Draft, they'll become just the fifth quarterback duo to go first and second since the NFL and AFL combined drafts in 1967. If history serves as any lesson, at least one of them will have great success. The other? Eh, not so much. Of the five quarterback duos to go 1-2 since 1967, only one saw both quarterbacks go on to start 80 games over the course of their NFL careers. That pairing, Jim Plunkett and Archie Manning in 1967, had its own quirks, asterisks and "yeah, buts." Plunkett, the Patriots' top pick out of Stanford (like Luck), was initially deemed a bust after six mediocre years in New England. He didn't find success until after he bounced to one team (San Francisco), then another (Oakland), where he finally won two Super Bowl rings in the latter part of his career. Manning, Peyton and Eli's father, retired after 13 NFL seasons having never played on a team that notched a winning record or made the playoffs. The other 1-2 duos don't even come close to the cumulative "success" of Plunkett and Manning. Drew Bledsoe and Rick Mirer (1993), Peyton Manning and Ryan Leaf (1998), and Tim Couch and Donovan McNabb (1999) were all 50/50 scenarios. Mirer had a somewhat promising start to his career in Seattle, only to fizzle out as an NFL journeyman before retiring in 2004 with seven NFL teams listed on his resume. Both Leaf and Couch were out of the league altogether within five seasons. Though the track record for 1-2 quarterbacks isn't very good, I strongly believe that both Luck and Griffin III -- in Indianapolis and Washington, respectively -- will have fine NFL careers. I also think this is the start of many 1-2 NFL Draft quarterback combos to come. The days of the Top 5 quarterback bust seem to be behind us. Bold comment, I know. But let's look at the numbers. Since 2008, only five quarterbacks have been taken with top five picks. Of those five -- Matt Ryan in 2008, Matt Stafford and Mark Sanchez in 2009, Sam Bradord in 2010 and Cam Newton in 2011 -- there have been no colossal failures. Each player -- including the oft-criticized Sanchez -- is the franchise quarterback of his team. Of all five quarterbacks, Sanchez, ironically, is the only one to have won an NFL playoff game. Ryan, Stafford, Newton and Bradford -- though he took a step back in 2011 -- are the unquestioned leaders of their locker rooms and the faces of their franchises. Since the pass interference and quarterback protection rules changed in the middle of the 2000's, the game has completely evolved into a passing league. Quarterback has become the first, second, third and fourth most important position on the field. In 1981, two running backs were selected with the first two selections. We might never see two running backs taken in the first round again. We'll never again see two taken with the top two selections. You don't win a Super Bowl without a star quarterback. You can't. Though San Francisco and Baltimore flirted with the possibility last season, Eli Manning's Super Bowl XLVI MVP performance continued a trend of star quarterback-led teams hoisting the Lombardi Trophy in February. Since journeyman Brad Johnson won a Super Bowl with Tampa Bay in 2002, Tom Brady, Ben Roethlisberger, Peyton Manning, Eli Manning, Drew Brees and Aaron Rodgers are the only quarterbacks to win Super Bowls. You can make Hall of Fame arguments for five of the six players already, and Rodgers is well on pace to be a part of the conversation, too. So, you draft a quarterback when you have the top pick in the draft. Or the second pick of the draft. Or maybe even, if Minnesota finds a team hungry (er, desperate) enough to land a franchise quarterback (ie. Ryan Tanehill), the third overall pick. Washington traded a total of five draft picks to move up four spots in Thursday's draft order. At first glance, that seems like an awful lot. But with the rules of the new Collective Bargaining Agreement, negotiated last summer, Top 10 draft picks don't make nearly the same amount of money as Top 10 picks of the previous decade. Whereas Bradford, Stafford and JaMarcus Russell -- all No. 1 draft picks selected in the 2000's -- made north of $70 million in their rookie contracts, Newton, the top overall pick of the 2011 NFL Draft, inked a rookie deal netting him a little more than $22 million over four years. Not exactly chump change, no, but Newton's deal surely didn't cripple the Panthers from signing other talented players. You can make the argument that Newton -- considering what he did for Carolina against what he was paid -- was financially the most valuable player in the entire league last season. Drafting a quarterback with a top five selection used to be considered a tremendously dangerous big risk/big reward situation. A GM's job was on the line if it didn't work out. In addition to wasting an early selection on a player that didn't cut it, the financial hit was devastating to a team's salary cap. Now? At four years, $22 million, you've still got enough wiggle room to sign free agents, a solid backup and an offensive line within the budget. Blaine Gabbert was selected 10th overall by the Jaguars last year. If the team's new coaching staff is convinced he's not the guy for the future, there's a lot less at stake in drafting another quarterback with the seventh overall pick this year than there would have been in years past. Though not particularly ideal, carrying two first-round quarterbacks on the roster isn't nearly the same financial burden as it once was. The same, conceivably, could be said for Minnesota and Gabbert. Lastly, and most importantly, the college quarterbacks of today are far more ready than ever before to play in the NFL. There's no such thing as "the stage being too big" when just about every college program is on prime-time TV multiple times during the season and the college game has become Storyline B to every big fall weekend behind NFL Sundays. The quarterback of a major college team has responsibilities -- both on the field and off -- that prepare him for the NFL in a way the quarterbacks of the 80's and 90's would never dream. Twitter, Facebook and the TMZing of college athletics have forced young athletes to treat their athletic careers like jobs long before they're ever paid to do so. Furthermore, college offenses are as complex -- if not trendier -- than the ones being used in the NFL today. The general consensus last year at this time was that Newton -- a kid with just 14 Division 1-A starts in a predominantly "spread" offense at Auburn -- would struggle adjusting to the NFL. However, even with an abridged offseason to learn the playbook, Newton found great success in Rod Chudzinski's Panthers offense from the start. To Chudzinski's credit, a lot of the playbook was molded around Newton's strengths. Though Newton might have been a rare case (look at Gabbert's first year in Jacksonville), it appears Cincinnati Bengals rookie Andy Dalton, Tennessee's Jake Locker and Minnesota's Christian Ponder seemed ready to deliver as rookies when given their opportunities on the field. Luck's going 1, Griffin's going 2, and that's just the start of the quarterbacks going first and second NFL Draft trend. Without even knowing which two teams will be picking first and second next year, it's safe to assume that Arkansas's Tyler Wilson and USC's Matt Barkley--two top college quarterbacks--will be going 1 and 2 in 2013. Absolutely necessary, rather affordable, relatively reliable and more prepared to make a splash right away than ever before--drafting a quarterback with a Top 5 pick is no longer the toxic make or break gamble it once was just a decade before. It's sensible, now. Oddly enough, it's your best bet.
Original Story:
http://msn.foxsports.com/nfl/story/An...
THE BACKYARD
BEST OF MAXIM
RELATED ARTICLES
The consensus is that Andrew Luck needs lots of help to become successful in Indianapolis. Given the roster situation many hope that Luck's favorite target at Stanford, tight end Coby Fleener, falls to the second round. If appears unlikely to happen Paul Kuharsky argues that trading extra picks to move up for Fleener is a bad move: Yes, they could trade up late in the first...
Ryan Grigson officially announced today that the Indianapolis Colts will select quarterback Andrew Luck of Stanford with the first overall pick of the 2012 NFL Draft: A new era in Colts football will start on Thursday evening just after eight o'clock when Indianapolis will select quarterback Andrew Luck with the first pick in the NFL Draft. Colts General Manager Ryan Grigson...
Do not expect any surprises with the first pick of the upcoming NFL Draft. Indianapolis Colts general manger Ryan Grigson confirmed Tuesday what everybody in football already knew, telling reporters the team would use the top overall pick to select star quarterback Andrew Luck. "In fairness to Andrew Luck and in fairness to the whole process -- the media gantlet he's going...
A Texas-based trading card company is suing probable No. 1 NFL Draft pick Andrew Luck, claiming it has the right to sell trading cards that use an image of him taken during the 2008 US Army All-American Bowl -- a high school All-Star game it has the rights to. The company said the suit came in response to a demand from the quarterback's attorney that Leaf stop selling the cards...
Andrew Luck will be a guest on the Late Show with David Letterman, a few hours before the Stanford quarterback is picked No. 1 pick in the NFL draft. Luck will head over to Radio City Music Hall, where the draft is being held, after spending some time with Letterman Thursday night at the Ed Sullivan Theater. Radio City is just a few blocks away from the Ed Sullivan Theater in Manhattan...
The Indianapolis Colts (2-14) select: Andrew Luck, QB, Stanford Andrew Luck is an elite prospect, and is ultimately a much safer pick than Robert Griffin here. Luck will be able to soak up the most complicated intricacies of any offense Chuck Pagano asks him to learn.   The Washington Redskins (5-11) select: Robert Griffin III, [...]
This is Part 1 of a four part series titled "1998 Manning versus 2012 Luck."   Never in the history of the National Football League have we ever seen a situation like the one the Indianapolis Colts have. Their captain, their leader, their heart and soul has voluntarily been sent away after 14 great and remembered years. All because of complications of a neck injury, age, and...
The process of how NFL draft talent is evaluated is drifting away from the laborious process of pouring over game footage and stats. What's taking its place is this kooky who's hot and who's not dog and pony show that should remind us all of the race for homecoming king. Nowhere is this more present than at the quarterback position. Please click the link to read this extensive...
DULUTH, Ga. (AP) -- The NCAA women's gymnastics championship came down to the final routine, just as Alabama coach Sarah Patterson expected. Patterson was confident because she had senior Ashley Priess set for that last routine. Priess closed Alabama's decisive balance beam rotation with a 9.950 and the Crimson Tide edged No. 1 seed Florida to win its second straight championship...
It's no secret that play-action passing was a hallmark of both Peyton Manning's time in Indianapolis as well as Andrew Luck's time at Stanford. In both situations the key was to pull a guard in order to sell the run fake: Just think about what kind of effect that has on the defense. While both players were impressive in their play-action fakes — and someone like Peyton...
The 2012 NFL Draft is just three days away, and after the first two picks, it is a complete craps shoot what happens next. While everyone feels as if Andrew Luck and Robert Griffin III are "can't miss" prospects at No. 1 and No. 2 to the Indianapolis Colts and Washington Redskins, it is anybody's best guess as to who the Minnesota Vikings will select at No. 3, as well as...
  1. OT Matt Kalil-USC* 2. WR Justin Blackmon-Oklahoma State* 3. CB Morris Claiborne-LSU* 4. RB Trent Richardson-Alabama* 5. QB Andrew Luck-Stanford* 6. QB Robert Griffin III-Baylor* 7. DE Quinton Coples-UNC 8. WR Michael Floyd-Notre Dame 9. ILB Courtney Upshaw-Alabama 10. DT Dontari Poe*-Memphis 11. DT Michael Brockers-LSU*   12. OG David DeCastro-Stanford* 13. ILB...
All Sports News

Delivered to your inbox

You'll also receive Yardbarker's daily Top 10, featuring the best sports stories from around the web. Customize your newsletter to get articles on your favorite sports and teams. And the best part? It's free!
THE HOT 10: Who's Trending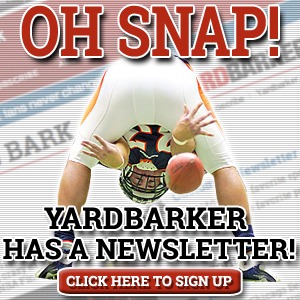 Latest Rumors
The Backyard

Today's Best Stuff

For Bloggers

Join the Yardbarker Network for more promotion, traffic, and money.

Company Info

Help

What is Yardbarker?

Yardbarker is the largest network of sports blogs and pro athlete blogs on the web. This site is the hub of the Yardbarker Network, where our editors and algorithms curate the best sports content from our network and beyond.