Found October 08, 2012 on Fox Sports:
PLAYERS:
Brad Keselowski
,
Denny Hamlin
,
Kasey Kahne
,
Clint Bowyer
,
Jeff Gordon
,
Regan Smith
,
Kurt Busch
,
David Ragan
,
Travis Kvapil
,
Parker Kligerman
,
Matt Kenseth
,
Greg Biffle
,
Dale Earnhardt Jr.
Can you imagine the Sprint Cup Series without Dale Earnhardt Jr.? "If this is what we did every week, I wouldn't be doing it, I will just put it to you like that," Earnhardt said after Sunday's Good Sam 500 at Talladega Speedway. "If this is how we raced every week, I would find another job." Yes, it was in the heat of the moment. Yes, it was after a valiant comeback from outside of the top 20 and off the lead lap. And yes, it was after Junior watched his championship hopes dashed after leading the points nine races ago but now falling to being mired in 11th place, 51 points behind Brad Keselowski. Earnhardt, who turns 38 on Wednesday, is known for his restrictor-plate prowess -- particularly at Talladega where he claims five career wins. However, none of Earnhardt's victories on the 2.66-mile track have been earned since NASCAR's Car of Tomorrow was introduced in 2007. And that year, the Talladega event resembled more of a parade not a race. In the past three Chase races at Talladega, Earnhardt's average finish is 28th. No wonder NASCAR's Most Popular Driver quipped after the race Sunday, "I don't even want to go to Daytona and Talladega next year, but I have no choice." Sure, Earnhardt had better results at Daytona this year. He finished second in the Daytona 500 and survived with a 15th-place showing in July. However, he's wrecked there twice in the last seven races and hasn't won on the 2.5-mile track since the 2004 Daytona 500. Fortunately for Earnhardt, and the other 10 Chase for the Sprint Cup drivers that were caught up in the "Big One," the multicar crash that marred the final lap at Talladega on Sunday, the old car will go away at the end of the season. That's OK with Junior, who feels that with the current rules package, "The way we are going ain't the right direction." "There are plenty of engineers out there, I'm just a driver," Earnhardt said. "There are plenty of smart people out there that can figure something out where when one guy gets in trouble we don't have 30 cars tore up at the expense of it. "It's awesome, in a word, and everybody can get on the chip about it and get excited about all that which just happened, but for the longevity of the sport that ain't healthy. I don't care what anybody says for the good of the sport, I mean it's good for the here and now and it will get people talking today, but for the long run that is not going to help the sport the way that race ended and the way the racing is. It's not going to be productive for years to come." NASCAR has an opportunity to massage the new car before its official debut in the 2013 Daytona 500. But will it prevent the style of racing that collected 25 cars on the last lap on Sunday? Here are 10 other storylines to watch in the coming weeks: 1. Not the game changer we expected Talladega didn't change a thing at the top of the Sprint Cup standings. The best three drivers in the points standings stayed the same -- just the deficit between them altered. Brad Keselowski survived Talladega with a remarkable seventh-place finish and extended his lead to 14 points over Jimmie Johnson. Denny Hamlin remained third in points after losing the draft on Sunday and finishing 14th. He now trails Keselowski by 23 points. For fourth-place Kasey Kahne (minus-36) and Clint Bowyer (minus-40), who is now fifth in the standings, it will be a scramble to get back in the hunt. 2. Oh, Kurt! Another race, another misunderstanding between NASCAR and its former Cup champion. Now, we're all on Busch watch again. Will NASCAR reprimand the driver further after parking the No. 51 Phoenix Racing on Sunday when he ignored a command from the tower to stop after wrecking on the backstretch? Busch is scheduled to make his Furniture Row Racing debut on Saturday night but considering the driver is on probation from two earlier incidents this season, we'll just have to wait and see. 3. Comeback kid After a valiant fight to qualify for the Chase at Richmond, Jeff Gordon crashed out at Chicagoland Speedway and has been battling back from his 47-point deficit ever since. In the last three races, Gordon finished third or better -- including second on Sunday. While he's vaulted from 12th to sixth in the points standings, Gordon has shaved just five points from his shortfall. He still trails Keselowski by 42 points. 4. A fond farewell Before his swan song with Furniture Row Racing on Sunday, Regan Smith tweeted: "Today ends an important chapter in my life and career. ... I'd love nothing more than to get out of the 78 for the last time in Victory Lane!" Well, Smith came close. He finished fifth -- his first top five of the season and his third top-10 result with crew chief Todd Berrier. While Smith will be swapping rides with Kurt Busch at Phoenix Racing, we'll be watching with interest where he goes from here. 5. Home cooking Most teams will be thrilled to return to Charlotte Motor Speedway this week with six races remaining in the Chase for the Sprint Cup. But consider this, Hendrick Motorsports drivers' Jeff Gordon, Jimmie Johnson and Kasey Kahne have 15 wins between them on the 1 1/2-mile track. Dale Earnhardt Jr. has never won a points race at his home track but came close in last year's Coca-Cola 600 before running out of gas on the final lap. Saturday night's race could come down to a fuel-mileage feud again. If so, don't count points leader Brad Keselowski out. 6. Makes you go hmm ... Kudos to David Ragan and Travis Kvapil, who finished fourth and eighth, respectively, on Sunday. Ragan has historically run well on restrictor-plate tracks, but his Talladega finish was his first top five of the season. Kvapil's first top 10 of the season also signifies the first top-10 finish for freshman team BK Racing. 7. Big breakthrough Congratulations to Parker Kligerman, who earned his first career Trucks win in his 44th start on Saturday. Kligerman, 22, was released from Brad Keselowski Racing after the Pocono race on Aug. 4, but was picked up by Red Horse Racing for the following event. Seven races later, Kligerman rewarded the organization with their 10th career win in what was team owner Tom Deloach's 300th start. 8. Numbers game Since the introduction of NASCAR's new car at Talladega, attendance has dwindled from 160,000 in the spring race in 2004 to an estimated 88,000 on Sunday. 9. Like father, like son There was a whole lot of winning going on in the Kenseth household this weekend. Not only did Matt Kenseth top the Sprint Cup Series, son Ross won the All American 400 Super Late Model race at Fairgrounds Speedway in Nashville, Tenn., on Saturday night. Alas, it was back to classes on Monday for the 19-year-old Clemson student. 10. Water-cooler fodder Under the old points system, Keselowski and Greg Biffle would be tied for first place in the standings, followed by Jimmie Johnson (minus-2), Dale Earnhardt Jr (minus-11). and Matt Kenseth (minus-27).
Original Story:
http://msn.foxsports.com/nascar/story...
THE BACKYARD
BEST OF MAXIM
RELATED ARTICLES
Dale Earnhardt Jr. addresses the media during qualifying at Talladega Superspeedway. Photo Credit: Chris Trotman/Getty Images for NASCARBy: Toby Christie – Follow on Twitter @TobalicalDale Earnhardt Jr. headed into Talladega Superspeedway with high hopes, and a fast racecar, but at the end of the day he was left with a wadded up No. 88 chevrolet, and a headache. Following one of...
Everyone is talking about Dale Earnhardt Jr.'s calling the Talladega race a "debacle" Sunday night. Between social media and listening and talking to people after the race and after his comments, what I find surprising is how frustrated he really was. I can share his frustration just based off of the fact of how good of a race car he had that day. I think we saw how...
JR Motorsports will continue to be sponsored by TaxSlayer.com, an online tax preparation service. Taxslayer began sponsoring the teams NASCAR Nationwide Series teams in 2011 and according to JRM general manager Kelley Earnhardt Miller that partnership will continue.TaxSlayer.com will sponsor JR Motorsports cars in 17 Nationwide Series a year starting with the 2013 season-opening...
TaxSlayer.com, the online tax preparation service that has been a cornerstone partner of JR Motorsports since 2011, has renewed its partnership with a long-term sponsorship agreement, JRM general manager Kelley Earnhardt-Miller announced this week. As part of the new agreement, TaxSlayer.com will receive primary paint schemes in 17 Nationwide Series races in each year of its contract...
Bloodthirsty? It's Dale Earnhardt Jr.'s word for Sunday's racing…
photo credit:  getty images DALE EARNHARDT JR. - WINNER #88 Diet Mountain Dew/National Guard Chevrolet ·         Season-to-Date Driver Rating: 98.1   2012 Rundown   ·         One win, 10 top fives, 18 top 10s; one pole   ·         Average finish of 10.0   ·         Led 12 races for 340 laps   Talladega Superspeedway Outlook:   ·        ...
Here's a lesson to the people in charge of NASCAR: Don't call something the "Roadside Assistance 500″ unless you're ready for 500 people needing roadside assistance.During the final lap of Sunday's Good Sam Roadside Assistance 500 at the Talladega Superspeedway, Tony Stewart got caught up blocking to keep his lead, cut across Michael Waltrip and not only crashed everyone...
All Sports News

Delivered to your inbox

You'll also receive Yardbarker's daily Top 10, featuring the best sports stories from around the web. Customize your newsletter to get articles on your favorite sports and teams. And the best part? It's free!
THE HOT 10: Who's Trending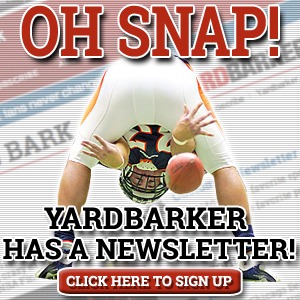 Latest Rumors
The Backyard

Today's Best Stuff

For Bloggers

Join the Yardbarker Network for more promotion, traffic, and money.

Company Info

Help

What is Yardbarker?

Yardbarker is the largest network of sports blogs and pro athlete blogs on the web. This site is the hub of the Yardbarker Network, where our editors and algorithms curate the best sports content from our network and beyond.