Eat, Drink, Watch: A weekend of bad blood
Yardbarker Illustration 
It's been a long week. You're tired. You're hungry. You're thirsty. You just want to find something to watch and unwind only to find not only do you have too many games to choose from on any given night to watch, there is an entire catalog of shows and movies you can barely keep up on.

When did our weekends turn into so much work?

So let's make it simple. Here is what you want to eat, this is what you want to drink and this is what you want to watch over the next 48 hours or so of "freedom" you have in your life. Maybe. We all know we're looking at work email at some point. And the car needs an oil change. And someone needs to take the kids to basketball practice. Wait, is that a leak in the garage? Okay, enough. Let's hurry up and get to the fun stuff for this pre-Valentine's Day weekend of February 10, 2017. It's nothing but bad blood – and one bloody good piece of meat.

Eat
Did we say a bloody good steak?
Alle12/Getty Images
Did I say Valentine's Day? Valentine's Day. And this is the good type of bloody. 
We're making a steak. Maybe not for Valentine's Day – the actual day – but Saturday night as a pre-"beat-the-rush-okay-no-wait-let's-stay-in-and-avoid-the-madness-out-there" steak.
And if you want to make it for Valentine's? Steak is romance. Trust.
And our favorite steak? We're huge fans of this Cowboy Rubbed Rib Eye with Chocolate Stout Pan Sauce recipe over on Food52, and have made it for Valentine's Day, Christmas and just to have in the middle of the week. Ancho chili, coffee, brown sugar, a deep porter, loads of pepper; you can't miss with this steak.
Drink
Watch out, slow & low and packs a punch. 
Sarah Sprague/Yardbarker
Like most people, when you see booze in a can you think of the cans at the local bodega or gas station that just say "MARTINI" or "PINA COLADA" in big letters on on the side that look they've been sitting there since the last time the Cowboys won a Super Bowl. Gross.
Let me tell you about Hochstadter's Slow & Low; aged rye whiskey, raw honey from Pennsylvania, navel oranges from Florida, Angostura bitters, a bit of rock candy and a whole lot of knocking you on your keister at 84 proof. We were skeptical when we first opened the can, but the smell, the smoothness of the pour, it was like we had an Old Fashioned we could bring with us on our next hike to tailgate. It's good straight or on the rocks; but trust us on this one – you're going to want the ice to tame down the alcohol just a tad before making any rash decisions.
Watch
Sometimes half the battle is sorting out what you want to watch (and what you have time for!) on the weekends. Here are our highlights for the weekend of February 10, 2017.
Sports
Nice. This whole weekend is a bloody valentine to rivalries and grudge matches. We couldn't think of anything more romantic.
Russell Westbrook (0) shoots a technical foul shot as Golden State Warriors forward Kevin Durant (35) looks on during the second quarter at Oracle Arena. Talk about bad blood. 
Kyle Terada-USA TODAY Sports
Friday: We never thought we'd say this, but we're pretty excited for the Wizards-Pacers bout as Washington just doesn't seem to know how to lose these days. Pacers lost a tough one against the Cavs earlier this week, so might be a chance for them to find their footing before the all-star break next week (8 p.m. ET/5 p.m. PT, ESPN). Warriors-Grizz (8 p.m. ET/5 p.m. PT, League Pass) also could be fun, because hey, Golden State can't lose all their games to Memphis, can they? In women's college hoops #20 Syracuse takes on #14 Duke (7 p.m. ET/4 p.m. PT, ACC Network, WatchESPN) and Villanova plays St. Johns (8 p.m. ET/5 p.m. PT, FS1)  and in "it's just not fair" sports, division-leading Wild take on the lifeless Lightning, (8 p.m. ET/5 p.m. PT, NBCN). Seriously, Tampa? We miss when you were good.
Oh, and if you happened to be paying too much attention to the Super Bowl and missed the ads, NFLN is airing the best Super Bowl ads from 2017 at 8 p.m. ET/5 p.m. PT, or you can just read our post.
Saturday: The day starts strong with #4Liverpool vs. #2 Tottenham at 12:30 p.m. ET/9:30 am PT (NBCN); don't look now Tottenham, but City's right behind you. We're not feeling Sharks-Flyers in the morning, but Blues-Canadiens in the evening sounds swell (7 p.m. ET/4 p.m. PT, NHLN). Of course a Warriors-Thunder "Bad Blood" Durant match is on our schedule (8 p.m. ET/5 p.m. PT, ABC), and if that's not enough fighting for you, UFC 208 Holm vs. de Randamie in a inaugural women's featherweight title should be a blast. Pay-per-view of the title card starts at 10 p.m. ET/7 p.m. PT, and you can also catch the undercard matches on FS1 starting at 8 p.m. ET/5 p.m. PT.
Sunday: Hey remember when Leicester City shocked the world last season and ran the table like it was nothing? Well, they're back at the bottom now and need a win against Swansea to stay juuuusssttt outside of the bottom three for relegation. (11 a.m. ET/8 a.m. PT, NBCN) In women's college basketball #15 UCLA visits #9 Oregon State (4 p.m. ET/1 p.m. PT, Pac-12) followed by #23 Arizona State at #10 Washington (also on Pac-12), on the men's side, #11 Cincinnati at #25 SMU (4 p.m. ET/1 p.m. PT, ESPN) is one of our twelve college games you have to watch before the tourney.
Plus, we've got an old-fashioned grudge match between the Habs and the Bruins (7:30 p.m. ET/4:30 p.m. PT, NBCN) to finish our weekend. 
Movies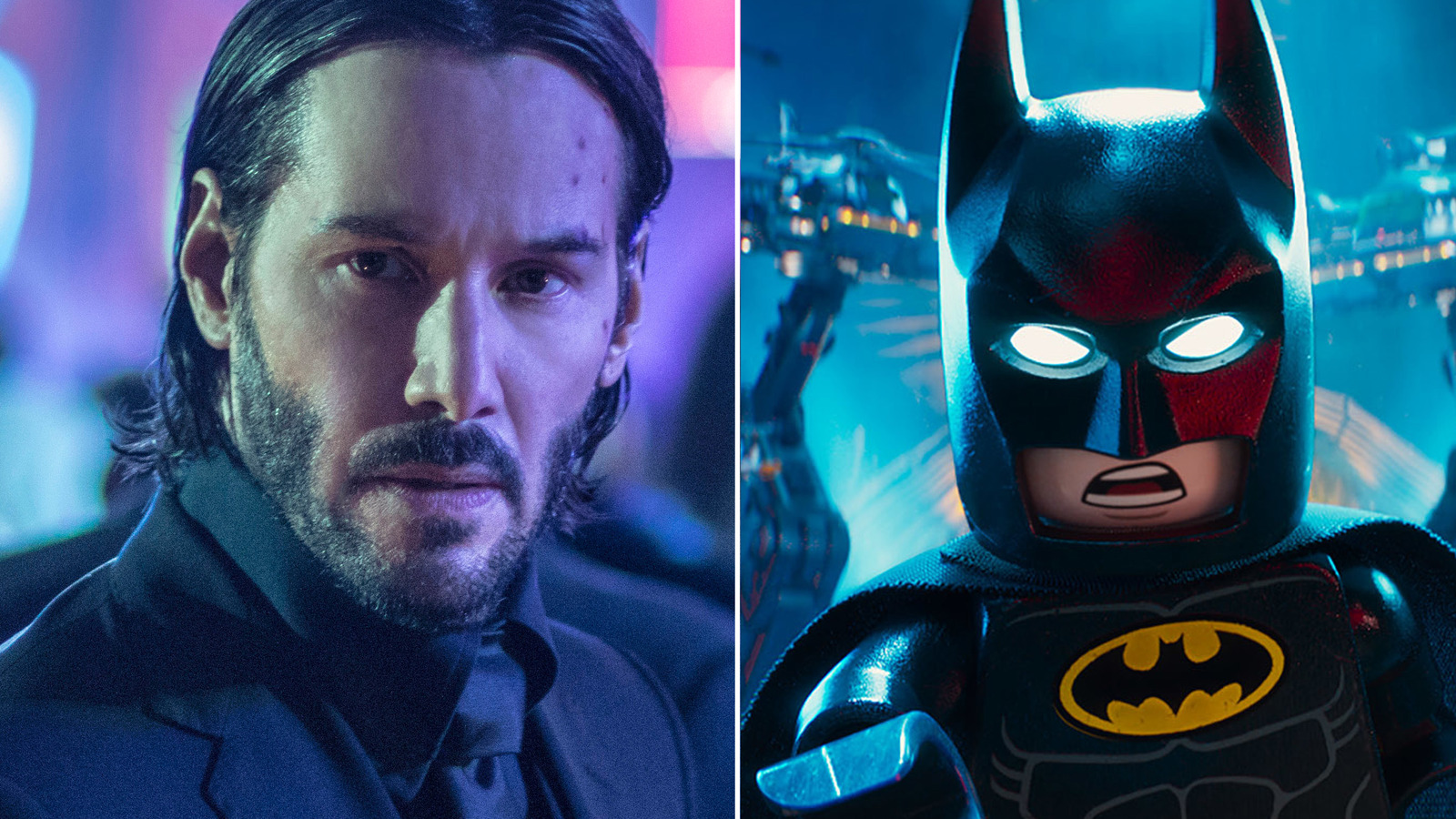 Two moody dudes with plenty of bad blood between them and the rest of the world. 
Lionsgate, Warner Bros./AP
For the past few weeks we've been telling you to catch up on Oscar fare like Moonlight and the like, and while they're great, it's time for some fun. Double-feature weekend of John Wick 2 and Lego:Batman is just what we need after a long week. Reviews for both have been stellar, so we can't wait to get our our eyeballs in front of a movie screen as soon as possible to take in the beauty of a hitman with grudge and a wisecracking Batman. (It's already better than the last Batman we watched, and that's just from the trailers.)
Oh, and the next 50 Shades installment comes out this weekend. We hear it's ludicrously fun, if you like making fun of movies, which we do, but not for $17 a ticket.
Streaming 
We've been bad. We hear great things about My Crazy Ex-Girlfriend and we still haven't watched it. Good news is that Season 2 is now on Netflix. And while it's not this weekend, technically, Golden Girls comes to Hulu starting on Monday. You know you want some old Italian grandma action telling you how you should be leading your life. It's that or we finally watch the final two episodes of The Crown we've been saving for a rainy day.
TV
Girls and the Grammys are on Sunday night, but what we're going to check out is The Missing, Season 2 on Starz. We're not dying to pick up another show, really, there is too much television already, but the reviews are good and we like a good mystery. Beyond that, we're still really behind on The Young Pope. Six episodes in and we're still enjoying it, baffled by what's going on, but enjoying it nonetheless.

MORE FROM YARDBARKER
Warriors News

Delivered to your inbox

You'll also receive Yardbarker's daily Top 10, featuring the best sports stories from around the web. Customize your newsletter to get articles on your favorite sports and teams. And the best part? It's free!