Ford Racing drivers Greg Biffle (4th) and Carl Edwards (7th) captured top 10 finishes at the Charlotte Motor Speedway during Saturday night's running of the Bank of America 500. Aric Almirola came home 12th and Matt Kenseth recovered from an early spin to place 14th. Those two drivers were the only other Ford Racing drivers in the top 20. Below is post-race reaction from Biffle, Edwards, Kenseth, and a few others. GREG BIFFLE – No. 16 3M Ford Fusion – "It's amazing that those guys can go that far on a tank of gas.  It's just unbelievable, but we had a really fast car.  The 3M Ford Fusion – a top-five finish – we finished fourth here in the spring in the 600, but I just want to win one of these races.  We had the fastest car at the end, but couldn't make it on fuel." YOUR TEAM SHOWED A LOT TONIGHT.  "Yeah, we really came back.  Our car was not that good early, and in the middle part of the race we were really loose, but we came back from it.  We had the fastest car at the end, but didn't quite get there." A NICE NIGHT FOR YOU.  "Yeah, we had a great night.  The 3M Ford Fusion was fast all night, but I was too loose all night.  I didn't take big enough swings at it.  I didn't want to get tight because when you get tight here it's miserable and there with about 100 to go we took a big swing at the car and she really took off.  We started turning the fastest lap times, but we had so much track position to make up, and then you can't beat the fuel mileage.  We're just not in that game to be able to go as far as those guys were going.  It hurts to get beat on fuel mileage, but we were the first car behind the three that made it on fuel mileage, so I feel pretty good with fourth." MATT KENSETH – No. 17 Best Buy Ford Fusion – "We had that flat and we kept racing and racing to get it back and finally got our lap back.  I'm not sure what we did at the end.  We had a real long pit stop because we were packing it full of fuel, but we couldn't make it to the end anyway.  We didn't have a great car, but I think we had a middle half of the top-10 car, but it took us so long to get that lap back and we never had any cautions to really get caught up." TREVOR BAYNE – No. 21 Good Sam Ford Fusion – "We were top-20 all night and that's what stinks about finishing 21st because we ran better than we finished, but it's all about track position.  That's pretty much it.  If we could have ever got on the lead lap, it would have made a big difference.  We were running 10th-place times and about 20 laps into a run at times they said we were running as fast as the leaders, so it's all about track position here.  Once you get spread out everybody is the same speed, but we just weren't that good at the beginning and lost a lap.  Had we been as good as we were at the end, I don't think we would have ever lost that lap, but it just took us a little while to get it figured out.  There were no cautions tonight, so there's not much you can do once you get behind a little bit." DAVID GILLILAND – No. 38 Glory Foods Ford Fusion – "That was one of the best cars that we've had all year, especially for an intermediate track. The guys in the pits did a great job and it was really fun working with Derrick Finley as my crew chief. It's the second week working together, but this race really counts as our first cause Talladega is so different. It just seemed that we really made the car better all weekend. We weren't the fastest, but the car was really good all night. We kept up with track and the changes really helped us. I think we have something to build off from this run." CARL EDWARDS – No. 99 Fastenal Ford Fusion – "We get good fuel mileage, but that wasn't our focus tonight.  Our focus was going as fast as we could and I think we showed a little more promise tonight than we have in a long time.  It's neat to see Greg leading that many laps.  We got up there.  We drove our way all the way to second on one run.  It's been a long time since we've been this competitive on a mile-and-a-half so I'm very happy with it.  Hopefully, we can build on this." YOU GOT SOME TRACK POSITION ON THAT ONE CAUTION SO MAYBE YOUR LUCK IS TURNING AS WELL?  "Yes, and now we go to Kansas, which is another track a lot like this and we'll build on this and hopefully get that first win of the season.  That would be huge.  I don't know what I'd do if we won at Kansas.  I don't party much, but it would be a heckuva party.  We'd have some fun." Ford Finishing Results: 4th – Greg Biffle 7th – Carl Edwards 12th – Aric Almirola 14th – Matt Kenseth 22nd – Trevor Bayne 23rd – David Gilliland 29th – Casey Mears 31st – Michael McDowell 33rd – Marcos Ambrose 34th – David Ragan 35th – Ricky Stenhouse Jr. 36th – Timmy Hill 40th – Scott Speed
Original Story:
http://startnparkblog.com/?p=12817&ut...
MORE FROM YARDBARKER
All Sports News

Delivered to your inbox

You'll also receive Yardbarker's daily Top 10, featuring the best sports stories from around the web. Customize your newsletter to get articles on your favorite sports and teams. And the best part? It's free!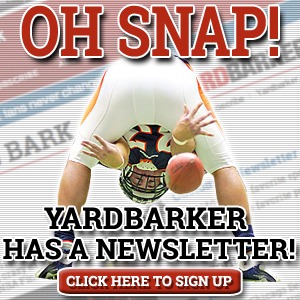 Latest Rumors
Best of Yardbarker

Today's Best Stuff

For Bloggers

Join the Yardbarker Network for more promotion, traffic, and money.

Company Info

Help

What is Yardbarker?

Yardbarker is the largest network of sports blogs and pro athlete blogs on the web. This site is the hub of the Yardbarker Network, where our editors and algorithms curate the best sports content from our network and beyond.