Found February 21, 2013 on Start 'N' Park Blog:
RICKY STENHOUSE JR., No. 17 Best Buy Ford Fusion – HOW WAS IT OUT THERE TODAY? "It was okay. I obviously made a mistake on pit road. I thought I hit the number right at the yellow line and obviously hit it a tick too early. That is the first time I have been caught speeding on pit road. We learned not to do that. As long as we don't do that Sunday we will be okay. I think our Ford was fast enough to run up front. The balance could be an issue I feel like later on in the race but all in all I think it was all good." IS THIS WHAT WE WILL SEE ON SUNDAY? "I don't know. It depends. I think with a 500 mile race everyone knows that it this race was 60 laps and you have to get to 55 and then go race. As race car drivers we get a little impatient if we do 30 laps of what we did today. We will see if it lasts for all 500 miles or not." MARCOS AMBROSE, No. 9 Stanley Ford Fusion –WHAT WAS THAT LIKE OUT THERE TODAY? "I am just really upset with myself. We didn't know which tire was going down and I panicked. I called for four tires because I didn't want to take the risk of ruining this car. We had speed in it and I am much happier with this car than I was with the shootout car so I feel a lot better going into Sunday than I did a couple of days ago, that is for sure." ARIC ALMIROLA, No. 43 Smithfield Ford Fusion – IS THE CAR BEING IN ONE PIECE A CONSOLATION PRIZE TODAY? "Yeah for sure. You never know what to expect when you come to Daytona. To leave here on Thursday night with your car in one piece is good but it wasn't the showing we wanted. We wanted to be better than that but we made one mistake early in the race when I went to the bottom and that was pretty much it for us. It is like you have to be in line and riding around at the top. You cannot get stuck on the bottom, especially if you are the last car. That is tough but we learned some stuff there. I practiced coming on pit road and we gained quite a bit of time on pit road. All in all we will take some positives out of this and get ready for the Daytona 500." WHAT WILL WE SEE ON SUNDAY? "I think you will see some calm and some chaos. The cars drive okay but people are going to get antsy. It isn't much fun riding around the top like that so people will get antsy and try to make moves and handling will come into play. We will just have to wait and see." DAVID RAGAN – No. 34 Detail Doctor Ford Fusion – "It was pretty uneventful, which is a good thing.  We would have liked to have had a shot for the win at the end, but the way the green-flag pit cycles worked out it just stretched the field out a lot and really didn't have enough laps to get caught back up.  But we learned  little bit on what we've got to do on Sunday to have a good handling car, and we got to run through a fuel run and see how our tire wear was, so it was a solid race and we'll learn from it.  You always would have liked to have done better, but I'm happy for our Detail Doctor Front Row Motorsports team.  We got all three cars into the 500 and there were no issues today, so that was good." ANY SURPRISES ON HOW THE CAR HANDLED TODAY IN THE DRAFT?  "No, the cars handle pretty well, but it's back to how the racing was in 2006 and 2007,  in my opinion, before the first year of the COT in '08.  You're just out there at everyone else's mercy.  You can't do anything on your own.  It was very hard to pass and you've just got to manage what line you're in, who has the runs and who doesn't.  It'll be a stretched out race, in my opinion, just because it's easy to lose the draft.  I think whoever has the best strategy and the best track position at the end is gonna be in good shape." JOSH WISE – No. 35 MDS Transport Ford Fusion – "It's stressful going into it because you know anything can happen here at Daytona, so we just tried to keep ourselves in the position that we knew we needed to be in the whole race.  We knew what we were racing against and what we needed to do, so the guys did a good job on pit road and Steven did a good job calling the race from the pit box and we got it done, so it's just awesome.  It's really cool." YOU ENJOYED THE CHALLENGE OF QUALIFYING ON TIME LAST YEAR.  HOW DID TODAY COMPARE TO THAT?  "I didn't like it going into that race because you feel like there's a lot out of your control here.  When you're qualifying at tracks and it's just you and the race track and your car, you feel like you've got a little bit of control what's happening.  Here, you're relying on a lot of what happens around you.  Luckily, everything went our way and we're in the 500." MICHAEL MCDOWELL – No. 98 K-LOVE Ford Fusion – "It's kind of hard to really know what happened today.  It was a single-file run for everybody.  There wasn't a lot of two-wide.  Starting as far back as we did, it was easy to lose the draft.  We weren't even riding and we just lost the draft with four other cars, so I don't know.  It's gonna be an interesting Daytona 500 when you get all the cars out there.  There will be more turbulent air and you're gonna have two-wide, and it should be easier to stay in the pack.  When we did get one lap down and we got in the leader mix, we were right in the middle there, so you've got to have enough cars in front of you and enough behind you to stay going.  The cars move around and they're fun to drive, but, right there, it was a pretty calm race.  Everybody just kind of stayed in line and not much happened." Ford Finishing Order 10th – David Ragan 11th – Marcos Ambrose 13th – Aric Almirola 14th – Ricky Stenhouse Jr. 16th – Josh Wise 18th – Terry Labonte 19th – Michael McDowell -Ford Racing PR
Original Story:
http://startnparkblog.com/?p=21197&ut...
THE BACKYARD
BEST OF MAXIM
RELATED ARTICLES
Danica Patrick's relationship with fellow NASCAR driver Ricky Stenhouse Jr. has been a major story in the racing world over the past month. Patrick admitted that dating another driver is not the best idea, but she says she can't help it. In an interview with Men's Health, Patrick was asked why she thought dating one of her co-workers was a good idea. "Well, I don't think...
LOVE LIFE
Danica Patrick said in an interview that dating a competitor is not a good idea, but she couldn't help herself in the situation.
Stenhouse in the Daytona 500 -In 2012, Stenhouse started 21st in his first Daytona 500 and finished a respectable 20th place in his debut. Duels: -With a 12th-place qualifying effort, Stenhouse will start sixth in the second Duel at Daytona, on Thursday, February 21st. Stenhouse at Daytona: -Stenhouse has six Nationwide career starts, earning two top-five and three top-10 finishes...
photo credit:  getty images Danica Patrick and two-time NASCAR Nationwide Series champ Ricky Stenhouse Jr. have no problem getting cozy in front of NASCAR nation. Before yesterday's NASCAR Nationwide practice for the DRIVE4COPD 300, Stenhouse Jr. and Patrick shared an intimate moment in her garage. Patrick will race the #34 in Saturday's Nationwide race, and the #10 in...
DAYTONA BEACH, Fla.  – As teams make final preparations to start the 2013 race season, NASCAR announced today the lineup of 2013 Contingency Program sponsors for all three national series. Not since 2006, when Chase for the NASCAR Sprint Cup regulars Denny Hamlin, Clint Bowyer and Martin Truex Jr. battled for the Sunoco Rookie of the Year Award, has there been this much attention...
NASCAR Sprint Cup rookie Danica Patrick will start from pole position in Sunday's 55th running of the Daytona 500. Her boyfriend and fellow Sprint Cup rookie Ricky Stenhouse Jr., starts in the 12th position. Patrick told MensHealth.com that dating a competitor is a bad idea, but she just couldn't help herself. "Well, I don't think I thought it was a good idea, Patrick said...
All Sports News

Delivered to your inbox

You'll also receive Yardbarker's daily Top 10, featuring the best sports stories from around the web. Customize your newsletter to get articles on your favorite sports and teams. And the best part? It's free!
THE HOT 10: Who's Trending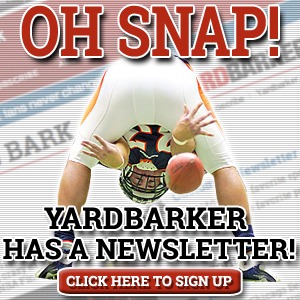 Latest Rumors
Best of Yardbarker

Today's Best Stuff

For Bloggers

Join the Yardbarker Network for more promotion, traffic, and money.

Company Info

Help

What is Yardbarker?

Yardbarker is the largest network of sports blogs and pro athlete blogs on the web. This site is the hub of the Yardbarker Network, where our editors and algorithms curate the best sports content from our network and beyond.