Found March 15, 2013 on Boston Sports Then & Now:
PLAYERS:
Wes Welker
,
Adrian Gonzalez
,
Carl Crawford
,
Josh Beckett
,
Clayton Kershaw
,
Cody Ross
,
Mike Aviles
,
Matt Albers
,
Terry Francona
,
Jonathan Papelbon
,
Jed Lowrie
,
Josh Reddick
,
Andrew Bailey
,
Jason Varitek
,
Tim Wakefield
,
JD Drew
,
Marco Scutaro
TEAMS:
Boston Red Sox
,
Denver Broncos
,
Los Angeles Dodgers
,
Arizona Diamondbacks
,
Cleveland Indians
,
Philadelphia Phillies
,
Oakland Athletics
,
San Francisco Giants
After Wes Welker signed in Denver I started thinking about The Trade again. So much has happened since the start of the 2011 Red Sox season. "The Best Team Ever" as coined by the Boston Herald did little, if anything, to make themselves the best team in Red Sox history. They historically collapsed in September of that season and the following summer things really fell apart: Adrian Gonzalez, Carl Crawford and Josh Beckett were launched across the country to Los Angeles for the proverbial "bag of balls." The Trade was a steal in terms of cash flow for the Red Sox. But will it eventually become a steal in terms of talent for the LA Dodgers? As of five days ago, team Mexico was eliminated from the World Baseball Classic. With that elimination, Adrian Gonzalez was allowed to return to Dodgers' camp. Gonzo played 36 games for LA last year, amassing .297/.344/.441 slash lines with 3 home runs and 22 RBI's while wearing Dodger Blue. His totals for the year echoed that small sample size: he hit .299/.344/.463 with 18 HR and 108 RBI's in 159 games total in 2012. The loss of Gonzalez hurts. However, looking back at the year he had statistically should calm fans. Replacing a guy who was largely considered the best hitter in your lineup is a lot easier when he hits .300 exactly and only puts 18 dingers over the wall. This is not to say that I think Adrian Gonzalez is a slouch or that he will have a bad year. He should be more comfortable than he was last year, removed from the Boston media and fans. More comfort should equal at least the same production, which is hugely impressive. After all, 100+ runners aren't going to drive in themselves. Also more comfortable out of the watchful eyes of the Boston media, old friend Carl Crawford had much say about Red Sox reporters, "I took so much of a beating in Boston, I don't think anything could bother me anymore. They can say what they want — that I'm the worst free agent ever — and it won't get to me. But it bothered me the whole time there." Crawford continued, "They (the Boston media) love it when you're miserable . . . Burying people in the media, they think that makes a person play better…I feel like I've got a lot of baseball left but over there, I felt like my career was almost over." It is safe to say that his career was almost over. Crawford was a miserable player here in Boston. I don't think that any fans will be missing him any time soon. In another injury plagued 2012 C.C. hit .282/.306/.479 with 3HR, 5 Stolen Bases and 19 RBI's in 31 games. He did not play for the Dodgers. All told, things might have turned out differently for Crawford if he was not so oft injured. But in his only (semi) full season with the Red Sox he was a shell of his former self, hitting .255/.289/.405 with 11 HR, 18 SB's and 56 RBI's. This is a guy who was a perennial All Star. He put up MVP type seasons. Yet his signing in Boston was a mere cash grab. At 31 years old, it is doubtful that the once dominant Crawford regains his speed in the batters box or on the basepaths. But hey — he was scheduled to hit in his first minor league game yesterday against Meiji University of Japan. Last, but definitely not least, is the infamous sweller of beer and nosher of chicken, Josh Beckett. In 43 innings pitched for Los Angeles last year, the 32 year old righty had a 2.93 ERA with a 1.326 WHIP, 38 strikeouts and 14 walks. This impressive stretch allowed him to end the year with 170.1 IP, a 4.65 ERA, 1.327 WHIP and a 2.54 strikeout to walk ratio. Beckett won't likely be the ace of the Dodgers' staff, but he will compete for dominance in a rotation that includes Clayton Kershaw and Zach Grienke. Beckett has had a nice spring to date: with no injury flare ups to speak of and no WBC in which to compete, he has posted 11 K's and allowed only one run in 9.1 innings of spring training. The Red Sox have certainly cleaned house since the printing of the Boston Herald shown at the head of this blog post. Cody Ross has left for greener pastures in Arizona. Mike Aviles and Matt Albers now play for Terry Francona's Cleveland Indians. In fact, the Indians like former Sox players so much that they have signed Diasuke Matsuzaka to a minor league contract. Jonathan Papelbon pitches as the Phillies' closer now. Jed Lowrie went from the Astros in 2012 to the Oakland A's this spring. There, Lowrie will join the surprising Josh Reddick who was traded in the deal that sent Andrew Bailey to Boston. Jason Varitek and Tim Wakefield were forced into retirement. JD Drew forced himself into retirement. Marco Scutaro won a World Series with the Giants. Kevin Youkillis is a Yankee. The wheels have long been spinning for this Ben Cherington edition of the Boston Red Sox. These are his players now and it will be interesting to see how the team fares because of his moves. Either way, it's always nice to visit old friends.
Original Story:
http://boston.sportsthenandnow.com/20...
THE BACKYARD
BEST OF MAXIM
RELATED ARTICLES
http://boston.cbslocal.com/2013/03/15/felger-mazz-mike-reiss-calls-in-to-challenge-felger/ Mike Felger (Comcast Sports TV Anchor and Radio Host) had allegedly called out Mike Reiss (Patriots Beat Writer for ESPN Boston) for being "in the bag of the team." Felger is referring to Reiss's comment about Wes Welker's agent being partially at fault for the mishap in...
There might have been other factors at play, but on Wednesday, the New England Patriots essentially decided that they'd rather have Danny Amendola on their roster than Wes Welker. The deal Amendola signed with New England pays him a higher annual salary than the one Welker inked with the Denver Broncos, and is nearly as valuable when it comes to guaranteed money.  In fact...
"WHEN YOU LEAVE AMENDOLER NATION, YOU GET THE DAAHHHKKKIEEE TREATMENT!" Some Patriots fans aren't even waiting until their team hosts the Broncos this coming season. They're torching their old Wes Welker jerseys now, while the wound is still fresh and their buzz is still intact. Oh noes, Wes Welker is being stricken from Patriots lore-ah. He must be devastated. [via] The...
2013 NFL free agency -- New England Patriots quickly shifted from Wes Welker to Danny Amendola -...
John Elway may be the Broncos top executive, but Peyton Manning is the teams general, and with that Elway consulted with and made sure Manning was on board before going all in on Wes Welker according to the Denver Post. "I asked Peyton about it yesterday to make sure he was on board,'' Elway said. Welker will take slot receiver Brandon Stokley's position, so it's definitely...
Like most things in life, J. Cole perfectly explained the Wes Welker trade from the New England Patriots to the Denver Broncos with two lines from his song, "You Got It" off of his immaculate mixtape titled "Friday Nigh Lights." Cole raps, "Well one man's trash is another man's treasure/One man's pain is another man's pleasure." As a Patriots fan, I am still not...
Think Peyton Manning was excited to steal Tom Brady's kicker? Well, he's pretty happy he got his slot receiver this time around, too. Manning was in the improbable role of Patriot-poacher on Wednesday when Wes Welker agreed to a two-year, $12 million deal with the Broncos that few people saw coming. While Denver was reportedly constrained in how much it could offer Welker, with...
So, we all assumed that the Patriots saw that Wes Welker was being offered two years, $12 million by the Broncos and refused to match that low offer. Apparently, that wasn't the case. They didn't care because they had already signed Danny Amendola, this didn't happen yesterday when we heard about it. It happened two days ago? Interesting news: Amendola signed with...
According to reports from Mike Reiss of ESPN and Tom Curran of CSNNE.com, the Patriots actually signed St. Louis Rams wide receiver Danny Amendola on Tuesday, one day before Wes Welker signed with the Broncos and before the Pats announced the agreement with Amendola. The Patriots and Amendola agreed to a five year, $31 million deal with $10 guaranteed, supposedly on Wednesday. However...
Tom Brady has won with any wide receiver that the Patriots have given him. With many different playing styles and personalities, Brady has always utilized his resources.Wide receivers like Donte' Stallworth, Deion Branch, Troy Brown, Randy Moss, and Jabar Gaffney are a few that Tom Brady has had to adjust to over the years.Unlike Manning, Brady hasn't had two wide receivers...
All Sports News

Delivered to your inbox

You'll also receive Yardbarker's daily Top 10, featuring the best sports stories from around the web. Customize your newsletter to get articles on your favorite sports and teams. And the best part? It's free!
THE HOT 10: Who's Trending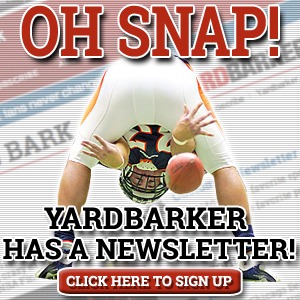 Latest Rumors
The Backyard

Today's Best Stuff

For Bloggers

Join the Yardbarker Network for more promotion, traffic, and money.

Company Info

Help

What is Yardbarker?

Yardbarker is the largest network of sports blogs and pro athlete blogs on the web. This site is the hub of the Yardbarker Network, where our editors and algorithms curate the best sports content from our network and beyond.