Found December 14, 2012 on Waiting For Next Year:
PLAYERS:
Nick Swisher
,
Shin-Soo Choo
,
Trevor Bauer
,
Shaun Marcum
,
Drew Stubbs
,
Josh Hamilton
,
Mark Reynolds
,
Albert Pujols
,
Alfonso Soriano
,
Mark Teixeira
,
Miguel Cabrera
,
Paul Konerko
,
Carlos Santana
,
Jason Kipnis
,
Tristan Thompson
,
Kyrie Irving
,
Troy Murphy
,
Antawn Jamison
,
Dwight Howard
,
DeSagana Diop
,
Ryan Hollins
,
Anderson Varejao
,
Tyler Zeller
,
Samardo Samuels
,
Byron Scott
TEAMS:
New York Yankees
,
Cincinnati Reds
,
Cleveland Indians
,
Milwaukee Brewers
,
Los Angeles Angels
,
Chicago Cubs
,
Detroit Tigers
,
Chicago White Sox
,
Cleveland Cavaliers
,
Los Angeles Lakers
,
Charlotte Hornets
,
Los Angeles Clippers
I'm calling on you WFNY readers: Starting in 2013, I'm hoping to roll out a consistent stats-related article for Cleveland sports on WFNY. But instead of just doing "Fun with Numbers" bit that was originally Rick's idea, I need a catchy new name. In the past, I've done "The Boots" for Boot Ups and Boot Downs. But that's not necessarily #math. So please, help me out with a new name — it could be Cleveland-y, related to a day of the week or anything. See ya next year with the winning name and a new logo. I wanted to start today in continuing my Indians talk from yesterday. With the big Shin-Soo Choo trade done and Trevor Bauer now impacting Cleveland's starting rotation future, what's next? If you've been paying attention to all of the rumors of late, Chris Antonetti's remaining winter plans have two final steps: 1) Sign Nick Swisher and 2) Sign a veteran free agent starter. While the starter could be any guy such as Edwin Jackson, Shaun Marcum et al, Swisher is the clear target for a RF/DH position for the Tribe. Choo's gone and Drew Stubbs is in, but another outfield role remains for the taking. With Josh Hamilton's signing with the Angels, Swisher is one of the key offensive free agents remaining. But why exactly is Swisher so valuable? As expected, let's go to the math. This table breaks down Swisher's past eight seasons along with the last eight years of the best WAR player on the Indians: Year Name – Age Tm G 2B HR RBI BA OBP SLG OPS OPS+ WAR 2005 Swisher – 24 OAK 131 32 21 74 0.236 0.322 0.446 0.768 102 1.4 2006 Swisher – 25 OAK 157 24 35 95 0.254 0.372 0.493 0.864 125 3.2 2007 Swisher – 26 OAK 150 36 22 78 0.262 0.381 0.455 0.836 126 4.1 2008 Swisher – 27 CHW 153 21 24 69 0.219 0.332 0.410 0.743 93 -0.5 2009 Swisher – 28 NYY 150 35 29 82 0.249 0.371 0.498 0.869 122 1.7 2010 Swisher – 29 NYY 150 33 29 89 0.288 0.359 0.511 0.870 129 3.4 2011 Swisher – 30 NYY 150 30 23 85 0.260 0.374 0.449 0.822 120 1.5 2012 Swisher – 31 NYY 148 36 24 93 0.272 0.364 0.473 0.837 126 3.5 Year Name – Age Tm G 2B HR RBI BA OBP SLG OPS OPS+ WAR 2005 Sizemore – 22 CLE 158 37 22 81 0.289 0.348 0.484 0.832 123 6.4 2006 Sizemore – 23 CLE 162 53 28 76 0.29 0.375 0.533 0.907 133 6.5 2007 Sizemore – 24 CLE 162 34 24 78 0.277 0.390 0.462 0.852 123 5.3 2008 Sizemore – 25 CLE 157 39 33 90 0.268 0.374 0.502 0.876 133 5.8 2009 Choo – 26 CLE 156 38 20 86 0.300 0.394 0.489 0.883 136 5.2 2010 Choo – 27 CLE 144 31 22 90 0.300 0.401 0.484 0.885 147 5.6 2011 Cabrera – 25 CLE 151 32 25 92 0.273 0.332 0.460 0.792 121 4.6 2012 Santana – 26 CLE 143 27 18 76 0.252 0.365 0.420 0.785 122 3.7 (Baseball-Reference lists a WAR of 8+ being MVP-like, 5+ being All-Star worthy and 2+ being a solid starter.) Yes, Swisher is on the wrong side of 30 now. He has had several disappointing sub 2.0-WAR seasons. He also has never been good enough to be the best player on any of the past 8 Indians teams — let alone what could happen to his career downswing in the next 4-5 seasons. But he's still very consistent, solid and about as good of a power hitter the Indians conceivably could attract to come to Cleveland in free agency. In the past seven years, Swisher has played at least 148 games. There aren't many Indians at all that have remained that healthy that consistently. Over the past four years, since his disappointing 2008, he's posted at least 30 doubles, 23 homers, 82 RBI, .249/.359/.473. Again, all these stats are just to show that even in bad years, Swisher has been pretty darn good. As I said before on Twitter, Swisher is notable for having 20+ homers in each of the last eight seasons. After doing some research, there are only 19 guys who have 20+ homers in each of the past four years (new Indian Mark Reynolds is one of them). The list of guys who have done it in 8 straight entering 2013? Just 7 guys: Swisher, Albert Pujols, Alfonso Soriano, David Ortiz, Mark Teixeira, Miguel Cabrera and Paul Konerko. In 2012, both Carlos Santana and Jason Kipnis tied for the Cleveland team-lead with a 3.7 WAR. Santana's offensive numbers — when excluding steals — were more impressive, so that's why I included him above. Swisher was just behind at 3.5. That's as close as he ever was to being as good as the best possible Indians hitter in WAR. That's still an intriguing yet nearly unattainable comparison model, so the fact again that he's been good enough to be in the conversation is quite impressive. Overall, I like Swisher. I think he's an accomplished slugger who perfectly fits the lineup needs of this team. Despite the occasional down season — mostly because of defense — he's always been solid offensively as you can see by the peripheral numbers above. A combination of him plus Stubbs would be better than Choo + Duncan/Carrera of 2012. I'm OK with an up to $44 million/4-year offer here. But we'll see if he gets more from some other team. ———————————————————————– The Cleveland Cavaliers have been a disappointing 5-18 thus far in 2012-13. You can clearly blame the injuries, the constant back-to-back games and more. But I think most fans would have expected a better record through the first 23 games of this year, which most would consider to be year 2 of the rebuild post-LeBron. Notably, however, one of the punching bags on Twitter by Cavs fans has been PF/C Tristan Thompson. The No. 4 pick in the potentially historically weak draft of 2011 (outside of Kyrie Irving), Thompson hasn't improved to quite the level that many fans likely were expecting. For the unfamiliar fan, it would seem his peripheral stats indicate he's still doing OK, especially for a 21-year-old kid. But he's undoubtedly the most polarizing player on the team. So let's go to the stats to figure out why. Per game Year G GS MPG FG% FT% ORB DRB TRB AST STL BLK TO PF PTS 2011-12 60 25 23.7 43.9% 55.2% 3.1 3.4 6.5 0.5 0.5 1.0 1.4 2.2 8.2 2012-13 23 23 29.9 45.1% 55.0% 3.4 4.3 7.7 1.0 0.8 0.7 1.5 3.1 8.3 Per 36 minutes Year FGA FTA ORB DRB TRB AST STL BLK TO PF PTS 2011-12 11.2 4.9 4.7 5.1 9.8 0.7 0.7 1.6 2.0 3.4 12.5 2012-13 9.2 3.1 4.1 5.2 9.3 1.2 1.0 0.8 1.8 3.8 10.0 Advanced stats Year PER EFG% USG% ORB% DRB% TRB% BLK% TOV% ORtg DRtg WS/48 2011-12 13.3 43.9% 19.2% 14.4% 16.8% 15.5% 3.3% 13.3% 98 108 0.038 2012-13 11.6 45.1% 14.9% 12.2% 18.0% 14.9% 1.8% 14.4% 100 108 0.051 Expanded shooting stats At Rim At Rim At Rim 3-9 Ft 3-9 Ft 3-9 Ft 10+ Ft 10+ Ft 10+ Ft Year %FGA A PG FG% %FGA A PG FG% %FGA A PG FG% %Ast %Blkd 2011-12 54.6% 4.0 56.8% 32.2% 2.4 31.7% 13.2% 1.0 19.0% 49.0% 15.8% 2012-13 62.8% 4.7 59.2% 24.4% 1.8 31.6% 12.8% 1.0 20.0% 55.8% 19.0% (%FGA = percentage of overall FGA in that shooting range; A PG = attempts per game in that shooting range) As a little bit of advanced NBA stats 101, an average PER is 15.0, an average WS/48 is 0.100 and the average ORtg/DRtg should be about 100. The most unfamiliar of these stats are probably the expanded shooting details, via the awesome HoopData.com. I did a similar WFNY breakdown a couple years back when comparing the various offensive lives of Troy Murphy, J.J. Hickson, Andre Stoudemire, Antawn Jamison and Troy Murphy amidst various trade rumors. From a scouting perspective, there's no doubt that Tristan continues to struggle offensively. That's reflected in his continued poor Offensive Ratings per an estimated 100 possessions on the court. He has very bad positioning, looks awkward with the ball (even next to the rim) and still hasn't really developed a go-to move. Thus, unsurprisingly, the elephant in the room when it comes to Tristan's detailed statistics is his percentage of shots blocked (%Blkd). This season, through the first 21 games, he has had 19% of his shots blocked. No one else with more than 210 minutes (Tristan had 632 at this point) had more than 16.8% of their shots blocked. Thompson ranks fifth in total number of shots blocked (32) despite averaging less than 10 shots per game. The NBA average for %Blkd is 7.5%. It's not like he was much better in 2011-12 either. And this all occurs despite the fact he continues to average more than 50% of his shots at the rim. His shooting away from the rim is also bordering on un-startable territory. In his career, according to HoopData, Thompson is just a 27.9% shooter away from the rim. For comparison's sake, J.J. Hickson is a 34.4% shooter on these shots and Dwight Howard is at 40.5% since the start of 2007 (HoopData's birth). Tristan's poor percentage is a combination of bad shot selection and poor shooting ability. Then on an overall production standpoint, his per-36 minute numbers have dropped this year — not necessarily obvious to the naked eye, since he's averaging 6.2 more minutes per game — and his PER is down. So when looking toward the future for the second major piece added by the Cavs in their new rebuild, this has to be incredible concerning. In my mind, Tristan continues to have a limited ceiling. But he doesn't turn 22 until March, clearly is an above-average rebounder and block-shot guy defensively, and thus will continue to carve out a niche in the NBA. If guys like Desagana Diop and Ryan Hollins can have prolonged NBA careers, then Tristan will certainly. His upside is maybe being a defense-only PF/C coupled with an All-Star quality offensive big man on a potential playoff team. While Tristan looks awful alongside Anderson Varejao (who's a better scorer, but nowhere near elite), rookie Tyler Zeller and Samardo Samuels, his deficiencies would not be so obvious while playing with some better frontcourt options offensively. He's certainly having a bad season — and a disappointing sophomore year after a promising yet mixed-bag freshman campaign. It'll be interesting to see if he begins developing soon, as otherwise Cleveland fans could keep turning on him and by default, coach Byron Scott. —- (Joshua Gunter, The Plain Dealer)
Original Story:
http://www.waitingfornextyear.com/201...
THE BACKYARD
BEST OF MAXIM
RELATED ARTICLES
Nick Swisher may be closer to deciding on his next destination and the Phillies are one of the teams interested in Swisher, reports Mark Feinsand of the New York Daily News: @yagottagotomo Indians, Phillies, Red Sox, Mariners, Rangers and Orioles all interested in Swisher. Big market for switch-hitting power OF....
Nick Swisher is being courted by as many as six teams. The team that may be the most aggressive in pursuing Swisher is the Cleveland Indians notes Jim Bowden. The Indians traded away Shin-Soo Choo and would use Swisher as their everyday right fielder. He finished last season with a .272/.364/.473 line while hitting 24 home runs and driving in 93 RBI for the New York Yankees. With...
The offseason is far from over, and the Red Sox still probably need at least one more outfielder for the 2013 season. There are a number of high-end names still on the market, including Michael Bourn and Josh Hamilton — a name Boston has been continually linked to this winter. Of course, it seems like Boston has been connected to just about every noteworthy free agent this year...
Now that Josh Hamilton has signed with the Los Angeles Angels, rival evaluators are speculating that the best remaining free agent fit for the Texas Rangers is outfielder/first baseman Nick Swisher, reports Buster Olney of ESPN. Rival evaluators speculating that best FA fit for TEX now is Swisher, with OF-1B flexibility; TEX would have to give up draft pick to sign. —...
Trading Shin-Soo Choo netted the Indians a pitcher with a ton of potential in Trevor Bauer, but it also left  them with a hole in their lineup. They're apparently now focused on filling that hole. According to ESPN's Jim Bowden, the Indians are continuing an aggressive pursuit of Nick Swisher, who would essentially replace Choo in right field. Signing Swisher won't be easy...
All Sports News

Delivered to your inbox

You'll also receive Yardbarker's daily Top 10, featuring the best sports stories from around the web. Customize your newsletter to get articles on your favorite sports and teams. And the best part? It's free!
THE HOT 10: Who's Trending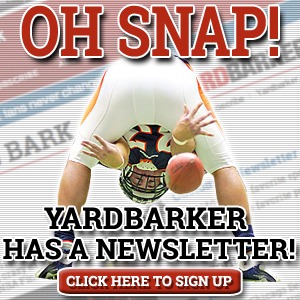 Latest Rumors
Best of Yardbarker

Today's Best Stuff

For Bloggers

Join the Yardbarker Network for more promotion, traffic, and money.

Company Info

Help

What is Yardbarker?

Yardbarker is the largest network of sports blogs and pro athlete blogs on the web. This site is the hub of the Yardbarker Network, where our editors and algorithms curate the best sports content from our network and beyond.