Found December 05, 2011 on Fox Sports Southwest:
IRVING, Texas (AP) -- Upon further review, Cowboys coach Jason Garrett still sees nothing wrong with how he managed the end of regulation in a loss to Arizona. He insisted Monday there was no need to call a timeout after getting a first down at the 31-yard line with about 25 seconds left, even though Dallas could have run a few plays in hopes of setting up a shorter field goal. He maintained he "thought it was the right thing to do" in letting the clock wind down and settle for a 49-yard field goal by a rookie kicker who'd already missed from 53 yards, and who'd made a 50-yarder only because of a fortuitous ricochet off an upright. And he considered it "not really appropriate" to think he may have added to the pressure on his kicker by then calling a timeout just before the rookie was trying that 49-yarder. OK, then: How about the decision for Tony Romo to spike the ball after getting the first down that started the wild finish; was that Romo's choice or Garrett's? "I don't have a great answer for you on that," Garrett said. Asked next about what special teams coach Joe DeCamillis was saying right before Garrett called the timeout, Garrett again said, "I don't have a great answer for you on that." Garrett's usual day-after news conference was unlike any of his previous 19 such gatherings, except for Garrett remaining calm and sticking to his speaking points. His default answer was, "We chose to play it this way and, unfortunately, it didn't work out for us this time. Hopefully in the future it will." There were no apologies, no second-guessing. "We don't use the word second guess,'" Garrett said. "You say, Could we have done this, could we have done that, should we have done this?'" It is very similar to calling a play. When a play works, it was a good call, it was a good play. When it doesn't work, a lot of people say that call wasn't very good." That chorus of critics has ranged from TV commentators to fans, including LeBron James, who aired his gripes on Twitter. He punctuated it with the line, "I'm sick right now." So many others vented via Twitter that he was trending among Dallas-Fort Worth users. Garrett acknowledged he could have done everything suggested by the armchair quarterbacks. He said he didn't simply because he trusted kicker Dan Bailey, who'd already set an NFL rookie mark by winning four games with field goals in the last two minutes of regulation or later, including the two previous games. "We just wanted to make sure he had an opportunity to kick the game-winner," Garrett said. "Unfortunately, it didn't work out for us." The best clue to Garrett's train of thought could be the words "an opportunity to kick." It hints at the risk that while the Cowboys could have gotten closer, they also could have gotten further back and moved beyond Bailey's comfort zone. Dallas already had been penalized three times on that drive and had a passing play that lost a yard. Romo had been sacked a season-worst five times in the game, and running back DeMarco Murray lost yards on three of his 12 carries. Garrett was asked if those things factored into his decision. His response began to confirm it, then returned to his crutch phrase. "You don't want to live in a world saying, Hey, we're trying not to go backwards,' but you see those situations happen in the last couple of weeks," he said. "Four teams in field-goal range got themselves out of field-goal range. The mindset was, Hey, we're right here, let's give him a chance to do it.' We gave him that opportunity. Unfortunately, it didn't work out. "There is nobody I'd rather put in that situation based on our experience this year than Dan Bailey. I think our operation has been outstanding and he has done an outstanding job with every opportunity given him. We just wanted to make sure we gave him that chance. Unfortunately, it didn't work out. Next time, we're going to make sure we give him a similar opportunity because we really believe in him and what he's done for our football team this year." The Cowboys ultimately lost because they let a screen pass turn into a 52-yard touchdown on the opening series of overtime. Yet the game could've been won at the end of regulation, which is why the focus Monday remained on those decisions. Garrett is well aware of how scrutinized all NFL coaches are, especially the leader of "America's Team." And he knows that the only thing more popular than rooting for the Cowboys on Sunday is second-guessing them on Monday. "We didn't get it done, we have to live with that and I have to live with the decisions that I made for our football team and I have to live with what happened as the outcome of the game," he said. "But, most importantly, we have to put this one to bed and go to the next one." That brings up the ramification that matters most. Had the Cowboys won, they would have a chance to clinch the division title by beating the Giants at home on Sunday night. The loss means New York could reclaim first place by winning that game. Even if Dallas wins, the Giants could still be in the hunt when they meet two weeks later. All because of one missed kick, and the series of decisions that led up to it. "You try the best to make the best decision, to get the best outcomes, sometimes they don't work out," Garrett said. "You evaluate them, you put them behind you and you move on. ... We've got to play our best for three hours on Sunday against the Giants. They're an awfully good football team. We understand the challenge."
Original Story:
http://www.foxsportssouthwest.com/12/...
THE BACKYARD
BEST OF MAXIM
RELATED ARTICLES
GLENDALE, Ariz. Well, it turns out that holding a degree from Princeton doesn't guarantee a head coach has a clue when it comes to clock management. The cardiac Cowboys had the chance to escape this house of horrors with a win late in the fourth quarter, but they were undermined by two baffling decisions by head coach Jason Garrett. With a 19-13 overtime loss to the Arizona...
Cowboys owner Jerry Jones stood by coach Jason Garrett's questionable decisions in Sunday's overtime loss at Arizona. Jones, speaking on his weekly radio show on KRLD-FM, wouldn't bite when asked about the two critical decisions Garrett made at the end of regulation Sunday. The decisions basically amounted to the Cowboys "icing" their own kicker. "I&...
(source feed provided no summary content for this entry)
(source feed provided no summary content for this entry)
Week 13, Dallas Cowboys head coach Jason Garrett inexplicably iced his own kicker Dan Bailey and cost his team a win against the Arizona Cardinals. Every loss is big in the NFL but this particular defeat may cost the Cowboys a chance at the playoffs. They still lead the NFC East but failed to gain additional ground on the New York Giants who lost a heart breaker against the Green...
Jason Garrett may want to delegate some responsibilities now that he's a head coach.
PFT Live: Mike Florio talks about the decision by Cowboys head coach Jason Garrett to call a time out before his kicker went for the game-winning field goal. (NBC Sports)
Jason Garrett has an explanation for his clock management Sunday. And that explanation isn't, "Whoops! Someone put lye in my Gatorade and I spent the final minute of the game writhing in pain in the sideline." That would have been a good explanation. Instead, we get this:   We very well could have taken a timeout there. We felt like we were in field goal range...
What is ESPN prattling on about right now? We condense your morning SportsCenter to its essence. More »
IRVING – Jerry Jones says he's "very sick" that the overtime loss at Arizona cost the Cowboys a golden opportunity to position themselves to clinch the NFC East with a win over the Giants this weekend, but he's not going to second-guess Jason Garrett's questionable clock-management decisions.  "I'm not going to second-guess those timeouts at all," Jones told Dallas'...
We've all been dumping on Jason Garrett this week (rightfully so) for icing his own kicker and failing to use crucial timeouts at the end of the Cowboys stunning loss to Arizona on Sunday. But Garrett wasn't alone in committing such a heinous act of clock butchery. Mike Florio over at PFT suggests that Tony Romo deserves a lot of the blame for what went down in those final...
All Sports News

Delivered to your inbox

You'll also receive Yardbarker's daily Top 10, featuring the best sports stories from around the web. Customize your newsletter to get articles on your favorite sports and teams. And the best part? It's free!
THE HOT 10: Who's Trending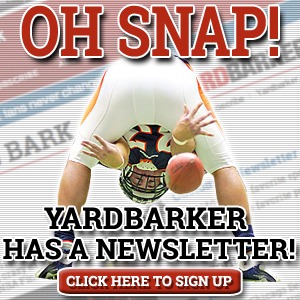 Latest Rumors
The Backyard

Today's Best Stuff

For Bloggers

Join the Yardbarker Network for more promotion, traffic, and money.

Company Info

Help

What is Yardbarker?

Yardbarker is the largest network of sports blogs and pro athlete blogs on the web. This site is the hub of the Yardbarker Network, where our editors and algorithms curate the best sports content from our network and beyond.