Found March 29, 2013 on Fox Sports:
PLAYERS:
Jason Hammel
,
Russell Martin
,
Chris Carter
,
Nolan Arenado
,
Josh Donaldson
,
Everth Cabrera
,
Hanley Ramirez
,
Justin Ruggiano
,
Phil Coke
,
Bruce Rondon
,
Jim Leyland
TEAMS:
Baltimore Orioles
,
Pittsburgh Pirates
,
Houston Astros
,
Colorado Rockies
,
Oakland Athletics
,
San Diego Padres
,
Los Angeles Dodgers
,
Miami Marlins
,
Detroit Tigers
Here's your very first 2013 installment of Free Agent Frenzy. We're going to call this one the I Can't ****ing Believe That Guy is Still Out There edition, since that's what always happens in March. The masses forget about some useful players, and you get to swoop in before Opening Day to rescue them. Also, please note that it's perfectly OK to make roster moves before the season starts. It doesn't mean you're a failure or an idiot, or that a poor draft has sentenced you to six months of fantasy hell. You can always upgrade, and it's better to start now before the pickings get slim. Finally, as in past seasons, no player will be mentioned in this space more than once in a four-week span, because we don't want to beat you over the head all year long about, say, Jason Hammel. Let's get going! Catcher: Russell Martin, Pirates (owned in 7.5 percent of FOXSports.com leagues) Martin's batting average was pretty bad as a Yankee - he hit .237 in 2011 and .211 last season. However, his BABIPs in those seasons (.252 and .222) took a turn toward the unlucky, and should improve. He also regained his home run power with 39 homers in two years, and while some of that was related to a homer-friendly ballpark, he hit better as well. Assuming decent power and an improved BA from Martin, you could do worse for a second catcher. First base: Chris Carter, Astros (owned in 1.3 percent of FOXSports.com leagues) Carter is expected to bat third for the rebuilding Astros, and he carries 1B/OF fantasy eligibility. He strikes out a lot - like really a LOT - but has 30-homer potential and will play home games in a park friendly to righthanded power hitters. Can your team carry a .230 batting average? If so, Carter's slugging can help. Second base: Chris Nelson, Rockies (owned in 2.3 percent of FOXSports.com leagues) With prospect Nolan Arenado having been shipped to Triple A, Nelson will start at third base for the Rockies, and his 2B/3B eligibility is a nice bonus for fantasy owners. As often happens with guys on this team, the ballpark is more attractive than the player. For as long as he plays - and we don't know how long that will be - look for Nelson to provide a .280 BA with decent power. His bat plays better as a second baseman for fantasy purposes. Third base: Josh Donaldson, A's (owned in 0.3 percent of FOXSports.com leagues) Donaldson doesn't bring the nifty catcher eligibility he had at this time last year, but even as a third baseman he's not a bad free-agent fill-in. In 274 at bats with the A's in 2012, Donaldson batted .241 with nine home runs, and he stole nine bases between Triple A and the majors. How do 15 homers and 10 steals sound to you? Not bad, right? Shortstop: Everth Cabrera, Padres (owned in 12.6 percent of FOXSports.com leagues) Whooooooooosh! Cabrera can't hit - he has a .240 batting average with a .321 OBP in 1,137 big-league plate appearances - so he'll always been in danger of losing his job. But when he plays, he's one of the speediest demons around. Cabrera swiped 59 bases between Triple A and the majors last season, including 26 is his final 47 games with the Padres. Do you have Hanley Ramirez stuck on the DL for a while? Grab Cabrera and rack up some steals in his absence. If he plays 150 games, he might lead the majors in stolen bases. Outfield: Justin Ruggiano, Marlins (owned in 6.4 percent of FOXSports.com leagues) The good thing about mediocre players on bad teams is that they get plenty of playing time. Ruggiano will bat in the heart of the Marlins' order, and probably even spend some time in the cleanup spot. He won't hit .313 again - heck, he might bat .250 or .260 with all those strikeouts - but there's no reason why he can't hit 15 homers and steal 15 bases with regular playing time. He's not sexy, but he'll be productive. Starting pitcher: Jason Hammel, Orioles (owned in 8 percent of FOXSports.com leagues) My favorite underappreciated fantasy pitcher! I think people are avoiding Hammel because of his low 2012 innings total that was related to a knee injury, and their hesitance means opportunity for you. Hammel was terrific last season, whiffing almost a batter per inning and inducing an elite percentage of ground balls while posting a 3.43 ERA and a 1.24 WHIP in 118 innings. Ron Shandler's Baseball Forecaster says that Hammel's upside is a 3.25 ERA with 200 strikeouts, and your humble FOXSports.com analyst concurs. He's available in NINETY-TWO PERCENT OF LEAGUES, folks. Get him while you still can. Relief pitcher: Phil Coke, Tigers (owned in 1.5 percent of FOXSports.com leagues) As noted in a March 28 blog post following Bruce Rondon's demotion, Coke won't become the Tigers' full-time closer, but as long as there's a committee, he'll own the lefthanded side of it. I'm a big proponent of playing the free-agent game for saves all year long, and Coke is a nice early-season option to own while we wait for Jim Leyland to pick a winner.
Original Story:
http://msn.foxsports.com/fantasy/base...
THE BACKYARD
BEST OF MAXIM
RELATED ARTICLES
Brian Matusz has made the Orioles roster for Opening Day. The 26-year-old lefty was told by manager Buck Showalter that he would start the season in the bullpen for the Orioles. Matusz entered spring competing for a rotation spot with Jake Arrieta. The Orioles opted to go with Arrieta for the final rotation spot after he out pitched Matusz this spring. Last season Matusz appeared...
The Baltimore Orioles completed their starting rotation by picking right-hander Jake Arrieta to start their home opener on April 5. Manager Buck Showalter chose Arrieta to start the first game in Baltimore for the third straight season. The Orioles play Minnesota at Camden Yards. Arrieta joins Jason Hammel, Wei-Yin Chen, Miguel Gonzalez and Chris Tillman, who'll start the season...
The Baltimore Orioles put right-hander Chris Tillman on the 15-day disabled list with a strained left abdominal muscle. The move announced Thursday is retroactive to March 22, which allows Tillman to pitch in the Orioles' fifth game of the season on April 6 against Minnesota. Tillman was scratched from his scheduled March 10 start because of abdominal soreness and has pitched...
Jason Hammel is set to start the Baltimore Orioles' opener at Tampa Bay. Hammel, who threw five innings in a minor league game Wednesday, is scheduled to start against the Rays' David Price on Tuesday in St. Petersburg, Fla. ''We look it at as one of the five starters. He will be the first guy of the season,'' manager Buck Showalter said. Hammel was 8-6...
  The reports of the Oriole's demise have been greatly exaggerated. Yes there are the stat-sheets and theorems and analyses that say the Orioles will not stand a chance. Baseball Prospectus pegs the Orioles as a 74-win team next year.   SEVENTY-FOUR.   "Hogwash," I say. "Humbug," I cry! "Bullfeathers," I add. The Orioles unlikely rise to the postseason...
by Terry CookOccupy Eutaw StreetManny Machado, Photo: Keith Allison, Flickr.comOrioles 2013: Magic again, or Burt Wonderstone?Last Year:Orioles Magic returned to Camden Yards in 2012, to the delight of a downtrodden fan base that sat through 15 years of losing baseball and 0 playoff appearances.  93 wins, a Wild Card win, and a hard-fought ALDS that saw the Orioles stretching the...
Nate McLouth hit two home runs and the Baltimore Orioles concluded their spring training schedule by holding the New York Mets to one hit in a 7-1 victory Saturday. Miguel Gonzalez, the No. 3 starter for Baltimore, gave up a leadoff single in the fifth to Marlon Byrd, who scored on Ruben Tejada's sacrifice fly. Gonzalez struck out four and walked one in five innings. McLouth...
Baltimore Orioles: The Orioles migrated this winter but didn't pick up anyone along the way. NY Yankees: The Yankees scraped up the bottom of the free agency bowl. Kevin Youkilis (3B) is an aging player who can still put some balls over the fence, but his playing time will get spotty once A-Rod (3B) recovers from hip-surgery half-way through the season. Travis Hafner (DH) is...
All Sports News

Delivered to your inbox

You'll also receive Yardbarker's daily Top 10, featuring the best sports stories from around the web. Customize your newsletter to get articles on your favorite sports and teams. And the best part? It's free!
THE HOT 10: Who's Trending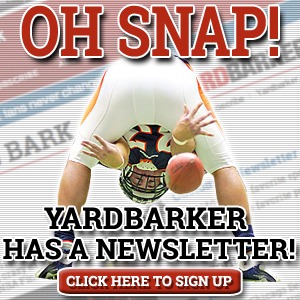 Latest Rumors
The Backyard

Today's Best Stuff

For Bloggers

Join the Yardbarker Network for more promotion, traffic, and money.

Company Info

Help

What is Yardbarker?

Yardbarker is the largest network of sports blogs and pro athlete blogs on the web. This site is the hub of the Yardbarker Network, where our editors and algorithms curate the best sports content from our network and beyond.