Found August 10, 2012 on Fox Sports:
PLAYERS:
Jeff Gordon
,
Michael Waltrip
,
Clint Bowyer
,
Matt Kenseth
,
Greg Biffle
,
Carl Edwards
,
Richard Petty
,
Marcos Ambrose
,
Kurt Busch
,
Denny Hamlin
,
Jeff Burton
,
Dale Earnhardt Jr.
,
Martin Truex, Jr.
With five races remaining before the Chase, Hendrick Motorsports once again is in true championship form. Jeff Gordon, who has four Cup titles and vaulted into a wild-card spot with his win last week at Pocono Raceway, says the recipe is simple: "Hard work, dedication, great engineers. "We're just a great organization." But losing the title to Tony Stewart, whose organization uses both Hendrick engines and chassis, was a wake-up call to Hendrick Motorsports. After all, the company had won five consecutive titles with Jimmie Johnson before Stewart interrupted HMS' reign. "We came into the Chase last year with so much hope and then went through the Chase and didn't have a good Chase, but yet we ended the season strong at Homestead," Gordon said. "I think just the fact that Hendrick wasn't as strong in the Chase last year as we have been in the past as a company. That is motivation. "We also got a chance because of our relationship with Stewart-Haas to see some things that they were doing that worked so well for them in the Chase. That is what makes a good ... business relationship. But when you are sharing engineering, that is one of the best ones you can have when you have a group that is getting support from you and yet you can get something back from them, as well. We took a little bit of that and a little bit of what we have been learning and started the season off not great, with some things to try. We've just been building on it." Team owner Rick Hendrick said at the start of the season his goal was for all four of his teams to qualify for the Chase for the Sprint Cup. Currently, Dale Earnhardt Jr. leads the points standings, with Jimmie Johnson eight points behind in fourth place. "We've got four incredible drivers and crew chiefs and teams right now that all are contributing in our meetings and that can get you a long ways," Gordon said. "If you are behind, it can get you back. If you are kind of even it can get you ahead. I feel like that is where we are at right now." The dominance of the Hendrick cars has the other uber organizations in the Sprint Cup garage taking notice. While Michael Waltrip Racing is feeling fortunate about having a breakthrough season with two drivers -- Martin Truex Jr. and Clint Bowyer -- in the Chase Zone, Joe Gibbs Racing and Roush Fenway Racing have been in this position before. Still, when it comes to the stretch run, drivers such as second-place Matt Kenseth and third-place Greg Biffle realize they will have to dig deep. Their teammate, Carl Edwards, who is 12th in the standings but has yet to win this season, is wondering what Roush has to do to keep up with HMS. "That's a question we ask ourselves a lot," Edwards said. "They do a really good job, and it seems like the anomaly for them is to be a little bit behind and then the norm for them is to be just a little bit ahead, and they just do a really good job with that. "We've been working very hard at Roush Fenway to try to be as proactive as we can to look into the future, to try to be in the position that they're in, and we've shown over the last couple of years that we're able to stay out front more often than we historically have. "And if you look at our performance just of late, when they're dominant like they are right now, we've been closer to them and we are closer to them than we have been in the past, so I think the things we're working on -- if the things we're working on and the goals we've set are met -- I believe that we'll be pretty good for the Chase." For Edwards and the No. 99 team, which added Chad Norris to the roster as crew chief before the Brickyard 400, winning at least one race and earning a wild-card berth is the only way he'll make NASCAR's playoffs. After 31 races, Edwards trails 10th-place Bowyer by 60 points. "Specifically for my team, the mission is to make the Chase," Edwards said. "But I think for Matt and Greg, it looks like they're going to be in it, and I would not bet against those guys in those final 10 races. I think they're going to be very good, and I think the whole garage is learning a little bit from watching those Hendrick guys and we're all getting better." A NEW SENSATION Dale Earnhardt Jr. has learned that attitude is everything. No, Watkins Glen has never been one of Junior's favorite venues on the Sprint Cup tour. But after a win in June and taking over the points lead two weeks ago, NASCAR's Most Popular Driver has a new perspective wherever he goes. Despite the No. 88 Hendrick Motorsports Chevrolet's transmission woes last week at Pocono Raceway, Earnhardt believes his position atop the standings provides the team with a newfound freedom to concentrate on racing and not running for points. "As long as we don't have the same thing that happened last week happen every week, we should find our way into the Chase," Earnhardt said. "So that has been a big load off of my shoulders. We can just concentrate on the single event, and what's happening at that very moment; not really have to worry about anything too far out in the future that, and what we are doing today be detrimental to that. "We can forget about the Chase for the moment. Concentrate on being fast. Concentrate on what we are doing this weekend, next weekend. Really look at the particulars and try to find more speed. Yes, enjoy it. Try to have fun. You know, I've had fun all year. Every time your car is running good, you have a blast." Last year, Junior entered the Glen 10th in the points standings. With a 15th-place finish he actually gained one position and left the track ninth in the standings. He went on to make the Chase for the first time in three seasons. In his second season with crew chief Steve Letarte calling the shots, Earnhardt is confident wherever he goes -- even at the Glen, where his average finish is 22.2. "Coming in here in 10th place, just trying to hang on to the spot in the Chase is really, really tough," Earnhardt said. "Especially for someone like myself who is more cold than hot at this place. I'm really happy about being in a position where now we are able to come here . . . we had a good test (at Road Atlanta last Wednesday). "We're feeling positive about our chances of having a good run. We'll just be able to go out there and try to compete. There is really no pressure. So that's a good thing. That's a good feeling." DODGE BALL When Dodge announced Tuesday it would take a hiatus from NASCAR's Sprint Cup and Nationwide Series competition in 2013, it put Richard Petty Motorsports in a bind. Dodger had been stringing along RPM this season with the possibility of a new partnership, so now the race team must resort to its backup plan. "RPM is still looking at all their options as far as manufacturers go," driver Marcos Ambrose sid. "I think for the sport, Dodge pulling out was not a great thing. It's been really healthy to have four manufacturers in the sport, so as a fan of NASCAR I'm disappointed that Dodge made that choice, but I understand it. "For us, we're building to the future at RPM and I look forward to playing my part and helping them make good choices here. I think it's exciting times for RPM. They've got a lot of options." At least Dodge provided RPM with a courtesy call before making their decision public. Furniture Row, another prospective group was not so lucky. NUMBERS GAME 125.055 mph: Fastest lap set by Kurt Busch in the first practice. 6: Drivers in the Sprint Cup field have won the Finger Lakes 355 at the Glen. 2: Backup cars for Denny Hamlin and Jeff Burton, who wrecked in practice after sliding through oil on the track. SAY WHAT? Martin Truex Jr. on signing an extension with Michael Waltrip Racing. "We're very, very close," Truex said. "I'm not going to say it's done, but it's basically done. I'm very, very happy about that. It's one of those deals where we had to work out some details, but there was never a time when the whole thought of going through contract negotiations again came up ... It was, how can we get this deal done and moving forward? "We've come a long way. When you put that much work into something, you don't want to just say, 'Ah, I can do this somewhere else,' because it's not that easy. I've put a lot of effort into being part of that team, to help them build a program, and they've invested a lot into me to be a part of that program. It's something that I felt we both wanted to continue and there was never any talk about whether we were going to try to renew it or not, it was what do we have to do to get this deal done from both sides."
Original Story:
http://msn.foxsports.com/nascar/story...
THE BACKYARD
BEST OF MAXIM
RELATED ARTICLES
Jimmie Johnson is back in his usual perch - atop the Sprint Cup standings and smiling. Teammate Jeff Gordon? Not so happy. Running near the front all day Sunday in the Finger Lakes 355 at Watkins Glen International, Johnson maneuvered his way back after falling out of the top 10 two-thirds through the 90-lap race and finished right where he started - third. He might not have won...
Jeff Gordon, driver of the #24 Drive To End Hunger/AARP Chevrolet, met with members of the media at Watkins Glen International and discussed road course racing, making the Chase and other topics.  TALK A LITTLE BIT ABOUT LAST WEEK AND HOW YOU FEEL COMING INTO WATKINS GLEN THIS WEEKEND:  "It has been a great week.  We put ourselves in the right place at the right time which is...
WATKINS GLEN, N.Y.  -  After win No. 86, there are no plans to "let up" for Jeff Gordon – only attack. With his victory at Pocono last Sunday, Gordon moved into the final wildcard spot for the "Chase for the NASCAR Sprint Cup." But the four-time Watkins Glen International winner knows the No. 24 Drive To End Hunger team must continue to press while the pressure is on...
  With automobiles parting the seas and laden skies giving assent, Jeff Gordon took his sixth Pocono win last week. In doing so, he also brought another very intriguing statistic onto the armchair analyst's table. All four Hendrick teams now sit unofficially in the Chase. A few weeks ago, that would've been considered a bit of a funny proposition. Jimmie Johnson and Dale...
Jimmie Johnson, driver of the #48 Lowe's Chevrolet, met with members of the media at Watkins Glen International and discussed Jeff Gordon making the Chase, how he has improved his road course racing skills and other topics. TALK A LITTLE BIT ABOUT YOUR SEASON THUS FAR AND GETTING CLOSER TO THE CHASE:  "I'm real happy with the way things have gone here in the last three or...
  Of the two road courses on the Sprint Cup schedule, Watkins Glen International is the older one, having hosted its first race in 1948. This weekend, it will host its 30th Cup event, the Finger Lakes 355, the 22nd race of the season.   Last weekend's winner at Pocono, Jeff Gordon, holds the all-time record for laps led at the 2.454-mile course with 233; in 19 career Glen...
  Road Course 101: Love Them Or Learn Them Road courses. Some drivers love them – think Tony Stewart and Jeff Gordon – and others go because they're part of the 36-race NSCS schedule. But no competitor or team takes them for granted. "Yeah, [it's] pretty much just another race now," said Kevin Harvick, winner at The Glen in 2006. "I think everybody knows that...
The NASCAR Sprint Cup Series makes it way to Watkins Glen International for Sunday's Finger Lakes 355 At The Glen. Team Chevy is riding high after capturing the first and second positions at the Pocono Raceway. Jeff Gordon led the way by winning the rain shortened race and had teammate Kasey Kahne, on a flat tire, cross the finish line right behind him. Here is a break down on...
  It's the time of year when Jimmie Johnson and Chad Knaus are fine-tuning their nefarious operations with the confidence of making the Chase, while other teams are still fighting to make the Chase, and yet others have already thrown in the towel and are thinking about 2013. Okay, I exaggerate. There are several other teams besides the No. 48 that can assume they'll make...
Nascar Evaluating Severe Weather Procedures After Pocono Storm Kills 1, Injures 9 Fans Nascar has decided to work with tracks across the country to come up with a safety plan to allow fans to get to their cars quickly in the wake of tragedy Sunday at Pocono Raceway. Brian Zimmerman, a 41-year-old NASCAR fan from Pennsylvania, was killed by a lightning strike approximately seven minutes...
All Sports News

Delivered to your inbox

You'll also receive Yardbarker's daily Top 10, featuring the best sports stories from around the web. Customize your newsletter to get articles on your favorite sports and teams. And the best part? It's free!
THE HOT 10: Who's Trending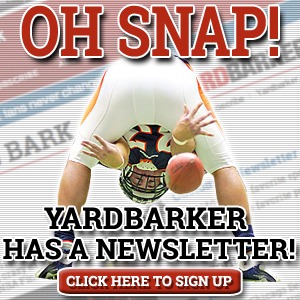 Latest Rumors
The Backyard

Today's Best Stuff

For Bloggers

Join the Yardbarker Network for more promotion, traffic, and money.

Company Info

Help

What is Yardbarker?

Yardbarker is the largest network of sports blogs and pro athlete blogs on the web. This site is the hub of the Yardbarker Network, where our editors and algorithms curate the best sports content from our network and beyond.