Found July 04, 2012 on Rob The Hockey Guy:
The Canucks signed Jason Garrison the other day to a whopping 6 year $27.6 million deal. The response in the hours and days afterwards have been all over the map. Some see this as a gross overpayment of a player that had one lucky season, others see it as a case of the Canucks getting a player for less money than he could have had elsewhere. So where does the truth lie? I have to admit, my initial reaction to this deal was mixed. After hearing the news that the Canucks had lost Sami Salo, they had to do something. They couldn't afford to enter the season with Keith Ballard penciled in as their #4 defenceman.  But making Jason Garrison, a player most people had never heard of before last season, their highest paid defenceman? That seemed like a bit much. I first heard of Jason Garrison last season, when deciding which free agent defenceman to pick-up in my hockey pool. I never picked him up. I researched him, saw that he was undrafted and wasn't a huge scorer in the AHL or when he played in college. I figured he was some schmo on a hot streak, just like Aaron Rome. I never picked up Garrison for my hockey pool, and it was a mistake. Garrison just continued to score goal after goal after goal. He ended up with 16 of them actually, which put him third in the league among d-men. Points-wise, he had only 33 points, fewer than Dan Hamhuis had. Garrison's point output from last season is well known. Everything else about him isn't. Even the great Ed Willes from the Province doesn't seem to know much about him:
Jason Garrison turns 28 in November. He enjoyed a breakout campaign with the Florida Panthers (16-17-33 in 77 games) in 2011-12. Prior to that, he was a depth player on a bad team.
This is the perception of Jason Garrison, but it's misleading. For one, Garrison was more than a offensive defenceman for the Panthers last season. He was second on the Panthers among defencemen in average ice time at 23:41 per game. He averaged only 2:31 per game on the power play (third among Panthers d-men) and 2:34 on the penalty kill (second among Panthers d-men). These are not the numbers of a player who just collects points on the power play because of a good slap shot (though he did get 9 of his 16 goals with the man advantage). And what about Willes' contention that prior to last season Garrison was a depth player on a bad team? Well, the Panthers were certainly bad, and nobody had heard of Garrison, but to say he was a bad player is grossly unfair. Two years ago Garrison was actually the Panthers go-to defenceman. He led Florida d-men in ice time in 2010-11, so he could hardly be considered a depth player. Garrison scored goals last year, but I'm skeptical that can be relied upon. Sometimes players with big booming shots have the stars align. That's what happened with Adrian Aucoin when he was a member of the Canucks in 1998-99. That year Aucoin scored 23 goals! In his long career, the next highest total he achieved was 13. So is Garrison worth the money? If he plays like the player he was last season, he's a bargain. If he plays like a legitimate top four defenceman, who can play against other teams' top players and excels, he'll also be worth the money. Perhaps Garrison can be like Adrian Aucoin. Even though Aucoin never got close to equaling 23 goals again in his career, he turned into a reliable #2 defenceman that was good in both ends of the rink. I think that Garrison is full marks for his last two seasons in the NHL, but I'm still nervous about this signing. He's had two good seasons in the NHL by age 28 but has earned a 6 year contract. That kind of reminds me of Jeff Finger. I just don't think Garrison has accomplished enough to warrant such a long contract. I hope Mike Gillis proves me wrong, but he has hitched his wagon long term to a player who has really only had two good seasons.
Original Story:
http://www.robthehockeyguy.com/2012/0...
THE BACKYARD
BEST OF MAXIM
RELATED ARTICLES
I like this move. Do you? Just when it looked on Sunday, July 1st as though Vancouver would be celebrating Canada Day and NHL Free Agency in a very low key way, a big bottle of Crown Royal was broken out late on with the signing of defenceman Jason Garrison from the Florida Panthers. (They are of course officially the exclusive supplier of Vancouver Canucks players for the past ten...
Happy Canada Day…finally Has Vancouver's Mike Gillis made another smart signing, or is the contract too good to be true? General Manager Gillis made the most of the opening day of NHL free agency, signing former Florida Panthers defenceman Jason Garrison to a six-year $4.6 million dollar deal on Sunday. With Justin Schultz headed to Edmonton, Sami Salo signing with Tampa Bay...
The Vancouver Canucks have signed Whiterock, BC native Jason Garrison to a six year, $27.6 million dollar contract. The contract carries a cap hit of $4.6 million per season, a figure that according to some is a lot less than he could have gotten. It's believed he took less to play closer to home. Entering the league as an undrafted 23 year old, Garrison has spent his entire four...
Last week we speculated that the Canucks could and would re-sign Steve Pinizzotto. We've just learned they did just that this morning. Via the Canucks twitter account. And as we're on the conference call, #Canucks re-sign centre Andrew Ebbett and right wing Steve Pinizzotto.— Vancouver Canucks (@VanCanucks) July 2, 2012 Pinizzotto suffered a shoulder injury in 2011/12...
If there was such thing as a panic button in Vancouver it would be tromped on daily. People would be jumping, both knees touching their chin and landing both feet on to it alerting everyone that the Canucks are a mess and that it is in fact time to panic. This time last year the Canucks were a little over two weeks removed from losing the Stanley Cup. This year playoff hockey ended...
Is Hugh Jessiman local?No?Okay I can't explain this.This afternoon the Senators announced they had signed the infamous former 12th overall pick to a one-year, two-way contract. The 6'6 231 right-wing is 28 years old and has appeared in two NHL games. On the other hand he did score a career-high 27 goals last year in the AHL for Lake Erie and Abottsford.The rebuild is over...
Note: This article was meant to be posted on June 30th, but I lost power on Friday night and just had it restored today. Therefore, some of the information might be outdated. It's been a year since Dale Tallon went on his massive shopping spree in attempt to get the Florida Panthers to the cap floor. Many questioned why he was giving out so many long-term deals to mediocre players...
from Tony Gallagher of the Vancouver Province, Two players aren't going to transform the Wild team that utterly collapsed in the second half of last season into a world beater, but it's entirely likely to energize everyone on the roster and make them very competitive. How this Vancouver team reacts to this increased competitive environment for one season at least is going to...
Per a tweet from Chip Alexander (Carolina Hurricanes reporter for the Raleigh News & Observer Derek Joslin formerly of the Hurricanes signed with the Vancouver Canucks. Vancouver radio station WX1130 is also reporting the news now. The #Canucks have signed defenseman Derek Joslin to a 1 year - 2 way contract. Played 44 games in Carolina last year.— News1130 Sports (@News1130Sports...
All Sports News

Delivered to your inbox

You'll also receive Yardbarker's daily Top 10, featuring the best sports stories from around the web. Customize your newsletter to get articles on your favorite sports and teams. And the best part? It's free!
THE HOT 10: Who's Trending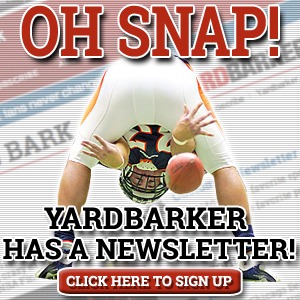 Latest Rumors
Best of Yardbarker

Today's Best Stuff

For Bloggers

Join the Yardbarker Network for more promotion, traffic, and money.

Company Info

Help

What is Yardbarker?

Yardbarker is the largest network of sports blogs and pro athlete blogs on the web. This site is the hub of the Yardbarker Network, where our editors and algorithms curate the best sports content from our network and beyond.