Found November 17, 2012 on Fox Sports Florida:
HOMESTEAD, Fla. Jimmie Johnsons prerace strategy for this weekend is simple: plant a seed of doubt in the mind of opponent Brad Keselowski. As the clock ticks closer to Sundays season finale, which will decide the Sprint Cup championship, Johnson knows from experience that moments of uncertainty will start to flood Keselowskis mind. After competing for multiple NASCAR titles and successfully winning five consecutive Johnson has learned a lot about racing and the head games that exist at this level. The magnitude sets in at some point, Johnson said of that final race in competing for the title. Ive been there, and Ive been the guy leading the points and people are so curious to know all these what-ifs what if it happens and youre forced to answer questions that youre not used to answering that you dont want to answer? And it builds through the course of the week. Again, it hits everybody differently and theres no guarantees how itll hit him. Johnson held the points lead entering the final race in his first four of five successful title runs. But this weekend he finds himself 20 points behind Keselowski, who only needs to finish 15th or higher to take home his first Sprint Cup. Sitting next to Keselowski on Thursday, Johnson was quick to point out the probability of considering a top 15 finish as a lay-up is tough. This garage area is tough, Johnson added. The weight of this race, I dont care who you are itll show up at some point in time and thoughts will run through your head and with all that being said a 15th-place is not a lay-up for these guys. So I have a little stock in that. And well see how they respond. Their trends this year have been strong, but this is a different race. Still, Johnson has never come into Homestead-Miami Speedway with the sole intent of winning the race. While his results have been respectable he has four top-five and seven top-10 finishes in 11 starts Johnsons average finish of 13.5 is far from stellar. The fact that Johnson has led just 74 of the 2,793 laps completed proves the No. 48 driver has done far more riding around the 1.5-mile track with the intent of winning the title than winning the race. His career-best finish of second at Homestead came in 2010, when he entered the race with a 15-point deficit to Denny Hamlin, which was under a different points system and roughly translate to a three-point deficit under this one. For Johnson, Hamlin was easy pickings. Hamlin had lost ground running out of gas the previous week and was already fragile. He appeared nervous during the contenders news conference. His resolve melted as the weekend rolled on with Johnson qualifying sixth and Hamlin 37th. Plus the distractions of South Florida's nightlife were a little too much for Hamlin to overcome. Hamlin destroyed his car racing aggressively before 25 laps were completed. Despite multiple repairs to Hamlins car, he finished 14th. Johnsons second-place finish was enough for his fifth title. This year, theres no doubt Keselowskis Penske Racing crew will protect its driver to a greater degree than Joe Gibbs Racing did Hamlin. Keselowski will be kept on a short leash -- and in close proximity to the racetrack. While both drivers come from humble beginnings, Keselowski desperately feels the need to prove he belongs - and that will keep him focused on priorities. Yes, Johnson will plant a seed of doubt. And yes, he knows that regardless of the tough exterior Keselowski has tried to portray, the aha moment will come as it does for everyone involved in a championship battle. Every guy that goes over the wall to perform the pit stops can have that moment and will have that moment, Johnson insisted. Every guy turning a screw, a nut, putting fuel in the car, crew chiefing the race, engineering the race, everybody has the same thing on their mind. You're protecting something. It is something we have all worked for our whole lives to get to this point. It is a huge, huge moment. So regardless of what I say or (any) needling I can do, those moments are going to show up, and if I can plant that seed and help spur that moment along, then cool. But I'm not -- I didn't come in here with a huge agenda thinking that I was going to make a difference in that because I know those moments are going to come. I've been there. After this weekend, Keselowski can say he has been there, too. But will he fall for Johnsons intimidation beforehand? Well, there's two types of pressure, Keselowski said. There's pressure applied and pressure felt. Certainly he's trying to apply pressure. Certainly I don't feel any. By Sunday night, well know whether Keselowski called Johnson's bluff.
Original Story:
http://www.foxsportsflorida.com/11/17...
THE BACKYARD
BEST OF MAXIM
RELATED ARTICLES
RAISE YOUR GLASS
Yep. Brad Keselowski won the NASCAR Sprint Cup Series Championship after competing in today's season ending race at Homestead-Miami Speedway. Keselowski finished 15th – but that was all he needed to do in order to capture his first Cup series title. After that, it was 'Miller time'. Keselowski even admitted to Sportscenter that he was "a little buzzed" during the...
Five-time NASCAR champion Jimmie Johnson is the king of mind games and he doesn't mind reminding Brad Keselowski what's at stake at Homestead-Miami Speedway this weekend. Keselowski takes a 20-point lead over Johnson into Sunday's finale. He needs only to finish 15th or better to win his first Sprint Cup title. Johnson opened Thursday's news conference talking about...
The kid who stole the show at the season-opening Daytona 500 ended the year under the biggest spotlight of them all Sunday, beating five-time champion Jimmie Johnson to deliver the first Sprint Cup championship to Penske Racing. Brad Keselowski obviously getting it in after the big win. Obviously an opportunity to celebrate, but Brad was making no point to hide the fact he was throwing...
Brad Keselowski captured his first NASCAR Sprint Cup Series title on Sunday.The title came in his third full season, though he had competed in parts of two seasons before he began driving the No. 2 Dodge at Penske Racing. In 2010, Keselowski won the NASCAR Nationwide Series title. That same year he struggled at the Sprint Cup level producing just two finishes inside the top ten....
Joey Logano won the pole Friday for NASCAR's Sprint Cup Series finale at Homestead-Miami Speedway, with championship contenders Brad Keselowski and Jimmie Johnson not far behind. Keselowski will start third Sunday in the 400-mile race. He takes a 20-point lead into the finale over five-time champion Johnson. Keselowski only needs to finish 15th or better - or 16th or better...
Jimmie Johnson is not use to failure. The term veteran is not used for Johnson, instead he is referred to as the number five. Five-time. Johnson came up short in his bid to win his sixth NASCAR Sprint Cup Series title. Johnson found losing "disappointing" as he spoke about it following Sunday's race. "Definitely disappointing, but again, I feel that we had the speed, we had...
With Jimmie Johnson sitting in a disabled car in the garage area for a second consecutive weekend, the championship already had been clinched. Even so, Brad Keselowski and crew chief Paul Wolfe had a goal in mind, even with just five laps remaining and that Sprint Cup trophy already being shined up and readied to hand over to the driver of the No. 2 team. "P17 here, bud," Wolfe...
HOMESTEAD, FL – Ryan Blaney finished 28th at Homestead-Miami Speedway in the No. 29 Cooper Standard RAM on Friday evening. The Brad Keselowski Racing (BKR) driver had a tough ending to the night in the NASCAR Camping World Truck Series (NCWTS) season finale. Blaney qualified in the 16th position on Friday afternoon pacing the 1.5 mile oval in 32.472 seconds or 166.297 M.P.H. to...
A new champion has been crowned. Brad Keselowski is now on top of the world as the new Sprint Cup Series Champion. After three full-time seasons in the Sprint Cup Series, Keselowski is now the champion. More notably, Roger Penske is finally a Sprint Cup Series Championship winning owner after forty plus years in the sport. Keselowski raced his race all afternoon and he, his team...
Source: Mike Ehrmann/Getty Images North America Brad Keselowski won his first NASCAR Sprint Cup Series title. A mistake on pit road coupled with a parts failure dropped him to third in the standings. RANK DRIVER POINTS BEHIND STARTS POLES WINS TOP 5 TOP 10 1 Brad Keselowski 2400 Leader 36 0 5 13 23 2 Clint Bowyer 2361 -39 36 0 3 10 23 3 Jimmie Johnson 2360 -40...
All Sports News

Delivered to your inbox

You'll also receive Yardbarker's daily Top 10, featuring the best sports stories from around the web. Customize your newsletter to get articles on your favorite sports and teams. And the best part? It's free!
THE HOT 10: Who's Trending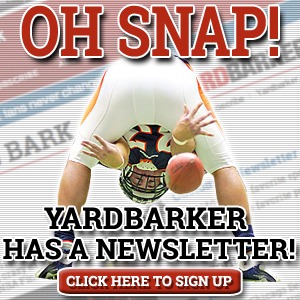 Latest Rumors
The Backyard

Today's Best Stuff

For Bloggers

Join the Yardbarker Network for more promotion, traffic, and money.

Company Info

Help

What is Yardbarker?

Yardbarker is the largest network of sports blogs and pro athlete blogs on the web. This site is the hub of the Yardbarker Network, where our editors and algorithms curate the best sports content from our network and beyond.