Found May 28, 2012 on Fox Sports:
PLAYERS:
Kasey Kahne
,
Denny Hamlin
,
Kyle Busch
,
Greg Biffle
,
Brad Keselowski
,
Matt Kenseth
,
Carl Edwards
,
David Ragan
,
Dave Blaney
,
Marcos Ambrose
,
Dale Earnhardt Jr.
Call Kasey Kahne Mr. 201. With the burden lifted for Rick Hendrick's drivers after Jimmie Johnson earned the 200th NASCAR Sprint Cup win for the organization two weeks ago at Darlington Raceway, the victories just keep coming. "I wanted to win the 200th," Kahne said. "I think Jeff (Gordon) wanted to win it, Dale (Earnhardt Jr.) wanted to win it. When Jimmie won it at Darlington, I was excited. I was happy. I was just glad to be in that picture, to be part of Hendrick Motorsports." On Sunday night, Kahne passed his initiation. He became the 16th driver to win for Hendrick Motorsports and earned the sweep for his new boss at Charlotte Motor Speedway with the all-star race last Saturday (which Johnson won) combined with Kahne's win in the Coca-Cola 600 on Sunday night. Kahne's fourth Charlotte win came in dominant fashion -- 4.295-seconds ahead of Denny Hamlin and in record time -- three hours, 56 minutes and 14 seconds, breaking the previous record of 3:56:55 set in 1995. Although Kahne struggled at the start of the season with an average finish of 28.5 in the first six races, a run marred by a wreck at Daytona International Speedway and an engine failure at Martinsville Speedway, the 32-year-old's performance in the last six races jumped to an average result of 5.5. Through the challenges in the first half of the season, Kahne never questioned his resolve. With the support he had from Kenny Francis, his crew chief for the last seven seasons, he was confident that the No. 5 team stood behind him. "The biggest thing for myself was just to figure out the cars, figure out how they drove," Kahne said. "It's been a little bit different for me. We've had speed. Even the last five, six races we've been in the top 10, but not near as fast as Jimmie Johnson or a couple of those guys that have been winning the races. "I just knew for myself I needed to step up. Our team is solid. Our car is solid. Mr. Hendrick gives us everything we need to win races and run up front. Tonight we were able to put it all together." Kahne drew inspiration from Hendrick's 200th celebration Tuesday night in Charlotte, where he listened to fellow competitors extolling the accomplishments of the company he joined just six months ago. "Thinking about the history that lies at Hendrick Motorsports, how much Rick Hendrick, Linda (Hendrick) have done for the sport, done for so many people, was pretty awesome," Kahne said. "I was super happy I was there and got to listen to those guys and be part of that. Great to win a race tonight and be part of the 201st win." Kahne's 13th career Cup victory elevated him into 15th in the points standings. Gibbs gang Denny Hamlin and Kyle Busch continued to show strength and gain ground in the points at Charlotte on Sunday. Although Greg Biffle led a race-high 204 laps in the early stages of the Coca-Cola 600, the cars of Hamlin and Busch cars were better prepared for battle as the race went from day into the night. Busch led his first of 55 circuits on Lap 121 but Biffle swung by him four laps later. His longest run at the point was from Lap 139 to Lap 171, but an accident by Travis Kvapil thwarted Busch's opportunity to check out. Inevitably, he finished third. "Just missed it on a couple runs there -- got ourselves a little bit too far behind," Busch said. "We're just missing a little bit of something -- just something that we lack a little bit of speed or a bit of longevity sometimes throughout the runs. "We're keeping our string of good, strong finishes going and that's what's important right now. Get ourselves locked in the Chase (for the Sprint Cup). Wins would be more important right now." Hamlin led just twice -- once when he passed Kahne, who had pitted, and the second time when the No. 11 crew elected not to pit during stops on Lap 321. Hamlin led 12 laps on that run until Kahne passed him once again. With 10 laps remaining in the race, Hamlin conceded to his new crew chief Darian Grubb, "I drove for everything I had." Considering Hamlin finished second in the first race in which he has been driving a car prepared entirely by Grubb, the driver has reason for optimism. And Hamlin learned a lot about his cars in the last two weeks at Charlotte. But considering the spanking Kahne put on the field, Hamlin knows there's still work to do. "Definitely a step in the right direction with our teammates right there -- second and third," Hamlin said. "We just need a little bit more of everything -- we need a little bit more motor, a little bit more aero and a little bit more mechanical. We'll get there. "Just used all my tires up trying to get to him -- I was driving with my eyes out and my hair on fire for 20 laps on that restart trying to catch him (Kasey Kahne). He just had a superior car tonight." Still, both Hamlin and Busch advanced in the points standings. Hamlin is currently third while Busch moved up to eighth. However, Busch agrees with his teammate that there's room for improvement. "I think we're good," Busch said. "We're definitely a contender each and every week. We're just not winners yet. I wish we knew what it was to get us to that point. There's just a little bit of something lacking -- whether it's speed or whether it's longevity in the runs. It seems like we can have one or the other and we have to put it all together. "The guys did a great job -- Denny finishing second, we run third so that's really good for us. We'll move on and go to Dover and see what we can get there." Pit problems Several drivers suffered setbacks due to problems in the pits. Brad Keselowski collected a speeding penalty on Lap 113 and was forced to restart the race at the tail end of the lead-lap cars four laps later. Keselowski restarted 25th but was seventh when he triggered a miscue 150 laps later. Tony Stewart was 15th when he made contact with Keselowski entering the pits on Lap 264 and spun out in the middle of pit road as the No. 2 Dodge was exiting his box. "You were by him," crew chief Steve Addington said. "I don't know what he was watching." "Tell him I'm sorry man," said Keselowski, whose stall was three boxes behind Stewart. "No idea. ..." Stewart dropped to 31st place, one lap down and only salvaged five positions at the finish but he was three laps off the pace. His 25th-place finish -- and worst showing at Charlotte in six years -- cost him two positions in the standings as Stewart dropped to ninth. Matt Kenseth's crew left a wheel loose during green-flag stops on Lap 221 and was forced to return to the pits. Kenseth dropped off the lead lap and when the field cycled out, the No. 17 was 22nd on Lap 237. Although Kenseth fought furiously for the free pass, the opportunity never presented itself and he finished 10th -- the first car one lap down. Still, Kenseth maintained second place in the points standings. He trails teammate Greg Biffle by 10 points. Perhaps the most costly error came from the No. 48 crew, which ironically won the pit crew challenge two weeks ago. Johnson left the pits while the fuel canister was still in the car and took off with his gasman holding the can on Lap 354. Johnson was running third before the stop and after a stop and go penalty, dropped to 13th, one lap down. Over the final 144 laps, Johnson gained just two positions and remains fifth in the point standings. Numbers game 1: Driver has finished on the lead lap in every race this year -- Dale Earnhardt Jr., who finished sixth. 3: Roush Fenway Racing drivers finished in the top 10: Greg Biffle (fourth), Carl Edwards (ninth) and Matt Kenseth (10th) 4: Engine failures -- Mark Martin (who was running 11th at the time), David Ragan, Michael McDowell and Dave Blaney. 10: Top-10 finishes for Kyle Busch (third) in 17 starts at Charlotte Motor Speedway. 20: Laps led by Marcos Ambrose -- prior to the Coca-Cola 600 he had led just one lap (Texas). Say what? Brad Keselowski describing his collision with Tony Stewart on pit road: "He (Tony Stewart) took the blame for it but I thought it was my fault. It's one of those deals where you're coming in and going out, it's like being in a Wal-Mart parking lot and you're both going for the same parking spot and sometimes things happen."
Original Story:
http://msn.foxsports.com/nascar/story...
THE BACKYARD
BEST OF MAXIM
RELATED ARTICLES
The No. 13 turns out to be lucky for Kasey Kahne on Sunday. Kahne won NASCAR's longest race, the Coca-Cola 600 in Concord, NC, for his 13th career Cup victory. It was Kahne's third victory in the 600 and his first for Hendrick Motorsports. Kahne won in 2008 and 2006. Denny Hamlin placed second, followed by Kyle Busch, series points leader Greg Biffle and Brad Keselowski...
Kasey Kahne, driver of the No. 5 Quaker State Chevrolet, celebrates in Victory Lane after winning the NASCAR Sprint Cup Series Coca-Cola 600 at Charlotte Motor Speedway on Sunday in Concord, N.C. Photo Credit: Jerry Markland/Getty Images for NASCAR By: Toby Christie – Follow On Twitter @Tobalical When Kasey Kahne crossed the finish line first in Sunday's Coca-Cola 600 – the 13th...
Kasey Kahne's win was awesome, not only for him, but for that whole No. 5 team. I see a really unique situation developing now at Hendrick Motorsports. I wonder if the giant has come awake one more time. Jimmie Johnson, whose season started in Daytona with controversy plus being wrecked out of the Daytona 500 on Lap 2, is on a roll. Kasey Kahne, who started his first season...
Kasey Kahne scored his first win for Hendrick Motorsports by dominating closing laps of Coca-Cola 600...
Kasey Kahne's 300th-career NASCAR Sprint Cup Series start resulted in a win for the driver of the No. 5 Hendrick Motorsports Chevrolet on Sunday night in the Coca-Cola 600 at Charlotte Motor Speedway. It was Kahne's third 600-mile win and his first victory with Hendrick Motorsports. "It feels really good," Kahne said in victory lane. Denny Hamlin, driver of the No. 11 Joe...
Brad Keselowski weighs himself as 152.4 pounds prior to the Coca-Cola 600. (click to enlarge) The Coca-Cola 600 is the longest race on the NASCAR circuit and is known for taking it's toll on drivers. While some of the jokes throughout the last week centered around drivers and eating in the cars it was also widely talked about the amount of weight which will be loss during an evening...
The checkered flag has fallen on the 2012 edition of the Coca-Cola 600 and it was a banner day for the Team Chevrolet drivers. Led by winner Kasey Kahne, below are the thoughts of some drivers including Kahne, Jeff Gordon, Kevin Harvick, Jimmie Johnson, Dale Earnhardt, Jr., Danica Patrick, and Regan Smith. KASEY KAHNE, NO. 5 QUAKER STATE CHEVROLET – WINNER SOME DRIVERS HOPE TO...
Racing's greatest weekend takes place in the days preceding Memorial Day, with Formula One's Grand Prix of Monaco followed by IndyCar's Indianapolis 500. It's NASCAR's responsibility to close it out the weekend with the Coca-Cola 600. After watching Hendrick Motorsports teammate Jimmie Johnson win the organization's 200th Sprint Cup race at Darlington and...
With Kasey Kahne, Dale Earnhardt Jr. and Jimmie Johnson all running well, the pressure at Hendrick Motorsports has to be on Jeff Gordon...
Hendrick Motorsports has finally gotten win number 200 in the books, what is next for this organization?  All we heard for the first half of the regular season was who was going to get Mr. Hendrick his 200th and where was it going to be.  As many experts and we here at CJ Sports projected, Jimmie Johnson was the man.  With all the distractions of this win behind Hendrick, lets...
All Sports News

Delivered to your inbox

You'll also receive Yardbarker's daily Top 10, featuring the best sports stories from around the web. Customize your newsletter to get articles on your favorite sports and teams. And the best part? It's free!
THE HOT 10: Who's Trending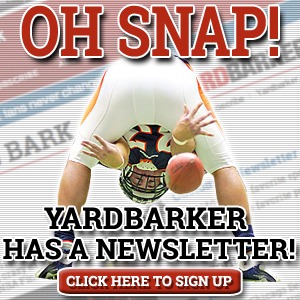 Latest Rumors
The Backyard

Today's Best Stuff

For Bloggers

Join the Yardbarker Network for more promotion, traffic, and money.

Company Info

Help

What is Yardbarker?

Yardbarker is the largest network of sports blogs and pro athlete blogs on the web. This site is the hub of the Yardbarker Network, where our editors and algorithms curate the best sports content from our network and beyond.