Found March 06, 2013 on Jocks and Stiletto Jill:
Kanye West isn't shy about telling you exactly what's on his mind. When Yeezy discovered that MTV ranked him the seventh hottest MC of 2012, he immediately called up New York's Hot 97 to share his feelings. During his rant, which mentioned people not feeling "Givenchy Kanye" or his relationship status, Ye also pointed out that he had the hottest line of 2012. His Kris Humphries diss. "I don't think it's them really going bar-for-bar: I said, 'Lucky I didn't have Jay drop him from the team!' " he said, quoting a line from his track "Cold. Ain't no bar, ain't no bar in the entire past four months hotter than that bar. That's one bar! I come from this battle rap; that's how I grew up. I'm from Chicago." It was highly entertaining, I'll give Ye that.  Check out what else he had to say: "I feel like for them to put me at No. 7, they had to bring up things they didn't like, like they didn't like Cruel Summer album. And I'm, like, 'That's a compilation. It's not all rappers on [it].'" Of course the media had to share in the blame:  "What happens with these type of things and the people that review it, when I come in and I have the pink polo and the backpack, I'm checking all the boxes of that A Tribe Called Quest era and all that, so they want to champion it. They don't like Givenchy Kanye. They don't like Kanye in a kilt, they don't like Kanye in a relationship." The irony of Kanye bringing up that line. Humphries was alerted on Wednesday that as the Nets are on their playoff push, Kris is the odd man out of the rotation. Guess Kanye didn't have to get him dropped from the team, his play did. On the bright side, that means he's free and clear to show up for his court date for his divorce proceedings from Kim Kardashian. Maybe if he had focused more on his game instead of fighting her he wouldn't be the forgotten one on his day job. :shrug: If you want to hear more from that interview including who Kanye wants you to know he bought a TV for, take a listen.  
Original Story:
http://jocksandstilettojill.com/2013/...
THE BACKYARD
BEST OF MAXIM
RELATED ARTICLES
Kris Humphries has reportedly been informed he's the odd man out, and will be left out of the Nets rotation moving forward.  Humphries, who makes $12 million, was averaging 5.5 points and 5.9 rebounds in just over 18 minutes a game. According to the NY Daily News: According to a league source, Humphries was informed by coach P.J. Carlesimo Wednesday morning that he will no longer...
Previously on That NBA Lottery Pick, we featured a post regarding a Foot Locker commercial starring James Harden and Kris Humphries called "Entourage".Well, the fine folks over at Foot Locker decided to release an alternate ending to that commercial which can be seen below:Huh, I wonder what Kris wanted to use the time machine for?
While I will probably never propose to a girl at a sporting event, some guys think it is the perfect place to the drop the question. During a recent Brooklyn Nets game, one Nets fan got down on his knees to pop the question to his special someone and let's say that she was a little shocked: Thankfully, she said yes and well, nothing says "Let's Get Married...
It looks as if Kris Humphries may be the odd man out in Brooklyn.credit: pictures.zimbio.com After resigning with the Brooklyn Nets this offseason, Kris Humphries certainly expected to play a fairly large role this season. This hasn't happened, as the team has turned to other options at power forward, such as Reggie Evans and Andray Blatche. Humphries has been in the news more...
123► One day, this is all going to be over between Kris Humphries, Kanye West and Kim Kardashian.  The world will be better off when that happens. Nothing says dysfunctional better than a woman whose original fame came from a sex tape, having a baby by a rapper who goes off on rants about buying MTV personalities TVs, while still married to a NBA player, whose boss came out...
The Hump will now be making love to that bench, while pondering ways to keep Kim Kardashian in court until Lil Yeezy arrives. Kris Humphries was informed this morning by PJ Carlesimo that he's out of the rotation, according to a league source — Stefan Bondy (@NYDNInterNets) March 6, 2013 Here is Kris Humphries' gift and his curse, because of his 72-day marriage to Kim Kardashian...
Deron Williams and Brook Lopez are nice, but the Nets require some sort of glue to get into the playoffs and make a push when they get there.
The Brooklyn Nets entered this week in a slump before showing again how formidable they can be when Joe Johnson plays well. Strong performances from Johnson could be crucial as the Nets continue to vie for playoff position. They'll look to avoid a fourth straight home loss Friday night when they meet the Washington Wizards, who could have a difficult time beating anyone without...
Kanye made some huge noise yesterday when he called DJ Enuff at Hot 97 to speak about MTV's Hottest MCs list (which he came in at #7). After saying that both him and Sean should be higher on the list, Ye went on to randomly say he bought Sway (the host of the list) a [...]
Hump has scored just seven points in his last six games. Maybe a trade to Charlotte would have been better for him after all   To say that the Nets are struggling right now would be a generous compliment, one that coach P.J. Carlesimo would take and run with if it were an accurate statement. In fact, the Nets are falling apart at the moment. No, not like New York...
Here's the full list for MTV's 'Hottest MC's In The Game'. Kendrick takes the top spot. Any early predictions for next years list? #10 – Meek Mill #9 – Future #8 – A$AP Rocky #7 – Kanye West #6 – Big Sean #5 – Drake #4 – Nas #3 – Rick Ross #2 – 2 [...]
Nets News

Delivered to your inbox

You'll also receive Yardbarker's daily Top 10, featuring the best sports stories from around the web. Customize your newsletter to get articles on your favorite sports and teams. And the best part? It's free!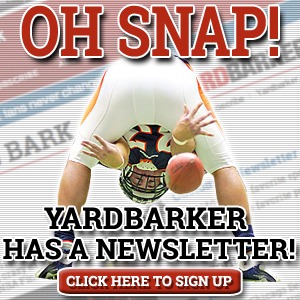 Latest Rumors
Best of Yardbarker

Today's Best Stuff

For Bloggers

Join the Yardbarker Network for more promotion, traffic, and money.

Company Info

Help

What is Yardbarker?

Yardbarker is the largest network of sports blogs and pro athlete blogs on the web. This site is the hub of the Yardbarker Network, where our editors and algorithms curate the best sports content from our network and beyond.