Found December 01, 2012 on Fox Sports:
Much to the chagrin of Penske Racing management, Brad Keselowski didn't have a prepared speech when he approached the dais to deliver the champion's speech at the NASCAR Sprint Cup banquet on Friday night. However, witnessing his picture alongside the title banners of Jimmie Johnson, Tony Stewart, Jeff Gordon and Dale Earnhardt gracing the walls of the Lafite Ballroom at the Wynn, Keselowski mustered all the inspiration he needed. "That's pretty damn remarkable," Keselowski said. "I never thought I would see my name with those people." Keselowski's view from the head table will serve as a catalyst to try to repeat his title feat in 2013. Maintaining his stature among the sport's elite will be his greatest challenge. Just wishing to remain at the pinnacle won't make it so. And despite his "fight every day" mentality, Keselowski is keenly aware that he can't manage the success on his own. He'll continue to rely on his team to sustain his position at the sport's top level. But he said "the best is yet to come," particularly with the support of team owner Roger Penske and crew chief Paul Wolfe. "We can do anything we set our mind to if we work together like we have over the last few years," Keselowski said. "I really do. I just feel so fortunate to be where I'm at right now in life and with racing, to have guys like this around me because you're a product of who you surround yourself by, and I'm surrounded by the best." One of Penske's most essential lessons to Keselowski has been the value of human capital. Penske acknowledged on Friday that the tide began to turn for his NASCAR operation when his motorsports division elected to unite its open-wheel base in Reading, Pa., with his stock-car campus in North Carolina in 2007, providing a wealth of resources for both entities. Penske felt the move was necessary in order to compete against the Hendrick Motorsports, Roush Fenway Racing and Joe Gibbs Racing juggernauts of NASCAR. Unlike those operations, though, regardless of Penske's success in other racing disciplines, the Captain had never won a Cup title until this year. Could the qualities that make Penske Racing a perennial contender in IndyCar transfer to the stock-car ranks? "Obviously, it's a very tough business to win in," Penske said. "It just reinforces having the best people. We've won all these years because we've had the best people. We go to Indianapolis and you have 5(00) or 600 years of experience. That's why Hendrick is so strong, because the people he's had has been there, been there, been there how many races? I think that continuity in your business makes all the difference because you can't be in and out. People know. You don't even have to look at them. They know what they have to do. "I think that's the strength of a team. That's the strength of our IndyCar team, and that's the strength of our NASCAR team this year." Still, new challenges lie ahead. Penske Racing will complete its transition from Dodge to Ford in the offseason. In addition to adapting to a new manufacturer, Penske Racing will also have to integrate the new NASCAR design into its stable. And, for now, Penske Racing will rely on Roush Yates engines rather than building its own. That's quite the leap of faith, particularly when Keselowski did not experience a single failure this year. Also in 2013, Penske Racing welcomes Joey Logano into the fold. Regardless of the 22-year-old's potential, getting any driver up to speed with a new organization takes time. Certainly, it would be a stretch to believe Logano will make much of a contribution off the bat. Finally, Penske Racing must continue to evolve in the workplace. While the best companies attract top talent, Penske Racing will also become a target for personnel raids. Throughout the course of 20 years and four championships, Jeff Gordon has remained loyal to one owner - Rick Hendrick. However, he has watched the employee revolving-door scenario play out more times than he'd care to admit. "Across the board in this sport, it's something that we all battle with, because you want to be the best," Gordon said. "You see someone you think can make you better, so you go after him. Then the owners are like, 'Hey, you do that, then we'll do this.' ... We do everything we can to keep our best people and improve as well." One of the most infamous personnel heists in NASCAR came at Gordon's expense, when Robert Yates Racing lifted the Rainbow Warriors from the No. 24 crew at Hendrick Motorsports in 1999. The defection of his team came one month after Ray Evernham announced he was leaving as well. Although Gordon had won three of the previous five titles, it wasn't until 2001 that the team fully recovered. "Never is one person that makes the difference on a team," Gordon said. "If that one person breaks you down, you're missing something anyway as a team. . . . If a guy is ready to go because somebody offers him money or goes after him, he's not a guy we want to be there anyway. We want to fill that position with somebody that really has that passion." Right now, Penske Racing has that passion. But it will take more than drive to build a dynasty that rivals what Hendrick has now or what Richard Childress or Petty Enterprises built in the past. Certainly, Keselowski's crew chief Wolfe is cognizant of how cutthroat the NASCAR labor market can be. But he said that by providing a thriving environment such as Penske Racing for his team along with a leader as vibrant as Keselowski, he'll be able to hold on to his men for years to come. "He's a great leader," Wolfe said. "I'm more of a quiet guy. I let my actions speak more than my words. But Brad's a guy that's good at motivating and pushing guys along. He's shown that he's willing to step up to the challenge of being that guy and leading Penske Racing and he's definitely capable of it. "We have to continue to do the things we've done, which is lead these guys, treat them the way they want to be treated and continue to win races. If we can continue to do that, there's not going to be any reason why anyone would want to leave." If so, Keselowski may be right. This might just be only the beginning.
Original Story:
http://msn.foxsports.com/nascar/story...
THE BACKYARD
BEST OF MAXIM
RELATED ARTICLES
During halftime at a Charlotte Bobcats game NASCAR Champion Brad Keselowski competed in a basketball "skills" event. If you feel bad about your game maybe you should check out how bad Keselowski's is at basketball. Perhaps Denny Hamlin could show him a few moves or introduce him to Michael Jordan.
It is not the glass that Brad Keselwoski but it is one like it. The 2012 Sprint Cup Champion is auctioning off a "one-of-a-kind Miller Time Sprint Cup Championship Commemorative Glass" which is signed by Keselowski and Roger Penske. The proceeds from the auction, which is on eBay, will go to benefit Keselowski's Checkered Flag Foundation. The foundation supports military members...
Brad Keselowski could be on the path to a series of titles…
Roger Penske was the toast of Las Vegas this week…
Brad Keselowski was his brash and bold self as he navigated the grueling Champion's Week schedule in Las Vegas. When it came time to be champion, he absolutely delivered. Keselowski left little doubt how much he appreciates his new role as Sprint Cup champion, calling for unity and promising to be a leader in helping the series grow. His remarks came as NASCAR is preparing...
NASCAR driver Brad Keselowski, a Rochester Hills, Michigan native, is living proof that NASCAR drivers should not be considered athletes.  And I don't even care that his basketball skills are worse than my 18-month old's. WATCH HIM RUN! Note: This video (Via The Nosebleeds) is from 2010 at a Charlotte Bobcats game. But I'll go out on a limb and bet that Keselowski still runs...
RideThePine.com investigates Brad Keselowski horrendous display of basketball skills. Plus, Michael Jordan banned from a golf course and one of the worst basketball flops of the year. The post NASCAR Drivers Are NOT Athletes appeared first on Ride The Pine.
Brad Keselowski improvised his championship speech in Las Vegas…
(Eds: With AP Photos.) By JENNA FRYER AP Auto Racing Writer At no point in the days leading into NASCAR's season finale did Roger Penske assume his 40-year wait for a championship would finally end. Brad Keselowski had the Sprint Cup title well within reach and a decent day would give Penske Racing its first title at NASCAR's top level. But weird things happen in racing...
Team Penske announced Thursday that Hitachi will be the primary sponsor for nine races on three-time Indianapolis 500 winner Helio Castroneves' No. 3 Chevrolet in 2013. Hitachi will be featured on the car for the season opening race in St. Petersburg, Florida along with Sao Paulo, both races in Detroit, Iowa Speedway, Pocono Raceway, both races in Toronto, and Infineon Raceway...
Brad Keselowski held on and won his first Sprint Cup Series title by 39 points over Clint Bowyer. Jimmie Johnson, who came into the event in 2nd place, was third (-40), Kasey Kahne (-55), and Greg Biffle (-68) made up the rest of the top five finishers. Joining those five in Las Vegas for the end of the year awards banquet will be Denny Hamlin, Matt Kenseth, Kevin Harvick, Tony Stewart...
All Sports News

Delivered to your inbox

You'll also receive Yardbarker's daily Top 10, featuring the best sports stories from around the web. Customize your newsletter to get articles on your favorite sports and teams. And the best part? It's free!
THE HOT 10: Who's Trending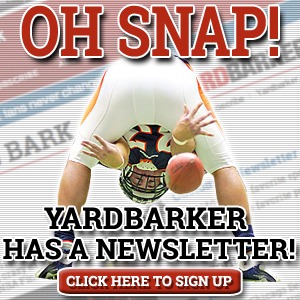 Latest Rumors
The Backyard

Today's Best Stuff

For Bloggers

Join the Yardbarker Network for more promotion, traffic, and money.

Company Info

Help

What is Yardbarker?

Yardbarker is the largest network of sports blogs and pro athlete blogs on the web. This site is the hub of the Yardbarker Network, where our editors and algorithms curate the best sports content from our network and beyond.