- ABC News has an article online looking at the Great Khali's recent tumor surgery. The benign tumor developed on Singh's pituitary gland, a tiny gland at the base of the brain that produces growth hormone. The tumor caused excessive secretion of the hormone, leading to a condition known as acromegaly, which causes gigantism if the tumor is active before puberty and can be fatal if left untreated, said Dr. Joshua Cohen, an endocrinologist at George Washington University. Despite the surgery on Wednesday, Singh, 39, is at greater risk of facing health problems such as diabetes, hypertension, heart disease and even poor vision if the tumor came into contact with the nearby optic nerves, Cohen said. In 1993, star wrestler Andre the Giant, who stood at 7 feet and 5 inches, and weighed 500 pounds, died at age 46 of congestive heart failure caused by acromegaly. Susan Manko, a spokeswoman for University of Pittsburgh Medical Center, where Singh was operated on, said Singh was "recovering well in the hospital" and is expected to be released by Monday. Singh has declined to speak to reporters until then, Manko said. The signs of Singh's acromegaly are instantly obvious, said Dr. Glenn Braunstein, an endocrionologist and chair of the medicine department at Cedars-Sinai Medical Center in Los Angeles — raising the questions, he added, of whether and for how long WWE knew about it, and whether treatment was put off because Singh's surging growth hormone levels were helping him become one of the most formidable wrestlers in the nation. "The prominent eyebrows, the bulbous nose, the chin protruding, the massive ears — this is quite typical of patients with acromegaly," said Braunstein, who said he could make a clear diagnosis based on the few seconds it took him to conduct a Google image search. WWE identified Singh's acromegaly at some time prior to his surgery through its Wellness Program, a WWE official said on condition of anonymity because he was not authorized to speak to the press about Singh.
_________________________________________________ - Charlie Sheen discussed the possibility of finishing his beef with Daniel Bryan at Summerslam during an interview with IGN.com: "There's gonna have to be a lot of money on that one, but yeah, if it's the right look at that moment, sure, why not?" On his recent role he noted: "Well, the numbers worked for us. Because I cancelled Twitter, I had to do that as a backup plan. It was fun. It was the deepest into that world I'd ever gone. And I guess the guy who was egging me on is a real problem. And he and I will solve that later. Print that." It was a promotional tool for our show [Anger Management] and I think everybody is going to win on that one. But it was exciting just to step into a different world that I didn't ever really believe existed – and still don't!"
_________________________________________________ - In his latest JRSBARBQ.com blog, Jim Ross discussed rumors of the NWO returning under CM Punk: "I have no idea if this topic is any thing more than speculation based on my friend Kevin Nash having some fun with the subject on Twitter. Bottom line is that I don't know but I would be surprised if Punk headed up a faction at this time because he seems to be such a solitary man. The only way that I see that ever happening at this stage of Punk's career is if he had complete control on who comprised the group." Ross also discussed Mick Foley being inducted in to the Hall of Fame: "@RealMickFoley when asked who would induct him if/when Mick goes into the WWE HOF mentioned Terry Funk and yours truly. While I would love to honor Mick on that special occasion, there is no way that I would ever put myself in the same category with Terry Funk. Terry mentored Mick and treated Mick like a son. While I'd love to induct Mrs. Foley's Baby Boy into the WWE HOF, I think that Terry Funk is the best choice. However, I stand ready if called upon."
_________________________________________________ - In a recent interview with the Phoenix New Times RVD discussed the differences between WWE and TNA: "In Total Nonstop Action, individual wrestlers have a lot more freedom to artistically express themselves versus WWE. When we have our matches, they are known to be more athletic, more competitive in nature, and that's what wrestling fans really appreciate. And the fact there's more of a focus on wrestling in Total Nonstop Action over the other major company on TV. Whereas WWE has been known to feature more of the 400-pound giants that aren't necessarily going to [perform] quite as impressively. TNA focuses more on the wrestler's abilities and skills and gives them a chance to shine out there in front of the fans." "It's also more of an up-close-and-personal experience where wrestlers are more accessible and there's a lot of times spent on meeting the fans. And Bound For Glory will be no different and we'll be there on October 14 with a big meet-and-greet. The day before that is also something called 'TNA Fan InterAction,' which all the top stars will be there as well. People can meet and talk to their wrestlers and get their photos taken with 'em." RVD also noted that Ryback used the same airbrush artist to make his wrestling outfit.
Original Story:
http://wrestlingtruth.com/news/khali-...
MORE FROM YARDBARKER
All Sports News

Delivered to your inbox

You'll also receive Yardbarker's daily Top 10, featuring the best sports stories from around the web. Customize your newsletter to get articles on your favorite sports and teams. And the best part? It's free!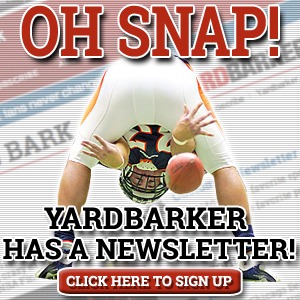 Latest Rumors
Best of Yardbarker

Today's Best Stuff

For Bloggers

Join the Yardbarker Network for more promotion, traffic, and money.

Company Info

Help

What is Yardbarker?

Yardbarker is the largest network of sports blogs and pro athlete blogs on the web. This site is the hub of the Yardbarker Network, where our editors and algorithms curate the best sports content from our network and beyond.