Found October 03, 2012 on Start 'N' Park Blog:
HUNTERSVILLE, N.C. – An underrated factor in NASCAR Sprint Cup Series races is the physical demands it imposes on its drivers. While some have tried to claim Sprint Cup drivers are not athletes, the reality is the physical strain each week is immense and a big factor in the success of each driver and team.
But for Kyle Busch, driver of the No. 18 M&M's Toyota for Joe Gibbs Racing (JGR), and the rest of his fellow drivers, there are just a few races each season in which the mental demands outweigh the physical part of the job. In particular, the four superspeedway restrictor-plate races each season are tough physically on the drivers, and they require them to play a 500-mile chess game in order to be in position to win. There are two tracks where this mental game comes into play – Daytona (Fla.) International Speedway and Talladega (Ala.) Superspeedway, the latter being the site of Sunday's Good Sam Roadside Assistance 500.
Busch has conquered the mammoth Talladega oval just once in 15 career starts at the track, his lone win coming in April 2008. He has just four other top-15 finishes and five outings that ended with an accident.
The Las Vegas native returns to Talladega having narrowly missed out on a victory in May at the 2.66-mile superspeedway. On the final lap, Busch and eventual race-winner Brad Keselowski broke away from the pack. As Busch pushed Keselowski, he had hoped to dive to the inside as they hit the frontstretch toward the checkered flag. But, as the duo entered turn three, Busch became unhooked from Keselowski's rear bumper and all Busch could do was ride it out to the checkered flag a short distance behind Keselowski.
With that race still fresh on his mind, Busch knows the winner of Sunday's 500-mile race will not only need to have a strong car, but also must succeed in playing that mental chess game in order to be in a similar position during the final laps on NASCAR's longest track. So, for at least this weekend, Busch and the M&M's team know it's a simple case of mind over matter in their effort to secure a second career Talladega victory.
Are superspeedways more mentally draining than other racetracks? "At Talladega, the physical demand isn't that big of deal. You can run around there all day long and not break a sweat, really. Once you get down into the nitty gritty of the race and try to play the chess game at the end of the race, you've got to really pick and choose your spots, and think all the time if you go here and team up with this guy. It really wears on you a little bit, mentally. I would say Talladega is 80-percent mental and 20-percent physical, while most other non-restrictor-plate races are 80-percent physical and 20-percent mental. The other thing, too, is when you're in the two-car draft and you're pushing each other, you're more worried about not spinning that guy out than anything else. You just don't want to do that. So, you're up on edge most of the time just making sure you don't get to that guy's left side of center of his rear bumper and cause him to turn sideways. In the spring, we just came up short, so I'm hoping to be in position with our M&M's Camry on Sunday to give it another shot at the win."
Is it possible to bump-draft? "The Cup cars, when you're out there and running in the pack, you can get up and close in on somebody – you get within a quarter length of touching their bumper and then it kind of pushes them away. When we know we're going to tandem race, that front car is dragging the brake pedal and dragging back to you. It's not that it's hard to hook up. It's just a different form. You can get to somebody's rear bumper and not want to be there because you have four cars lined up behind you, pushing you. You can want to get to somebody's rear bumper and not be able to get there because you don't have anybody behind you pushing you. The closer you get, you start pushing them away. That's kind of the effect that you're under. Some guys know when you're trying to get to that rear bumper in front of you. But, that car doesn't know that you want to get there. He doesn't know what your water temp is. So, he's not going to back up to you because you don't have in-car communications with one another and all that stuff, too. That's all a challenge and that's why it's all so difficult to do anymore. It's all kind of changed."
Does the weather and temperature affect when you would start the two-car tandem? "With the temperatures still fairly warm with ambient track temp, you'll see a lot of things you saw at Talladega in the spring and Daytona in the summer. It's just a lot harder to keep your car cool enough and not let it get heat soaked, so you have an amount of time you can push. You're just kind of limited on what you can do based on water temp. So we'll be running in the pack for most of the race, but you'll see guys breaking off as the laps wind down, much like the 2 (Brad Keselowski) and I did in the spring there."
What is a typical plan for the entire race weekend once you get to Talladega? "Different for everybody, but for us we just kind of go out there and definitely get in the first pack in practice because the first pack is always the biggest, so you have to be ready when practice first starts. Just kind of feel out your car and see what it's doing. Is it into the racetrack?  Is it on top of the racetrack? Are you sliding around too much? We know the heat this weekend will be something we're going to have to look for with engine temperature, as well as just tire temperatures and kind of sliding around. Track surface is another year older. So, with all that stuff in mind, you just figure out how your car's driving and work on it from there. We had some things we wanted to continue to try to feel out and get better with, so we sometimes run some of the second session where as other guys feel like they're good in the first one and just quit. You definitely don't want to take a chance on wrecking your car, and you don't want to be put in a weird spot out there and have somebody get together in front of you and you drive into it and crash a racecar. You want to get through practice by checking out to see what you have but not getting it torn up, either. Qualifying doesn't mean a whole lot so, wherever you start, you just want to make sure your racecar checks out in practice and you are ready to race 500 miles."
Original Story:
http://startnparkblog.com/?p=12265&ut...
THE BACKYARD
BEST OF MAXIM
RELATED ARTICLES
Kyle Busch had the best car at Dover and yet was forced to make a late pit stop in order to finish the race. Despite leading the most laps, Kyle Busch finished seventh. When Busch finished the race he let loose with a flurry of unkind words directed at Toyota Racing Development. "Thank you, TRD," he said sarcastically. "[expletive] us out of another one. Piece of [expletive...
A day after Toyota let it be known that they were unhappy with the radio communications of Kyle Busch following the Sprint Cup race at Dover the driver has released an apology. Busch was upset at the end of last weekends race after he needed to make one more pit stop then race winner Brad Keselowski. Busch led the most laps in the race but finished seventh.  When Busch finished...
Kyle Busch apologized Thursday to manufacturer Toyota for his profanity-laced rant about the fuel mileage at Dover. Busch had to make a late stop in Sunday's race that he believed cost him the win. Joe Gibbs Racing teammate Denny Hamlin also had to stop for gas, but winner Brad Keselowski in a Dodge and Jimmie Johnson in a Chevrolet got better mileage and didn't have to...
Kyle Busch apologized Thursday for a profanity-laced rant toward manufacturer Toyota over fuel mileage. Busch was upset during Sunday's race at Dover because a late stop for gas cost him the victory. Joe Gibbs Racing teammate Denny Hamlin also had to stop for gas, but winner Brad Keselowski in a Dodge and Jimmie Johnson in a Chevrolet got better mileage and didn't have to...
Germán Quiroga will begin driving the No. 51 Toyota Tundra of Kyle Busch Motorsports this weekend at Talladega. Quiroga, a three time NASCAR Mexico Seroes champion, will finish out three of the remaining Camping World Truck Series races on the schedule. Quiroga will have primary sponsorship from NET10 Wireless.Quiroga will also race at Texas, Phoenix as Homestead.
To me, Sunday's race was kind of a typical Dover race. We had five cautions, but we had some long green-flag runs that equated to a couple of sets of green-flag pit stops. The three big storylines that I took out of it: 1. We had a driver that led more than 300 laps of this race. If you look at the first eight years of the Chase, a Chase driver always won the Dover race. But...
All Sports News

Delivered to your inbox

You'll also receive Yardbarker's daily Top 10, featuring the best sports stories from around the web. Customize your newsletter to get articles on your favorite sports and teams. And the best part? It's free!
THE HOT 10: Who's Trending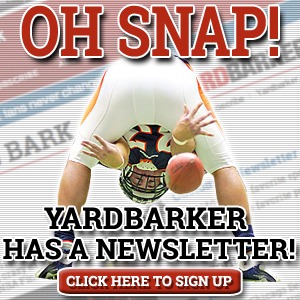 Latest Rumors
Best of Yardbarker

Today's Best Stuff

For Bloggers

Join the Yardbarker Network for more promotion, traffic, and money.

Company Info

Help

What is Yardbarker?

Yardbarker is the largest network of sports blogs and pro athlete blogs on the web. This site is the hub of the Yardbarker Network, where our editors and algorithms curate the best sports content from our network and beyond.