Found March 12, 2013 on Fox Sports Wisconsin:
GREEN BAY, Wis. -- Lambeau Field may be the most iconic venue in all of professional sports. It's the oldest continually used stadium in the NFL, first opening in 1957 as the new City Stadium and hosting the Green Bay Packers and their fans ever since. But with that level of prestige comes the need for upkeep and upgrades. That's why the Packers set out on a 286.5 million expansion project beginning in September 2011 that will be fully completed in June 2015. The first phase, however, which includes 7,000 new seats, will be ready by the time Green Bay has its first preseason game in August. With five months left to finish construction, there is still plenty of work to be done. Clearing away the vast amount of dust and debris currently scattered throughout the stadium's highest level (the new ninth floor) seems like a five-month project by itself. Glass windows have not yet replaced the plastic that's up, the floors are still just concrete and the bathrooms don't have toilets or sinks installed. Construction isn't behind schedule, though. With 275 workers on the job site each day, a lot can get done in a short amount of time. Unlike Soldier Field in Chicago, which had its interior demolished and completely redone in 2002, Lambeau Field is just going through another round of renovations. The Packers last updated the stadium in 2003, spending 295 million at that time to undergo a significant redevelopment. Ten years later, Lambeau Field has once again made several new additions. New seats There are five new areas of seating at Lambeau Field. Combined, they will increase the capacity from 73,094 to roughly 80,000, which will now rank fourth in the NFL. Prior to this renovation, Lambeau Field was ranked 10th in the league in total capacity. "It was an opportunity for 7,000 additional fans to have the gameday experience at Lambeau Field," Packers president and CEO Mark Murphy told FOXSportsWisconsin.com. "I think that's a positive. We're excited about it. The seats in the south end zone are unlike anything else we have. It will provide a lot more variety in terms of seating options for people." The Champions Club, a premium seat area, is on the ninth floor. It features higher-end dining and an abundance of top-of-the-line amenities for 160 new ticket holders. "We think it's the highest point in Brown County," Murphy said. "There's not another building where you can go and be that high. The view up there is tremendous." The seventh level is non-premium general seating and will have room for 4,000 new ticket holders. Unlike the original bowl seating, where the vast majority of Packers fans sit on metal bleachers, these new seats have chair backs with individual cupholders. "The marketing department conducted a survey, and the majority of fans said they would rather have a chair back," said Stuart Zadra, vice president of Hammes Company. Seats with chair backs are wider and therefore take up more room, so converting all Lambeau Field bleachers into that style would have eliminated 10,000-15,000 seats. "Then we would've had to add an upper deck, so that's not feasible," said Aaron Popkey, Packers director of public affairs. On the seventh level, the most rows any ticket holder has to walk down is 18 before reaching the concourse. There's also a greater number of concession stands and bathrooms per person in comparison with the rest of the seating at Lambeau Field. The sixth level is also general bowl seating and holds 1,400 fans. The most unique aspect in this area is that the seats are below the open concourse, which allows fans to see out onto the field while walking to the concession stands or to the bathroom. In the previously constructed areas of Lambeau Field, when fans are walking along the concourse they have no way of seeing the field. When current season ticket holders were given the option of vacating their seats for a spot in the new sixth or seventh level, hundreds of fans jumped at the opportunity. "We got more requests for the 600 level than what we had seats available," director of ticket operations Mark Wagner said. "Some opted for the 600 or 700 level, but some just requested the 600 level. We filled them in order by the number of the years that they've been a season ticket holder." The remaining available seats in the two new general levels were then sold to fans on the waiting list in terms of "best available seat." The original stadium bowl seats that some ticket holders vacated were deemed as "best available" prior to any seat from the new areas. "If you were in the end zone already, I think the higher viewpoint is a better way to watch the game," Murphy said. Murphy also loves that the team is adding a standing area for the new general seating levels. There fans can gather and watch the game away from their seat. "Looking around the NFL, a lot of newer stadiums have areas where there are platforms where people can watch, and it's always packed," Murphy said. "People like that variety rather than just sitting and can watch part of the game standing up." In addition to general seating, the sixth level also has 280 new seats in the middle that are for team partners and sponsors. On the fifth floor, there are 20 new suites with an all-inclusive package for food. Unlike other suites throughout Lambeau Field, these also have outdoor seats included with each ticket. That gives fans the option to either watch the game from inside the warm suite or to step outside and watch the game from one of the deluxe, fully upholstered, wider seats being offered. "We were excited to add this category of an indoor outdoor option," Popkey said. The new fourth level is the Miller Lite lounge, which is moving from its previous location in the north end zone. Being the team's biggest sponsor has its advantages, including this beautiful new setting for Packers home games. The previous Miller Lite lounge area, which held 400 people on game days, is being converted into general bowl seating bleachers and will now have 950 seats. Home-field advantage The south end zone at Lambeau Field used to be wide open. There was nothing to trap the noise inside and assist Packers fans in letting their voices be heard as opposing teams tried to score in that direction. That won't be the case in 2013. "We're very excited for the impact it will in terms of home-field advantage," Murphy said. "I noticed a difference this year just having the structure up in the south end zone. It made it much louder." To make this concept more effective, the architecture of the new south end zone seating went vertical. The idea was that if the new seats were more stacked, it would keep fans close to the field and make everything louder. Popkey described it as "creating a wall of fans" that hadn't existed prior to this. "It will definitely increase the ambient noise level and make it much louder than before," Popkey said. Season ticket waiting list The Packers have always had far more demand for season tickets than what the team can provide. The waiting list has consistently gone up by approximately 3,000 every year since the mid-1990s, so adding 7,000 new seats should probably help lessen the total number of hopeful fans still seeking season tickets, right? Well, not exactly. The season ticket waiting list has significantly grown since expansion plans were announced. The timing makes it difficult for the Packers to predict the exact cause because expansion plans came on the heels of Green Bay winning the Super Bowl in February 2011. Regardless of the reason, there are now 105,000 Packers fans on the season ticket waiting list. "It's estimated that we'll go through at least 3,500 names from the waiting list," Wagner said. That should bring the waiting list down to only 101,500. That's assuming more Packers fans don't sign up in the meantime, of course. "People have been on the waiting list for more than 30 years who are coming off now," Popkey said. "But people coming off now signed up when the waiting list was just several thousand fans." No one from the Packers organization is willing to project just how many years it will take for a new fan signing up to actually get a call that he can purchase season tickets. "We really have been trying to stay away from that," Wagner said. It took 30 years for someone to make it down a list of approximately 10,000 names, so it could easily take more than one lifetime for someone signing up today to get that call from the Packers. Popkey noted that, on average, 110 people come off the waiting list every year, even without new seats being added to Lambeau Field. That can happen if a current season ticket holder can either no longer afford them or chooses to no longer purchase them. Of the fans who have been offered the opportunity to buy season tickets in recent years, 77 percent have done so. "When your name comes up, the policy is you can't pass," Murphy said. "If you decline, you go to the bottom of the waiting list, just to be fair." Instead of requiring an expensive personal seat license (PSL) like most NFL teams, the Packers have a one-time user fee of 2,100 for the green package and 900 for the gold package (intended for Milwaukee-area fans). "If they give up their seats, they get that money back," Murphy said. According to Murphy, the cost of the user fee is raised by the cost of living over a 10-year period, noting that it used to be 2,400 for the combination of the green and gold packages. Updated Lambeau Field Atrium The second phase of new construction at the stadium is to revamp the Lambeau Field Atrium. That project is just beginning and will be ready in June 2015. The most notable changes include the Packers Pro Shop doubling in size, the Packers Hall of Fame moving out of the basement and adding a lot of new technology, as well as the Curly's Pub restaurant relocating from the second floor to the main level. "It will be tremendously improved and will be much more efficient in terms of managing the businesses and offering a better fan experience," Murphy said. A new east-side gate will also be built for easier entry into the Lambeau Field Atrium. "So many people come here for events (across the street) at the Resch Center or Shopko Hall, and it's really hard for them to see, wondering, How do I get into the Atrium?,' " Murphy said. "Having an east gate will be a big improvement." Costs and funding When all new construction of both phases is completed, the project will have cost 286.5 million. The south end zone, including the new sound and video boards that were being used during the 2012 season, will account for 146 million of that. The updated Atrium will cost 142.5 million. As of early March, 89.5 million of the total 286.5 million has been spent. The Packers wanted to spend as much of that money as possible with local companies and have succeeded in doing so. According to Popkey, 93 percent of the 89.5 million has been spent with Wisconsin companies -- 70 percent with companies in northeast Wisconsin and 40 percent with companies in Brown County. The Packers raised 64 million through a stock sale in March 2012 during which the team sold more than 268,000 shares. Unlike a typical stock sale, though, Packers fans didn't receive any financial benefits when handing over 250 for one share. The team also generated 20 million through the season ticket user fees. The rest of the money came through various loans, including one from the NFL for 116 million. Follow Paul Imig on Twitter.
Original Story:
http://www.foxsportswisconsin.com/03/...
THE BACKYARD
BEST OF MAXIM
RELATED ARTICLES
According to Ian Rapoport of the NFL Network, the Green Bay Packers are still trying to negotiate with wide receiver Greg Jennings even though it looks like his days over as a Packer. "I hear the Packers are still trying to negotiate with him," said Rapoport. He also mentioned the Colts, Browns and Vikings as possible landing spots for Jennings.     Need NFL Tickets? var...
  Steven Jackson could be the guy to help Green Bay get back to the Super Bowl. The Green Bay Packers do not take many risks in NFL Free Agency. In fact, for the most part, general manager Ted Thompson stays away from it altogether – choosing instead to focus on re-signing the players he has drafted that prove worthy of second or even third contracts. Yet, sometimes you have to...
  While most NFL fans have their attention turned to the free agency frenzy that is slated to begin this afternoon, some NFL teams like the Green Bay Packers are still taking care of business with their own restricted free agents as clubs have until 4pm ET to tender offers to restricted free agents before the new league year begins. Today, the Green Bay Packers have decided to...
Ian Rapoport reports that the Green Bay Packers are still trying to negotiate free agent WR Greg Jennings. Rapoport adds that Jennings has "significant interest" from teams like the Colts, Browns, and Vikings. If true, it's hard to imagine the Packers offering top-dollar for Jennings. They typically try to retain their own players, but this could have a big impact on their...
Outside linebacker Erik Walden is now a former member of the Green Bay Packers. Just one hour after free agency began, Walden, 27, struck a deal with the Indianapolis Colts. Colts owner Jim Irsay announced the news on his Twitter page. According to the Milwaukee Journal Sentinel, Walden agreed to a four-year, 16 million contract with Indianapolis. Walden was suspended for Week...
According to Rob Demovsky of the Green Bay Press-Gazette, if wide receiver Greg Jennings doesn't sign anywhere by midnight, he could re-sign with the Packers. NFL source just told me that if Jennings hasn't signed with another team by midnight, he could be back with the #Packers. — Rob Demovsky (@RobDemovsky) March 12, 2013 Now that the Vikings no longer have Percy Harvin...
Wide receiver Greg Jennings is a popular player in the NFC North. A source told FOXSports.com that the Vikings and the Packers have expressed interest in signing Jennings now that he is an unrestricted free agent. Jennings, 29, is considered the top wide receiver remaining on the market after Miami signed Pittsburgh's Mike Wallace at the start of Tuesday's signing period...
Greg Jennings is having a quiet start to the beginning of the free agency period, and not even Jennings is sure if that's a good thing or a bad thing. Several reports are suggesting that after the Dolphins chose Mike Wallace over Jennings, the veteran wide receiver could indeed end up back in Green Bay. ESPN Wisconsin is reporting that the Packers actually offered Jennings a deal...
The Packers should be serious about signing Steven Jackson. It was an unusual opening day of NFL free agency for Green Bay Packer fans. Normally, there is nothing to be heard from Packers camp during the first few days of the frenzy as the high priced free agents come off the board fast and furious but yesterday was just a little bit different. Packer fans actually did have some...
Free agent safety Charles Woodson is scheduled to meet with the San Francisco 49ers in the Bay Area on Wednesday. Agent Carl Poston confirmed the meeting. Woodson, released by Green Bay on Feb. 15 with two years remaining on his contract, has one important thing in common with 49ers coach Jim Harbaugh: They're former Michigan stars. As safety Dashon Goldson makes the rounds...
Packers News

Delivered to your inbox

You'll also receive Yardbarker's daily Top 10, featuring the best sports stories from around the web. Customize your newsletter to get articles on your favorite sports and teams. And the best part? It's free!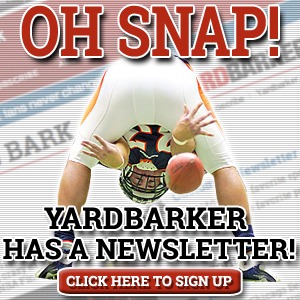 Latest Rumors
The Backyard

Today's Best Stuff

For Bloggers

Join the Yardbarker Network for more promotion, traffic, and money.

Company Info

Help

What is Yardbarker?

Yardbarker is the largest network of sports blogs and pro athlete blogs on the web. This site is the hub of the Yardbarker Network, where our editors and algorithms curate the best sports content from our network and beyond.