Found May 25, 2013 on Fox Sports Florida:
MIAMI -- If LeBron James really wants one day to be a quarterback, a possible mentor has emerged.Super Bowl champion and two-time Pro Bowl signal caller Joe Theismann said he's willing to offer his services this summer to teach the Miami Heat star the position. In fact, Theismann, who lives in Memphis, said he wouldn't hesitate to approach James, 28, with the idea if the Grizzlies were to face the Heat in the NBA Finals."I would love to work him out and also serve as his agent," Theismann said in a phone interview Saturday with FOX Sports Florida. "I'll go wherever he wants this summer. He could play another four years in the NBA before seriously trying the NFL. ... There are not a lot of 38- or 39-year-old basketball players but there are 38- and 39-year-old quarterbacks, so there's always time for him."It all started Friday when James was asked he could have been a good quarterback had he put his mind to it. He has thrown some impressive long passes in games to Heat guard Dwyane Wade, including one for a layup in an overtime victory over Indiana in Game 1 of the ongoing Eastern Conference finals."I think so," said James, who played quarterback on the freshman team at St. Vincent-St. Mary High School in Akron, Ohio in 1999 before shifting to wide receiver on the varsity in 2000 and 2001. As a senior in 2002, James chose to concentrate on basketball. "I have the ability. I can see and read plays. I study a lot, so I know defenses and things of that nature. So I would have been pretty good if I had decided to go for it."How good? Theismann said there are so many variables to being an NFL quarterback, but he wouldn't rule out James being able to play the position in the league due to his athleticism and his smarts."I wouldn't count him out. He's the most tremendous physical specimen in all of sports," Theismann said about the 6-foot-8, 250-pound James. "I think he's certainly talented enough. He's intelligent. He's like the quarterback on the Miami Heat, but there are so many things (to being an NFL quarterback)."There's reading defenses. There's throwing the ball with touch. There's throwing a spiral in the wind. Maybe his hands are too big. The football is a different shape, and a basketball is obviously a lot bigger than a football."But Theismann, who led the Washington Redskins to Super Bowl win over the Miami Dolphins in January 1983 before having to retire at age 36 in 1985 after suffering a horrific broken leg, would love to see what James could do throwing the football."I need a job," said Theismann, a longtime NFL analyst who doesn't have anything lined up at this point for next season. "The first thing I would do is teach him the snap. Then I'd take him through drop backs, quick hitches, throwing the deep ball. Wouldn't that be a great piece of footage to see, LeBron throwing the football? Whether he could play quarterback, that's one of the great ifs in sports."Theismann has met James twice. The first was at the 2003 ESPY Awards in Los Angeles, when James was just out of high school. The second was a few years later when James was playing for Cleveland and two exchanged pleasantries before a game in Memphis. If the Grizzlies, who trail San Antonio 2-0 in the Western Conference finals, can get to the NBA Finals, they could run into Miami, which is tied 1-1 with the Pacers. Then Theismann could pitch his idea in person.Theismann is a huge NBA fan. He watches the Heat regularly, and was impressed with James' long throw to Wade in overtime of Game 1 for a Wade layup."Wade ran a great route and (James) hit him," Theismann said.If James had decided to pursue being a quarterback, he said he would have been a pocket passer."No option," James said. "I'd have been a dual threat, but not the option, though. ... If you're an option quarterback, the linebacker or a safety is keyed in on you and you only. So you take a hit on you no matter what, if you pitch it or not."The tallest quarterback in NFL history was 6-foot-8 Dan McGwire, the brother of former baseball star Mark McGwire. McGwire, with Seattle from 1991-94 and with the Dolphins in 1995, was listed at 240 pounds and not an imposing specimen like James."There's never been a quarterback like (James)," Theismann said. "Most quarterbacks, when they step on the field, look pretty much the same. But James doesn't look the same as anybody, he's such a physical presence. I don't know if any humans look like him."Jay Brophy, a former NFL linebacker who was a St. Vincent-St. Mary assistant during James' freshman and sophomore years and the varsity coach when he was a junior, doesn't rule out James could have been an NFL quarterback. But Brophy believes he would have been a better pro at wide receiver and says he has a "gut feeling" if James wins a number of NBA titles with the Heat he might give the NFL a try at that position. "Nobody could cover him at receiver, he was like a Harold Carmichael type," Brophy, who played for the Dolphins from 1984-86, said about the 6-foot-8 former star receiver. "But I wouldn't have counted him out at quarterback (of being able to make the NFL) if he had put his mind to it."He had a strong arm and was pretty accurate (on the freshman team), although sometimes he would overthrow guys because he was so strong. We couldn't afford to play him at quarterback on the varsity because at that time he was becoming such a good basketball player. There was (the risk of injury) and with him playing so much basketball, we didnt have a lot of time to work with him at quarterback."After being switched to wide receiver on the varsity, James caught 42 passes for 752 yards and 11 touchdowns as a sophomore and 57 balls for 1,160 yards and 16 TDs as a junior. He created major interest among college recruiters before giving up football for hoops.James has toyed with idea of playing football since entering the NBA in 2003. There was a 2009 State Farm commercial in which he daydreamed about playing for the Cleveland Browns. There was an exchange of Tweets in October 2011 during the NBA lockout when James asked ESPN NFL analyst John Clayton, "When is the deadline for a team to sign a free agent?"If James decides ever to be an NFL quarterback, he could continue to wear his No. 6. The two best quarterbacks in league history to have donned No. 6 are Bubby Brister and Marc Wilson. It might not be that hard to be better than those two.Chris Tomasson can be reached at christomasson@hotmail.com or on Twitter @christomasson.
Original Story:
http://www.foxsportsflorida.com/nba/m...
THE BACKYARD
BEST OF MAXIM
RELATED ARTICLES
Oh those crazy professional basketball players and their fashions! Dwayne Wade and LeBron James were at it again for Game Three of the Eastern Conference Finals. While the talk should be all about the way the Heat played--and a lot of it will be--we can't help but recognize the bold fashion moves that these titans of the hard court made Sunday. LeBron has worn some pretty...
MIAMI -- When LeBron James was 8, his pee-wee basketball coach insisted he learn to make layups with his left hand. James wasnt too happy about that. "He used to cry about it," said Frank Walker, James coach when he was growing up in Akron, Ohio . "He used to say, 'I cant do it.' But I told him that you cant play this game without using both hands. I told...
Most likely known by the fans of today's NFL for his comical prostate commercials, Theismann was at one time an "elite" Quarterback. However his career had its ups and downs. Drafted by the Miami Dolphins in 1971, in the fourth round, Theismann was cut. He quickly found a job however… Playing in the highly coveted CFL, for the Toronto Argonauts, until 1973. Following the...
Tweet One of the worst kept secrets in the NBA is that LeBron James is the best player in the league right. His combination of athleticism, leadership and unbelievable skill put him on his own tier right now in the league. However, Super Bowl Champion quarterback Joe Theismann thinks that LeBron could be successful at [...]
LeBron James could be the next great two-sport star, according to Joe Theismann. James wouldn't be playing in the NFL and NBA at the same time, though. Theismann thinks James could start up an NFL career after he's done in the NBA. And Theismann wants to be involved – because he needs a job. "I would love to work him out and also serve as his agent," Theismann told FOX...
With the clock winding down in the third quarter Friday night, Paul George cleared out, got a step on LeBron James and detonated on the Birdman with a crushing poster dunk – plus the foul.
It was an instant classic. A game for the ages and any other terms to describe the epic battle between the Pacers and Heat in Game 1 of the Eastern Conference Finals and at the center of t all was Paul George and Lebron James. George and James clashed throughout Game 1 and provided fans with some great memories. From George's clutch three-pointer to force overtime to James...
INDIANAPOLIS (AP) -- LeBron James scored 22 points and the Miami Heat rediscovered their offensive punch, routing the Indiana Pacers 114-96 on Sunday night to take a 2-1 lead in the Eastern Conference finals.James got plenty of help as the Heat reclaimed the home-court advantage they lost two nights earlier. Dwyane Wade had 18 points, and Udonis Haslem added 17.David West led...
While the Indiana Pacers wasted no time proving themselves to be a legitimate contender in their Eastern Conference Finals matchup with the Miami Heat, one can't help but wonder if LeBron James and company have started to bounce back and show why the NBA odds have been in their favor all along. As the series has shifted north to Indiana, the Heat have shown yet more reason why...
Really, what can you say? This was just one of those games where you have no choice but to shake your head, acknowledge the supremacy of the Miami Heat, and move on. This was the kind of game that reminds you why the Heat are the reigning NBA champs, and why LeBron James is head and shoulders above everyone else in the league. It is the kind of game that reminds us that as the Pacers...
The NBA announced its First Team selections today, and no surprise, the Miami Heat's LeBron James led the way as the only player to receive all 119 First Team votes. Joining James on the First Team were Kevin Durant of the Oklahoma City Thunder, Tim Duncan of the San Antonio Spurs, Chris Paul of the Los Angeles Clippers, and Kobe Bryant of the Los Angeles Lakers. For Bryant...
All Sports News

Delivered to your inbox

You'll also receive Yardbarker's daily Top 10, featuring the best sports stories from around the web. Customize your newsletter to get articles on your favorite sports and teams. And the best part? It's free!
THE HOT 10: Who's Trending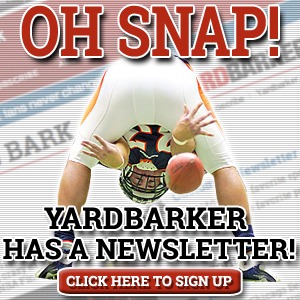 Latest Rumors
The Backyard

Today's Best Stuff

For Bloggers

Join the Yardbarker Network for more promotion, traffic, and money.

Company Info

Help

What is Yardbarker?

Yardbarker is the largest network of sports blogs and pro athlete blogs on the web. This site is the hub of the Yardbarker Network, where our editors and algorithms curate the best sports content from our network and beyond.