Found August 12, 2012 on Race Review Online:
PLAYERS:
Marcos Ambrose
,
Brad Keselowski
,
Kyle Busch
,
Richard Petty
,
Greg Biffle
,
Clint Bowyer
,
Bobby Labonte
,
Matt Kenseth
,
Jeff Gordon
,
Ryan Newman
,
Kevin Harvick
,
Denny Hamlin
,
Kasey Kahne
,
Carl Edwards
,
Paul Menard
,
Joey Logano
,
Jeff Burton
,
Jamie McMurray
,
Dale Earnhardt Jr.
,
Martin Truex, Jr.
  On a track too greasy to provide traction, Marcos Ambrose surged from third to first on the final lap of Sunday's Finger Lakes 355 at Watkins Glen International and won the race in a slugfest with runner-up Brad Keselowski. Keselowski had grabbed the lead in Turn 2 of the final circuit at the 2.45-mile road course, after he knocked Kyle Busch's No. 18 Toyota for a loop, with both cars sliding through a patch of oil on the asphalt. Ambrose, who scored the second win of his Sprint Cup Series career and his second in a row at the Glen, caught Keselowski moments later, and the two drivers battled side-by-side through the grass at the inner loop and through Turn 5 and beyond. Ambrose's No. 9 Richard Petty Motorsports Ford finally cleared Keselowski's No. 2 Dodge in the last corner as Keselowski slipped in oil to the outside. Ambrose got to the finish line .571 seconds ahead of the second-place finisher. Jimmie Johnson finished third and took over the series lead by one point over Greg Biffle, who wound up sixth. Clint Bowyer was fourth, followed by Sam Hornish Jr., Biffle and Busch. "It was just absolutely crazy at the end," Ambrose said. "I shot back up on the inside of Brad [in Turn 7] and put him on the oil, and we snapped through for the win. "A big shout-out to NASCAR. A lot of guys are going to say, 'Should they have thrown a caution, or should they not?' but no one wants to see these races end under caution or bunched back up in these two-by-twos [double-file restarts], making a random finish. We had the three fastest cars duking it out for the win. That's the way it should be, and I think they did the right call." Solidly in the Chase for the Sprint Cup with three victories and the fifth-place spot in the Cup standings, Keselowski enjoyed the quality of racing over the final lap, even though he came out on the short end. "It just came down to who was going to slip up last, and I did, and he got by me and won the race," Keselowski said. "But a good show -- good beating and banging, and that's the way racing's supposed to be. "Just real proud of that race, proud that there is a class-act guy like Marcos that can race that way without losing his cool and intentionally wrecking somebody. That's really cool." Opinion was divided on whether the race should have continued with oil on the track, a condition several drivers attributed to the No. 47 Toyota of Bobby Labonte. The oil was particularly insidious because it was difficult to see. "Those last two laps were just out of control with the oil down," Johnson said. "You're studying the road, trying to see if you can see an oil trail, and there really wasn't a large visible one to dodge. But you could feel the oil on your tires, and slipping and sliding, and then guys are spinning all over. "It was chaos, but I'm glad we got back to the finish line." Tony Stewart finished 19th, on the bottom end of a roller-coaster day. Starting from the rear of the field for dragging a gas can from his pits under caution on Lap 27, Stewart charged toward the front and was running second to Keselowski when he spun in Turn 7 on Lap 72 and backed his No. 14 Chevy into the guardrail. That left Keselowski and Ambrose to restart 1-2 on Lap 75 in the 90-lap race, but before the two front-row cars cleared the first corner, Busch took them three-wide to the inside and grabbed the lead. After a protracted battle with Keselowski, Ambrose took over the second position on Lap 81 but couldn't gain ground on the race winner. Keselowski retook the second position in Turn 5 on Lap 89 -- and then the fireworks started. Johnson leads Biffle by one point and eighth-place finisher Matt Kenseth by two. A late spin dropped Dale Earnhardt Jr. to 28th at the finish and cost him the points lead. He's now fourth, 17 points behind Johnson. Jeff Gordon spun in oil on the final lap and came home 21st, surrendering the second provisional Chase wild card spot to Ryan Newman, who ran 11th. 2012 Sprint Cup standings 1. Jimmie Johnson
2. Greg Biffle, -1
3. Matt Kenseth, -2
4. Dale Earnhardt Jr., -17
5. Brad Keselowski, -44
6. Martin Truex Jr., -49
7. Clint Bowyer, -58
8. Tony Stewart, -61
9. Kevin Harvick, -67
10. Denny Hamlin, -84 11. Kasey Kahne, -124 (Wild Card #1)
12. Carl Edwards, -127
13. Ryan Newman, -133 (Wild Card #2)
14. Kyle Busch, -139
15. Jeff Gordon, -143
16. Paul Menard, -148
17. Marcos Ambrose, -177
18. Joey Logano, -190
19. Jeff Burton, -236
20. Jamie McMurray, -236
NASCAR wire service, photos courtesy of NASCARmedia.com
Original Story:
http://sports-at-work.com/Sprint-Cup/...
THE BACKYARD
BEST OF MAXIM
RELATED ARTICLES
We saw an incredible road-course race Sunday at Watkins Glen. You would have to look long and hard to find a finish like that on a road course. For that matter, other than maybe Daytona and Talladega -- where we know that just because you are leading the white-flag lap you probably wouldn't be the winner of the event -- you won't see a finish like we did Sunday very often...
In the final laps at Sunday's NASCAR Sprint Cup Series race at Watkins Glen, Marcos Ambrose's chances for the checkered flag looked slim.  After passing Brad Keselowski to move into second and staying neck-and-neck with the leader Kyle Busch, Keselowski got by Ambrose. At this time, Bobby LaBonte's engine sprung an oil leak, spewing the slippery black gold all over...
Defending Watkins Glen race-winner Marcos Ambrose entered the Sprint Cup Series' Finger Lakes 355 as the odds-on favorite to win. And Ambrose, who...
THE MODERATOR:  We'll get started with our winner's press conference.  We welcome Marcos Ambrose who won today's race.  Second victory here at Watkins Glen and second career NASCAR Sprint Cup Series victory.  With this win today, Marcos is now eligible for his second straight NASCAR Sprint Cup Series All-Star Race.  This is his first victory of 2012. Talk a little bit...
One of the best races we have ever witnessed sent Marcos Ambrose to victory lane for the second year in a row at Watkins Glen. Going into the final lap Ambrose was third and he crossed the finish line first. Many factors affected the end of the race but oil was the biggest one. After Bobby Labonte blew his engine with two to go, he laid oil all over the track and the leaders would...
  Add another driver to the mix for the second Wild Card berth, the final Chase position available. With his second career win at Watkins Glen, Marcos Ambrose inserted himself into the Wild Card mix. Though he's yet to win at the Sprint Cup level on an oval track, which is a necessity if Ambrose hopes to make the Chase, anything is possible. There are now six drivers who...
The celebration in victory lane after the crazy win my Marcos Ambrose at Watkins Glen Here is a pdf I put together of all the post-race quotes I could come up with from Watkins Glen including Marcos Ambrose, Brad Keselowski, Jeff Gordon and Dale Earnhardt Jr. 2012-nascar-watkins-glen-post-race-quotes
WATKINS GLEN, N.Y.  – Brad Keselowski, driver of the Penske Racing No. 2 Miller Lite Dodge Charger in the NASCAR Sprint Cup Series (NSCS), finished second in the Finger Lakes 355 at the Glen at Watkins Glen International (WGI) on Sunday afternoon. In what proved to be almost a carbon copy of last year's event at WGI, Keselowski, Kyle Busch and Marcos Ambrose battled for the...
NASCAR had one of the most exciting final laps in its history yesterday at Watkins Glen.  The last lap brought back memories of Petty v Pearson at the 1976 Daytona 500 and Kurt Busch's classic Darlington duel with Ricky Craven in 2003.  Kyle Busch took the white flag first, but careened off the track in the first turn.  Busch was then spun by Brad Keselowski in Turn 2 (who...
Yesterday's wild finish at Watkins Glen was the best final lap of a Sprint Cup race this season. The white flag lap featured a controversial decision by NASCAR, a wrecked leader, and a paint swapping battle for the checkered flag seldom seen in the Sprint Cup all-about-sponsorship-and-points world.  The #47 of Bobby Labonte had put oil down, making for a slick track. NASCAR...
WATKINS GLEN, N.Y.  - Sam Hornish, Jr., driver of the Penske Racing No. 12 PPG Automotive Refinish Dodge Challenger in the NASCAR Nationwide Series, earned his third consecutive top-three finish as he brought home a third-place finish – after starting from the pole – in The Zippo 200 at The Glen. Hornish started from the pole position after he lapped the historic 2.45-mile road...
All Sports News

Delivered to your inbox

You'll also receive Yardbarker's daily Top 10, featuring the best sports stories from around the web. Customize your newsletter to get articles on your favorite sports and teams. And the best part? It's free!
THE HOT 10: Who's Trending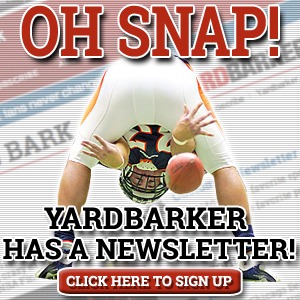 Latest Rumors
Best of Yardbarker

Today's Best Stuff

For Bloggers

Join the Yardbarker Network for more promotion, traffic, and money.

Company Info

Help

What is Yardbarker?

Yardbarker is the largest network of sports blogs and pro athlete blogs on the web. This site is the hub of the Yardbarker Network, where our editors and algorithms curate the best sports content from our network and beyond.