Found April 28, 2012 on Fox Sports:
NASCAR's AARP poster boy, Mark Martin, continues to impress as a part-timer with Michael Waltrip Racing -- and his qualifying at Richmond International Raceway on Friday was no expection. Martin, 53, scored his second pole of the season with a lap of 128.327 mph in just his seventh start of the season. It was Martin's 53rd career pole in 837 Sprint Cup starts. His first pole came in July 1981 at Nashville Fairgrounds. Two months later, Martin posted the fastest lap in time trials in his Richmond debut. Since then, the affable veteran has since logged 20,653 laps at RIR. "That's pretty crazy," Martin said. "I sat on the pole 31 years ago. That is a story in itself -- that's pretty crazy. I just thought of that, because we got the pole here in 1981 when I was just doing five races with my own car. "I've been so fortunate to drive fast race cars and work with great people, and I can't believe that Aaron's and MWR (Michael Waltrip Racing) are giving me a chance to drive this stuff at this stage of the game. I'm just a really lucky guy.'' Despite Martin's remarkable average finish of 12.2 at the track, he's scored just one win at Richmond in 52 starts. So does Martin believe he can hold off the younger competitors -- Carl Edwards, Kevin Harvick and AJ Allmendinger -- who qualified second, third and fourth, respectively, and who all are hungry for their first win of the season? "I haven't even thought about tomorrow (Saturday) night yet," Martin said. "I've got a great race car. That's the fun of racing and competition. I think a lot of guys like to see an old dude like me pull one off every once in a while. It's pretty cool." ASK THE EXPERTS On Wednesday, O. Bruton Smith announced plans to level the top lane of Bristol Motor Speedway in time for NASCAR's August events. The half-mile concrete track was given a facelift in 2007, when Speedway Motorsports added progressive banking along with a new surface to promote passing and side-by-side racing. Understandably, Kyle Busch, who has won four of his five Bristol Cup wins on the new configuration, was disappointed to see Smith "change a perfectly good race track." However, Busch sympathizes with Smith's predicament. "I don't put the blame on the race track at all," Busch said. "I think we've had some really good races there since it's been repaved that way. Last fall, Joey (Logano) and I (were) racing each other side by side for the last 15 laps before we were banging doors in (turns) three and four coming to the checkered. Carl Edwards and me in 2008, running into each other and everything else there. "There's been a lot of good racing at Bristol. It's not the 'move the guy out of the way, spin somebody out,' atmosphere anymore, and if fans want to see wrecks, then I guess we have to wreck more. "It's actually good for us drivers to not have to have those things and not have that kind of drama that we have to deal with, but if the fans need that in order to buy tickets, then I guess we've got to do what we need to do." Attendance has declined over the last five years at the Bristol, Tenn., venue to an all-time low last month of either half empty or half full, depending on your point of view. Under the guise of "the fans spoke and the track listened," Smith felt compelled to make a change. However, the curious aspect of the upcoming project was Smith's disregard of the competitors' input. According to NASCAR's top drivers, no one was polled prior to SMI's decision. "They were all gung ho on wanting to meet at Texas," Harvick said. "The next thing you knew, nobody showed up, nobody called, nobody wanted to talk anymore. I guess maybe they were embarrassed that they just wound up grinding it. "So I don't really know. At least they are being proactive in trying to help fix it. I don't know exactly where all the grinders will have to wind up grinding the race track. It's 50/50 whether that's the fastest part of the race track or not. Hopefully, they grind the whole thing. "Obviously it didn't sound like Bruton didn't want anybody's opinion that drives a car." Four-time champion and five-time Bristol winner Jeff Gordon didn't take the situation as seriously as Harvick. "I don't know what Bruton is talking about," Gordon said. "We talked. I said to take that top groove away because I like to run a groove off of the wall, and it would be perfect. Bruton, I can believe he's telling you guys (the media) that we didn't talk. I'm just kidding (laughter). "I will say I love what he's doing, because I do run a groove off the wall. I don't run that top groove. So it doesn't affect us. Our car works much better further down." Gordon, like many of the competitors, thinks the economy has had an effect on fans' discretionary income. Combine a depressed economy and rising gas prices with a community that gouges guests with excessive hotel rates, and it's a recipe for trouble. However, Gordon respects Smith for taking a proactive stance even though the driver believes there was nothing wrong with the track. "Personally, I think the racing is great," Gordon said. "Would a couple of cautions at the end of that race (have) changed a few things? Yeah. But we've seen that last weekend and the week before that as well. "So, I applaud him for at least putting that effort into it and the money behind it as well -- drawing some attention to it, and I think it's going to really pay off, because I think he's already going to have a great crowd for the night race. So it's just going to make it that much stronger. Then he's going to look like a genius, and all of a sudden the crowd is going to be back at Bristol. "So, I think narrowing the groove is not going to make a big difference, but it might make it a little bit more exciting. So I'm interested in seeing what it's like. But we'll only know once we get out there on the track." NUMBERS GAME 0 -- Sprint Cup wins for points leader Greg Biffle on short tracks. 4 -- Richmond races that Carl Edwards has started from the front row. 7 -- Races at Richmond since Dale Earnhardt Jr. qualified in the top 10. He'll roll off 10th. 41 -- Races since Carl Edwards' last Cup win. SAY WHAT? NASCAR's resident Washington Redskins fan, Dale Earnhardt Jr., on the team drafting Robert Griffin III: "I hope it is a good deal. I hope the 'Skins are successful. I hope Robert is successful. He seems like a good guy. It's going to be fun to be a Redskins fan and see how that plays out this year and see how well he does. I know all the Redskins fans are excited and expecting big things. So am I."
Original Story:
http://msn.foxsports.com/nascar/story...
THE BACKYARD
BEST OF MAXIM
RELATED ARTICLES
Exactly 31 years after his first career pole at Richmond, Martin collects his fifth at Richmond. You know you are old when you have 53 career poles, or maybe just a great driver. Well, in this case, Mark Martin is pretty much both.  The #55 Aaron's Dream Machine Toyota Camry for Michael Waltrip Racing  has averaged a 7th place starting spot with Martin behind the wheel, including...
CORNELIUS, N.C. – AF Waltrip Racing announced today its driver line up for the 80th running of the 24 Hours of Le Mans on June 16 as well as the six-hour FIA World Endurance Championship race at Spa Francorchamps in Belgium on May 5. Michael Waltrip Racing owner Rob Kauffman and NASCAR driver Brian Vickers will join Rui Aguas behind the wheel of the Ferrari 458 Italia competing...
You can always count on Michael Waltrip to make the most of an opportunity for publicity. He has hit the jackpot with new MWR driver Mark Martin as the Epic Swag saga continues. At 53 years old, Martin might be the oldest NASCAR Sprint Cup driver, but he's certainly one of the hippest. Just look at his new "Epic Swag" T-shirt for confirmation. Both Martin and his Michael Waltrip...
Mark Martin got his No. 55 Michael Waltrip Racing Toyota around Richmond (Va.) International Raceway in 21.040 seconds on Friday to claim the pole for the Capital City 400 NASCAR Sprint Cup Series race to be held at the track on Saturday. With the pole run, Martin broke his own record of being the oldest Cup Series pole sitter at 53 years, three months and 19 days old. "I didn't...
CORNELIUS, N.C. — At 53 years old, Mark Martin might be the oldest NASCAR Sprint Cup driver, but he's certainly one of the hippest. Both Martin and his Michael Waltrip Racing crew plan to sport the new black "Swagtastic since 1981" shirts at race tracks in the coming weeks.  "I think they are pretty bad," said Martin.   Obviously "bad" meaning good in the vernacular...
NASCAR Shifts To Primetime This Week on Fox-  The next stop in the NASCAR Sprint Cup Series, the Richmond Cup, will be telecast this Saturday night on Fox.  Race coverage begins at 7:00p.m. ET with Chris Myers, Michael Waltrip and Darrell Waltrip previewing the race.  Mike Joy, Darrell Waltrip, and Larry McReynolds will have the
Redskins News

Delivered to your inbox

You'll also receive Yardbarker's daily Top 10, featuring the best sports stories from around the web. Customize your newsletter to get articles on your favorite sports and teams. And the best part? It's free!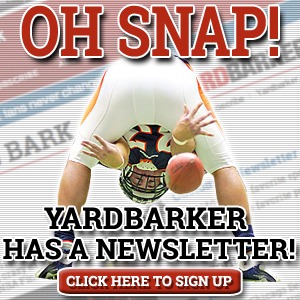 Latest Rumors
The Backyard

Today's Best Stuff

For Bloggers

Join the Yardbarker Network for more promotion, traffic, and money.

Company Info

Help

What is Yardbarker?

Yardbarker is the largest network of sports blogs and pro athlete blogs on the web. This site is the hub of the Yardbarker Network, where our editors and algorithms curate the best sports content from our network and beyond.