Found February 17, 2013 on World Series Dreaming:
News coming out of Mesa, Arizona is not good for the Chicago Cubs, their fans, or the current plans or a rebuild. The idea of possibly trading Matt Garza during the season may be taking a big hit. According to several twitter reports coming out of Cubs camp, Garza had to cut his first live batting practice session short. After calling out Head Athletic Trainer Chris Bosio, Garza left the pitching holding his left side. The good news, if you want some, is that the currently unknown injury is not an arm issue. That goes a long way to ease the fears that his arm will keep him from being ready for opening day. While the exact injury is still unknown, my best guess would be a pulled muscle or a cramp, which should not really raise any red flags. Chances are the Cubs are just being cautious and there is no reason to believe that he will not be ready for opening day. The bad news regarding the injury is that Garza seemingly cannot stay healthy. Add this injury to the growing list of setbacks he has faced since coming to Chicago, and you will see a pitcher with declining trade value. Even if this is a minor injury and just a cramp or pulled muscle, this will do nothing to help the Cubs move him in a potential deal. Keep your fingers crossed dreamers, because even though the Cubs are not expected to compete, they still need a big season out of Garza. They need him to be at the peak of his value come June and July if they hope to get anything of true value for him in a trade.
Original Story:
http://worldseriesdreaming.com/2013/0...
THE BACKYARD
BEST OF MAXIM
RELATED ARTICLES
Chicago Cubs right-hander Matt Garza faced live hitters for the first time since suffering his elbow injury last summer yesterday. He looked good before cutting his session short by walking off the mound holding his left side. While it is certainly cause for concern, manager Dale Sveum characterized the injury as a mild lat strain and said Garza will be fine, according to...
Chicago Cubs starting pitcher Matt Garza suffered a mild lat strain while throwing batting practice on Sunday afternoon. Garza stopped half way through his designated 40-pitch session and thought he had suffered a cramp. He walked off the field and sought aid from a trainer. Garza was thought to have been a candidate to be moved at the MLB trade deadline last season but suffered...
GOTCHA!
Cubs players decided to have a little fun with the fact that manager Sveum was accidentally shot by Robin Yount during a quail hunt in December.
Last week, the Cubs outrighted Tony Campana off thier 40-man to make room for Scott Hairston. Today, the Diamondbacks agreed to give up two pitchers for the speedster...RHP Erick Leal and RHP Jesus Castillo. Judging by the quality going out, I wouldn't expect much on the quality coming in, but maybe the Cubs unearth one of those diamonds in the rough. Leal, a 6-3" righty...
In the midst of the breaking news about the trade of Tony Campana, the Chicago Cubs slipped a little bit of news into their press conference. Matt Garza, who left his first spring training outing with what was called a "minor strained lat" in his left side, is going to undergo an MRI. Now, if I were to ask you what the bigger deal was to Cubs Nation, you would undoubtedly say...
With Tony Campana being designated for assignment, he was removed from this year's Buntfest, and a spot opened up. What did the Chicago Cubs decide to do with their open spot? They had a play-in tournament with all the front office and PR personal. The play-in round was today and has just concluded. The winner of the 64th seed in this year's Buntfest belongs to Nate "The Video...
Today the hopes and dreams of Chicago Cub fans everywhere were crushed when multiple news outlets reported that the Chicago Cubs have traded away fan favorite Tony Campana to the Arizona Diamondbacks. Last week the speedy Campana was designated for assignment in order to make room for veteran outfielder Scott Hairston. Once the decision was made to designate Campana, the Cubs had...
ESPN Chicago radio's weekly Saturday Baseball gabfest, "Talking Baseball" found Jed Hoyer hitting the airwaves one more time. Questions covered Scott Baker's status, Scott Feldman'rotation status, Wrigley renovations, Hot Prospects (Soler and Baez), the Cubs interest in Michael Bourn, trading a reliever (Carlos Marmol) and life with Theo. Finally, Jed's...
Cubs catcher Dioner Navarro uttered these words last week in an interview: "I have a good history of going to bad teams and trying to turn them around a little bit."   Really, Dioner? And when might have you done that?   Well, there was the 2008 season when, two seasons after joining the Tampa [...]
Workouts are underway, less than a week until the Cactus League opener, and baseball cannot get here fast enough. Today we are treated to a couple of Tweets as Darwin Barney engaged in live batting practice with one Jeff Samardzija, aka Shark…   Barney hits comebacker at Samardzija, who showed quick reflexes. Barney on near miss: "We don't need that" #Cubs — Carrie Muskat...
I just joined Twitter because they made me.  You can follow me there @CubicSnarkonia.  Yay? Anyways, Anno collected some of the most relevant tweets.  I'm too lazy to try to embed them all so will just put them in quotes and you can all deal. Here's one about the recently-departed (to Arizona, not Heaven) Bob Brenly: @PWSullivan: Crane declines to comment on the botched negotiations...
Everyone heckles the Cubs Despite packing in the fans last year (the Cubs held the tenth spot in overall attendance rankings) the Cubs managed to fall 36 games behind the first-place Reds, finishing fifth in the NL Central standings. WIll the bleacher bums have something to cheer about in 2013 or will they heckle their own team worse than the two old men in the balcony on the...
Cubs News

Delivered to your inbox

You'll also receive Yardbarker's daily Top 10, featuring the best sports stories from around the web. Customize your newsletter to get articles on your favorite sports and teams. And the best part? It's free!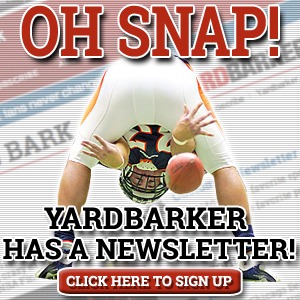 Latest Rumors
Best of Yardbarker

Today's Best Stuff

For Bloggers

Join the Yardbarker Network for more promotion, traffic, and money.

Company Info

Help

What is Yardbarker?

Yardbarker is the largest network of sports blogs and pro athlete blogs on the web. This site is the hub of the Yardbarker Network, where our editors and algorithms curate the best sports content from our network and beyond.