MATT KENSETH – No. 17 Zest Ford Fusion – "You're always, I guess you need to be happy when you finish that good, but also when you have restrictor plate cars that fast it doesn't happen very often and you sure want to figure out how to win with them, so the last two I feel like you always second-guess your moves, but I feel like we had one of the fastest cars here all three races this year, so I'm happy to get third, but yet on the other hand I'm incredibly disappointed because I feel like my team kind of deserved to be down there holding the hardware and I kind of let them down.  But, overall, we had a really fast car.  We had a pretty good race and made our way back to the front after the pit road thing and we were in contention, we just didn't get it done that last lap." IS THERE ANYTHING YOU CAN DO?  "Every situation is different and the tough part is to manage your speed.  Racing your whole life you go as fast as you can every lap and that's what you do and you hope you can outrun the competition, and this is just different.  Daytona worked really well for us in the spring, we had that kind of somewhat figured out, I guess, and at Talladega we didn't.  At Talladega I did the same things I did at Daytona and we got beat because I didn't do a good enough job of dragging the brake and keeping my teammate with me, and we got beat by a tandem there.  This time I was gonna make sure I kept Greg with me and did a really good job of that for a lap-and-a-quarter.  We were locked on there and then somehow Greg got off me just a little bit, but Tony, I think, was separated as well and I don't think he was gonna clear me and get in front of me and I decided – because of the Talladega experience – to drag the brake and get back to Greg to try and get hooked up and then make a run on Tony.  If he was by himself, I knew we would pass him as long as me and Greg could get rolling again.  I knew we would pass him somewhere over by turn four, hopefully, so I got him, made a run and tried to go outside of Tony and he made a block real high and I still kind of had position and then from there I'm not really sure what happened.  They just started wrecking behind us." IN HINDSIGHT YOU WISH YOU WOULD HAVE JUST GONE?  "Yeah, hindsight is easy.  I guess if I would have not waited for Greg after we got off of two, us and the 14 would have been side-by-side going into turn three, but that's not to say if there wasn't a wreck that I don't know what was going on behind that, I don't know if the 88 or the 5 or somebody could have got teamed up and went right around both of us because two cars without being pushed side-by-side aren't very fast." DID YOU CONSIDER IT YOUR RACE TO LOSE WITHOUT ALL THE VARIABLES THAT COME INTO PLAY?  "Well, it seems like that but yet on the other hand if the one run where the 16 got us off pit road, I don't think I could have gone around him easily either, but it seems like we always end these things on green-white-checkers and whenever you do, really, anything or anybody in the front, if you tandem, has a shot to win that thing.  It's just so unpredictable when you do things those last two laps that you'd never do the rest of the race.  It's really hard to figure.  You can sit out there and ride around and be leading the whole race and then come down to one of those green-white-checkers and just really have no idea where you're gonna finish.  But I thought overall, at least from the cars I ran around, us, the 16, the 24 and the 14 all seemed like they were pretty stout." THOUGHTS ON ALMOST SWEEPING HERE?  "Daytona has been wonderful to us this year, well, really starting last July when we were able to push David to his win there and finish second.  Obviously, we had a really good Speedweeks and then to come down here and sit on the pole and be able to lead – I think we probably led the most laps I would think – so we were up front most of the night and had one of the fastest cars.  We didn't get caught up in a wreck and still got a good finish, so it's hard to be disappointed with that, but the racer in you, when you have a car like that, you certainly want to figure out how to try to win with it."
Original Story:
http://startnparkblog.com/?p=8392&utm...
MORE FROM YARDBARKER
All Sports News

Delivered to your inbox

You'll also receive Yardbarker's daily Top 10, featuring the best sports stories from around the web. Customize your newsletter to get articles on your favorite sports and teams. And the best part? It's free!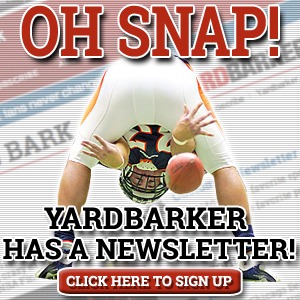 Latest Rumors
Best of Yardbarker

Today's Best Stuff

For Bloggers

Join the Yardbarker Network for more promotion, traffic, and money.

Company Info

Help

What is Yardbarker?

Yardbarker is the largest network of sports blogs and pro athlete blogs on the web. This site is the hub of the Yardbarker Network, where our editors and algorithms curate the best sports content from our network and beyond.