Found July 07, 2012 on Start 'N' Park Blog:
Matt Kenseth: "Our lap was obviously a good one.  It was faster than the rest.  I had very little to do with it, so qualifying at the speedway races is all about the car and the engine and those guys did a spectacular job at Roush all year long really in preparing our speedway cars.  They've been really fast and Doug Yates and those guys have done a super job on the engines with the new fuel injection and the plate engines have run really good and had us competitive at both speedway races so far this year."
DID IT MATTER WHEN YOU WENT OUT TODAY?  "I think the interesting thing about qualifying, at least for me today, was nobody had any idea what the pole was gonna be or how fast anybody really was, so they lined qualifying up by first practice speeds and that was drafting for everybody.  The 9 and 43 did a two-car tandem and caught the pack to make sure they went out last, and that doesn't really have much to do with what you can run on one lap, so you didn't really know what anybody was gonna run.  That's the same lap we ran doing a mock-up qualifying run yesterday, so I was glad we were able to repeat that, but really didn't know what anybody else was gonna run.  It was kind of fun to watch because you really had no idea."
ANY FEEL FOR WHAT SUCCESS HERE MEANS TO DOUG YATES?  "I can tell when we come to Daytona that Doug Yates has got a little extra excitement about him for sure.  He does a great job.  He works as hard as he can for every race we run all year, but certainly I think Daytona has a little extra importance to him – here and Talladega – qualifying especially is probably more about motor than anything.  If you're down five or 10 horsepower, you're not gonna sit on the pole, so they've done a great job with that.  He definitely takes some pride in it and it's cool to see him.  He was fired up after being on the pole."
IS EVERY LITTLE BIT OF HORSEPOWER MORE IMPORTANT?  "Absolutely.  Those little differences make a bigger difference on the race track, so you certainly have to have all the stuff right on the car.  Every aero drag horsepower matters and rolling resistance and all the coast down and all the stuff that they work on makes a big difference, so it's kind of interesting too because it's an impound race, so this is what everybody has to race.  You can't really do a lot of extra stuff here to qualify."
DO YOU HAVE TO MANAGE YOUR TEMPS IN THE BIG PACKS AS WELL? "It all depends.  There's not a clear-cut yes or no answer.  It really depends if the cars are two-wide, three-wide, if you're back four rows or six rows.  The farther you get back and the more side-by-side racing there is in front of you, and the wider the pack is, the less clean air you have and the hotter your car is gonna run.  So I think it's something that win these rules you always have to manage.  Now if you're single-file and sixth in line, then you probably don't have to work real hard on watching it and managing it, but the few times we got toward the back, especially at Talladega, well here we lost all our water where the part kind of malfunctioned early in the 500 – it's something you really have to watch and manage or you can get yourself in trouble.  I think pretty much no matter where you are, unless you're leading, then you don't even have to look, but the rest you have to pay attention.  You can do some pushing when it's time, but you've got to have your engine good and cooled down before you do it."
WHAT IS THE HISTORY OF THIS CAR?  AND DOES THE POLE MEAN ANYTHING TO YOU HERE?  "Yeah, I don't know the whole history of the car, except for we raced it at Talladega, so the car was really fast at Talladega.  We ended up getting a little bit of damage and then we were leading on that last green-white-checkered restart and I didn't do a good enough job of keeping Greg locked to my rear bumper, so the car has a lot of speed.  I didn't think that we would qualify on the pole.  I thought we'd probably be between ninth and 11th – something like that.  That's where I figured we would be, so it had a little more speed than I thought.  Jimmy and the guys worked really hard on fixing it up.  The pole is different.  I've never won a speedway pole.  Certainly you know you didn't have a lot to do with the outcome compared to all the other race tracks, but it's great to be on the pole.  It puts us in the shootout for next year, which, to me, until they changed the format four or five years ago, that was always a big deal.  It got to be October and I was always nervous I wasn't gonna be in it because I haven't won very many poles throughout my career, so it's nice to have that pole and know you're in the shootout for next year.  Starting that thing from the front, I think that first pit stall is always a little bit of an advantage.  Hopefully, you can get out front and manage your temperatures a little bit and hopefully get a bonus point or two for leading some laps."
IS IT IMPORTANT TO BE IN THE SHOOTOUT BECAUSE YOU'LL BE WITH A NEW TEAM?  "You like to be in all the special races no matter what you're doing, so you always want to be in the shootout and the All-Star Race.  There have been a couple years where I think I missed the shootout and the first year we weren't in the All-Star Race as well, so whenever you're not in one of those races you kind of feel like you didn't do your job as good as you should.  You feel like you should be in the special races."
YOU HAVE A CHANCE TO BE THE FIRST GUY IN 30 YEARS TO WIN BOTH CUP RACES HERE IN THE SAME YEAR.  ANY THOUGHTS ON THAT?  "Yeah, that would be pretty cool.  I never thought, especially early in my career with speedway racing I didn't feel I was particularly good at it.  I never thought I'd be able to win a race here, so it was pretty neat the Speedweeks we had and certainly in '09 we won the first one and then to come down here and have a real fast car again, come off a real great race at Talladega, and then come down here and sit on the pole, so certainly I think for our team and everything our confidence is high, but this race is still kind of a crapshoot. You're never sure exactly what's gonna happen.  A lot of things can change, but I think we have  fast enough car to put us in the mix if I can figure out how to do the right things and we have everything else go right."
YOU SEEM TO BE AT THE TOP OF THE RESTRICTOR PLATE CYCLE.  "Yeah, right now I guess David won the July race here and we finished second and pushed him to the win there, which was pretty neat.  David and I worked really well last year at the plate races in that tandem stuff, and then this year I think since the rule changes, at least for me, it's helped me a little bit.  It's a little bit easier to make decisions and kind of race your own race and not have that tandem thing going on, so I like that a lot better, but certainly it's mostly about having fast cars and I really think that switching to fuel injection is a little bit different and I think Doug and those guys really got a hold of the plate stuff pretty quick and got that stuff to run real good, and the guys have been dotting all the I's and crossing all the T's on the cars as well and making them really nice, so I don't feel like the driver has a ton to do with it at least qualifying.  In the race certainly you can do the right or wrong things pretty easy, but qualifying doesn't have a lot to do with us.  It's just having a fast race car."
AS A DRIVER HAVE YOU FOUND YOURSELF LOOKING FORWARD TO THESE RESTRICTOR PLATE TRACKS?  "I have.  After Daytona I can honestly say going to Talladega it was probably the second time – the first time I went there I looked forward to it – but after that I don't want to say you dreaded it, but you'd always think about being in the big wreck or our speedway stuff didn't run particularly great early in our career, so it probably wasn't one you had circled on your calendar compared to going somewhere like Charlotte.  Certainly I look forward to going to Talladega the way our cars ran and then after we left Talladega I was really looking forward to coming here because I felt like I kind of botched that up slightly at the end and we had a really, really fast car again.  So whenever your cars run like this at a race track, you always look forward to going back to those styles of race tracks."
Original Story:
http://startnparkblog.com/?p=8320&utm...
THE BACKYARD
BEST OF MAXIM
RELATED ARTICLES
Matt Kenseth, driver of the No. 17 Zest Ford Fusion, holds an 11-point lead over second-place Dale Earnhardt Jr. in the NASCAR Sprint Cup Series point standings.  The reigning Daytona 500 winner is trying to become the first driver since Bobby Allison in 1982 to win both NSCS events at Daytona International Speedway in the same season. WHAT IS THE KEY TO RESTRICTOR PLATE RACING...
  Roush Fenway Racing continued its recent dominance at Daytona International Speedway, with Matt Kenseth and Ricky Stenhouse Jr. winning the poles for both the Nationwide and Sprint Cup events. Roush Fenway has now swept both Sprint Cup poles at Daytona in 2012. Kenseth will look to become the first driver in 30 years to win both Sprint Cup events at DIS in the same season, while...
DAYTONA BEACH, Fla. — Tony Stewart had an answer for the dominant pair of Matt Kenseth and Greg Biffle. In winning Saturday night's Coke Zero 400 at Daytona International Speedway, Stewart side-drafted and separated Kenseth and Biffle, who had surged into the lead during a two-lap run to the finish, then pulled away for his fourth win in the last eight July races at the 2.5-mile...
DAYTONA BEACH, Fla. – Roush Fenway enters this weekend's race at Daytona International Speedway looking for its third consecutive win in the Sprint Cup Series at the famed 2.5-mile superspeedway.  A Roush Fenway driver has visited victory lane in the last three Sprint Cup events at DIS – dating back to the 2011 Daytona 500 – and the team will look to keep that streak in...
Roush Fenway enters this weekend's race at Daytona International Speedway looking for its third consecutive win in the Sprint Cup Series at the famed 2.5-mile superspeedway. A Roush Fenway driver has visited victory lane in the last three Sprint Cup events at DIS - dating back to the 2011 Daytona 500 – and the team will look to keep that streak intact under the lights this Saturday...
  NASCAR dresses down for summer this weekend, bringing the Sprint Cup circus back to Daytona to offer up its tokens of patriotic celebration: cars going quite fast for 400 miles.  To borrow a pun sure to be used at least 347 times this week, there are destined to be fireworks after...and during...the race. The following fellows are the most likely to avoid the latter type...
Here are some quotes from Ford Racing drivers after completing the Coke Zero 400 from Daytona. Featured this week are Greg Biffle, Matt Kenseth, Carl Edwards, Aric Almirola, and David Gilliland. GREG BIFFLE – No. 16 3M Ford Fusion – "I just turned down in front of the 29.  He got a hell of a shove off the front of Junior, I just watched the replay, and just shoved him in that...
All Sports News

Delivered to your inbox

You'll also receive Yardbarker's daily Top 10, featuring the best sports stories from around the web. Customize your newsletter to get articles on your favorite sports and teams. And the best part? It's free!
THE HOT 10: Who's Trending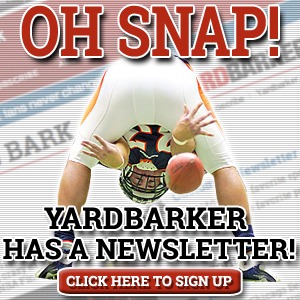 Latest Rumors
Best of Yardbarker

Today's Best Stuff

For Bloggers

Join the Yardbarker Network for more promotion, traffic, and money.

Company Info

Help

What is Yardbarker?

Yardbarker is the largest network of sports blogs and pro athlete blogs on the web. This site is the hub of the Yardbarker Network, where our editors and algorithms curate the best sports content from our network and beyond.