Found September 07, 2012 on Start 'N' Park Blog:
Matt Kenseth, driver of the #17 Best Buy Ford, enters Saturday nights race at RIR locked into the 2012 Chase and standing third in points. He is also the only current Ford driver with a NSCS win at Richmond, bringing home the checkered flag in 2002. Kenseth talked about the weekend ahead with media members Friday morning. TALK ABOUT BEING HERE AT RICHMOND THIS WEEKEND AND HOW IMPORTANT THIS RACE IS TOMORROW NIGHT.  "It has always been one of my favorite tracks. We have really struggled a lot here really since the COT car came along. I think it is an important race for us. We definitely want to get a good finish and have some momentum going into Chicago and maybe you can learn some things that you can use at New Hampshire or that type of thing." NOW THAT YOU HAVE ANNOUNCED YOUR DECISION FOR NEXT YEAR, HOW MUCH WILL THAT IMPACT YOUR CHAMPIONSHIP HOPES FOR THIS YEAR? IN THE PAST, SOMEONE CHANGING MANUFACTURERS WOULD WATCH THE REST OF THEIR YEAR GO DOWN THE HILL.  "I don't think it is going to make any difference at all to what we are trying to do this year. I really don't. I don't know why it would. My team has known that I was going somewhere else for a few months. I don't think that is going to change things. All your incentives are to try to do good no matter what your plans are for the following year. All our incentives are to win races and try to win the championship." CARL EDWARDS SAID YESTERDAY THAT IF HE DOESN'T MAKE THIS CHASE THAT ONE OF THE MOST IMPORTANT THINGS HE WANTS TO DO IS HELP YOU OR A TEAMMATE WIN THE CHAMPIONSHIP. HOW IMPORTANT WILL HE BE THE REMAINING 10 RACES?  "I think the importance is the same all year long. I think we always try to work as hard as we can on our cars and sharing information and trying to make our cars go faster. When your teammates run good or they learn something it helps you and vice versa. I think we always work as hard as we can to try to help each other and help the company run as good as we can." WHAT HAS BEEN THE REACTION OR FEEDBACK FROM FANS TO YOU LEAVING FORD AND MOVING TO TOYOTA?  "Most of the feedback, probably 95-percent or more has been really positive. You know how passionate race fans are. There are fans that are super passionate over manufacturers, teams, numbers, all kinds of stuff. I think it has been really positive." WILL IT BE WEIRD FOR YOU?  "The whole thing will be different. Even just going over there the other day was a lot different. I have walked into the same building at Roush – the same series of buildings for almost 15 years. It will be different to do something different. All of it is different, not just the manufacturer. All the personnel, cars, sponsors, all that stuff is going to be different." DO YOU THINK IT IS POSSIBLE FOR SOMEONE TO DO WHAT TONY STEWART DID IN THE CHASE LAST YEAR OR DO YOU THINK IT WILL BE MORE LIKE OTHER YEARS?  "I think anything is possible. When the Chase format first came out, they said it was going to be impossible to win it without winning. Tony won a championship without winning a race the first time he won it in the Chase and this last time he won five races and won it. I think anything is possible. All it takes is more points than the other 11 guys. It is pretty much dependant on what happens with the other 11 guys with how many points you need. Anything is possible. That was amazing what Tony did last year to put together all those wins in 10 races. To be able to win half the races was pretty amazing." WHAT IS THE BIGGEST SURPRISE TO YOU AMONG THE GUYS FIGHTING TO GET IN? THERE ARE A LOT OF GOOD GUYS POTENTIALLY NOT GOING TO MAKE THE CHASE. WHICH IS THE BIGGEST SURPRISE TO YOU?  "I don't know. Today that is a hard question to answer because we have been racing for 25 weeks. You could see all the different things that have happened from broken engines to flat tires to just things that have been dumb luck that got a lot of those guys behind. I don't know. That is hard to say. Jeff's performance wasn't great at the beginning of the year but the last few months he has been really good and had a lot of misfortune. Same with Kyle, he has been running good and had a lot of weird things happen between parts breaking or flat tires or getting punted the last lap leading, all kinds of different things. That is a tough question to answer. All three of those guys are really good and you kind of count on them being in the Chase but anything can happen. It is pretty competitive." WITH THE ROUSH PERFORMANCE ON 1.5 MILE TRACKS, HOW BIG AN ADVANTAGE IS THAT IN THE CHASE AND SPECIFICALLY AT HOMESTEAD IF YOU ARE STILL IN CONTENTION?  "Everybody likes to group the 1.5 mile tracks together but they really aren't that similar. If you look at what we did last weekend you would say not very good. None of us ran very good at all. We finished ninth but got fortunate with great pit stops and other things that kept us on the lead lap. Carl was a little better than we were. I think you have to approach every track the same and do the best you can every week and try to get the finishes every week. I don't feel we can really right now pick out a few tracks except for if nothing changes maybe Talladega where we seem to have an advantage and feel you have your best chance at gaining points or not losing as many or however you want to look at it. I don't think I could circle more than one or two tracks in the Chase where I feel better than anybody else." HOW MANY RACES DO YOU THINK THE CHAMPION WILL HAVE TO WIN IN THE CHASE AND HOW MANY GUYS CAN WIN MORE THAN ONE RACE IN THE CHASE? "I don't know. There is no way I can predict that. That is just throwing a dart at the board. Like we just got done talking about, Tony didn't win any last year but won five in the Chase, who would have thought he could do that? He also won his first championship in the Chase without winning a race. Like I was saying, it depends on what the other 11 cars do. I don't think you have to win any races in the Chase depending on what everyone else does. Carl didn't win any and tied for the points with a guy that won five. It is hard to predict." ARE YOU GUYS THAT ARE LOCKED IN GOING TO BE AWARE OF THE DESPERATION OF GUYS THAT ARE FIGHTING TO GET INTO THE CHASE? "Yes and no. You always try to be – if there is a championship battle or a points battle or something that you aren't involved in you always try to be aware of that and maybe not give them people extra room but try not to make a mistake that ruins their chances. On the other hand, these races are really hard to win and if you have a chance to win a race you are going to do what you can to win the race no matter where you are in points. You want to win all of them and not give up any. If you have the chance to win the race, no matter where you are in points, you are going to do everything you can to win." DO YOU HAVE ANY THOUGHTS ON THE RULE CHANCE NASCAR IS MAKING ON THE SIZE OF THE BUSHINGS?  "Not really. I don't know the details except for the little bit I read about a quarter inch. It probably would have been easier to just say you have to run mono-balls every week – that probably would have been easier. It probably won't change a lot. Everybody was kind of on to what they were doing anyway. For me it might make it better because it didn't seem like we had it quite nailed down like the other guys did." AFTER YOU MADE THE ANNOUNCEMENT THIS WEEK AND YOUR TEAM GOT TO SEE YOU IN ANOTHER TEAMS COLORS, DID YOU SENSE THE NEED OR HAVE YOU TALKED TO THEM ABOUT THAT? IS THERE ANY SENSE NOW THAT YOU CAN RE-FOCUS ON THE GOAL AT HAND OR DID YOU HAVE A MEETING AT ROUSH TO TALK ABOUT THAT? "We did that when Roush first announced I was leaving. We talked to the team and that has been a couple months. I think most of that is all past us. One thing they told me is that they didn't like my horizontal stripes on Tuesday. Other than that they didn't really say much about it. I went over and hung out with them for awhile the other day and they are fine. They understand. I think they have been over that for awhile and we are all focused on the task at hand." DID ANYTHING AFTER THE ANNOUNCEMENT, LOOKING BACK, SURPRISE YOU OR REALLY INTRIGUE YOU EITHER FROM BEING BACK AT GIBBS FOR A SECOND TIME OR ANY TYPE OF REACTION PEOPLE HAD TO IT?  "Not really I guess from anybody else. I think most of the fan feedback and some of my peers and stuff like that has been almost 100-percent positive which makes me feel good. I think the biggest thing was going back there and hanging out and walking through there and making an announcement. I was surprised when I got home and sat there that night and the next night and everything; I was kind of surprised how excited I am honestly. I am excited about that opportunity to go do that next year. I am excited about this year and that is not saying anything about Roush Fenway, I have been there a long time and feel really good about that and the great things we have done there, but I am excited about starting another chapter in my career and a chance to go to another winning team that wins races and wins championships and go see how I can do over there. It is hard because I am really excited about that but I don't want to slight the team I am at either. I am still working over there until the end of the season and I am 100-percent focused and committed on Roush Fenway racing and trying to win over there. It was nice to finally do the announcement and not have to say I didn't have to talk about it yet for every single week. To talk about it and get it all out there – I have spent time thinking about it but it felt more real after we made the announcement and got that done. It gave me a day or two to kind of think about how fortunate I have been through my whole career and get a chance to go try something different with a top-notch team. In a way it is kind of scary and in a way it is exciting. I am excited about both." AT WHAT POINT DID THE DEAL COME TO YOU FROM JOE GIBBS RACING AND HOW MUCH CONVERSATION OCCURRED BEFORE YOU AGREED TO MOVE.  "It was right around the Coke 600 at Charlotte – that was the first time they contacted me and we got together a couple times and talked. It all happened pretty quickly really. It all happened within a month probably, something like that."
Original Story:
http://startnparkblog.com/?p=11075&ut...
THE BACKYARD
BEST OF MAXIM
RELATED ARTICLES
Matt Kenseth, driver of the No. 17 for Roush Fenway Racing announced earlier this week that he is leaving RFR and headed to Joe Gibbs Racing in 2013. In doing so, he will be leaving the #17 Ford that he has driven since 1999. We have compiled 17 of his most memorable paint schemes from through out his rich history at Roush Fenway. We bid him fair well at the end of the year onto...
Typically when NASCAR Sprint Cup Series stars Matt Kenseth and Kurt Busch discuss the "field" it has to do with 41 other drivers and isn't named "Lambeau," but on Thursday, Sept. 13 that all changes. Prior to heading to Chicagoland Speedway to kick off the Chase for the NASCAR Sprint Cup, Kenseth and Busch will make a friendly wager as the Chicago Bears take on the Green...
It was not the night the Ford Racing drivers had in mind when the Federated Auto Parts 400 from Richmond International Raceway started. Sure Matt Kenseth (5th) and Greg Biffle (9th) finished in the top ten and solidified their Chase positions. But on the flip side Marcos Ambrose (15th) and Carl Edwards (17th) couldn't do enough to qualify for the Chase themselves. Disappointment...
On Tuesday months of speculation was put to rest when Matt Kenseth was announced as the new driver at Joe Gibbs Racing. During their press conference, it was implied that Joey Logano, whom Kenseth was replacing, was going to Penske Racing. So just a few short hours after Kenseth was announced, Logano was announced by Penske as their new guy. Below is a closer look at each driver's...
Moving into Richmond both Greg Biffle and Matt Kenseth have clinched their respective spots in the 2012 Chase field. Carl Edwards will need a victory and for Kyle Busch to finish 24th or worse (with no laps led) this weekend and for Jeff Gordon to finish 12th or worse to secure a spot. If Busch or Gordon supplant Tony Stewart in the top 10, Edwards will be eliminated. RFR Chase History...
It was a poor showing for the Ford Racing camp in qualifying at the Richmond International Raceway for Saturday's Federated Auto Parts 400. Carl Edwards led the way qualifying in the 16th spot, followed by Roush Fenway Racing teammate Matt Kenseth in 17th, Aric Almirola was 18th, and Michael McDowell was the only other Ford driver in the top 20, clocking in with the 19th best lap...
All Sports News

Delivered to your inbox

You'll also receive Yardbarker's daily Top 10, featuring the best sports stories from around the web. Customize your newsletter to get articles on your favorite sports and teams. And the best part? It's free!
THE HOT 10: Who's Trending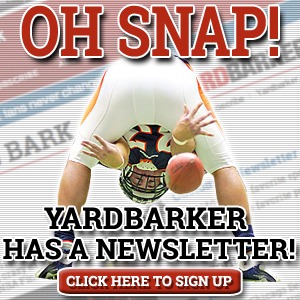 Latest Rumors
Best of Yardbarker

Today's Best Stuff

For Bloggers

Join the Yardbarker Network for more promotion, traffic, and money.

Company Info

Help

What is Yardbarker?

Yardbarker is the largest network of sports blogs and pro athlete blogs on the web. This site is the hub of the Yardbarker Network, where our editors and algorithms curate the best sports content from our network and beyond.