Found October 05, 2012 on Start 'N' Park Blog:
Matt Kenseth, driver of the No. 17 EcoBoost Ford Fusion, won the first restrictor-plate race of the season – the Daytona 500 – and has been leading during the green-white-checker restart in all three previous superspeedway races in 2012.  Kenseth, who is 12th in the NASCAR Sprint Cup Series point standings, spoke about his plate success before practice Friday at Talladega Superspeedway.
 IF RACING IN GENERAL IS ORGANIZED CHAOS, HOW WOULD YOU DESCRIBE RACING AT TALLADEGA?  "At all the plate races there is always a risk of getting in a wreck because all the cars run so close together.  A lot of times we're three or four-wide and you have one little problem and it collects a lot more cars than most race tracks, but so far this year the plate tracks have been good to us.  If you have a fast enough car and you can stay up front, you've got a better chance of not being in the wrecks."
HOW DOES THE LOCATION OF THE FINISH LINE AT TALLADEGA CONTRIBUTE TO THE FINISHES WE SEE HERE?  "I think especially lately it makes you make your move a little bit later.  If you can stay latched onto that guy, if you're gonna make that move, you make that move relative to the start-finish line no matter where the start-finish line is."
YOU'RE A WAYS BACK IN THE STANDINGS.  DO YOU WANT THIS SEASON TO BE OVER?  "No, I'm just glad you can't fall back worse than 12th with the way our first three races have been (laughing).  You're not out of it until you're mathematically out of it.  Seven races is still a lot, obviously.  It feels like we're racing for a top-10 spot probably more so than the first spot right now, but I think we'll get through this weekend and then look at it again.  If there isn't a big swing in the points in our favor, a very big swing, realistically you're probably out of the championship hunt.  But there are still seven races left with this being one of them, and I think Kansas is gonna be kind of a wild card as well, so hopefully we can run here like we ran in the first three plate races, get up front and lead some laps, and have a shot at a win."
WILL IT BE HARDER IF YOU REMAIN THAT FAR BACK BEING A LAME DUCK DRIVER IF YOU DON'T HAVE A SHOT FOR THE TITLE?  "Not really.  I don't really like that lame duck term.  There are guys who sign one-year contracts, so are they a lame duck before they even start?  So I don't like that.  I think our approach is the same.  We go out every week with the idea of trying to win races.  Obviously, the first three races of the Chase have not gone well mechanically, and we haven't performed very well, either, so we're just gonna keep working on them like it was any other point in the season.  Hopefully, Greg and I can work as well together as we did the first three plate races and one of us can win this thing on Sunday and then move on to Charlotte and try to get our performance elevated."
IS THERE ANY WAY TO KNOW YOUR STRATEGY AT TALLADEGA?  "I don't ever usually really come up with a strategy, especially since they changed the rules – except for trying to stay in the front.  We're gonna try to qualify well and we're gonna try to keep our car up front all day, if possible."
SO THE PLAN IS TO STAY IN THE FRONT IF YOU QUALIFY WELL VERSUS GOING TO THE BACK?  "If we qualify last, my plan will still be to try to go to the front and try to lead laps and be in position at the end to try to get a win."
DO YOU FEEL YOU'VE GOTTEN BETTER OR CHANGED AS A DRIVER ON RESTRICTOR PLATE TRACKS?  "I don't know.  I would attribute 95 percent of it to the cars being faster at least, and this package seems to be good for the Fords.  The Roush Fenway cars, especially Greg and I, have been able to work together well and be up front a lot, so that's played into our hands a little bit.  But I still feel like I need to be better and I need to understand it better and make better decisions.  At Daytona we did great, but then the second two races we were leading on both green-white-checkers and we didn't win either one of them, so I feel like I need to do better at that.  I felt like I had the fastest car in all three races and only won one of them, which I'm thankful for the win, but on the other hand I feel like when you take the lead on a green-white-checker – and I had Greg behind me – that we should have been able to figure out how to finish first and second, and I did a poor job of that."
DO YOU GO BACK AND REVIEW THOSE RACES EXTRA HARD?  "A lot of times here you don't really know until you go back and watch it, so I've watched all the plate races on either Sunday night when I get home or Monday right after the races.  I haven't reviewed them again since I got here, but I re-watch them and the other thing is a lot of it is instinct, a lot of it happens real fast, a lot of it doesn't happen exactly how you think it happens, so every situation is unique.  The 500, I think we won the race because we got separated and were able to stay out front.  The first Talladega race I think we lost it because I came separated from Greg somehow.  I thought he was locked on as tight as could be, but somehow we got separated.  And then the third race we lost it because I tried to keep him with me and I should have just kept racing Tony by myself and we probably would have won, so it's just so hard to predict.  I think you just do what you think is right at the time.  Daytona in the summer I did it the opposite of what I thought because everybody beat on me so bad for getting separated from Greg at Talladega.  I was like, 'No matter what, I've got to drag the brake and keep him with me,' and I got going so slow that Tony just drove by me and cleared me and won the race.  So I think each case is different and you try to do what feels right, you try to learn after every race and hope to be in that position."
IF YOU HAD STAYED WITH GREG IN THE FIRST TALLADEGA RACE AND BRAD TRIED THAT MOVE WHERE HE SEPARATED FROM KYLE, DO YOU THINK YOU WOULD HAVE GONE RIGHT BY HIM?  "I don't know.  When cars get separated they go a lot slower than if two of them are locked together, but you've got to get locked together cleanly.  If you get locked together, but somebody is on the outside of the car behind you dragging him down and making him go real slow, you're not going anywhere either.  So the key is to get locked together and get the speed up and keep locked together and keep your momentum.  As soon as they pull the momentum off one of the guys, you're most likely gonna get passed."
DID IT SURPRISE YOU BRAD WAS ABLE TO WIN LIKE HE DID IN THE SPRING?  "Yes and no.  That was a pretty cool move.  I don't think Kyle was expecting it, especially since he went high in the corner.  He was probably like, 'There's your opening,' but he did a very good job of thinking that through and coming up with a plan if he was in that spot and got lucky and was in that spot to be able to execute that move."
CAN YOU REALLY PLAN FOR THE LAST LAP HERE OR JUST INSTINCT?  "I think he had a plan if he was 20 car lengths ahead and he was leading the race on the last lap and he happened to be in that spot, but it's hard to predict that you're gonna be in that spot."
DO YOU FEEL LIKE THIS PLACE CAN BE AN EQUALIZER FROM A POINTS PERSPECTIVE?  "We've got to have a big swing.  We've got to lead some laps and probably win or run in the top two or three, and the guys up in front of the points have to have problems and finish way back.  We've got to have a big swing in the points to realistically be back in it because once you leave here being back that far, most of those guys in front of you are gonna run – even if we get our program really turned around and can run in the top three or four every week, those guys are gonna run in the top six or seven every week and it's hard to gain that many points."
Original Story:
http://startnparkblog.com/?p=12352&ut...
THE BACKYARD
BEST OF MAXIM
RELATED ARTICLES
The No. 17 Ford Fusion driven by Matt Kenseth will be pink this weekend. The pink ride came about through a partnership between Roush Fenway Racing, Talladega Superspeedway and the National Breast Cancer Foundation. October is breast cancer awareness month, and Talladega Superspeedway chairman Grant Lynch said the speedway felt it was important to recognize it with there race...
Tony Stewart tried to block his way to victory at Talladega Superspeedway. It backfired, badly. The ''big one'' came on the last lap Sunday, when Stewart's attempt to hold on for the win instead sent his car sailing through the field and triggered a 25-car accident. Daytona 500 winner Matt Kenseth won under caution, and everyone else was left wondering what...
Mike Calinoff, Matt Kenseth's spotter will be staying at Roush Fenway Racing while Kenseth heads to Joe Gibbs Racing next season. Ricky Stenhouse Jr. is moving from Nationwide to the Sprint Cup series and will be taking over the No.17 car – and now Kenseth's long time spotter as well. Calinoff currently spots for Stenhouse in the NNS. Kenseth made the comment on Twitter when...
Greg Biffle, Matt Kenseth fighting long odds from back of Chase…
The No. 6 car of Ricky Stenhouse Jr will have the colors of Best Buy on it when it takes to the track for the NASCAR Sprint Cup Series race at Charlotte Motor Speedway next weekend. Stenhouse will move up to the Sprint Cup level next season and assume the seat of the No. 17 Ford Fusion currently driven by Matt Kenseth. Kenseth will also have the Best Buy colors on his car marking...
CONCORD, N.C. – Roush Fenway Racing's Ricky Stenhouse Jr. will pilot the No. 6 Best Buy Ford in the October 13th Sprint Cup event at Charlotte Motor Speedway. Stenhouse, along with RFR teammate Matt Kenseth, will form a formidable pair of Best Buy Fords, with Kenseth's No. 17 Fusion also featuring the Best Buy blue and yellow for the event. It will mark the first time that...
All Sports News

Delivered to your inbox

You'll also receive Yardbarker's daily Top 10, featuring the best sports stories from around the web. Customize your newsletter to get articles on your favorite sports and teams. And the best part? It's free!
THE HOT 10: Who's Trending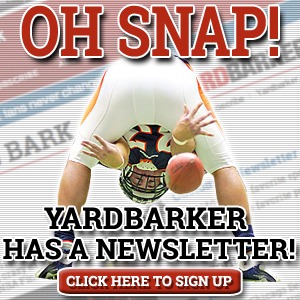 Latest Rumors
Best of Yardbarker

Today's Best Stuff

For Bloggers

Join the Yardbarker Network for more promotion, traffic, and money.

Company Info

Help

What is Yardbarker?

Yardbarker is the largest network of sports blogs and pro athlete blogs on the web. This site is the hub of the Yardbarker Network, where our editors and algorithms curate the best sports content from our network and beyond.